In the Red: 10 Istrian Wines to Try
Reading Time: [est_time] Istria is a heart-shaped peninsula located at the top of the Adriatic Sea. It has changed hands many times throughout its history as it moved from being a part of Venetia, to the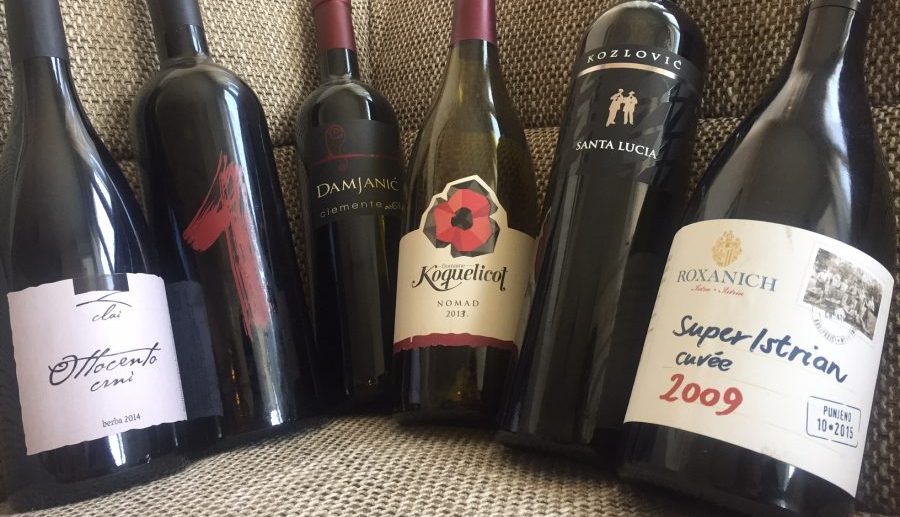 Reading Time: 5 minutes
Istria is a heart-shaped peninsula located at the top of the Adriatic Sea. It has changed hands many times throughout its history as it moved from being a part of Venetia, to the Austrian Empire, Italy, and Yugoslavia. Today, most of the peninsula is within the borders of Croatia.
Traveling through the peninsula, it is hard to ignore the Italian influence, especially in western Istria. Medieval hill-top towns and rolling villages support Istria's "The New Tuscany" moniker.
Istrian Red Wine Grapes
Viticulture has always been important in Istria. Today, the local producers are doing everything they can to push Istrian wines to the forefront of Croatia's quality revolution.
Malvazija is the main white grape here, and it's easy to find fresh and fruity Malvazija wine. The red grapes grown in Istria include Merlot, Cabernet Sauvignon, Teran (Terrano), Refošk (Refosco dal Peduncolo Rosso), and Borgonja (Blaufränkisch).
We'll go deeper into the non-international, red wine varieties:
TERAN
Part of the Refosco family, Teran is a grape that Istria claims to be its own, it is. It also grows in neighboring Italy where it is known as Terrano. When vinified, the grape offers wonderful red berry and blood iron flavors. The only problem is the searingly high acidity that makes Teran wine seems like it's ripping off the tooth enamel. Producers are getting better at working with this grape by dropping grapes and harvesting later. Today, varietal Teran wine—in both varietal and blend forms—from Istria can be excellent.
Note that there is currently a messy EU dispute between Slovenia and Croatia over the name Teran. Slovenia uses Teran as a protected name of a wine, not a grape. Teran wine in Slovenia is made from the grape referred to as Refošk. Some feel that the grape Refošk in Slovenia is the same as Teran in Croatia. Sounds confusing? It is. That's why the situation is still a point of contention. For more information, take a look at Slovenia Takes EU to Court in Grape Dispute.
REFOŠK
Refošk (cousin of Teran) is known in nearby Friuli-Venezia Giulia as Refosco dal Peduncolo Rosso. Like Teran, it has high acidity and known for making tart and fruity wines. We have tasted some serious examples in both Italy and Croatia. They have black pepper and leather notes, almost like Rhône Syrah.
BORGONJA
Borgonja is actually Blaufränkisch, which is native to nearby Austria. In Istria, it's often blended and very rarely seen as a varietal wine.
Super Istrian Wine
Winemakers have started blending the above-mentioned grapes with the ubiquitous Cabernet Sauvignon and Merlot. The Teran and Refošk can add acidity, while Borgonja adds spice to the red blends. These Istrian wines can be unique yet strangely familiar to wine lovers with experienced palates.
Lovers of Central Italian red wines will feel at home drinking these Istrian red wine blends. Because of the plush fruit flavors and juicy acidity, these wines go great with food. Grab one of these bottles and pair it with some Istrian hand-rolled pasta. A match-made in Croatia!
After many months of tasting countless wines of this style, the followings emerged as our favorites.
Exotic Wine Travel's Picks
A blend of 34% Merlot, 33% Cabernet Sauvignon, and 33% Teran. Collis is a fairly new Istrian wine producer that is working towards being eco-certified (organic). This comes across very rich with red fruit, capsicum, earth, and wild forest berry notes. This has juicy acidity, and it's is delicious now but has all the elements to improve with bottle aging.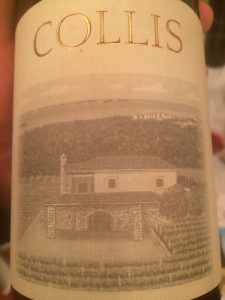 Clai is a wine legend in Croatia. He is certified organic and a regular attendee of natural wine fairs in the region. This is his entry-level wine, which is a blend of Refošk, Merlot, and Cabernet Sauvignon, plus a small amount of Teran. A touch of meat, leather, black plum, and spice flavors with deep color. This is very fruity without being overly jammy. Nice full feel on the mouth with smooth tannins for a young red wine.  You can't go wrong with any wine from Clai.
Available at wineandmore.com
This is one of the wines we go back to time and time again. It's juicy enough as a daily quaff but complex enough to show to fellow wine geeks. A blend of 60% Merlot, 25% Cabernet Sauvignon, 10% Teran, and 5% Borgonja. The 2011 is our favorite vintage of this wine. Juicy and full of leather, wild berry, blood iron, and tangerine peel. Medium weight on the palate and silky smooth tannins.
Available at wineandmore.com
Degrassi Terre Bianche Cuvée Rouge 2009
Moreno Degrassi is another local legend. He has a large portfolio of wines and this one may be our favorite. A blend of Cabernet Sauvignon, Cabernet Franc, Merlot, Petit Verdot, Syrah, Pinot Noir, and Refošk. Aged for 18 months in 225L barriques. This is full of red forest fruit, mineral, and a touch of tangerine peel. This is a juicy red that is fun and serious at the same time. Fas of Italian wines will feel right at home here.
Search or buy on wineandmore.com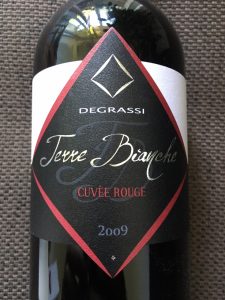 Domaine Koquelicot Nomad 2013
A French man and an Istrian woman make up the husband-wife team of Domaine Koquelicot. Their white wines and sparklers are taking the local wine scene by storm. This is their only red wine, a blend of Merlot, Cabernet Sauvignon, and Teran aged in 300L French oak for two years. Wonderful nose of meat, blood, red berry, and toast. This is juicy and red fruit-driven on a medium-bodied frame. This needs more time in the bottle for the oak to integrate but the fruit, acidity, and tannins are very good.
Find and buy at wineandmore.com
Kozlović Santa Lucia Noir 2012
Gianfranco Kozlović is most famous for his white wines made from Malvazija. This wine shows he has the hand for reds as well. A blend of 50% Merlot, 30% Cabernet Sauvignon, and 20% Teran. Extraordinary effort. Aged for 18 months in barriques, followed by 12 months in stainless steel inox, and another 24 months in bottle. This is full of wild berry, black cherry, sweet oak, blood iron, and tangerine notes. Intense mid-palate and nice acidic core that guides the long, spicy finish. Tannins are mouth-coating but fine. Drinking well now but built to last, this is of outstanding quality.
Available at wineandmore.com
Matošević Grimalda Red 2015
Ivica Matošević is one of the spokesmen for Istrian wine. Most of his portfolio centers around Malvazija but this single-vineyard red is noteworthy. A Merlot-dominated blend with 15% of Teran added. Full of red plum, red berry, cedar and earth notes. It is full-bodied and long on the finish. A full, juicy, well-made red wine. This will only improve greatly for those who are patient enough to cellar it.
Available at wineandmore.com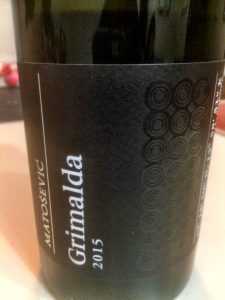 Roxanich SuperIstrian Cuvée 2009 
Roxanich is a producer that utilizes native-yeast fermentation and long barrel aging. This 2009 is the current release on the market. A blend of 40% Merlot, 40% Cabernet Sauvignon, and 20% Borgonja. This is a beautiful and elegant wine with some age. Sweet tobacco, cedar, dark cherry, and earthy notes are there, but there is a heck of a lot more going on. The tannins have rounded out with age and the wine is incredibly silky with some pepper on the finish. This is still a wine built to please. Roxanich amber wines are also noteworthy and are among our favorites in Croatia.
Search or buy on wineandmore.com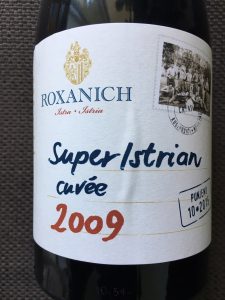 Bruno Trapan is full of charisma and energy, which are the same traits in his reserve wine. The One is a blend of 50% Syrah and 50% Teran. Aged for 24 months in French oak. Black fruit, red berry, toast, tangerine, and leather. Tangy on the mid-palate with big tannins and a long finish. This is such an interesting play between red and black fruits. The toastiness from the French oak will definitely draw people into this wine while the juiciness from the Teran will make sure they stay for a while.
Trapan wines available at wineandmore.com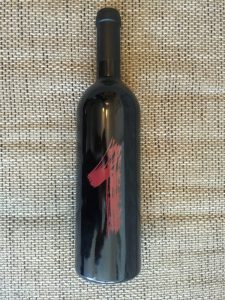 Vina Laguna Terra Rossa 2015
This can found in supermarkets all over the country for less than five euros. This is the entry-level red wine from Vina Laguna, which makes solid wines at all price points. The 2015 vintage won a silver medal at the 2017 Decanter World Wine Awards. A blend of 60% Teran, 30% Merlot, and 10% Borgonja that saw no time in wood, it was made and matured in stainless steel. This is juicy with sour cherry and a touch of graphite. A fresh red wine with a lot of character and no fuss.
For those that want more complexity, the Vina Laguna Festigia Castello may be up your alley. It's a barrel-aged Merlot, Cabernet Sauvignon, and Syrah blend that packs punches beyond its price point.
Search or buy on wineandmore.com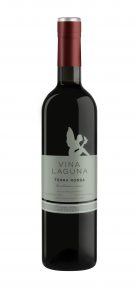 The finest selection of
Croatian wines available at:

Shipping is available EU-wide and to the UK.
************
    Do you want to try Croatian wines?    
If you're looking to savor the exquisite flavor of Croatian wines, look no further than wineandmore.com. With an abundance of options from different winemakers, it's easy to find exactly what your palate desires. Not sure which bottle is best for you? Try out one of their curated wine cases and discover the perfect vintage for any occasion!
************
Want to learn more about wine?
Are you ready to discover the wonderful world of wines? Come join us at wineandmore.com and let's explore the incredible selection of delicious wines together! We can't wait to share our passion for wine with you!
---

Please note that the opinions expressed in this article are unsolicited and have not been paid for in any way by governmental bodies, enterprises, or individuals. We do not sell editorial content as that would destroy the legitimacy of our reviews and the trust between Exotic Wine Travel and its readers. On occasion, we extend the option of purchasing the wines we review or/and the products we spotlight. Some of these product links are set up through affiliate programs, which means Exotic Wine Travel gets referral credits if you choose to purchase these items via the links we provide.