Dagon Estate Sandridge Fetească Neagră Reserve 2016
Reading Time: [est_time] Hello! Welcome to As Drunk by Exotic Wine Travel, a weekly column where we feature interesting wines that we encourage you to seek out. The reviews featured in this series may be written by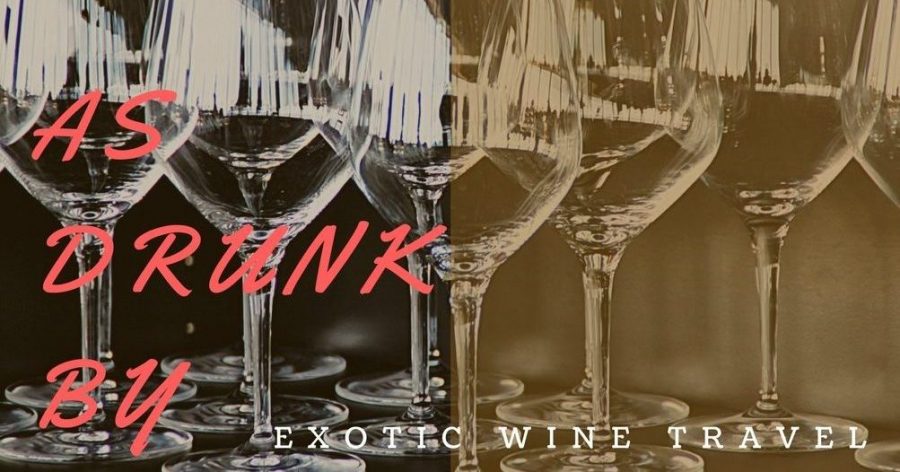 Reading Time: 2 minutes
Hello! Welcome to As Drunk by Exotic Wine Travel, a weekly column where we feature interesting wines that we encourage you to seek out. The reviews featured in this series may be written by either one or the both of us. The featured wines can be from obscure or well-known wine regions. We hope that these wine recommendations will keep you gastronomically curious and your palate invigorated!
Dagon Winery
We were invited to Romania by the proprietor of Dagon Winery, Mihnea Vasilache. The winery is young and currently has 14 hectares of planted vineyards within the Dealu Mare DOC. Dagon doesn't have a physical location as of yet, they make wines on the property of the beautiful Conacul Vinalia estate.
These wines are made with indigenous yeasts and utilize spontaneous fermentations. The owner has decided to start small, making wines from purchased grapes which are labeled as the Dagon Clan wines, while the estate wines will be made from their own vineyards. Currently, there are four Dagon Clan wines and in the fall the first estate wine will be released.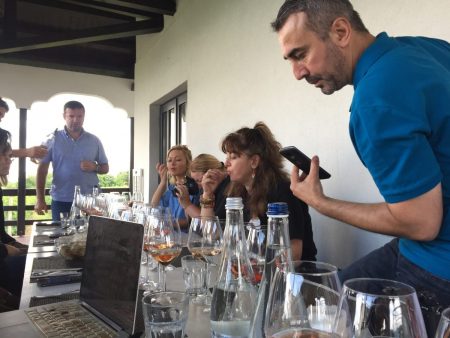 When we visited the property, we got a chance to taste every vintage from the Dagon Clan lineup – which spans back to 2014. Several local writers and bloggers joined us during the vertical tasting including our friend Alexandra from Macedonia21, in addition to Sandra and Adrian from The Winderers.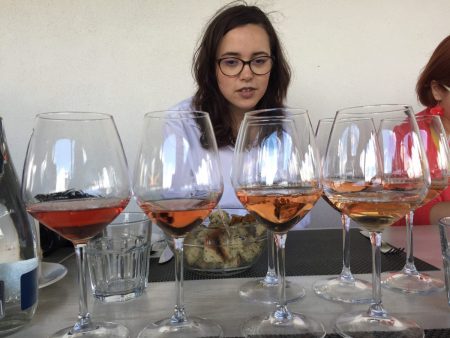 Dagon winery runs against the grain of most of the wines coming from the Dealu Mare region, which are often heavy and sometimes sappy. The Dagon winery focuses on mouth-watering acidity and drinkability. During the vertical tasting, it seems as this young estate has achieved it. Not all of the wines showed great but there were several standouts. It was evident in the later vintages that the winery has become more confident about its style.
There are a few wines in the Dagon Clan lineup that really shine, which shows the potential for these local grapes and the region. The first estate wine, the Dagon Estate Fetească Neagră Sandstone 2016 is outstanding. We can't wait to see what the winery creates as its own vineyards are at full capacity. 
Exotic Wine Travel's Picks
This came to a shock to both of us. Most of the Fetească Albă whites that we have tasted are simple, floral, and fruity wines. We didn't realize the grape had the potential to make a head turner. 
The Dagon Clan Clar is made mostly of Fetească Albă and a touch of Sauvignon Blanc co-fermented from old vineyards. The wine is barrel fermented and then aged for 12 months. It's full of mushroom, dried stone fruits, almonds, citrus fruit, and crushed flowers. It has a noticeable amount of oak but it works great in the wine. The acidity really pops here and is a fantastic contrast to the round, big body of the wine. The wine finishes long and pure.   4.1/5
This vintage of the Dagon Clan Jar was the wineries first and it received a score of 90 points from Decanter Magazine. It is a blend of Fetească Neagră and Pinot Noir. The wine has flavors of mushroom, red fruit, spice, and a touch of tanginess. This is medium bodied and chewy with a touch of spiciness. It really tastes like an Etna Rosso. The long finish is accompanied by a touch of rusticity – in a good way.
This doesn't have a ton of life left, but it sure is fun to drink.   4.0/5
Dagon Estate, Sandridge Fetească Neagră Reserve 2016
Wowzaaas, this wine shows the potential of Fetească Neagră. It's a local red grape that I am not always been fond of. It is the first estate wine from Dagon Clan made with fruit from their own vineyards. The Dagon Estate Sandridge Fetească Neagră Reserve is aged in 500 L oak. The vines are grown in a strip of sandy soil. 
This isn't jammy like many other examples from Dealu Mare. It is more red fruit driven with other flavors like white pepper, yellow flower, and a touch of green herbs. It's full-bodied with a peppery finish. The tannins are chewy and sweet. The grape offers flavors that are different and exciting to even the most adventurous drinker.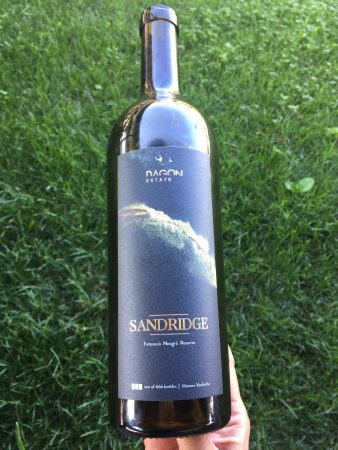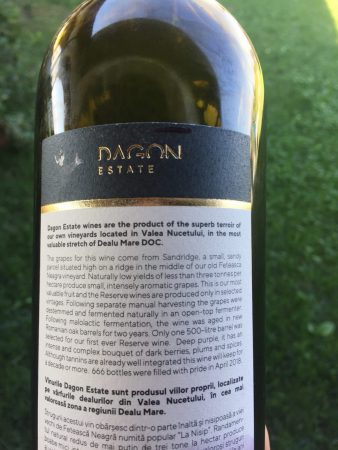 This is an impressive first estate wine from Dagon Winery. It will be exciting to see what else they produce as their vines start coming into production. This wine is one of the better examples of Fetească Neagră we have come across. We aren't experts on the grape but the local wine writers put it best as one said, "it will be hard to find a more impressive Fetească Neagră in Romania."   
4.2/5 (You can find out more about our scoring system on the Wine Rating page.)
---
We were invited to Romania by Dagon Winery and Via Sandu. Our flights, transport, and accommodation were provided by the two wineries. However, the opinions expressed in this article are unsolicited and have not been paid for in any way by governmental bodies, enterprises, or individuals. We do not sell editorial content as that would destroy the legitimacy of our reviews and the trust between Exotic Wine Travel and its readers.