Desprat Saint-Verny Basalte 2017
Reading Time: [est_time] Hello! Welcome to As Drunk by Exotic Wine Travel, a weekly column where we feature interesting wines that we encourage you to seek out. The reviews featured in this series may be written by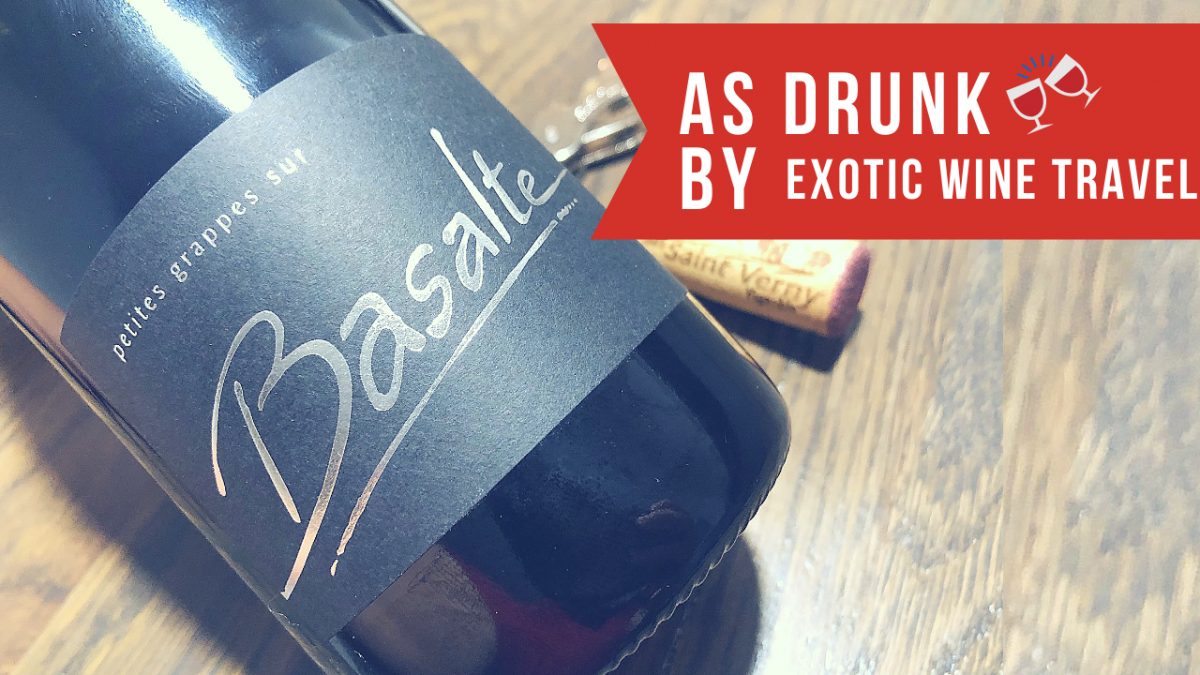 Reading Time: 1 minute
Hello! Welcome to As Drunk by Exotic Wine Travel, a weekly column where we feature interesting wines that we encourage you to seek out. The reviews featured in this series may be written by either one or the both of us. The featured wines can be from obscure or well-known wine regions. We hope that these wine recommendations will keep you gastronomically curious and your palate invigorated!
Desprat Saint-Verny, Basalte 2017
Located in the center of France is the Parc Regional des Vulcans d'Auvergne. The landscape is dominated by sleeping volcanoes that surround the city of Clermont-Ferrand. Within this national park is the AOC Côtes d'Auvergne. Within that AOC is the largest producer Desprat Saint-Verny.
I met Lea Desprat, a member of the family at GoVolcanic 2019 in Budapest, Hungary. After tasting several examples, I was impressed with the finesse and drinkability of the wines. The little known Côtes d'Auvergne appellation was also an unknown to me, which piqued my interest all the more.
Desprat Saint-Verny produces around 30 labels as their property takes up over half of the 405 hectares that make up the Côtes d'Auvergne AOC. They focus on Chardonnay for the whites and Gamay, Pinot Noir, and Syrah for the reds.
The Desprat Saint-Verny, Basalte is made from 100-year-old vines of Gamay. It is like an imaginary collision of a Beaujolais (France) and an Etna Rosso (Italy). There a smoky undertone on the nose along with cherry, strawberry, and a faint hint of white pepper. It has a silky mouthfeel and there a vibrant acidity that begs for food. For a wine that saw over 12 months in oak, the wood doesn't show through at all in the flavor, it merely adds structure.
This isn't a wine for those who want something big and bold. It is a wine for those who appreciate delicate flavors and want acidity in their red wines. The Desprat Saint-Verny, Basalte hits my palate perfectly, it's the type of wine I want to drink every day, all day.
Score: 90/100 (You can find out more about our scoring system on the WINE RATING page.)
Find or buy on Wine-Searcher.
Do you like our content?
If you like our articles and videos, we'd love for you to be a part of our community on Patreon. The support from Patreon helps keep the content coming and you access to behind the scenes content. It also gives us the chance to get to know you better. Check out the Exotic Wine Travel Patreon page by clicking the photo below.

---
Please note that the opinions expressed are our own and have not been paid for in any way. We do not sell editorial content as that would destroy the legitimacy of our reviews and the trust between Exotic Wine Travel and its readers. On occasion, we extend the option of purchasing the wines we review or/and the products we spotlight. Some of these product links are set up through affiliate programs, which means Exotic Wine Travel gets referral credits if you choose to purchase these items via the links we provide.