Domaine de la Rochette 'Les Margiles' Neuchâtel 2014
Reading Time: [est_time] Hello! Welcome to As Drunk by Exotic Wine Travel, a weekly column where we feature interesting wines that we encourage you to seek out. The reviews featured in this series may be written by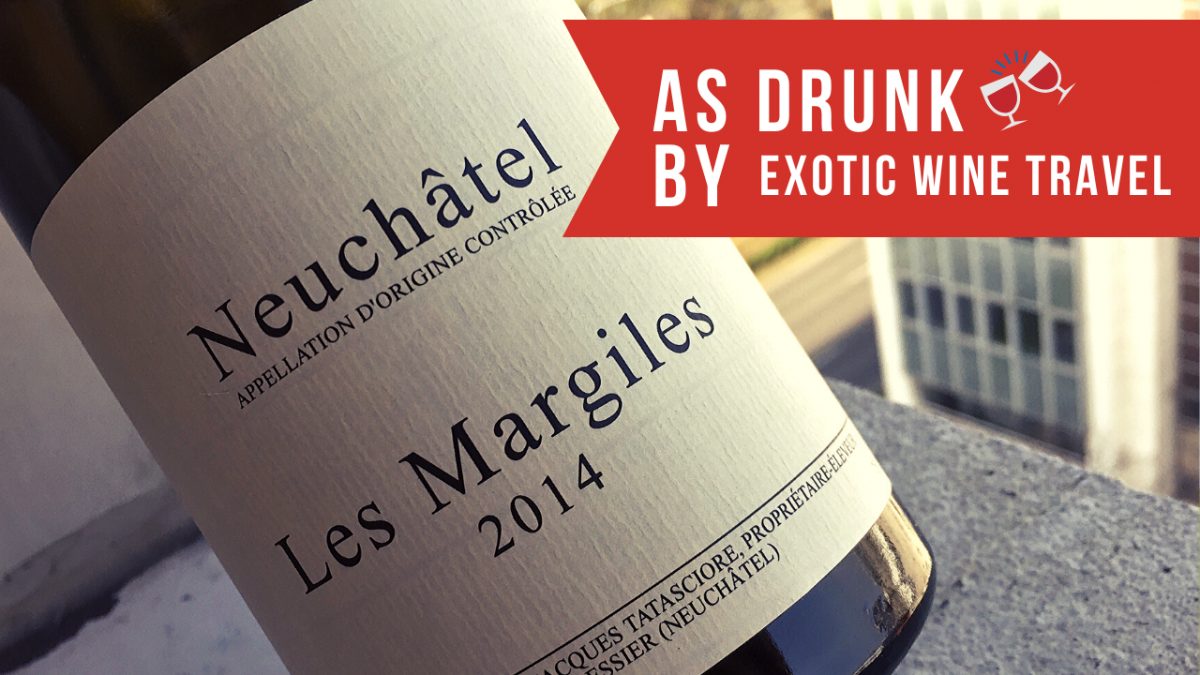 Reading Time: 2 minutes
Hello! Welcome to As Drunk by Exotic Wine Travel, a weekly column where we feature interesting wines that we encourage you to seek out. The reviews featured in this series may be written by either one or the both of us. The featured wines can be from obscure or well-known wine regions. We hope that these wine recommendations will keep you gastronomically curious and your palate invigorated!
Domaine de la Rochette, 'Les Margiles' Neuchâtel 2014
"Swiss Pinot Noir: Too Good To Be Exported."
That's the title of an article I read a few years ago in Robert Parker: The Wine Advocate. The title is enough to get any Pinot lover excited. Unfortunately, during our foray into Swiss Pinot Noir over the past year there wasn't too much to be excited about. That all changed when our friend passed us a bottle of the Domaine de la Rochette, 'Les Margiles' Neuchâtel.
Swiss wines are sort of an enigma in the wine world. Most of the production is consumed domestically (only around 3% of Swiss wine is exported) and the prices of the wines keep most bottles out of reach of the average consumer. There are some real gems in the country though.
Pinot Noir is the most widely planted grape in all of Switzerland. We've tasted through many examples in the last year as Charine judged at the Mondial du Pinots in Switzerland and our friend hosted a private Swiss tasting for us in Hong Kong. We had a number of interesting wines including the well regarded Gantenbein Pinot Noir.
This beauty from Jacques Tatasciore is in a whole new league. The Les Margiles hails from the Neuchâtal AOC, just across the mountains from the Jura (France). The wines from Jacques are considered to be among the rarest and finest Swiss Pinot Noirs. After drinking through the bottle, I can see why.
The Domaine de la Rochette, 'Les Margiles' Neuchâtel 2014 is truly an Old World Pinot Noir. It's got a classy, seductive nose, not a loud, explosive one. Flavors of well-worn leather, fall leaves, raspberry, and violets emerge from the glass. The nose is more savory while the red fruits burst through on the palate. There is a perfect interplay between vegetal, fruit, and savory flavors here. Structure from the barrel aging ensures that this has a long life ahead of it.
This is for fans of fine red Burgundy, not overtly fruity Pinot Noirs. This bottle takes me back to why I love wine in the first place. It's from a small, far-flung corner of the world and every sip takes me to this seemingly magical place that I've never been to. I hope to dive into more wines from Domaine de la Rochette very soon.
Score: 93/100 (You can find out more about our scoring system on the WINE RATING page.)
Do you like our content?
If you like our articles and videos, we'd love for you to be a part of our community on Patreon. The support from Patreon helps keep the content coming and you access to behind the scenes content. It also gives us the chance to get to know you better. Check out the Exotic Wine Travel Patreon page by clicking the photo below.

---
Please note that the opinions expressed in this article are unsolicited and have not been paid for in any way by governmental bodies, enterprises, or individuals. We do not sell editorial content as that would destroy the legitimacy of our reviews and the trust between Exotic Wine Travel and its readers. On occasion, we extend the option of purchasing the wines we review or/and the products we spotlight. Some of these product links are set up through affiliate programs, which means Exotic Wine Travel gets referral credits if you choose to purchase these items via the links we provide.