Domaine Ratron, 'Clos des Cordeliers' Saumur-Champigny Prestige 2017
Reading Time: [est_time] Hello! Welcome to As Drunk by Exotic Wine Travel, a weekly column where we feature interesting wines that we encourage you to seek out. The reviews featured in this series may be written by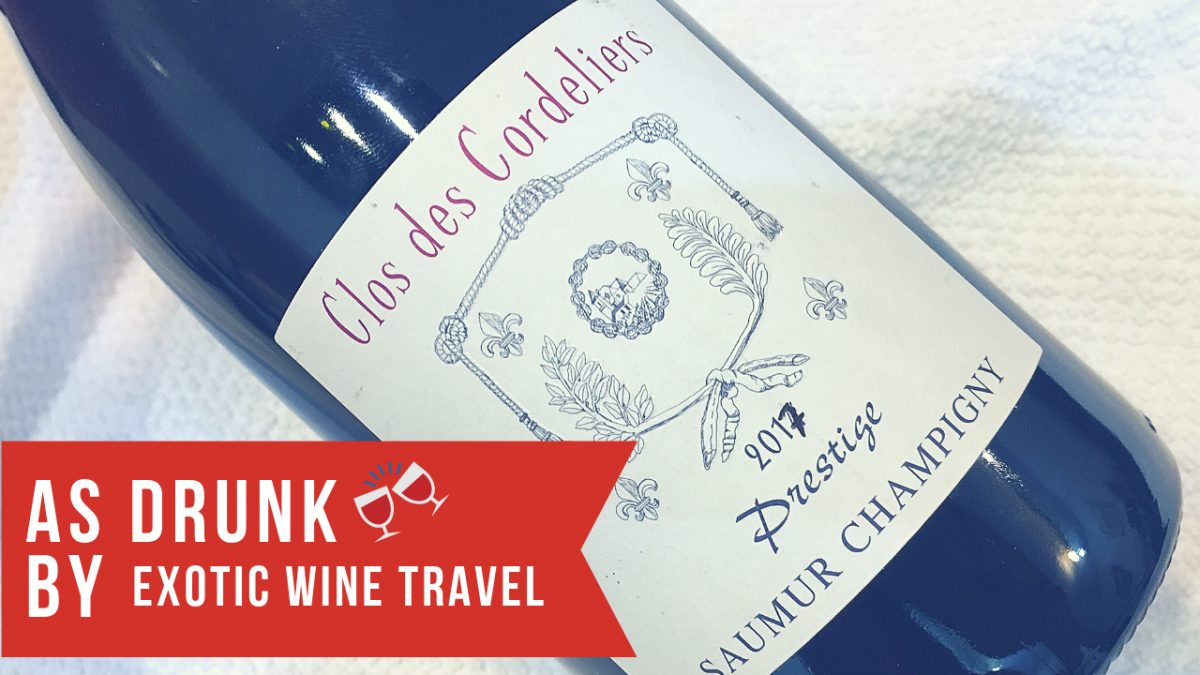 Reading Time: 1 minute
Hello! Welcome to As Drunk by Exotic Wine Travel, a weekly column where we feature interesting wines that we encourage you to seek out. The reviews featured in this series may be written by either one or the both of us. The featured wines can be from obscure or well-known wine regions. We hope that these wine recommendations will keep you gastronomically curious and your palate invigorated!
Domaine Ratron, 'Clos des Cordeliers' Saumur-Champigny Prestige 2017
We first bumped into winemaker Marie-Françoise Ratron during a Loire Valley Wines press trip in the Spring of 2019. During a dinner with the producers of Saumur-Champigny, Marie-Françoise's energy and wine won us over. That evening, she poured us her entry-level red, the 'Clos des Cordeliers' Saumur-Champigny Cuvée Tradition 2017, which is fabulous in its own right.
We listened carefully as Marie-Françoise explained that the 2017 vintage was her first solo harvest and wine. Her passion came through in the glass. Our encounter inspired us to explore the Domaine Ratron portfolio in greater depth, especially the other bottlings from the Clos des Cordeliers.
The first mention of the Clos des Cordeliers goes back to 1630. The vineyard changed hands several times throughout the years before being purchased by the Ratron family in 1932. Mr. Sébastien Ratron represented the fourth generation of the family. He passed away unexpectedly in 2017 but Marie-Françoise continues the family legacy.
The Domaine Ratron, 'Clos des Cordeliers' Saumur Champigny Prestige 2017 is made from 55-year-old vines. It is a dense, dark, and extracted Cabernet Franc. There are notes of black cherry, blackberry, black olive, and deep earthy notes. The wine is full and silky on the palate. For a wine that didn't see oak, this is incredibly complex. Chewy tannins guide the long finish.
If you want a rich Cabernet Franc from the Loire, this represents the region well.
Score: 91/100  (You can find out more about our scoring system on the WINE RATING page.)
Find or buy on Wine-Searcher.
---
This was a sample provided by Domaine Ratron. Please note that the opinions expressed in this article are unsolicited and have not been paid for in any way by governmental bodies, enterprises, or individuals. We do not sell editorial content as that would destroy the legitimacy of our reviews and the trust between Exotic Wine Travel and its readers. On occasion, we extend the option of purchasing the wines we review or/and the products we spotlight. Some of these product links are set up through affiliate programs, which means Exotic Wine Travel gets referral credits if you choose to purchase these items via the links we provide.