Famiglia Berta '1842 Valbeccara' Barbera d'Asti Superiore 2017
Reading Time: [est_time] Hello! Welcome to As Drunk by Exotic Wine Travel, a weekly column where we feature interesting wines that we encourage you to seek out. The reviews featured in this series may be written by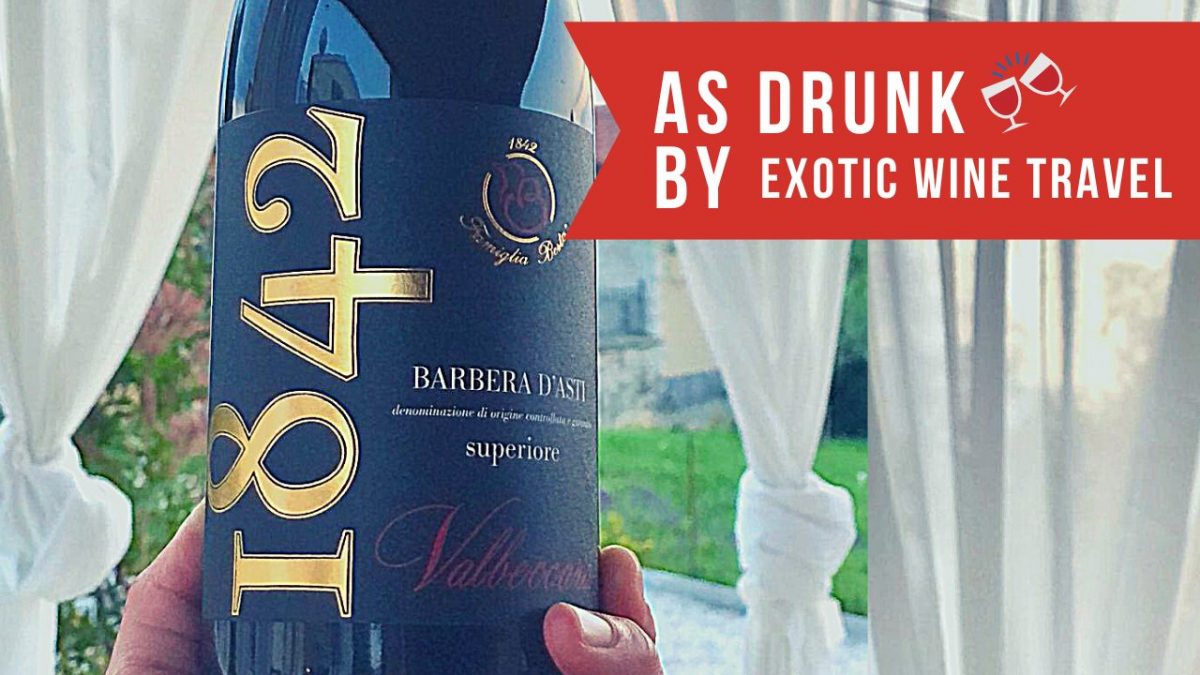 Reading Time: 1 minute
Hello! Welcome to As Drunk by Exotic Wine Travel, a weekly column where we feature interesting wines that we encourage you to seek out. The reviews featured in this series may be written by either one or the both of us. The featured wines can be from obscure or well-known wine regions. We hope that these wine recommendations will keep you gastronomically curious and your palate invigorated.
Famiglia Berta, '1842 Valbeccara' Barbera d'Asti Superiore 2017
Is Barbera the best-kept secret in Italian red wine?
This high-acid red grape is at home in the hills of Piedmont. This northwest corner of Italy is most known for the legendary, age-worthy wines made from Nebbiolo, namely Barolo and Barbaresco. While Nebbiolo may be Piedmont's most high-profile variety, ask most locals and you'll find it's Barbera that often graces the table over a meal. The grape often has flavors of cranberry and earth which go great with braised meat and pasta.
During a visit to Piedmont in 2019, we met a small, family-run winery Berta Paolo (Famiglia Berta). They focus on Barbera and produce several types, from everyday bottles to cellar-worthy wines. The Famiglia Berta, '1842 Valbeccara' Barbera d'Asti Superiore is in between.
The Famiglia Berta, '1842 Valbecarra' Barbera d'Asti Superiore 2017 is a delicious, juicy Barbera. It was aged in barrel for six months. There are classic flavors of cranberry, raspberry, mineral, earth, and chestnut. Plush and fruity on the palate with supple tannins. Round and easy to drink with a hint of complexity.
This bottle represents a serious value (<15 USD). There's a lot of wine here for the money. It's fruity enough to please most palates with a hint of complexity to satisfy the palates of your toughest friends.
Score: 90/100
You can find out more about our scoring system on the WINE RATING page.
You Might Also Enjoy:
Do you like our content?
If you like our articles and videos, we'd love for you to be a part of our community on Patreon. The support from Patreon helps keep the content coming and you access to behind the scenes content. It also gives us the chance to get to know you better. Check out the Exotic Wine Travel Patreon page by clicking the photo below.

---
Paolo Berta (Famiglia Berta) winery provided tasting samples. Please note that the opinions expressed are our own and have not been paid for in any way. We do not sell editorial content as that would destroy the legitimacy of our reviews and the trust between Exotic Wine Travel and its readers. On occasion, we extend the option of purchasing the wines we review or/and the products we spotlight. Some of these product links are set up through affiliate programs, which means Exotic Wine Travel gets referral credits if you choose to purchase these items via the links we provide.