Fattoria le Pupille: More Than Morellino
Reading Time: [est_time] "What's it like to work with such a big personality in the wine world?" "She's actually fantastic and listens to input and gives some flexibility in the cellar," answered Ettore Rizzi. He's a fiery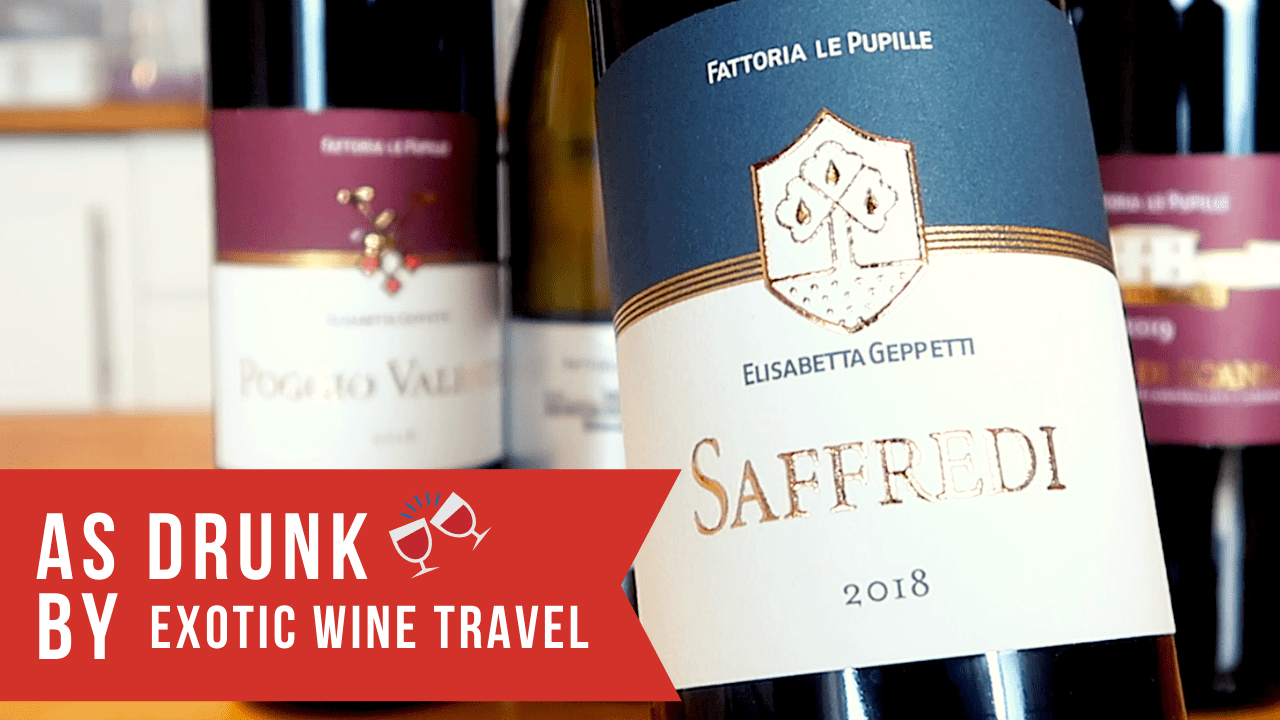 Reading Time: 3 minutes
"What's it like to work with such a big personality in the wine world?"
"She's actually fantastic and listens to input and gives some flexibility in the cellar," answered Ettore Rizzi. He's a fiery ambitious man who is deeply involved with the production at Fattoria le Pupille. Ettore also happens to be the son of Elisabetta Geppetti.
Elisabetta is often credited for putting the DOCG Morellino di Scansano on the map. Her estate, Fattoria le Pupille produces around 500,000 bottles of wine in Southern Tuscany from 75 hectares of vineyards. Their range spans from a value-driven Morellino di Scansano all the way to their ambitious Super Tuscan known as 'Saffredi'.
Her son Ettore is now working in the cellar and is crucial in the final blending and overall production.
Fattoria le Pupille
The first time I came across Fattoria le Pupille was during a small, intimate trade tasting in Belgrade, Serbia. Elisabetta Geppetti walked me through several of her wines including her staple Morellino di Scansano Riserva and classy Poggio Valente. The wines smelled of Tuscany and really spoke to me.
Fast forward a few years later and I found myself on a casual Zoom tasting with wine lovers and sommeliers from around the world. It just so happened that Ettore Rizzi was on the call too. I immediately appreciated his passion, understanding, and curiosity towards wine. After several calls, Ettore chose to send me the current releases from the estate.
Tasting through the latest vintages of Fattoria le Pupille was one good thing that came out of the dreaded year of 2020. The entry-level Fattoria le Pupille, Morellino di Scansano offers tremendous value for money while the reserve wines can compete with the best of Tuscany. The biggest surprise for me is the new Poggio Argentato, a wine that breaks the stereotype that all Tuscan whites are boring.
Here's a look at the latest vintages from Fattoria le Pupille.
Fattoria le Pupille, Poggio Argentato 2019
The Fattoria le Pupille, Poggio Argentato is a blend of Sauvignon Blanc, Petit Manseng, Traminer, and Sémillon. Most of the wine is kept in stainless steel while part of the cuvée is aged in oak. Notes of white pear, honey, white peach, yogurt, and a touch of white flower. This is a white that is full of flavor and is fun to drink. The Sauvignon Blanc doesn't dominate in the blend, which is a good thing. Score: 91/100
Fattoria le Pupille, Morellino di Scansano 2019
The Fattoria le Pupille, Morellino di Scansano is mostly Sangiovese with a touch of Alicante Bouchet and Ciliegiolo. This is the backbone of the estate. This is a fun red with notes of sour cherry, strawberry, mineral, and a touch of tangerine-peel. It's not just a boring, simple red – it has earthiness and complexity. The sour cherry notes dominate, which I love. There are some chewy tannins here along with the juicy acidity. For an inexpensive red, this could improve with some time in the bottle. Pick this up by the case! Score: 89/100
Fattoria le Pupille, Morellino di Scansano Riserva 2017
The Fattoria le Pupille, Morellino di Scansano Riserva is mostly Sangiovese with a touch of Cabernet Sauvignon aged in large cask for 15 months. This just screams Tuscany in the glass. Brilliant nose of sour cherry, cedar, tobacco, earthy, and even a touch of capsicum. There is so much sweet and sour cherry fruit on the front palate that it engulfs your palate. Earth and tobacco nuances come around on the end and there's a tangerine-peel acidity on the long finish. Tannins are chewy and this can be enjoyed right away but it should keep in the cellar in the medium term. Very good, warmer climate Sangiovese. Score: 93/100
Fattoria le Pupille, Poggio Valente 2018
The Fattoria le Pupille, Poggio Valente is 100% Sangiovese aged for 18 months in large casks. Very impressive Sangiovese from Maremma. Notes of dried cherry, raspberry, blueberry mint, and tobacco. Ripe and chewy on the palate, there is plenty of fruit here and it's sweet red fruits. It's a wine with plenty of structure, great oak integration, and just a touch of wildness. A ripe, concentrated, and structured Sangiovese with length and a spicy finish. This is a great Sangiovese that can stack up to the best of Brunello, Nobile, and Chianti Classico. Score: 94+/100
Fattoria le Pupille, Saffredi 2018
The Fattoria le Pupille, Saffredi is an Italian icon and is a blend of Cabernet Sauvignon, Merlot, and Petit Verdot. It's not big and rich, it's got ripeness with some finesse. Notes of black cherry, black plum, hazelnut, sweet cedar, and a touch of earth. It's full-bodied with chewy tannins. This is a baby now but should age into something spectacular. Fine-grained tannins.
This is just starting to hit the shelves now. If you pick it up, plan on cellaring it for another five to ten years. At that point, it should blossom and deserve a high uptick in the score. Score: 94/100
---
Fattoria le Pupille provided tasting samples. The opinions expressed in this article are unsolicited and have not been paid for in any way by governmental bodies, enterprises, or individuals. We do not sell editorial content as that would destroy the legitimacy of our reviews and the trust between Exotic Wine Travel and its readers. On occasion, we extend the option of purchasing the wines we review or/and the products we spotlight. Some of these product links are set up through affiliate programs, which means Exotic Wine Travel gets referral credits if you choose to purchase these items via the links we provide.