Fine Red Slovak Wines Defying Latitude
Reading Time: [est_time] Slovakia lies near the northernmost latitude of where wine grape growing is feasible in Europe. Within the country, the Malokarpatská (Small Carpathian) region is where the most northerly located vineyards are. With this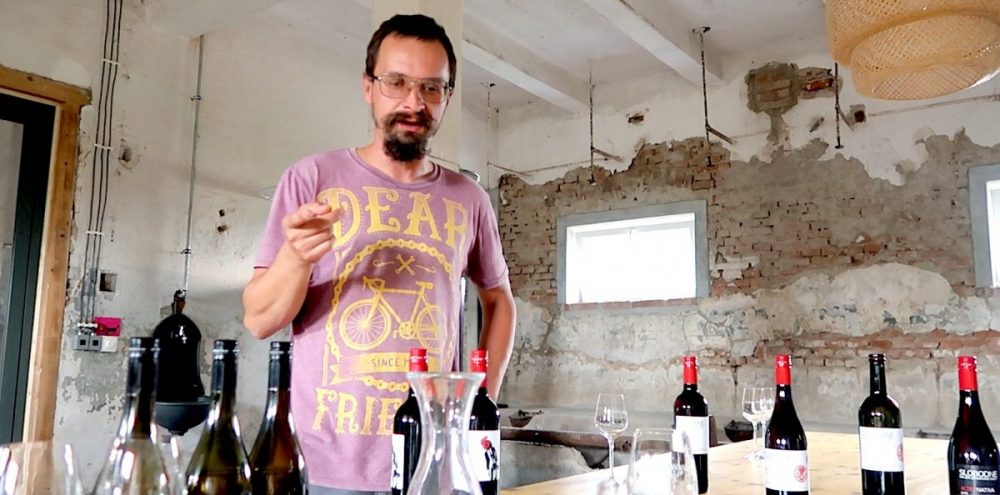 Reading Time: 4 minutes
Slovakia lies near the northernmost latitude of where wine grape growing is feasible in Europe. Within the country, the Malokarpatská (Small Carpathian) region is where the most northerly located vineyards are. With this in mind, one might think that only white wines are made here… Think again.
The most regarded area for red wine production in Slovakia is Južnoslovenská (South Slovakia) especially near the villages of Strekov and Mužla. During our second trip through the wine regions of Slovakia, we found a number of well-made and delicious red wines from the north. Terra Parna and Magula wineries are located in the village of Sucha nad Parnou. Their wines show that high-quality reds can be made in the Small Carpathian region if the right grapes are planted.
The village of Zemianske Sade lies 30 kilometers to the east of Sucha nad Parnou. The vineyards here also lie within the Small Carpathian region. Here Slobodné Vinarstvo produces fine minimal intervention red wines.
Magula
Vladimír (Vlad) Magula and his family farm eight and a half hectares of vineyards in Sucha nad Parnou. They are a certified Eko and Bio producer. Some of their vineyards are brand new and the existing ones have low yields, so the family's current production is around 15,000 bottles per year. They produce minimal intervention style white wines from Central European grapes like Devin, Grüner Veltliner, and Welschriesling and reds from Frankovka Modrá (Blaufränkisch), Dunaj, Portugieser, and Rosa.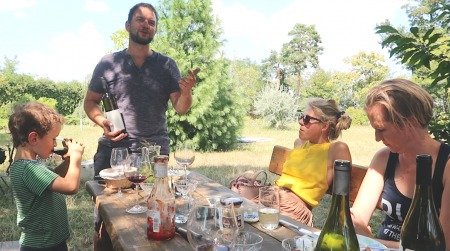 All Vlad's wines are made with native yeasts and are not fined nor filtered. They are chewy wines with generous texture. Magula does produce a few whites, oranges, and a beautiful light red called Carboniq, but we feel more passion in his reds made from Frankovka Modrá. Vlad took us through his first ever vertical tasting of his Frankovka Modrá (2017 & 2016 barrel samples and 2015-2011 from the bottle). The wines showed consitency throughout the board.
Exotic Wine Travel's Picks
Magula, F

rankovka Modrá 2011
This 2011 vintage of Magula Frankovka Modrá won a gold medal at the Concours Mondial de Bruxelles competition. It's the virgin harvest from this vineyard. Flavors include red fruit, spicy, fall leaves, and white pepper. It's medium bodied with a good balance of fruit and tertiary notes with developed tannins. This wine doesn't have a ton of life ahead of it but it sure is fun to drink now.   4.2/5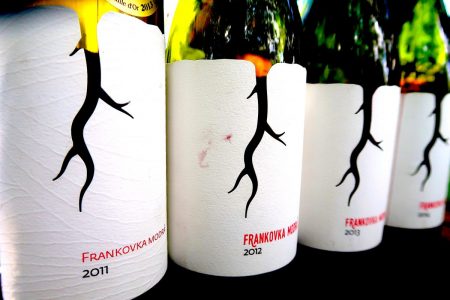 Magula, Frankovka Modrá 2012
The Magula Frankovka Modrá 2012 has flavors of sour cherry, raspberry, cedar, and earth. This wine is ripe and concentrated for this grape, thanks to the warm vintage. It is aged for 24 months in oak. There is wonderful texture in this wine. It's juicy with layers of nuances – it is a serious red wine with a peppery finish. It's one of the top Slovak reds we've tasted, it also happens to be one of the most age-worthy too.   4.3/5
Magula, Frankovka Modrá Unplugged 2015
This is a full throttle, minimal intervention wine that wasn't touched by electricity or machinery of any kind. It's made with whole cluster fermentation. grapes for the Magula Frankovka Modrá Unplugged are foot stomped and juice was moved with hands and gravity. The wine is aged for 24 months in bottle. Spicy notes of cherry, raspberry, and brambleberry make up the flavors. It's medium bodied and juicy in style with good fruit intensity and a long, pleasant finish.    4.2/5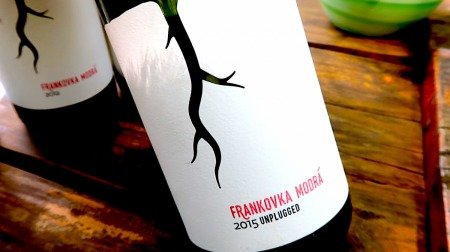 Terra Parna
Across the village from Magula is Terra Parna winery. The two are good friends but farm and make completely different styles of wine. Terra Parna produces classic, conventional wines that focus on precision and balance. Joseph Zvolenská and his daughter Ivana head up the production of around 35,000 bottles per year from six and a half hectares of vineyards.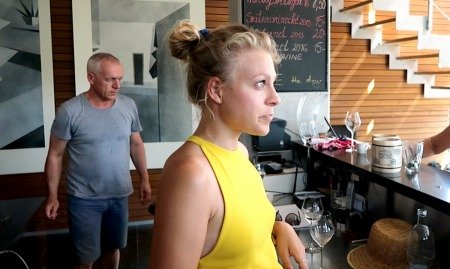 Stepping into the winery, you can tell that Terra Parna is focused on giving a wow experience to guests. The tasting room is bright and the windows give wide views of the gently sloping vineyards. This family-owned estate produces user-friendly whites from the likes of Grüner Veltliner, Riesling, and Sauvignon Blanc, but it's their reds from Svätovarinecké (St. Laurent) and Alibernet that caught our attention.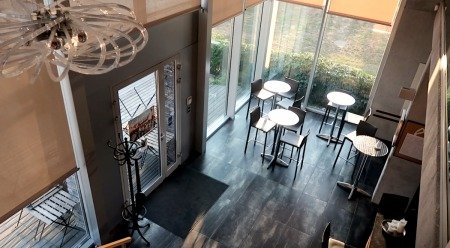 During our visit, Terra Parna assembled a vertical tasting of their Svätovarinecké from the bottle (2008-2013). We had a hard time assessing the wines at first because they were unlike any St. Laurent wines we've come across. These examples are bigger and beefier versions of the grape yet don't suffer from over-extraction. Here are our two favorite vintages. 
Exotic Wine Travel's Picks
Terra Parna, Svätovarinecké 2012
This tastes totally Italian thanks to the generous acidity. The Terra Parna Svätovarinecké 2012 has notes of rubber, tobacco, black cherry and a touch of soil – like an aged, lighter style of Chianti Classico. The wine is aged for three months in French oak and is medium bodied and juicy with a silky mouthfeel. It has a long finish with developed tannins. This is an outstanding effort and one of the finest Slovak reds we've tried.   4.3/5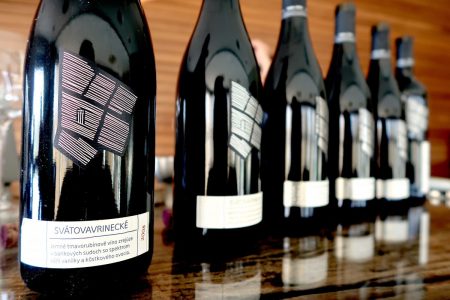 Terra Parna, Svätovarinecké 2013
Find or buy on Wine-Searcher.
The Terra Parna Svätovarinecké 2013 is the current release on the market. It's aged in French oak for three years before bottling. The wine has a true grapey flavor with additional notes of cherry, cedar, and a touch of smoke from the barrel. It's a denser, more serious St. Laurent with a lot of barrel influence. Fruity finish with soft tannins.   4.0/5
Slobodné Vinárstvo
Just south of the town of Hlohovec is where you can find the family farm of Slobodné Vinárstvo. It's a family run affair that produces around 30,000 bottles per year from 17 hectares of vineyards. Some of the vineyards are recently planted and not currently in production. The farm doesn't consist solely of vineyards. There are an additional 300 hectares planted with various crops. We arrived just in time for the poppy seed harvest.
We spent a full day with proprietors and sibling-in-laws Mišo Kuropká and Agnes Lovecká. Mišo's wife and Agnes's partner also take part in the vineyards, winemaking, and marketing of Slobodné Vinárstvo. They make a wide range and one of their wines were featured in Simon Woolf's book Amber Revolution. We found ourselves drawn to their two reds Partisan Cru and Alter Nativo.
The wines of Slobodné have found a nice niché for themselves on the export market. This means you should be able to find them in specialty wine shops, focusing on natural wines. We're fond of their whole portfolio, but these are our favorites.
Exotic Wine Travel's Picks
Slobodné Vinárstvo, 

Partisan Cru 2015
The Slobodné Vinárstvo, Partisan Cru 2015 is the current release on the market. It's a blend of Frankovka Modrá (Blaufränkisch), Alibernet, and Cabernet Sauvignon aged for 18-20 months in used oak. Beautiful red fruit notes with fall leaves and spiciness sit on a medium-bodied frame. It has good oak integration, Charine says it's pretty darn close to smelling like a Bordeaux. Drinkability is off the charts and it's very food friendly.   4.2/5
Check out Charine's take on the 2012 vintage (also delicious) in the video below to see what the Partisan Cru label looks like. She also describes what the grape Alibernet actually is and where it comes from.
Slobodné Vinárstvo, 

Alter Nativa 2014
The Slobodné Vinarstvo Alter Nativa is made from 100% Blaufränksich aged for one year in amphora and then another year in oak barrels. Notes of volatile acidity combined with fresh red fruit, spice, earth, and fall leaves make it feel very Frenchy. The 2014 Alter Nativa is rich and concentrated compared to other vintages of this wine, which is surprising considering the tough, rainy year. It's round on the palate with multiple nuances of flavor and a long finish.   4.2/5
The photo below is the 2015 vintage (which is also delicious) and the label is the same as the 2014.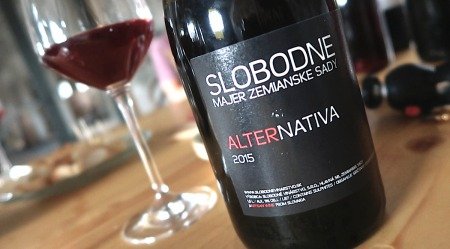 (You can find out more about our scoring system on the WINE RATING page.)
---
Magula, Slobodné Vinárstvo, and Terra Parna provided two nights of accommodation for us to visit. Please note that the opinions expressed in this article are unsolicited and have not been paid for in any way by governmental bodies, enterprises, or individuals. We do not sell editorial content as that would destroy the legitimacy of our reviews and the trust between Exotic Wine Travel and its readers. On occasion, we extend the option of purchasing the wines we review or/and the products we spotlight. Some of these product links are set up through affiliate programs, which means Exotic Wine Travel gets referral credits if you choose to purchase these items via the links we provide.