Italian Wine From Gemma
Reading Time: [est_time] Delicious Italian wine at affordable prices. Over the years, we've been making frequent trips to Friuli-Venezia Giulia, where we've gotten to know Damiano Meroi. He comes from a winemaking family and is passionate about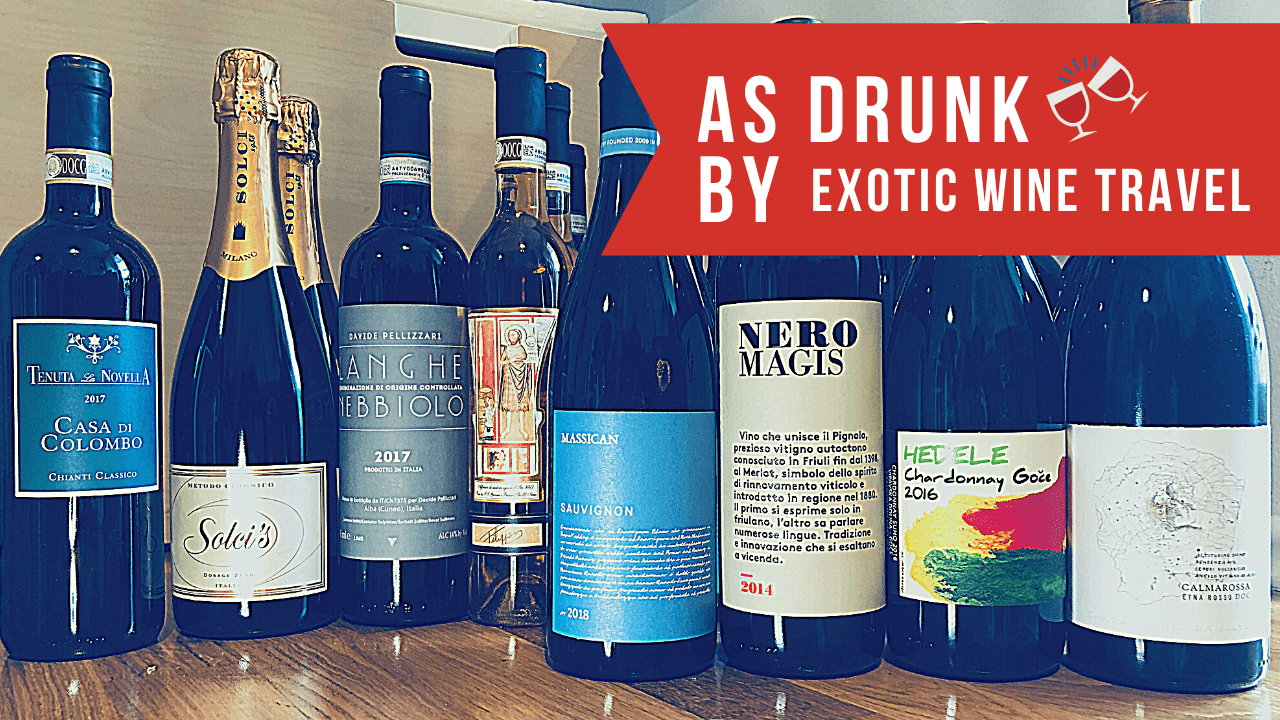 Reading Time: 3 minutes
Delicious Italian wine at affordable prices.
Over the years, we've been making frequent trips to Friuli-Venezia Giulia, where we've gotten to know Damiano Meroi. He comes from a winemaking family and is passionate about great wine. We were instantly drawn to his enthusiasm for great wine. In recent years, Damiano has started an import/distribution company called Gemma Wine.
Damiano offered to send us the Italian wines from his portfolio. Having confidence in his palate, we immediately accepted. We were not disappointed and all the wines showed well.
The Gemma Wine portfolio focuses on small producers throughout Italy and the rest of Europe. The Italian wines in the portfolio are small, under the radar gems, and offer some serious value for money.
Gemma has some brilliant, classic wines in the portfolio in addition to several hidden gems. All of these wines below are under the radar producers. They offer tremendous value in today's wine world, which is something we could all use a lot more of.
Wine Recommendations:
Sparkling Wine
Solci's, Metodo Classico Dosage Zero NV – Lombardy
Solci's, Metodo Classico Dosage Zero is a blend of Chardonnay, Pinot Noir, and a few random grape varieties. Made in the Champagne method. Notes of white pear, lemon, quince, and just a touch of baked bread. It's not super complex but it is a delightful drink. The bubbles here are fine but not too aggressive. Lemony finish. Score: 89/100
White Wine
Massican, Sauvignon Blanc 2018 – Friuli-Venezia Giulia
The Massican, Sauvignon Blanc is barrel fermented and aged in oak for 12 months. This is a riper take on the grape. Notes of white peach, kiwi, acacia flower, and just a touch of oak. This is a rich white wine with some weight and texture. Very Friulian in style. Not Loire, not New Zealand, it's own style. Score: 89/100
Hedele, Chardonnay Goće 2016 – Vipava, Slovenia
The Hedel, Chardonnay Goće is a single-vineyard wine fermented Chardonnay that has really resisted aging. It's more mineral than fruity. Notes of white pear, white peach, lemon zest, and minerals. Barrel integration is fantastic here. The mouthfeel stands out here. It's more mineral than fruity at first. With air, sweet yellow fruits start to explode on the finish. Score: 90/100
Santa Maria la Nave, Millesulmare 2016 – Sicily
The Santa Maria la Nave, Millesulmare is made from the grape Grecanico Dorato (Garganega) grown at 1000 meters. It is labeled as a Sicilia IGT, not an Etna Bianco. This is smoky and complex with notes of ash, Asian pear, lemon, and a little honey. High acid and many layers of texture. For a wine that didn't see oak, this has plenty of refinement. Long, strung out palate with a smoky finish. Score: 92+/100
Red Wine
Tenuta la Novella, 'Casa di Colombo' Chianti Classico 2017 – Tuscany
The Tenuta la Novella, 'Casa di Colombo' Chianti Classico is Sangiovese aged in cask and cement. For a hot vintage like 2017, this shows finesse, is floral, and perfurmed, Notes of red cherry, raspberry, dried flowers, and a hint of pepper. This is fruity and easy to drink. The tannins are grippy but not aggressive. Fun to drink, it tastes more like a Beaujolais than a Chianti Classico. Score: 87/100
Nero Magis 2014 – Friuli-Venezia Giulia
Nero Magis is a blend of Merlot and Pignolo aged in wood for 24 months. Very big and complex red with notes of cherry, red plum, fall leaves, black olive, tobacco, and pepper. This isn't a big, bold red. This is savory with plenty of earth and leather notes. The tannins are small and biting, almost Nebbiolo-like thanks to the Pignolo. Long finish. For a tough vintage, this is a gorgeous wine.  Score: 92/100
Davide Pellizzari, Langhe Nebbiolo 2017 – Piedmont
The Davide Pellizzari, Langhe Nebbiolo is made from vines planted in Roero and aged in French oak for 12 months. This shows a lot of refinement for a Langhe Nebbiolo, it's almost Barbaresco-esque. Notes of sweet cherry liquor, cranberry, violets, tar, and earth. It dances on the palate nice with a silky smooth texture before the big time tannins hit. Refined Langhe Nebbiolo. Score: 91/100
Santa Maria la Nave, 'Calmarossa' Etna Rosso 2016 – Siciliy
The Santa Maria la Nave, 'Calmarossa' Etna Rosso is a blend of Nerello Mascalese and Nerello Cappuccio aged in French oak. Very much Red Burgundy in style. Red raspberry, crushed rock, white pepper, smoke, and a hint of sweet vanilla. Mouthfilling red fruit with minerals on the backend. The acidity is dancing on the palate and the tannins are firm, this is really built to age. Subtle and gentle now, this will reward those with patience. Score: 93/100
Sweet Wine
Filippon, Ramandolo 2017 – Friuli-Venezia Giulia
The Filippon, Ramandolo is Verduzzo barrel fermented and aged in wood for 24 months. Notes of dried apricot, dried peaches, honey, dried lemon peel, and white pepper. Full-bodied and rich with yellow fruit flavors. There's plenty of acidity here to keep the palate from feeling too heavy or sappy. The acidity isn't as high as a TBA Riesling or sweet Tokaji, but it's enough to stretch out the palate. Score: 91/100
Do you like our content?
If you like our articles and videos, we'd love for you to be a part of our community on Patreon. The support from Patreon helps keep the content coming and you access to behind the scenes content. It also gives us the chance to get to know you better. Check out the Exotic Wine Travel Patreon page by clicking the photo below.

---
Thanks to Gemma Wine for the bottles. The opinions expressed in this article are unsolicited and have not been paid for in any way by governmental bodies, enterprises, or individuals. We do not sell editorial content as that would destroy the legitimacy of our reviews and the trust between Exotic Wine Travel and its readers. On occasion, we extend the option of purchasing the wines we review or/and the products we spotlight. Some of these product links are set up through affiliate programs, which means Exotic Wine Travel gets referral credits if you choose to purchase these items via the links we provide.