Grabovac Trnjak Riserva 2017
Reading Time: [est_time] Hello! Welcome to As Drunk by Exotic Wine Travel, a weekly column where we feature interesting wines that we encourage you to seek out. The reviews featured in this series may be written by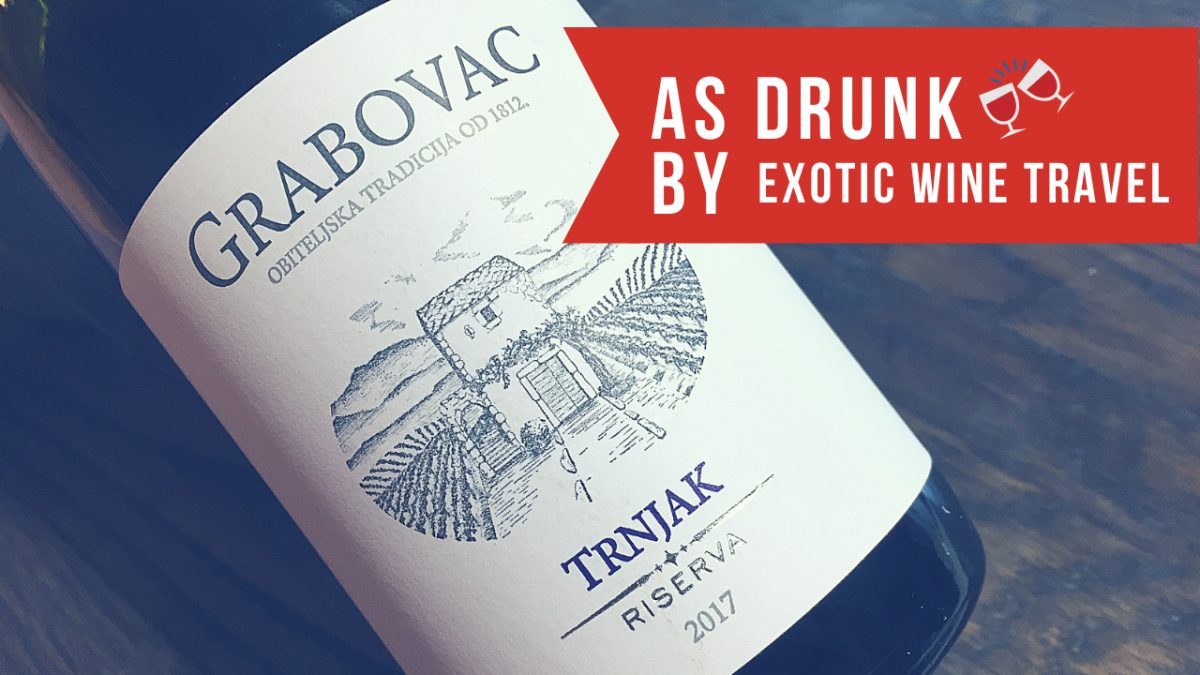 Reading Time: 2 minutes
Hello! Welcome to As Drunk by Exotic Wine Travel, a weekly column where we feature interesting wines that we encourage you to seek out. The reviews featured in this series may be written by either one or the both of us. The featured wines can be from obscure or well-known wine regions. We hope that these wine recommendations will keep you gastronomically curious and your palate invigorated!
Grabovac, Trnjak Riserva 2017
Could Trnjak have the highest potential among all indigenous Balkan red grapes?
Trnjak is a red grape is grown in the town of Imotski in the Dalmatian Hinterlands of Croatia in addition to Western Herzegovina (Bosnia Herzegovina). For the last few decades, this grape has been an afterthought. It's been simply used in the vineyards as a pollinator of the beloved local grape Blatina – which has only a female flower. Trnjak (which also goes by Rudežuša) is often blended into varietal Blatina wines to add color.
The grape garnered some attention after Vinogradi Nuič won a gold medal in the AWC competition for their 2015 Trnjak. In recent years, more producers are planting and vinifying Trnjak. The grape is made into fresh and barrel-aged wine.
Trnjak wines tend to be plush and mouth-filling like Merlot with subtle nuances of Mediterranean herbs and spices. It creates rich fresh reds and takes to barrel aging well. There aren't a lot of examples on the market, but existing wines show promise.
Grabovac is a family-run cellar in Imotski, a Dalmatian (Croatia) village on the border with Bosnia Herzegovina. This is the second excellent vintage in a row of the Grabovac, Trnjak Riserva. If you put this wine in a blind tasting, many people might call it a Southern Rhône wine. There are notes of black cherry, red plum, meat, garrigue, and white pepper. The mouthfeel is fruity and plush, like a good Merlot. There is an intensity of flavors on the mid-palate and the tannins and ripe and easygoing.
It's a true Mediterranean red, but at 13.5% ABV, it's far from a bruiser. If you're looking for something new and exciting, the Grabovac Trnjak Riserva is highly recommended.
Score: 90+/100 (You can find out more about our scoring system on the WINE RATING page.)
The finest selection of Grabovac wines
available at:

Shipping is available EU-wide and to the UK.
************
    Do you want to try Croatian wines?    
If you want to savor the exquisite flavor of Croatian wines, look no further than wineandmore.com. With an abundance of options from different winemakers, it's easy to find exactly what your palate desires. Not sure which bottle is best for you? Try out one of their curated wine cases and discover the perfect vintage for any occasion!
************
Want to learn more about wine?
Are you ready to discover the wonderful world of wines? Come join us at wineandmore.com and let's explore the incredible selection of delicious wines together! We can't wait to share our passion for wine with you!
---
Please note that the opinions expressed in this article are unsolicited and have not been paid for in any way by governmental bodies, enterprises, or individuals. We do not sell editorial content as that would destroy the legitimacy of our reviews and the trust between Exotic Wine Travel and its readers. On occasion, we extend the option of purchasing the wines we review or/and the products we spotlight. Some of these product links are set up through affiliate programs, which means Exotic Wine Travel gets referral credits if you choose to purchase these items via the links we provide.