Four Hedonistic Napa Cabernet Sauvignons
Reading Time: [est_time] In February 2018, Charine and I attended the Wine Writer's Symposium Meadowood in Napa Valley. The symposium coincided with the week of Premiere Napa Valley. The biggest reason I wanted to attend the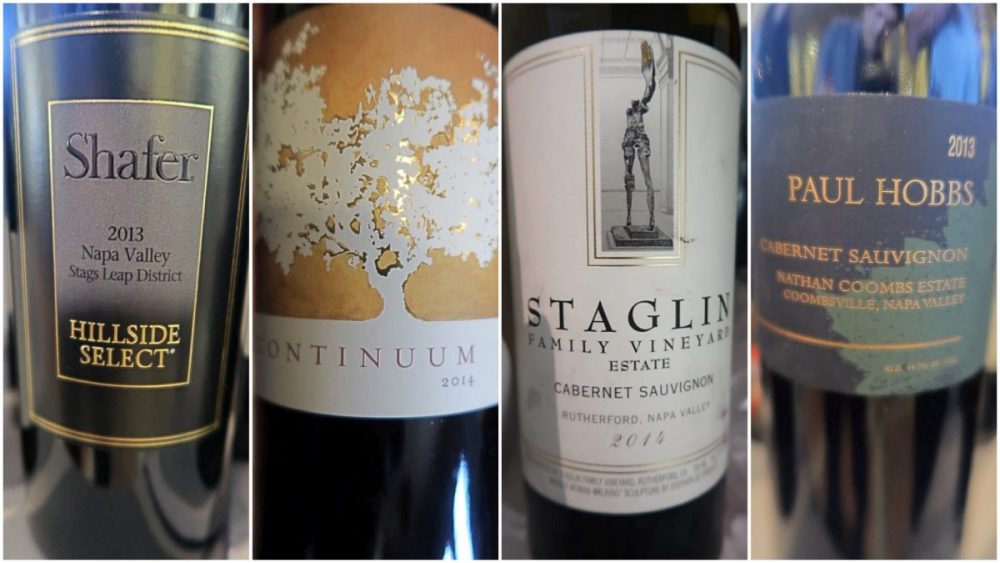 Reading Time: 2 minutes
In February 2018, Charine and I attended the Wine Writer's Symposium Meadowood in Napa Valley. The symposium coincided with the week of Premiere Napa Valley. The biggest reason I wanted to attend the events was to check off a few wish-list wines that are hard to get outside of California. We drove from Michigan to California in February, there was some brutal weather on Interstate 80 but we made it without any major problems.
After the four-day Wine Writer's Symposium, we attended several events around Premiere Napa Valley. It was wine geek heaven. The week of Premiere Napa Valley is full of tasting parties, open houses, and great food capped off by the live auction. This year, over 4.1 million USD was raised during the auction. More on the symposium and auction in upcoming articles.
After tasting lots for the Premiere Napa Valley live auction, we sat down for lunch. The Napa Valley Vintners laid out an impressive spread of food matched by big-time wines. We were shocked to see the variety of wines available over lunch. I quickly grabbed a few glasses of wines that have been on my to-try list.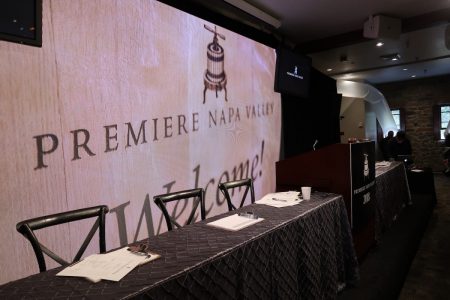 All four of these Cabernet Sauvignons are from big names and come with big-time prices to boot. We drank a small glass of each wine over lunch. These wines come with enormous reputations. With that comes big expectations. So how do they taste?  
Find or buy on Wine-Searcher.
Continuum is a label launched by Tim Mondavi (son of Robert Mondavi). The vineyards of Continuum are hillside sites within the Oakville AVA. The 2014 Continuum is a blend of 65% Cabernet Sauvignon, 15% Cabernet Franc, 15% Petit Verdot, and 5% Merlot aged 21 months in oak.
This is a dense, massive effort. Full of cassis, tobacco, black cherry, and soy sauce. It's very silky and round on the palate. It has a lot of wood but it works well. It is a big bodied with a silky smooth mouthfeel. The firm tannins guide the long finish. Out of these four wines, this felt the heaviest on the palate.   4.5/5
Shafer, 

Hillside Select Cabernet Sauvignon 2013
Find or buy on Wine-Searcher.
What a wine! The Shafer Hillside Select Cabernet Sauvignon comes from hillside vineyards located in the Stag's Leap District. This wine is 100% Cabernet Sauvignon aged 32 months in French oak. 
It smells like it should be a dense wine yet it feels extremely elegant on the palate. It smells more like dark fruit while the palate has more red fruit. A very interesting drinking experience It has a savory note to it with cherry flavors, vanilla, and tobacco flavors. Medium bodied and fun to drink with fine-grained tannins. It's not over the top Cab while being subtly powerful. Fantastic fruit and masterful winemaking.   4.8/5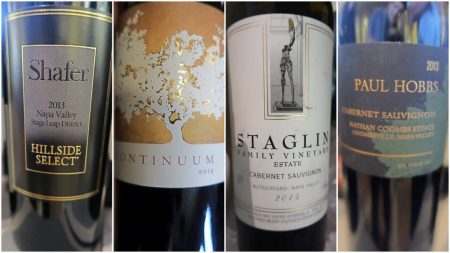 Staglin Family Vineyard, 

Estate Cabernet Sauvignon 2014
Find or buy on Wine-Searcher.
The fruit for this Staglin Family Vineyard Estate Cabernet Sauvignon comes from the estate vineyards which are farmed organically. The vineyard is located within the Rutherford AVA. This vintage has 13% Cabernet Franc and 6% Petit Verdot in the blend and is aged 20 months in French oak. 
The wine is dark and dense with tobacco, black cherry, and soy sauce notes. It's round on the palate with a small tannin level. It tastes developed for such a young wine. Big yet not overly loud. with a long finish.   4.6/5
Paul Hobbs, 

Nathan Coombs Estate Cabernet Sauvignon 2013
Find or buy on Wine-Searcher.
The Paul Hobbs Nathan Coombs Estate Cabernet Sauvignon is from Hobb's estate vineyard in the Coombsville AVA. It's one of the reserve wines from Paul Hobbs. The 2013 vintage has 3% Cabernet Franc and 1 % of Petit Verdot in the blend and is aged for 20 months in French oak. 
It has very Tuscan-like flavors – similar to the wines of Bolgheri, Italy. Full of black and red cherry, chestnut, and vanilla flavors. It's full-bodied but not massive. Fresh acidity with a round mouthfeel and chewy tannins and a long finish.   4.7/5 
(You can find out more about our scoring system on the START HERE page.)
---
The opinions expressed in this article are unsolicited and have not been paid for in any way. We do not sell editorial content as that would destroy the legitimacy of our reviews and the trust between Exotic Wine Travel and its readers.