Istrian Wine Continues to Rise
Istria is a heart-shaped peninsula that sits at the top of the Adriatic Sea. The region has often been dubbed "The New Tuscany" for its hilltop towns, Italian-influenced cuisine, and juicy wines.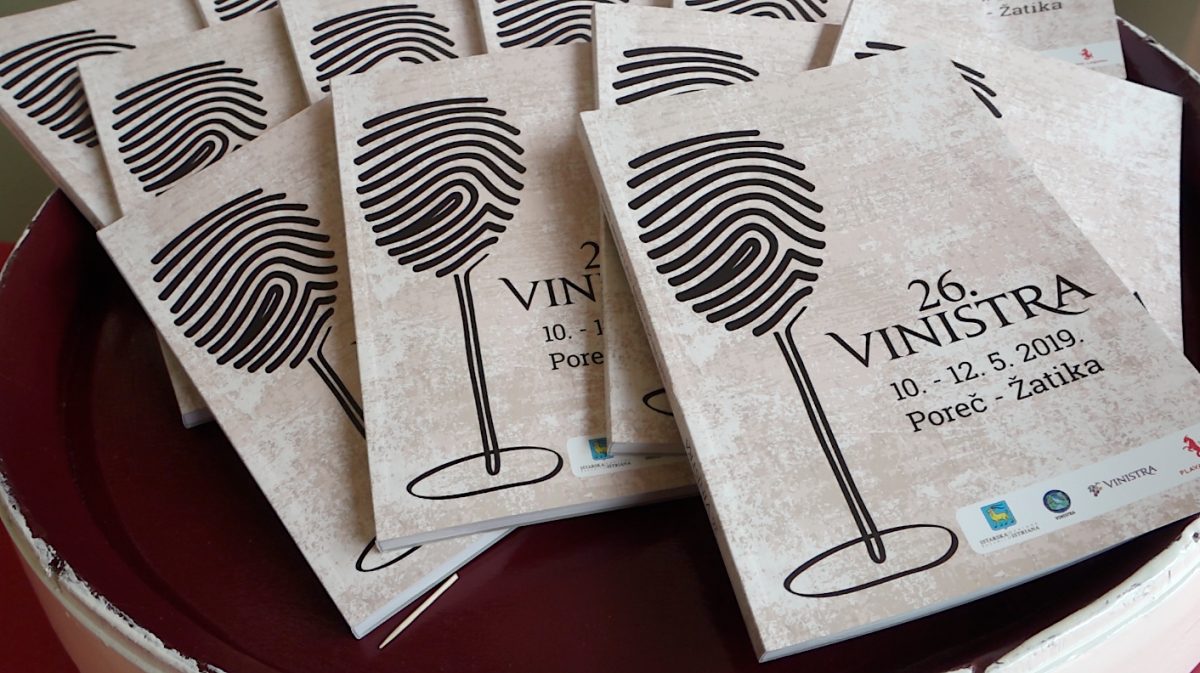 Reading Time: 4 minutes
Istria is a heart-shaped peninsula that sits at the top of the Adriatic Sea. Most of the peninsula sits within Croatian borders although there are small parts are in Slovenia and Italy. The region has often been dubbed "The New Tuscany" for its hilltop towns, Italian-influenced cuisine, and juicy wines. Istrian winemakers continue to push the quality bar higher for Croatian wine. Their annual showcase of the region is known as Vinistra.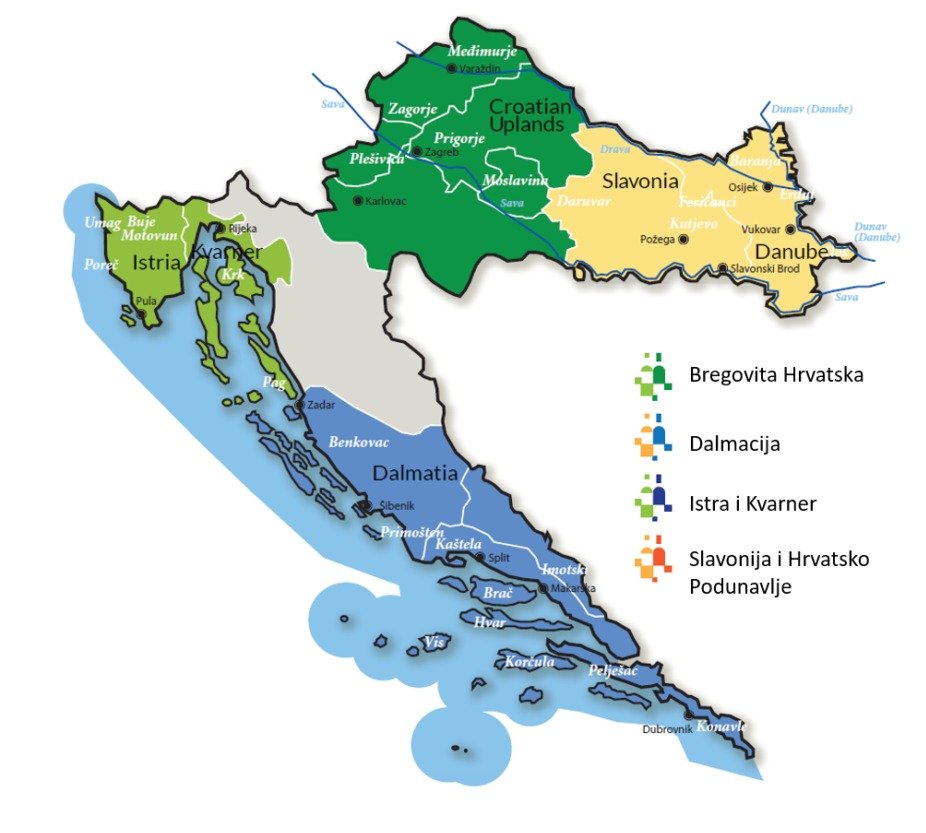 We attended the 26th Vinistra and tasted through the latest vintages. Our focus began with the region's signature white grape, Malvazija Istarska. The quality of fresh, dry Malvazija Istarska is high and we wouldn't hesitate to recommend bottlings from nearly all of the producers. When made fresh, Malvazija Istarska has notes of white flower and yellow peach that finishes with a slightly bitter almond note. The latest vintage is 2018 and after tasting through all the examples, it looks like another promising year.
One grape that took us by surprise at this year's Vinistra was Cabernet Franc. Istrians proudly grow their local grape Teran and boast that their terroir is great for Merlot. However, the less popular of the Cabernets might be the best option for the region. Several examples we tasted had the classic capsicum, and violet notes with ripe red fruit and chewy tannins. Cabernet Sauvignon has a hard time ripening every year in Istria, so we're hoping that more producers give Cabernet Franc a shot.
You can see more of our thoughts on the region and the wines in the video below.
You can learn more about Istria and its wines by checking out our videos Cracking Croatian Wine In Istria Part 1, Part 2, Part 3, and Part 4.
Exotic Wine Travel's Picks:
Our regular favorites from Istria showed really well. The Kozlović Santa Lucia White 2016 and Red 2015 are stellar as always. The new vintage of Kabola Malvazija Amphora 2016 is stunning as well as the Coronica Gran Malvazija 2016, Cornica Gran Teran 2015, and Matošević Grimalda Red 2016. The new vintages from Clai, Damjanić, and Franković are also something that you should check out. Instead of writing about our favorites again, we decided to spotlight several different producers below.
You can find out more about our scoring system on the WINE RATING page.
Vina Laguna, Castello 2017
The Vina Laguna Castello cuvée has traditionally been Merlot, Syrah, and Cabernet Sauvignon. This is the first vintage that is a true Bordeaux blend – Cabernet Sauvignon, Merlot, and Cabernet Franc. It's toasty with violet, capsicum, and black fruit notes. The wine is spicy and shows good tannic structure. We tasted it as a barrel sample and it's possible that the wine is even better once it is released next year. Score: 90/100
This is a rare example of Malvasia Nera in Istria. Tomaz has long been known for his Malvazijas, but this wine shows he has the touch with reds too. The Tomaz Nera has notes of sour cherry, white flower, white pepper. Intense fruity and floral yet light on the palate. This is a fun wine with soft tannins. Score: 89/100
Marijan Arman, Mavazija Rezerva 2015
The Marjan Arman Malvazija Rezerva is a full-bodied, barrel matured white wine, it's aged 8 months in oak and macerated for 20 hours. This has notes of pineapple, yellow peach, yogurt, and wood. This wine is round and creamy in the mouth and the floral notes come out a little more on the palate than on the nose. Acidity and wood management are very well balanced. This is a wine that fans of barrel-aged Chardonnay should seek out. It's among the best barrel-fermented Malvazijas that you will come across. Score: 91/100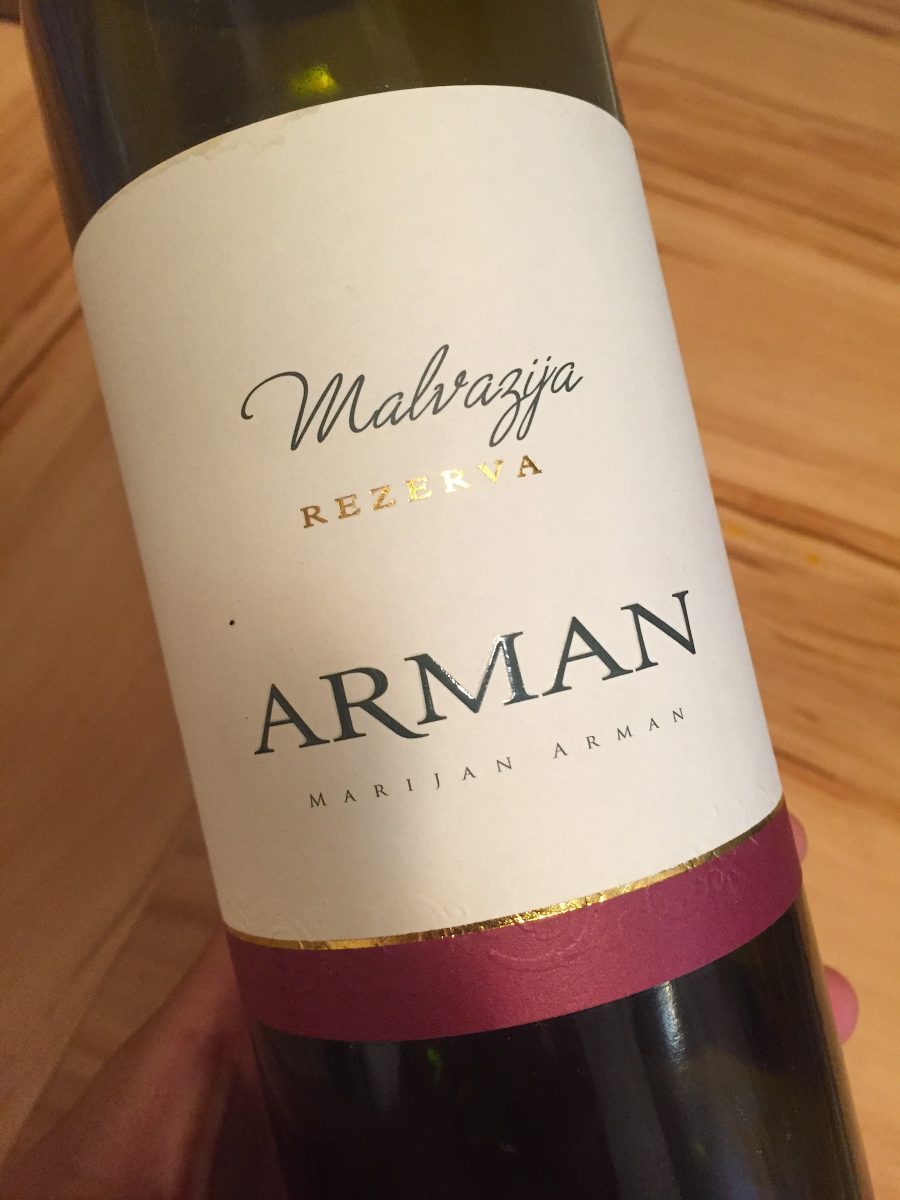 Dvorac Belaj, Malvazija 2012
The Dvorac Belaj Malvazija 2012 has a great nose, nice structure, and sweet textural finish. Charine loved it, saying, "The 2012 Malvazija (3-day maceration, 1 year aged on lees. 50% in steel tanks and 50% in 3000-liter oak cask.) was a huge surprise. It was so flinty, chalky and limey on the nose, almost Chablis-like. On the palate, it was linear and light with a pleasant acidic bite and a saline finish." Score: 90/100
Legovina, Cuvée Blanc 2009
This is one of our favorite producers in Istria for aged wines. The Legovina Cuvée Blanc 2009 is a blend of Malvazija (60%), Chardonnay (30%), and Sauvignon Blanc (10%). The Malvazija is macerated and the finished cuvée is aged for a whopping 72 months in oak. This is a serious, geeky wine with bruised apple, sherry-like note, apricot, and sweet peach. Shiny and almost Szamorodni (Tokaj) like. This is complex and thought-provoking. Score: 92/100
Franc Arman, Cabernet Franc 2015
Before we tasted this, we had just spent a week in the Loire – which means our bar for Cabernet Franc is quite high (especially Charine). The Franc Arman Cabernet Franc is a great effort. It has a Chinon-like nose with notes of black olive, capsicum, cherry and more. It's medium-bodied with firm tannins. Score: 89/100
Most red grape plantings in Istria consist of Teran, Merlot, and Cabernet Sauvignon. This Monte Rosso Nerone is made with Montepulciano d'Abruzzo and is aged for 18 months in large oak casks. It smells like true Montepulciano with dark cherry, chocolate, and cedar notes. The wine is rich and luscious with chewy tannins making for a great weekday sipper. Score: 88/100
Degrassi, Contarini Cabernet Franc Riserva 2012
Moreno Degrassi is part of the old guard in Istria. He releases his red wines with a few years of bottle age. The Cabernet Franc Riserva 2012 smells like a Tuscan red with notes of sweet cherry, black olive, and cedar. It's round on the palate with tangy acidity and chewy tannins. Score: 90/100
Benvenuti Santa Elisabetta 2015
Benvenuti continues to raise the quality bar with every vintage, we now consider them to be among the finest producers of Croatian wine. The Benvenuti Santa Elisabetta was the best wine we tasted at the show (in addition to the Kozlović Santa Lucija white and red). It's made from 100% Teran. Charine loved it as you can see below. Score: 93/100
Ghira, Malvazija Amphora 2017
This is an experimental wine and is not bottled yet. Currently, in Istria, the only Malvazija fermented in amphora that I am aware of is from Kabola. The Ghira Malvazija Amphora 2017 is macerated two weeks in 350 L amphora (above the ground, not buried). It's floral with notes of sweet peach and fine texture. It isn't finished product but does show potential. Score: 88/100
The finest selection of Croatian wines
available at:

Shipping is available EU-wide and to the UK.
************
    Do you want to try Croatian wines?    
If you're looking to savor the exquisite flavor of Croatian wines, look no further than wineandmore.com. With an abundance of options from different winemakers, it's easy to find exactly what your palate desires. Not sure which bottle is best for you? Try out one of their curated wine cases and discover the perfect vintage for any occasion!
************
Want to learn more about wine?
Are you ready to discover the wonderful world of wines? Come join us at wineandmore.com and let's explore the incredible selection of delicious wines together! We can't wait to share our passion for wine with you!
---
The opinions expressed in this article are unsolicited and have not been paid for in any way by governmental bodies, enterprises, or individuals. We do not sell editorial content as that would destroy the legitimacy of our reviews and the trust between Exotic Wine Travel and its readers. On occasion, we extend the option of purchasing the wines we review or/and the products we spotlight. Some of these product links are set up through affiliate programs, which means Exotic Wine Travel gets referral credits if you choose to purchase these items via the links we provide.