Italian Wine From Valle d'Aosta
Reading Time: [est_time] Pure mountain magic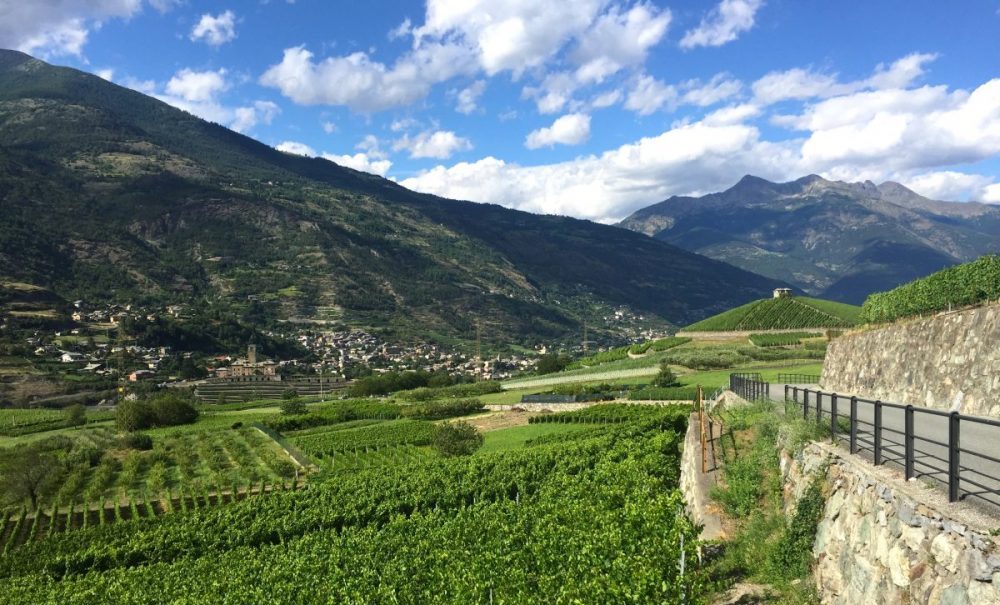 Reading Time: 4 minutes
Pure mountain magic…
Valle d'Aosta is Italy's smallest wine region by vineyard area and population. The region has less than 500 hectares under vine and around 120,000 residents. Despite its small size, the Valle d'Aosta delivers big time when it comes to views and quality of the wine.
Years ago, Charine and I bought Pinot Noir and Fumin from the small producer Ottin. After that, we've been intrigued by this isolated northwest corner of Italy. Thanks to Cervim and the Mondial des Vins Extrêmes 2019 competition, I finally got my chance to visit.
During the week in the valley, I was amazed by the mountain vistas, food, and high-quality of the wines. My days consisted of judging at the competition (which was the best competition I've judged wine-wise) while the afternoons and nights consisted of visiting producers and stuffing my face with the local cuisine (kudos to the humble kitchen at Etoile du Nord).
Valle d'Aosta has a number of unique grapes including Mayolet, Fumin, Petit Rouge, Vuillermin, Priè Blanc, and Nebbiolo from neighboring Piemonte. The Swiss grapes Petite Arvine and Cornalin flourish here as well in addition to French grapes like Chardonnay, Pinot Gris, and Pinot Noir. The Petite Arvine here is spectacular, ripe in tropical fruits with floral notes and at a fraction of the price compared to their Swiss counterparts. All of the French grapes do well here too, especially Pinot Gris.
The local red grapes create special wines. While Vuillermin and Mayolet are rare, the grapes Fumin and Petit Rouge are easily found. The former often in a varietal form while the latter makes up the majority of the wines labeled as Torrette and Torrette Superiore. Both grapes produce wines that are juicy and age-worthy, full of mountain berry flavors.
Another plus to the region is that wines can be found at relatively low prices. Cooperatives dominate the production of the valley and don't hesitate on trying the wines from Cave des Onze Communes, La Crotta di Vegnero, and Cave Mont Blanc. The problem is that most of them are scooped up locally thanks to the heavy amount of tourist traffic (skiing and hiking).
Here are a few standout wines from both small producers and cooperatives.
Exotic Wine Travel's Picks:
Institut Agricole Règionale, Petite Arvine 2018
Find or buy on Wine-Searcher.
The Institut Agricole Règionale is a local school in the Valle d'Aosta that works with everything related to agriculture. They have spotless, modern winemaking facilities and it shows in the winemaking. The Institut Agricole Règionale Petite Arvine has flavors of white flower, peach, yogurt. It's floral with ripe fruit at the same time. This wine is a bit slimmer than most examples of the grape. Score: 90/100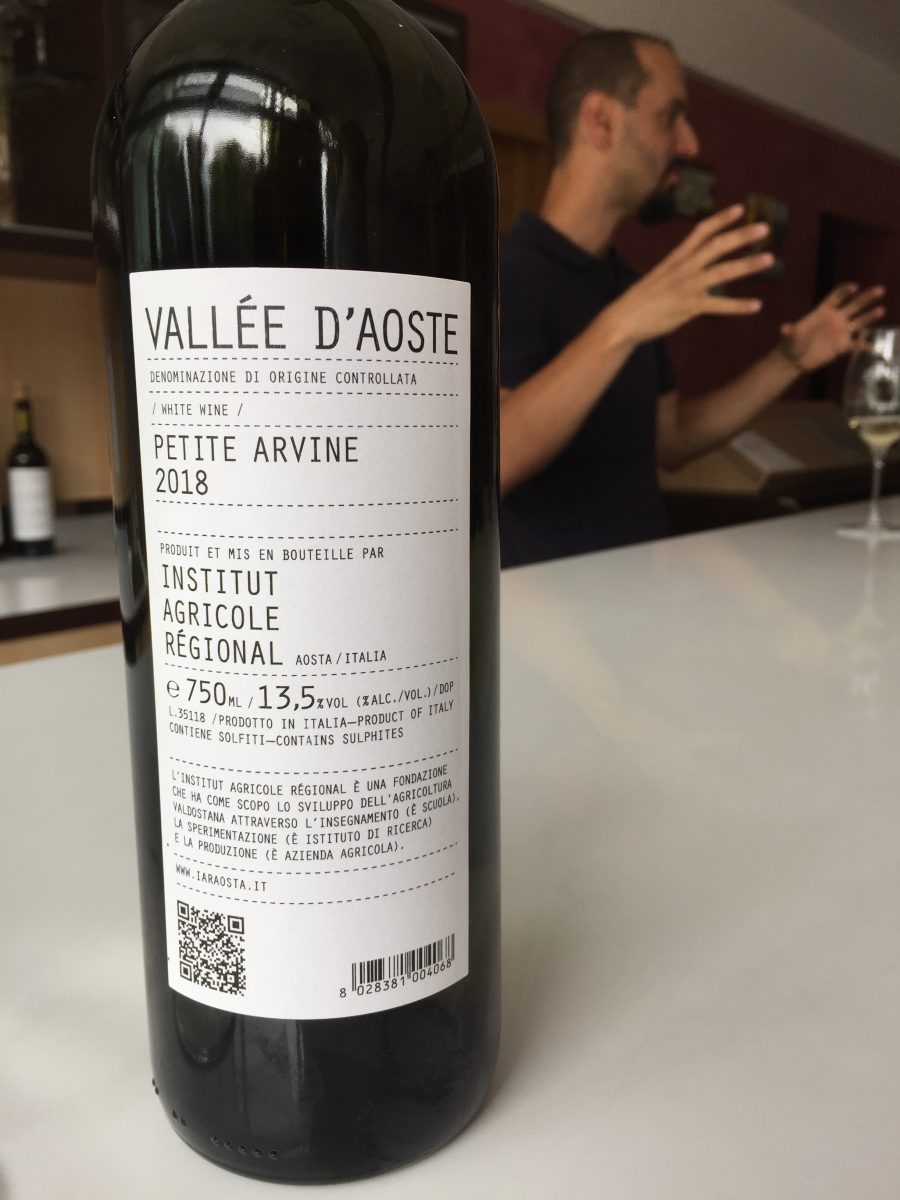 Institut Agricole Règional, Vuillermin 2017
Find or buy on Wine-Searcher.
The Institut Agricole Règional is one of only two producers working with the rare grape Vuillermin. It has notes of violet, black cherry, and pepper. The wine is medium-bodied with sweet tannins and a silky smooth mouthfeel. This is a subtle, juicy red wine aged for 12 months in big barrels. Score: 91/100
Cave des Onze Communes, Torrette Supérieur 2016
Find or buy on Wine-Searcher.
The Cave des Onze Communes is the biggest cooperative and producer in the Valle d'Aosta. They produce clean, well made, and affordable wines from white and red grapes. The Cave des Onze Communes Torrette Supérieur is a beautiful mountain red wine. There are notes of red currant, cedar, fall leaves, and pepper. This is a medium-bodied, food-friendly red with a silky smooth mouthfeel with easy tannins. Once again, this cooperative delivers. The wine is primarily Petit Rouge with some Fumin and Mayolet. Score: 90/100
Les Granges, Pinot Noir 2015
Find or buy on Wine-Searcher.
The Les Granges Pinot Noir is light in color. This is really reductive at first and needs lots of air to blow off (eggshells and sulfur). Once that clears, there are notes of light red raspberry, white pepper, and earth. It's recognizable as Pinot Noir. The palate is light and easy drinking. This is juicy and delicious with a low level of tannin, it's a wine that will please many palates. 88/100 
La Crotta di Vegneron, 'Espirit Follet' Fumin 2017
Find or buy on Wine-Searcher.
La Crotta di Vegneron is another high-quality cooperative winery in the Valle d'Aosta. The La Crotta di Vegneron 'Espirit Follet' Fumin has long been a gold standard for the grape variety. Charine puts it best below. Score: 91/100
La Source, Torrette Superior 2014
Find or buy on Wine-Searcher.
The La Source Torrette Superior has a very subtle nose that needs time. It has notes of bright cherry juice, pepper, and dried strawberry. There isn't a lot of aged notes here but there is a roundness to the wine. It's silky on the palate like a Pinot Noir. Good fruit on the finish with a subtle lingering hint of greenness. Score: 89+/100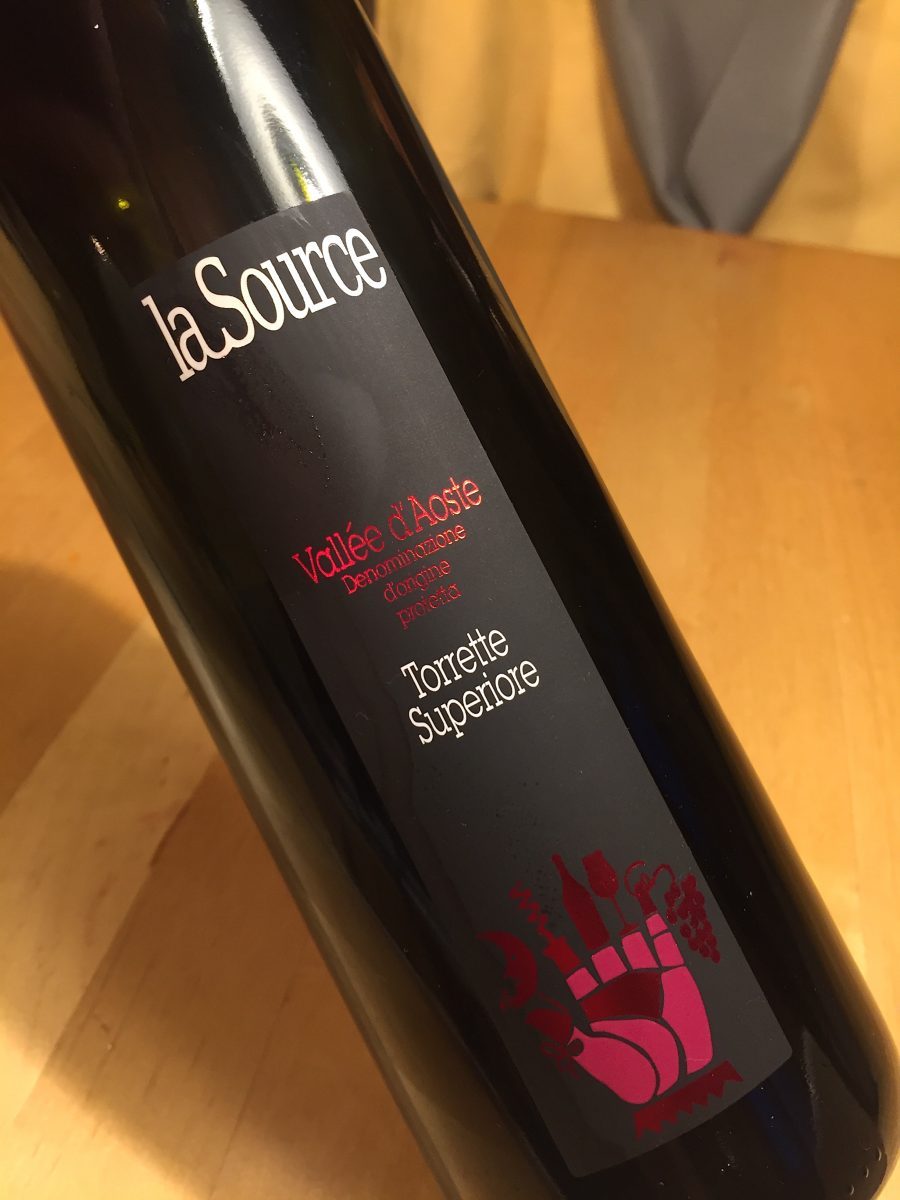 Cave Gargantua, 'Labié' Torrette Superior 2017
Cave Gargantua is a small cellar that began less than ten years ago. It's a garage winery that produces around 15,000 bottles per year, all of which is sold out immediately. I was deeply impressed with the Cave Gargantua 'Labié' Torrette Superior, which is a blend of Petit Rouge, Fumin, and Vien de Nus. It's loaded with cherry, tobacco, and cedar notes. The wine is medium-bodied and silky with a lingering finish. It's impeccably balanced and just plain delicious. Score: 92/100
Les Crêtes, Nebbiolo Sommer 2016
Find or buy on Wine-Searcher.
Les Crêtes is one of the legendary estates in Valle d'Aosta. In the recent vintages they decided to make a Nebbiolo. Don't expect Barolo or Barbaresco here, the Les Crêtes Nebbiolo Sommer is completely different. There are notes of pine, cherry, rubber, and pepper. The wine has a complex and mysterious nose with a silky mouthfeel and grippy tannins. This would be so much fun to throw in a Nebbiolo blind tasting. Score: 91/100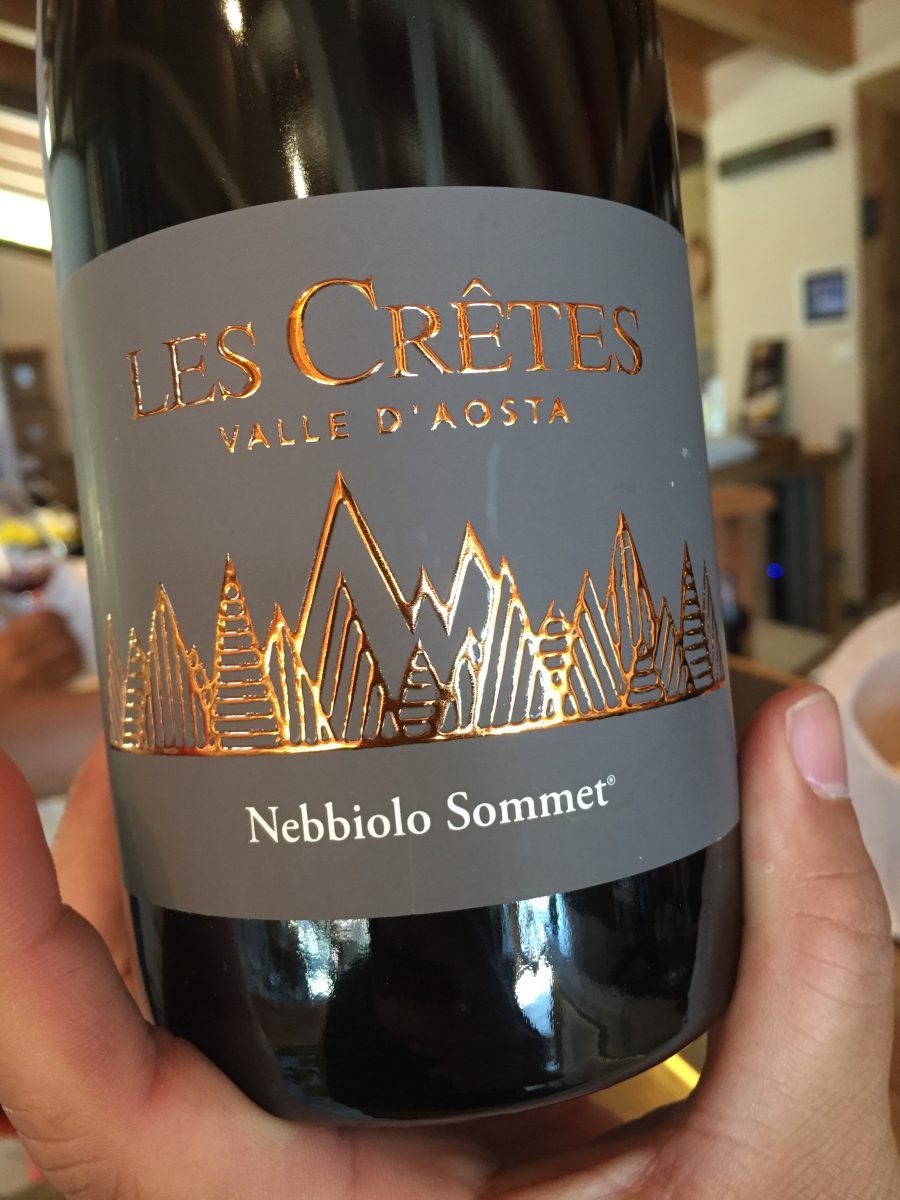 Les Crêtes, Neige d'Or 2016
Find or buy on Wine-Searcher.
The Les Crêtes Neige d'Or is a blend of white grapes from Valle d'Aosta. Part of the wine is aged in barrel. This is a wonderful full-bodied white. Notes of tropical fruit, mineral, yogurt, and white pepper. It's got ripe fruit and a real bite to it. Long and minerally finish with a grainy texture. Lovely stuff from this legacy producer. The blend is Chardonnay, Petite Arvine and Pinot Gris. Score: 90/100
Cave Mont Blanc, '1187' Blanc de Morgex Et La Salle Extra Brut 2016
Find or buy on Wine-Searcher.
Cave Mont Blanc is a cooperative winery in the northern end of the valley working with the rare white grape Priè Blanc. The Cave Mont Blanc '1187' Blanc de Morgex Et La Salle Extra Brut is a traditionelle méthode sparkling wine that spends 17 months on the lees. It's got bright notes of lemon, white pear, apple blossom, and slate. The palate is linear and crisp with an intense saline finish. This is elegant and fun to drink. Score: 90/100
Reference:
Mountain Magic: The Wines of Valle d'Aosta
---
Matt was invited to the Valle d'Aosta by Cervim for the Mondial des Vins Extrêmes Competition accommodation was provided by Etoile du Nord. The opinions expressed in this article are unsolicited and have not been paid for in any way by governmental bodies, enterprises, or individuals. We do not sell editorial content as that would destroy the legitimacy of our reviews and the trust between Exotic Wine Travel and its readers. On occasion, we extend the option of purchasing the wines we review or/and the products we spotlight. Some of these product links are set up through affiliate programs, which means Exotic Wine Travel gets referral credits if you choose to purchase these items via the links we provide.