Italian Wine: Mi Amore
Reading Time: [est_time] When it comes to my first true wine love, Italy holds my heart. In normal years, I'm in Italy at least five times per year. Thanks to the worldwide situation, that number went down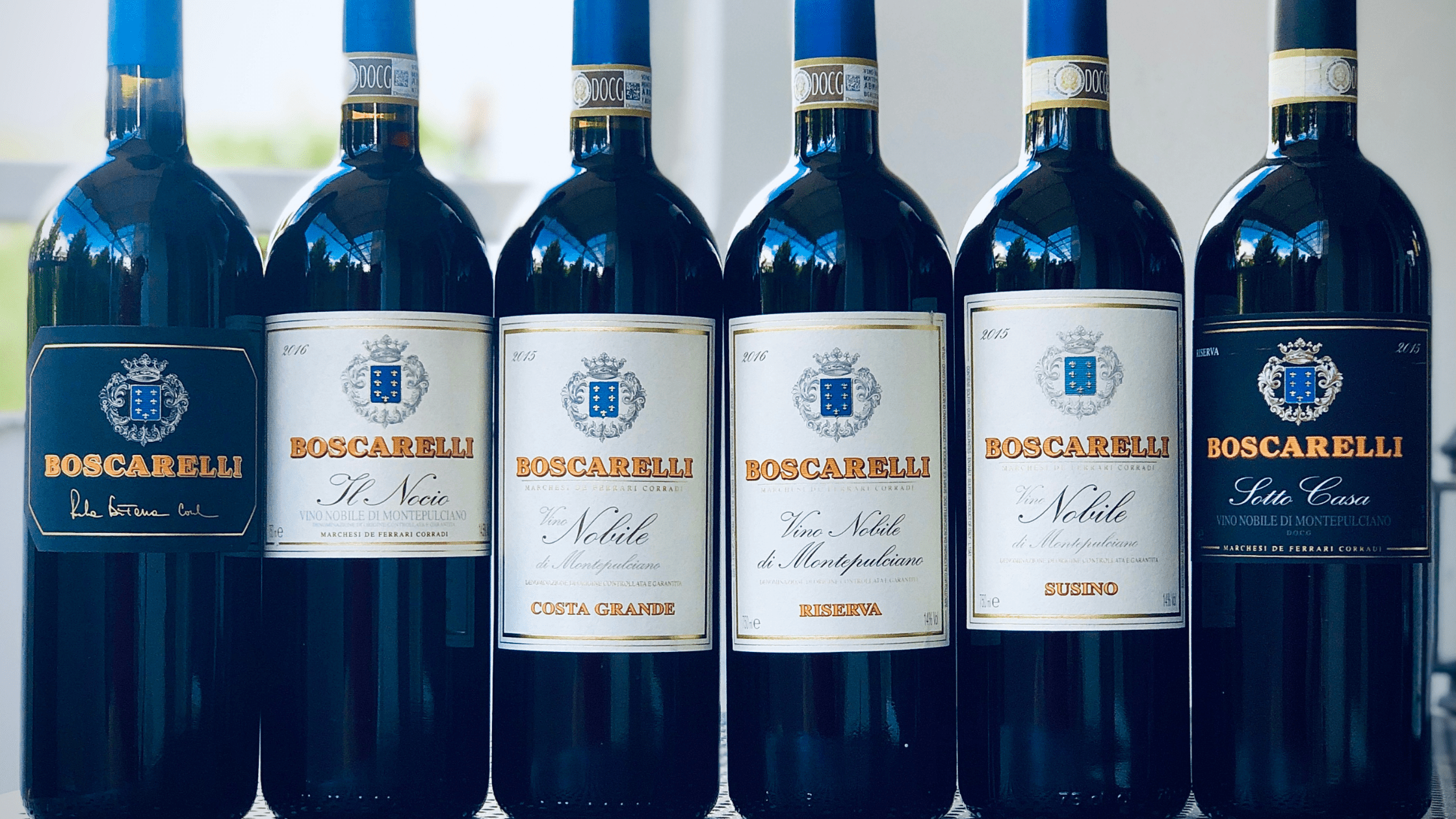 Reading Time: 7 minutes
When it comes to my first true wine love, Italy holds my heart.
In normal years, I'm in Italy at least five times per year. Thanks to the worldwide situation, that number went down significantly in 2020 and the first part of 2021 (hopefully that changes in Q3 and Q4). The lack of travel meant that I did most of my tastings at home.
My Italian Wine Story
My love for Italian wine began with my first trip to Europe during a backpacking trip in graduate school. During that summer, my friends and I stopped in the walled city of Lucca (Tuscany). We ordered a liter of house wine made from Sangiovese.
Until then, I had only been drinking cheap, supermarket wines in America. I poured myself a glass of that house wine and just smelled the glass for five minutes straight. My friends looked at me like I was crazy. The aroma of that wine has stuck to me until this day.
As I started to grow up in the wine world and eventually work in it, my love for Italian wine never waivered. In fact, it became stronger. The mind-boggling amount of grape varieties and styles of wine in the country captures the attention of myself and wine lovers the world over. You could dedicate your entire life to Italian wine and still not cover everything the country has to offer.
If you want to learn about Italian wine, get out there and taste as much as you can. With the quality rising throughout the country, now is a better time than ever. Here are the best Italian wines that I tasted in the first half of 2021.
Italian Wine Recommendations:
Roberto Mazzi, 'Sanperetto' Valpolicella Classico Superiore 2018
A blend of Corvina, Corvinone, Molinara, and Rondinella aged in oak for 12 months. There's a brilliant nose here of blueberry, red cherry, and subtle hints of earth and dark chocolate. There are not wood flavors but the oak definitely adds to the texture. Medium-bodied and juicy with a subtle earthy finish. This isn't the most complex wine in the world but this hits my palate just right. It's very enjoyable and should pair great with a variety of pasta. Score: 91/100
Roberto Mazzi, 'Poeiega' Valpolicella Classico Superiore 2017
This is a blend of Corvina, Corvinone, Rondinella, and Molinara. It's made from late-harvested grapes that are laid out to dry for 40 days. Like a baby Amarone, it's also aged for 24 months in wood. This is a little dusty on the nose at first but it starts to unveil with air. There are notes of black cherry, dark chocolate, forest pine, and a hint of pepper. It's round and silky on the palate with some rich fruit. An attractive tangerine-like acidity runs through the center of the palate. The tannins offer just a little grip in the cheeks. Delicious on its own or with food. Score: 90/100
Roberto Mazzi, 'Castel' Amarone della Valpolicella Classico 2015
Single-vineyard Amarone. A blend of Corvina, Corvinone, Rondinella, and Molinara dried for 100 days and aged in wood for 36 months. This is a savory, quintessential Amarone with notes of leather, dark chocolate, dried cherry, and tobacco. Full-bodied and rich, this is round and intense on the palate with chewy tannins. The fruit is rich at first but ends up being lighter on its feet thanks to the racey acidity that slices down the palate. It's big at 16.5% alcohol but you don't feel the hit and the acidity washes the palate clean. Score: 93/100
This is Refosco dal Peduncolo Rosso made with partially dried grapes and aged in wood. This is a red that smells and tastes a lot younger than its age suggests. Notes of red forest fruit, meat, leather, cigar box, and pepper. It's full-bodied and round on the palate, the fruit coats the mouth well. This grape can have a problem with too much acidity but that's kept in check here. Lengthy, tart cherry-like finish. Score: 92/100
Scarbolo, Mattia (Beyond Pinot) 2016
This is barrel-aged Pinot Grigio. Notes of slate, pineapple, red apple, white peach, white flower. The wood integration here is perfect. The wood never takes over the wine, it just adds structure and a sandy texture. There's enough acidity here to keep the wine zippy. Long finish. Score: 91/100
Paitin, 'Campolive' Barbera d'Alba Superiore 2017 
This is 100% Barbera aged in wood. It's an ambitious red with notes of tobacco, dried cherry, mocha, dried cranberry, and earth – incredibly complex. The palate is loaded with bright red fruit. The tannins are fine and the acidity stretches out the finish. The acidity is high here so it probably would be best with food. It's got all the goods to age in the cellar too. Top-notch Barbera. Score: 91+/100  
Paitin, 'Ca Veja' Nebbiolo d'Alba 2017
The 'Ca Veja' is 100% Nebbiolo. Gorgeous nose of leather, dried rose petal, cranberry, and tobacco. The palate is delicate with a great balance between savory notes of bright red fruits. There are many layers here. The tannins hit hard in the back end like all Nebbiolos. The finish is long and refined. At this price point, stock this up, throw it in the cellar, and watch the magic happen. Score: 91+/100 
Paitin, 'Serraboella' Barbaresco 2017 
This is a generous and fruity Barbaresco. It's a plush, easy-to-drink Barbaresco. Notes of dried cherry, dried cranberry, mocha, and tar are present here. The front palate is so round and plush, there's plenty of fruit up front with the typical Nebbiolo complexities on the back end. The tannins here are very soft for a young Barbaresco, making this a crowd-pleaser. Yes, this can age but it's so darn delicious now. Score: 93/100
Paitin, 'Sorì Paitin' Barbaresco 2017
From a specific plot in the Serraboella vineyard. This is a bit tighter and shyer than the standard Barbaresco from Paitin. It's more on the earthy side than its sibling. The perfume, rose petal, and tar stands out here with fresh cranberry and sour cherry fruit. It's more savory and linear on the palate than the standard Serraboella Barbaresco. The tannins are bigger here too. This is a wine to lie down in the cellar and let it mature and develop. It should be a blockbuster with time, be patient. Score: 94/100
Mauro Sebaste, 'Trèsüri' Barolo 2017
I loved the previous vintage of this wine. It's a blend of three vineyards. The leather and tar stand out here up front along with the mocha, dried cherry, and cranberry notes. There's plenty of earthiness here along with the fruit, it very much acts like a red Burgundy. The medley of tobacco, red fruit, and earth go together perfectly in the palate before the tannins hit hard. Another beautiful, standard Barolo. Score: 92/100
Mauro Sebaste, 'Cerretta' Barolo 2017
This is a single vineyard Barolo from the Serralunga commune. Impressive nose of earth, leather, red cherry, fresh cranberry, and mocha. This is a rich Barolo. It's generous upfront with plenty of fruit. It's all fruit on the front end and all earthiness on the backend. Ripe tannins that add just a touch of grip. Long finish. This has a future ahead of it but is also delicious now. Bravo on another great effort from Mauro Sebaste. Score: 94/100 
Fattoria della Aiola, Chianti Classico Riserva 2017
Mostly Sangiovese aged for 24 months in oak. This is a deep and rich Chianti Classico with notes of black cherry, sour cherry, soil, and plenty of tobacco. The nose is really complex. The palate is brighter than the nose would suggest. I thought at first it might be too ripe but the plenty of red fruit and gorgeous, tangy acidity grace the palate. The tannins here are a little bigger than the standard Chianti Classico but are in no way too much. This is a structured effort that should do well with time in the bottle. Score: 92/100
Fattoria della Aiola, 'Cancello Rosso' Chianti Classico Gran Selezione 2017
This is mostly Sangiovese aged in wood for 30 months. There are more notes from the wood in this wine than the previous two but it's not overdone. Sweet cedar, tobacco, pepper, and earth accompany the sour cherry flavors. The palate is layered and complex but it needs more time in the bottle for the wood to melt in. Ripe tannins and a long finish. I prefer the Chianti Classico Riserva a little more at this point but the Cancello Rosso should prove to be the better wine in the long haul. Score: 92+/100 
Monterotondo, Vigna Vaggliota Chianti Classico 2017
This is a beautiful wine that is mostly Sangiovese with some Canaiolo and Malvasia Nera. Beautiful notes of sour cherry, baking spice, sweet cedar, and leather. Medium-bodied with plenty of tangy acidity. The red fruit and earth flavors are held together but citrusy acidity. Tannins add just a touch of grip. Score: 91+/100
Monterotondo, 'Vigna Seretina' Chianti Classico Riserva 2016
This is mostly Sangiovese with a touch of Malvasia Nera. This is a bigger Chianti Classico with notes of black cherry, mocha, tobacco, and dried spices. Full-bodied and complex. This has a wonderful balance of fruit and earthy notes. The wood is integrated perfectly here, it adds a little bit of seasoning but never masks the wine. Round tannins and a long finish. Score: 93+/100
Boscarelli, 'Il Nocio' Vino Nobile di Montepulciano 2016
This is 100% Sangiovese. Gorgeous nose of sour cherry, crushed flowers, earth, tobacco, and a touch of leather. It's a medium-bodied red with a lot of nuances. The fruit isn't the focus here, it's the layers and complexity. The tannins coat the mouth perfectly, they are grippy but not too drying. Citrusy acidity guides the long finish. This is a real winner from this fabulous producer. Score: 94+/100
Boscarelli, 'Costa Grande' Vino Nobile di Montepulciano 2015
100% Sangiovese. Noted of black cherry, chewing tobacco, leather, earth, and a touch of menthol. The nose is a tad shy but the flavors explode on the palate. The wine has a great mix of fruit and savory notes. The concentration of the fruit and flavors is excellent. There are many layers to this wine with mouth-coating tannins. It still can improve with time in the bottle. Long finish. This is all about mouthfeel and the most impressive wine I've tasted from Boscarelli. Score: 95/100
Boscarelli, 'Sotto Casa' Vino Nobile di Montepulciano 2015
This is a blend of 85% Sangiovese, 10% Cabernet Sauvignon, and 5% Merlot. This is a denser Vino Nobile. There is a core of black cherry, chewing tobacco, cassis, graphite, and a touch of earth. This is full-bodied and very complex. This is plush on the palate with a silky quality to it thanks to the Merlot. Round tannins. Score: 93+/100
Salcheto, Vino Nobile di Montepulciano 2017 
The Vino Nobile from Salcheto is 100% Sangiovese and it shows a nice touch of wood. The wood shows up the form of sweet cedar along with flavors of sour cherry, red raspberry, and leather. It's full-bodied red, with roundness from time in the barrel. The acidity here is bright and the tannins are pretty grippy, so make sure to have some meat handy. Long finish. Score: 91/100
Salcheto, Vino Nobile di Montepulciano Riserva 2016
This Vino Nobile Riserva is 100% Sangiovese aged in wood. Notes of sour cherry, black cherry, graphite, tobacco, and menthol. It's full-bodied and round on the palate. This is more focused on fruit than the standard Salcheto, Vino Nobile. The wine has big, round tannins with stellar oak integration. This is a crowd-pleaser. Score: 91+/100
Salcheto, Biskero Chianti 2020
This is mostly Sangiovese with small amounts of Caniaolo, Mammolo, and Merlot. It's a beautiful, inexpensive red wine with plenty of sour cherry, earth, and pepper flavors. What's impressive for this wine at this price point is the texture. It doesn't feel like a thin, cheap red. There's plenty of fruit with soft tannins and a respectable finish for a wine at this price. Score: 89/100
*This wine is a steal at around 12 USD a bottle.
Camerani. 'Corte Sant'Alda' Soave 2019
A gorgeous, easy-drinking Soave with notes of lemon, white peach, crushed rocks, and a touch of yogurt. This is a lighter white wine but one still with a hint of complexity. The fruit comes out on the nose but it's the mineral and lemon notes on the end that pulls me in. This is a fabulous white at a good price point. Score: 90/100
Inama, 'Carbonare' Soave Classico 2019
The Carbonanare is a rich Soave made from 100% Garganega. Notes of mineral, banana, white pear, and yogurt notes. It is aged in stainless steel but it has the mouthfeel and richness of a wine that was aged in oak. It doesn't have the razor-sharp acidity that many Soave have but it does have complexity. It's round and soft on the palate with a good bite in the mid-palate. Score 91/100
---
The wines above are samples. The opinions expressed in this article are unsolicited and have not been paid for in any way by governmental bodies, enterprises, or individuals. We do not sell editorial content as that would destroy the legitimacy of our reviews and the trust between Exotic Wine Travel and its readers. On occasion, we extend the option of purchasing the wines we review or/and the products we spotlight. Some of these product links are set up through affiliate programs, which means Exotic Wine Travel gets referral credits if you choose to purchase these items via the links we provide.