Four Vintages of Jakončič Uvaia
Reading Time: [est_time] Article updated on 28 November 2020 Hello! Welcome to As Drunk by Exotic Wine Travel, a weekly column where we feature interesting wines that we encourage you to seek out. The reviews featured in this
Reading Time: 3 minutes
Article updated on 28 November 2020
---
Hello! Welcome to As Drunk by Exotic Wine Travel, a weekly column where we feature interesting wines that we encourage you to seek out. The reviews featured in this series may be written by either one or the both of us. The featured wines can be from obscure or well-known wine regions. We hope that these wine recommendations will keep you gastronomically curious and your palate invigorated!
Jakončič Winery (Goriška Brda, Slovenia)
Jakončič Winery is situated in the hills of Slovenia's Goriška Brda, which is an extension of the Collio region of Italy. We first visited the Jakončič estate in the summer of 2017 and were immediately impressed. In an area where minimal-intervention winemaking and macerated wines are the norm, Jakončič focuses on making the classic style of wine instead.
The winery's iconic wine is the Jakončič Carolina Select Merlot—a rich, dense, and highly structured Merlot that can go toe to toe with any Bordeaux blend. The Jakončič Carolina Select Merlot 2006 made the list of our top wines in 2017. The team at Jakončič Winery was kind enough to give us a preview of what's to come with the 2011 Carolina Select, and this wine doesn't disappoint.
Jakončič Uvaia (2015, 2016, 2017, 2018)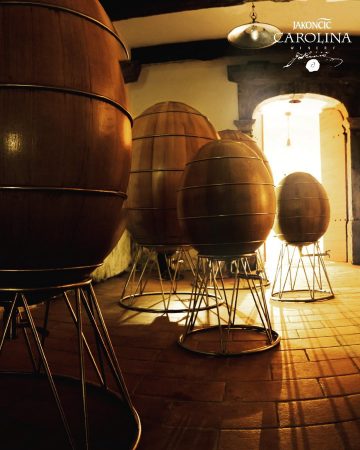 Photo credit: facebook.com/jakoncic
Goriška Brda has become synonymous with amber wine / orange wine production. It was only a matter of time that Jakončič would take a shot at this style of wine. Enter the Jakončič Uvaia.
The Jakončič Uvaia is the estate's first attempt at creating macerated wine from white wine grapes. Pinot Gris grapes undergo skin contact for four to six days. Fermentation, maceration, and aging all take place in egg-shaped wood barrels of different sizes.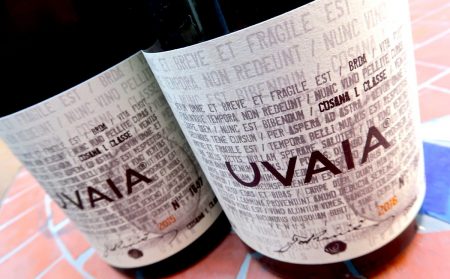 The Jakončič Uvaia 2015 is the first vintage of this wine. It was such a hit on the regional market that the wine was sold out in two months after its release in April 2018. In response to the high demand for the 2015 vintage, the 2016 vintage was released just six months later.
Uvaia 2015 is the darker of the two vintages. It's a true copper (brown undertone) color. On first sniff, it appears like a red wine with notes of red berries and fall leaves but further observation reveals tangerine and burnt caramel notes. On the palate, it's a big wine with chewy, bitter tannins. The alcohol clings onto the finish and the finish lingers.
Score: 88/100
Jakončič Uvaia 2015 on the left and Jakončič Uvaia 2016 on the right.
The Jakončič Uvaia 2016 is a completely different wine from its 2015 counterpart. It shows a deep marigold color, moving towards tangerine. The bouquet reveals raspberry, pineapple, tangerine, forest floor, and apple blossom. The palate unfurls with a silky and round front- and mid- palates, held up by an acidic backbone. Unlike the 2015 Uvaia, the alcohol doesn't stick out here. This is an elegant and refreshing amber wine with low levels of astrigency and firm tannins.
Score: 93/100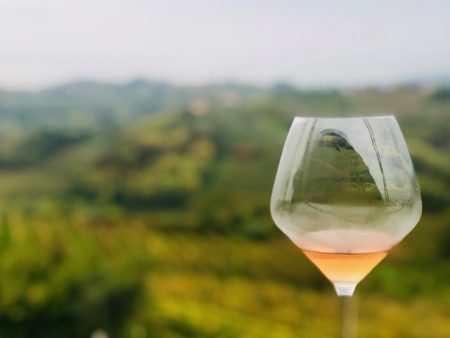 The Jakončič Uvaia 2017 is similar to 2016 Uvaia in sensory merits. Proprietor Aljosa Jakončič reveals that the vinification process has remained the same although there's a constant pursuit of earlier harvest. That way, the alcohol will be lower and freshness can be retained. This time around, the wine is once again lighter than the previous vintage: 2017 is clothed in a lighter shade of marigold orange with warm undertone. The high-toned bouquet shows predominant notes of citrus and summer fruit, with hints of almond and lactic comfort. Like 2016 Uvaia, this wine is soft and round on the palate, whizzing across the palate like a silky strand of well-founded (skin contact) knowledge.
Score: 93/100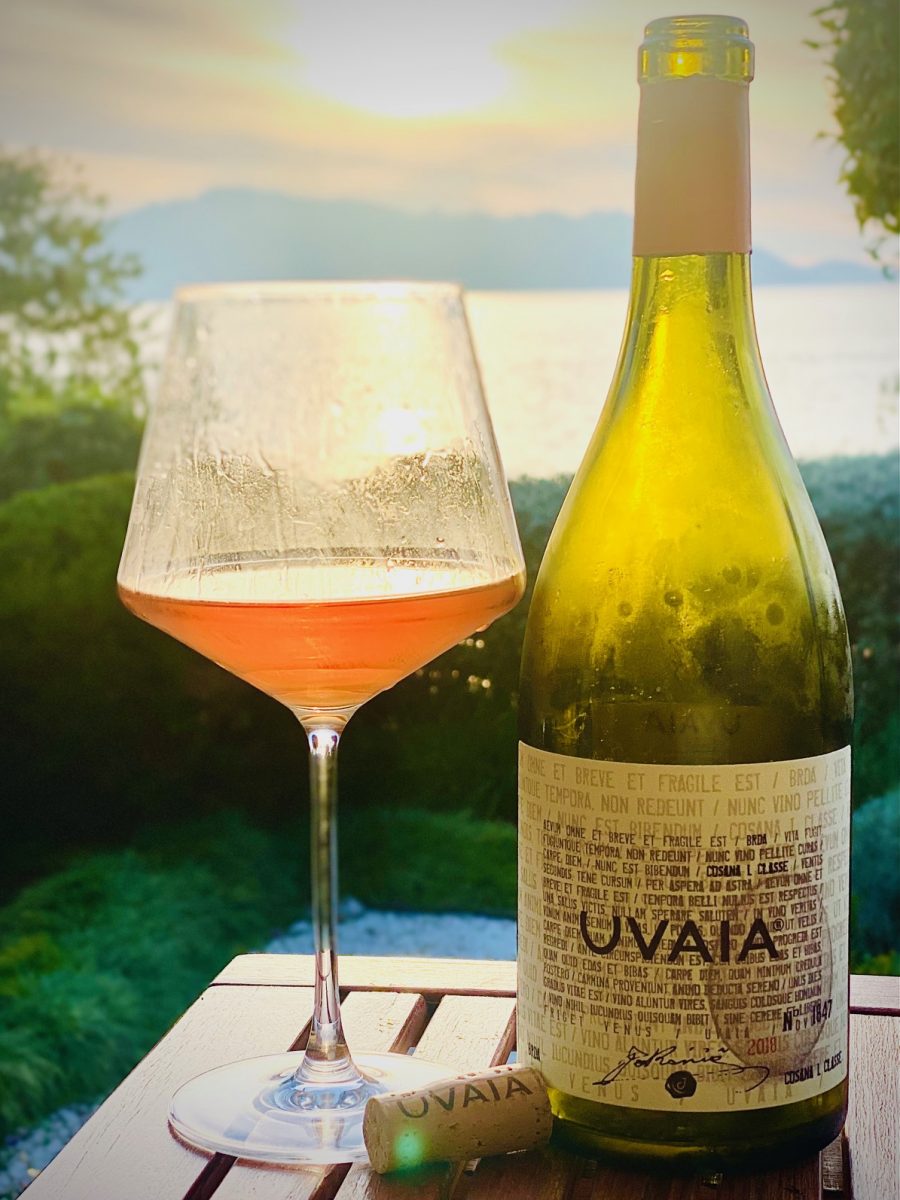 The Jakončič Uvaia 2018 tastes significantly less lactic than the 2017. While I enjoyed the lactic quality in the 2017, it was also a tad dominant and may have covered other positive subtleties of the wine. The 2018 delivers a spicy, warm, and sweet aromatic profile with notes of white pepper, roast meat, citrus fruit, and macademia nut. The palate is sweet, creamy and lightly tannic, reminding me of peach tea with some cumin on the side. Alcohol warmth shows a little on the end-palate but not bothersome. My speculation is that the 2018 will ultimately be the most complex out of the 4 vintages after short-term aging. An exceptional companion with spicy food and exotic spices.
Score: 92+/100
---
You can find out more about our scoring system on the WINE RATING page.
The finest selection of
wines available at:

Shipping is available EU-wide and to the UK.
************
Do you want to try Slovenian wines?
If you're looking to savor the exquisite flavor of Slovenian wines, look no further than wineandmore.com. With an abundance of options from different winemakers, it's easy to find exactly what your palate desires. Not sure which bottle is best for you? Try out one of their curated wine cases and discover the perfect vintage for any occasion!
************
Want to learn more about wine?
Are you ready to discover the wonderful world of wines? Come join us at wineandmore.com and let's explore the incredible selection of delicious wines together! We can't wait to share our passion for wine with you!
Disclousure: Jakoncčič Winery offered us samples of their Carolina Select 2011 and Uvaia 2016. We purchased the Uvaia 2015 for comparison. Please note that the opinions expressed are our own and have not been paid for in any way. We do not sell editorial content as that would destroy the legitimacy of our reviews and the trust between Exotic Wine Travel and its readers. On occasion, we extend the option of purchasing the wines we review or/and the products we spotlight. Some of these product links are set up through affiliate programs, which means Exotic Wine Travel gets referral credits if you choose to purchase these items via the links we provide.