Kabaj and Movia: Slovenian Wines with Big Personalities
Reading Time: [est_time] After finishing our book Cracking Croatian Wine, we decided to make a week-long tasting trip through Goriška Brda, Kras, and Vipava Valley. Our trip through Western Slovenia yielded many gems and exceeded our
Reading Time: 5 minutes
After finishing our book Cracking Croatian Wine, we decided to make a week-long tasting trip through Goriška Brda, Kras, and Vipava Valley. Our trip through Western Slovenia yielded many gems and exceeded our already lofty expectations.
The quality of winemaking in Slovenia is outstanding and several producers are on par with some of the world's best. Kabaj and Movia are two examples. Both are located in the Goriška Brda which is an extension of the more famous Collio region of Italy (it actually should be the other way around since Goriška Brda has significantly more vineyard area than Collio).
Because of its proximity to the Adriatic, Goriška Brda experiences a Mediterranean climate with significant alpine influence from the Julian Alps. The region sits directly between high mountains and the Adriatic Sea. The marl, limestone, and sandstone soils give wines from this region a distinctly mineral character.
Goriška Brda has become an epicenter of amber wine and minimal intervention wine production and these two producers are among the most famous in the area. They have both developed good export markets and are led by big personalities.
Kabaj Winery
Kabaj winery started when winemaker and Frenchman Jean Michel Morel met his wife Katja Kabaj. After marriage, they decided to bottle wine from the Kabaj estate instead of selling their grapes. The decision paid off. In 2016, Kabaj was named the Wine & Spirits Top 100 Wineries of The Year for the third consecutive year.
Kabaj is located near the village of Dobrovo, Slovenia. Jean Michel orchestrates the production of 100,000 bottles of wine per year from 15 hectares of vineyards. Kabaj has only one line of wines: there is no premium or entry-level line. Jean Michel doesn't make fresh wines, all of his whites are left on the skins for at least two days and aged in oak for a minimum of two years. The reds and his wine made in Georgian qvevri (amphora) are aged for a longer time. These wines are available around the world and offer great value and a fine introduction to amber wines, or better known as orange wines.
Kabaj was the first winery that we visited during our weeklong trip in Slovenia. Jean Michel met us at the door and immediately poured us a glass of his bubbly—a charmat (Prosecco method) sparkler named San Lurinz. After talking with Jean Michel for a few minutes, we realized that he's a straight-shooter, a no-nonsense kind of guy.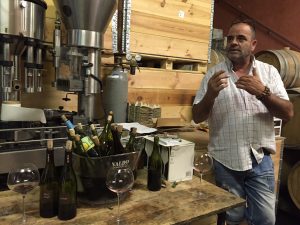 Jean Michel talking us through his portfolio at Kabaj.
Jean Michel took us down to his cellar and started opening bottles. We spent around four hours tasting through his entire lineup, including some archive wines and a few unreleased wines. One surprise was the 1994 Kabaj Tokaj (Tocai Friulano), which is considered to be a special vintage to the winery. The wine was made before Jean Michel opted to make wines with skin contact. It was still fresh and Riesling-esque, a testament to Tocai Friulano's potential to age.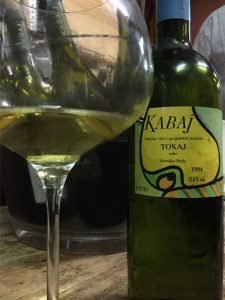 Jean Michel's whites were excellent across the board. There was no letdown in the lineup. All the wines were of exceptional quality. The Kabaj reds surprised us with their pleasant balance of fruity and earthy notes. But what showed the best was the Kabaj Amphora 2008. It won't be on the market for at least another year, but it's something worth seeking out.
These wines offer great value for money. Some are available in the USA market for under USD 20. When we asked Jean Michel about this, he replied with a smirk, "I'd take more money for my wines but nobody wants to give it to me!"
Exotic Wine Travel's Picks
(You can find out more about our scoring system on the START HERE page.)
Find or Buy on wineandmore.com
Pinot Blanc macerated for two weeks and matured for two years in oak. Flavors include dried pineapple, dried apricot, with a touch of caramel. The Kabaj Beli Pinot has some bite and a smooth mid to end palate transition. It feels bright and fruity the whole time in the mouth, which is quite a feat for an amber wine. This is a great introduction for newbies to the macerated white wine world.  4.2/5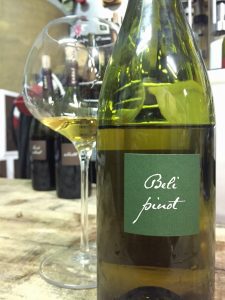 Two weeks on the skins and made of five grapes that were co-fermented (Chardonnay, Malvazija, Rebula, Tocai Friulano, and Sauvignon Blanc). The Kabaj Luisa was aged for two years in the barrel. This is a complex, big-bodied white wine. Smoke, musk, dried pineapple, dried apricot, red berries, and earth emerge from the glass. The fruit is ripe and has some bite. The wine has a long finish with white tea-like astringency.   4.3/5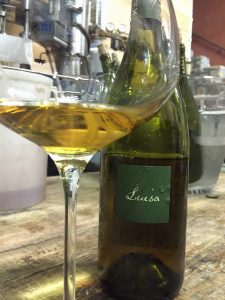 Not yet released. This is made from mostly Rebula with a touch of Malvazija and Tocai Friulano. It spent one year in amphora and one year in a large oak cask. Brown in color and full of dark cedar, dark chocolate, cognac, dried fruits and red berry flavors. It is similar to Georgian Rkatsiteli: big tannins with a bright, tangerine finish. The Kabaj Amfora is for hardcore wine geeks and for those seeking out this type of wine. It's a showstopper. 4.6/5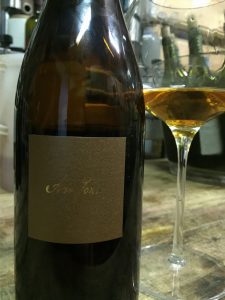 A matured red wine that spent four years in oak. Nose of rubber, dark cherry, chocolate, mud, and green veggies. A medium-bodied Merlot with strong tannins. Good balance between earth, veggies, and fruit. This needs more time in the bottle to show its true colors.   4.2/5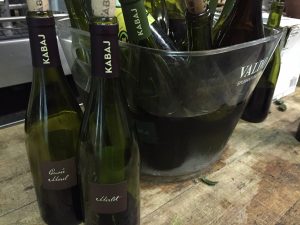 Movia Winery
The Movia estate sits above Brda in the town of Ceglo. Owner and winemaker Aleš Kristančič is the eighth generation who has resided in the estate. He has 21 hectares of vineyards and produces around 120,000 bottles per year. His winery is just a few hundred meters from the Italian border. In fact, Aleš owns vineyards in both Italy and Slovenia.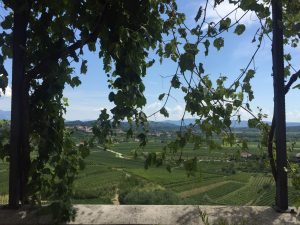 This was the one producer we knew a great deal about before we arrived in Slovenia. We had previously tasted a few of his wines prior to visiting. The Movia Lunar 8 2008 is one of our favorite wines of 2017 thus far. We had tasted several other Movia wines prior to our visit and they were all impressive, which made visiting them a no-brainer decision. Our expectations were sky-high and thankfully they were met.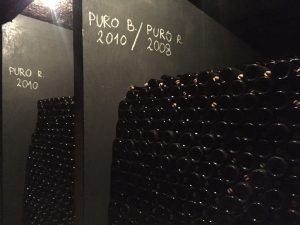 Aleš is a bright, enthusiastic guy and a true romantic. He was working in the cellar preparing for the harvest but managed to spend an hour with us. In between presenting his wines, he kept running back and forth between the tasting terrace and his cellar. We didn't spend a lot of time with Aleš but his energy was invigorating. You can see his intensity and focus while decanting his Movia Lunar 8 2007 in the video below. 
We got the chance to taste some older vintages of his Movia Lunar and Movia Veliko Belo (Great White). However, the wine that intrigued us the most was the sparkling wine.
Movia Puro is a methóde traditionelle made from Rebula (Ribolla Gialla). Most sparklers we have tasted from this grape have left us wanting more. The Movia Puro is a different animal. It's smooth, nutty, and retains the flavors of Rebula. Charine wantsea few cases of this wine to keep on the lees and open year after year to see the development. 
After we left, I looked at Charine's iPhone to see if there were any pictures to use for this article. She had taken only a handful, so I asked her why she didn't take more pictures. She simply responded, "I was enjoying myself too much."
Exotic Wine Travel's Picks
(You can find out more about our scoring system on the START HERE page.)
Find or Buy Movia wines at wineandmore.com
Aged four years in French oak. The Movia Veliko Belo is a blend of Rebula, Sauvignon Blanc, and Pinot Gris. Flavors include petrol, lemon, cotton candy, peach, and white pepper. Beautiful notes of age including forest floor and a touch of mushroom. It's a macerated white wine with some tanginess and sandy tannins in addition to a long finish.   4.4/5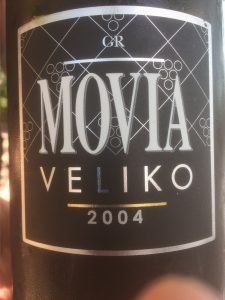 Made of 100% Rebula. Full of tangerine, rose petal, and orange peel flavors. Bright and explosive citrus fruit upfront and full bodied in the mouth. With a long finish, it's a bright and clean amber wine. The Movia Lunar 8 has a nice bite and it is a wine you can really chew on. The Movia Lunar is made by placing whole berries into a special oak barrique and allowing fermentation to start on its own, it's then bottled during the full moon.   4.7/5
Mostly Merlot with a little Pinot Noir and Cabernet Sauvignon. This is bright on the nose with cedar, forest floor, earth, and red fruit flavors. Low in alcohol at 12.5%. Good palate presence without being over the top. It's also elegant and tangy. The 2008 is the current release of the Movia Veliko Red.   4.5/5
You can see in the video below how unique this wine is.
The Movia Puro 2010 is a blend of Rebula and Chardonnay presented upside down because it's still on the lees. The Puro is a Methóde Traditionelle sparkler. Flavors of yeast, dried apricot, marzipan and very fine bubbles. Crisp tanginess like Fanta Soda and a long finish. It's a geeky and classic wine at the same time and is something that is presentable to all kinds of wine lovers.   4.3/5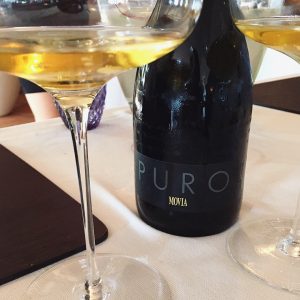 You May Also Enjoy
Our video about Kabaj and Movia
The finest selection of
wines available at:

Shipping is available EU-wide and to the UK.
************
    Do you want to try Slovenian wines?    
If you're looking to savor the exquisite flavor of Slovenian wines, look no further than wineandmore.com. With an abundance of options from different winemakers, it's easy to find exactly what your palate desires. Not sure which bottle is best for you? Try out one of their curated wine cases and discover the perfect vintage for any occasion!
************
Want to learn more about wine?
Are you ready to discover the wonderful world of wines? Come join us at wineandmore.com and let's explore the incredible selection of delicious wines together! We can't wait to share our passion for wine with you!
---
Thanks to Jean Michel Morel of Kabaj and Aleš Kristančič of Movia for their time during harvest period. The ideas expressed in this article are personal opinions and are not associated with any sponsors or business promotions.