Natural Wines From Maurer Winery
Maurer White Wines Maurer Kövidinka 1941 2015 In the past, this was the low alcohol quaffing wine for laborers. Made with grapes of old bush vines. Flavors of dandelion, meadow, mushroom, white pear, apple juice. Bright up
Maurer White Wines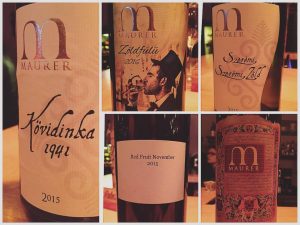 Maurer Kövidinka 1941 2015
In the past, this was the low alcohol quaffing wine for laborers. Made with grapes of old bush vines. Flavors of dandelion, meadow, mushroom, white pear, apple juice. Bright up front and tastes a little like apple juice. Low acidity and low pH. 4.1
Cuvee of Bakator, Italian Riesling, Riesling and two Hungarian grapes. Known as gentleman's wine. Flint, dandelion, honey, and white peach. Minerally on the palate and not overly fruity. Chewy texture and tangerine finish. 3.8
Maurer Szerémi Szerémi Zöld 2015
Apricot in color. Flavors of tangerine, smoke, minerals, juicy peach. Fuller in body for a white and big-time acidity. Memorable wine 4.3
Maurer Corvina White 2013
Slate, lemon, white peach, and some raw notes on the nose. Very mineral driven on the palate and it is a little raw rating. Medium bodied earthy and crispy white wine. It's delicious with a medium, flinty finish.  Sremski Zeleni, Bakator, Tamjanika, and Riesling 4.1
Mellow on the nose for a Maurer white wine. It has flavors of cut grass, cantaloupe, salted meat, and lime. The wine is mineral driven on the palate and the acidity hit hard on the finish. This has a long finish guided by the acidic core. 4.1
Raw Tamjanika with explosive honey and yellow flower on the nose. It has some white peach notes but the floral aspect of the wine is hard to ignore. It has a bitter flower finish but is very exciting. It's a raw wine and for hardcore natural wine fans. 3.9
Maurer The Collective Szerémi Mézes Fehér 2015
Delicious amber wine with apricot, orange peel, and forest floor notes. It's rich and texture with crunchy acidity. Full-bodied white wine with firm tannins. 3.9
This is the local grape Bakato macerated on the skins. It is completely natural wine with nice autumn leaves, orange peel, apricot, and lemon flavors with a touch of mousiness from the volatile acidity. This is a wine for hardcore, natural wine fans 3.7
Maurer Fodor Riesling 2015 (Amber)
Macerated for 16 days and full of peach, pumpkin, and almond notes. Nice tannic tug, really beautiful wine 4.1
Maurer Fodor Rizling 2015
This wine was macerated for 3 days on the skins. It has the tangerine color of a full out amber wine. The nose is shy at first but as it opens up there are flavors of spring breeze, sliced apricot, and a touch of tangerine. Bitter flower finish. 4.1
Maurer Dar Ljubavi 2015 – Blend of Traminac and Furmint
Interesting blend of grapes. The nose definitely tells us that some grapes were late-harvest and affecting with botrytis. Distinctive flavors of honey, canned peaches, fall leaves, and dandelions are present. The wine is layered and rich with wonderful mouthfeel. Bitter flower finish and a touch of sweetness, although this definitely is a dry wine. Flavor profile of a great sweet wine yet it is dry 4.2
A crazy cool wine from a very rare white grape in North Serbia. Full of honey, dried fig, and white flower. The wine is intensely salty, really like over salted food. Long finish, very compelling and charismatic 3.9
Maurer Red Wines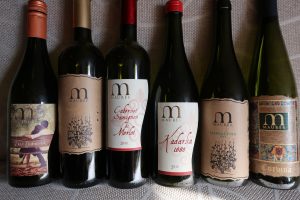 Maurer Cabernet Sauvignon & Merlot 2012
Aged in oak this is a beauty, many people wouldn't even pick up that this is a natural wine. The fruit is a blend of blackberry, cranberry, and sour cherry.  Coffee, chocolate, and grass round out the flavors. Silky tannins and medium bodied with nice intensity on the mid-palate. The choreography in this wine is beautiful.  4.2
A blend of Cabernet Sauvignon and Merlot, this is a natural wine. Very pure, red fruit flavors, almost candy like. The wine is medium bodied with low tannins and is not fussy. It isn't overly complex but the fruit flavors really stand out. Very good red wine for fans of this style 3.7
Made from old vines planted in 1880. Allegedly, the oldest Kadarka vineyard in the world. It smells like pure soil with strawberry, rhubarb, and white pepper. It's light in color like a Pinot Noir. Raw wine but smooth in the mouth with soft tannins and a long finish. Unique and compelling, it leaves you searching for more and more. With air, it tastes like pure, old-vine fruit. 4.2
Maurer The Collective Kadarka 1880 2015
Very raw red wine that doesn't taste like it went through malolactic fermentation. Full of wild and tart forrest berries. Pure fruit but this is a wine for hardcore natural wine drinkers.  3.5
Candied cherry and white pepper and earth. Really fruit and earthy, it tastes like a cooler and lower alcohol Grenache 4.2
Maurer Red Fruit November 2015
Late harvest, botrytized Cabernet Sauvignon and Blaufränkisch. Extremely light brick red in color. Strawberry jam, honey and cherry. Has a rose and honey water palate with a touch of spice. One of the most unique red wines I have ever tasted. Light bodied. 4.0
Maurer Sweet Wines
Maurer Zlatni Papagaj 2013
This is mostly Furmint with a touch of Tramanic. It is late-harvest, botrytized and delicious. Nice acidity to balance the caramel, apricot, nut, and yellow flower flavors. This is a beautiful sweet wine that has the acidity to allow it to be drunk in all types of occasions 4.2
The finest selection of
available at:

Shipping is available EU-wide and to the UK.
************
    Do you want to try organic wines?    
If you're looking to savor the exquisite flavor of organic wines, look no further than wineandmore.com. With an abundance of options from different winemakers, it's easy to find exactly what your palate desires. Not sure which bottle is best for you? Try out one of their curated wine cases and discover the perfect vintage for any occasion!
************
Want to learn more about wine?
Are you ready to discover the wonderful world of wines? Come join us at wineandmore.com and let's explore the incredible selection of delicious wines together! We can't wait to share our passion for wine with you!