Nenad Trifunović: Connecting Taste with Heart
Reading Time: [est_time] Nenad Trifunović is the blogger behind vinopija.com, a leading Croatian wine blog. In the winter of 2016, Nenad was introduced to us as "the blogger guy". Right after meeting him, we proceeded to a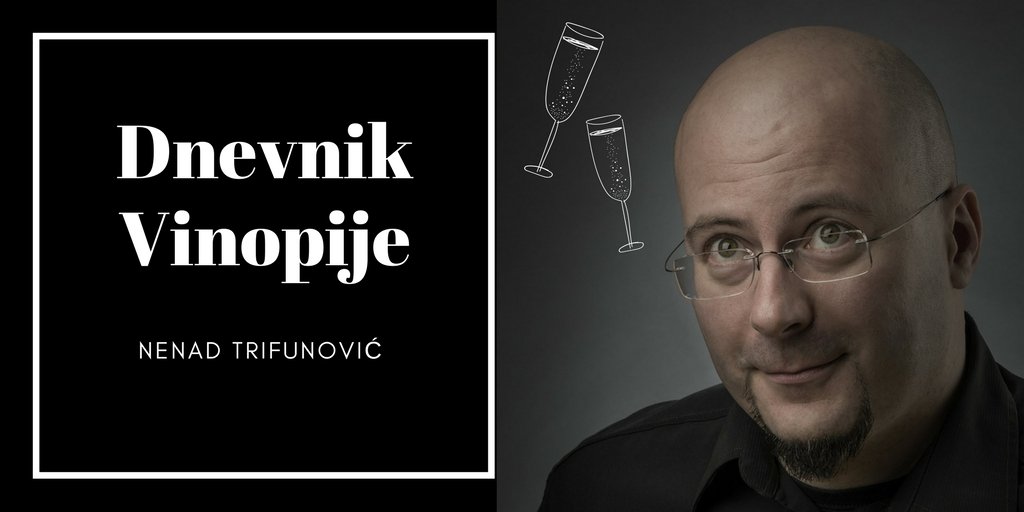 Reading Time: 4 minutes
Nenad Trifunović is the blogger behind vinopija.com, a leading Croatian wine blog. In the winter of 2016, Nenad was introduced to us as "the blogger guy". Right after meeting him, we proceeded to a tasting of Georgian qvevri wine. That was when we quickly noticed Nenad's fiercely independent and sharp palate. He is also assiduously thoughtful when describing wine. But perhaps what we appreciate most about him is his earnestness for quirky wines and open-mindedness towards unconventional flavors.
Nenad Trifunović of Dnevnik Vinopije
As a Creative Director for an advertising and marketing agency, why did you decide to start a wine blog?
I wanted to give meanings to the bottles that I bought or consumed, regardless of their prices. It was supposed to be a diary that documented the perspectives of a Croatian wine drinker. Back then, it never occurred to me that the blog would become so much bigger than myself.
Sometimes, in our private conversations, we refer to you as "Vinopija" instead of your name. After all, there are quite a few Nenad's around and Vinopija is one of a kind. Even though Vinopija's focus is on Croatian wine, you're well-traveled and have extensive experience with the finest wines of the world. Have you observed any differences between a Croatian palate and a foreign palate?
The only significant difference is in the acquired taste. Many Croatians are accustomed to Plavac Mali. These tannic, high-alcohol wines can be difficult for non-Croatians. However, I do not like broad generalizations. In my opinion, there are greater differences between 'an indifferent palate' and 'a seasoned wine drinker', regardless of nationality.
What are the current trends in the Croatian wine industry? What has changed since you started your involvement with wine?
I have been involved as a consumer since childhood. When I was a child, my family was a regular, middle-class family living in the city. It was quite normal to have a decent bottle of wine at least once a week for Sunday's lunch. Back then, wine was not considered a luxury. Two decades later, wine became an elitist drink. That may be the most piteous change. Things are looking better now, but many wine drinkers are still drawn by status symbols or famous labels. A good proportion of the other consumers drinks industrial, bulk wines. Mass production accepts almost anything to pass off as wine and be sold in supermarkets.
Internationally, I think Croatia's food and wine culture is moving into the spotlight and has some interesting stuff to show.
We agree. Croatia has a formidable gastronomic identity. What are your favorite local varieties and styles of wine?
I appreciate a good wine. A wine should make sense in relation to its origin and variety. As such, I am predisposed to like varieties like Teran from Istria or Vugava from Vis. Ultimately, I look for a balance between the man, place, and variety. The winemaker, grower, and cellar master are connected to their origin. They must have knowledge of tradition and their place, terroir, soil, and climate. The vintage variance and the nobleness and characteristics of the varieties should be important to them as well.
Thanks to your recommendations, we did discover several interesting examples of Vugava from Vis. In your opinion, which Croatian wine region holds the most promise, and which is the most under-the-radar?
It's difficult to say what is under-the-radar to me, considering I'm a Croatian wine blogger. I think the island of Vis is the most interesting place for the local wine lovers at the moment. The wines are unknown even to many Croatians. So by that definition, I guess Vis holds that "under the radar" status.
Indeed. We spent a week in Vis and were thrilled by what we found (above is a video that we took in Vis). Vis is an enigma because it is rather isolated, and there are a few excellent wineries there. But with their minuscule production, the wines hardly ever make it out of the island.  What do you foresee happening to the Croatian wine industry in the near future? 
I foresee more people will appreciate wine as part of everyday table culture. I predict many of the finest examples not being recognized by the domestic market and thus being sold abroad. This is already happening and I've tasted a fair share of these excellent Croatian wines that are exported—which brings me back to my previous point about 'an indifferent palate' and 'a seasoned wine drinker', regardless of their nationality.
Besides Croatia, which wine country or wine region do you like to drink from, and why?
There are many wine countries that interest me. I believe I am too young to focus on just one or a few. I am still exploring wine and probably always will. I would like to explore more of Greece, especially Crete and Santorini. the dry Tokaj from Hungary, the wines from some Loire appellations, and Portuguese wine also come to the top of my mind. I really enjoy Schioppettino from one of my favorite winemakers, Ronchi di Cialla in Friuli-Venezia Giulia. Since the selection of foreign wine is limited in Croatia, many wines that I would like to try can be difficult to obtain.
Do you have a favorite wine writer, wine blogger, or wine personality?
I appreciate the work of Andrew Jefford. I also recognize the positive influence of Terry Theise. Matt Kramer is certainly another person who stands out to me. I also find Chris Kissack's stuff worthy and useful. There are too many to mention. There are so many interesting bloggers and writers out there producing great content.
Hey, we can definitely see Terry Theise's influence on you! Thank you for your time, Nenad.
The finest selection of
Croatian wines
available at:

Shipping is available EU-wide and to the UK.
************
    Do you want to try Croatian wines?    
If you're looking to savor the exquisite flavor of Croatian wines, look no further than wineandmore.com. With an abundance of options from different winemakers, it's easy to find exactly what your palate desires. Not sure which bottle is best for you? Try out one of their curated wine cases and discover the perfect vintage for any occasion!
************
Want to learn more about wine?
Are you ready to discover the wonderful world of wines? Come join us at wineandmore.com and let's explore the incredible selection of delicious wines together! We can't wait to share our passion for wine with you!
---
Check out our video "Plavac Mali from Vis, Croatia".

Please note that the opinions expressed in this article are unsolicited and have not been paid for in any way by governmental bodies, enterprises, or individuals. We do not sell editorial content as that would destroy the legitimacy of our reviews and the trust between Exotic Wine Travel and its readers. On occasion, we extend the option of purchasing the wines we review or/and the products we spotlight. Some of these product links are set up through affiliate programs, which means Exotic Wine Travel gets referral credits if you choose to purchase these items via the links we provide.