Polish Wine From Winnica Wieliczka
Reading Time: [est_time] Hello! Welcome to As Drunk by Exotic Wine Travel, a weekly column where we feature interesting wines that we encourage you to seek out. The reviews featured in this series may be written by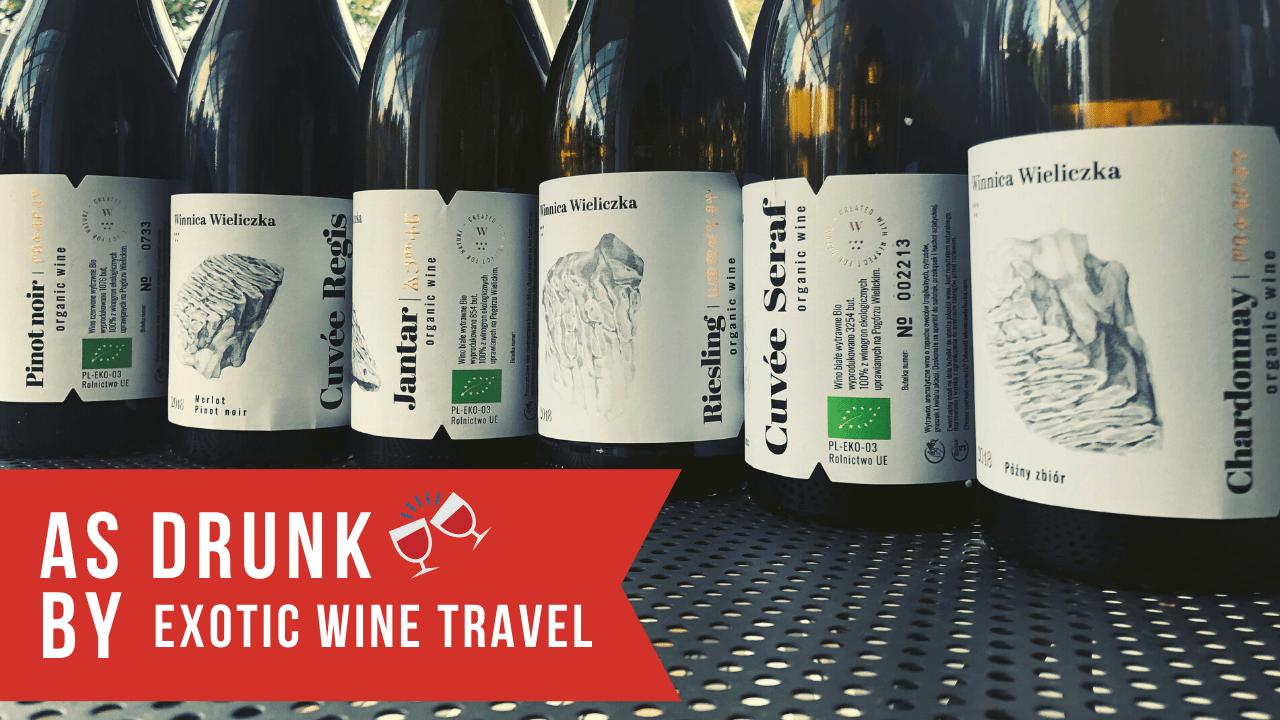 Reading Time: 2 minutes
Hello! Welcome to As Drunk by Exotic Wine Travel, a weekly column where we feature interesting wines that we encourage you to seek out. The reviews featured in this series may be written by either one or both of us. The featured wines can be from obscure or well-known wine regions. We hope that these wine recommendations will keep you gastronomically curious and your palate invigorated.
Winnica Wieliczka
Before the world went crazy, I judged in the Vermentino Competition 2020 in Sardinia, Italy. One of the judges was Agnieszka Rousseau, who is Polish and makes wine in both France and Poland. We got along well and she mentioned her project in Poland, Winnica Wieliczka.
Just a few weeks later, Charine chanced upon the Winnica Wieliczka, Pinot Noir during a press trip in Istria, Croatia. She had a very positive impression of the wine, which pushed me to seek them out.
Winnica Wieliczka farms biodynamically in Poland, they are the only Polish wine producer that works solely with Vitis Vinifera. Many other producers in Poland have hybrids that can handle the cold winters. "We have a scientific approach when it comes to biodynamics," Agnieszka says. "When you start to analyze it (biodynamics) and have basic knowledge of microbiology, plant physiology, physics, and chemistry, all of a sudden it doesn't seem so esoteric."
Biodynamic farming in a cold, northerly climate takes some guts. Because of previous experiences with Polish wine, I expected the wines of Winnica Wieliczka to be 'ok'. All of the wines exceeded my expectations.
The whites see skin contact and the reds show impressive concentration considering the latitude (don't expect the big and bold). All of these wines have texture and real soul. They are the kind of wines that convey what the Italians call, 'emozione'. To try these wines, you'll probably have to travel to Poland. If you do find yourself in the country, make sure to seek them out.
If I owned a trendy natural wine bar, these Polish wines from Winnica Wieliczka would definitely be on the menu.
Winnica Wieliczka, Jantar 2018
The Winnica Wieliczka, Jantar is a field blend macerated for five months. Clean notes of sweet peaches, dried apricots, citrus peel, and cut grass flavors. The tannins are round and not astringent. It's got intense flavors with high acidity. Elegant and clean with a slightly herbal (not unripe) touch. A high-quality orange wine from Poland, very cool. Score: 89/100
Winnica Wieliczka, 'Cuvée Seraf' Chardonnay Sauvignon Blanc 2018
The Winnica Wieliczka, 'Cuvée Seraf' doesn't taste like Chardonnay, nor does it taste like Sauvignon Blanc. It is delicious though! The wine was on the skins for five days. Notes of grass, yellow flower, winter melon, green apple, and a touch of white pear. This has some significant body with a rich, chewy texture and bright acidity. Everything is harmonious on the palate. Delicious, minimal-intervention style of white wine. Score: 90/100
Winnica Wieliczka, Chardonnay 2018
The Winnicia Wieliczka, Chardonnay is late-harvested (Późny zbiór) Chardonnay that sees two weeks of skin contact and is aged in oak. Notes of dried orange peel, sweet peach, honey, and daffodil emerge from the glass. This has been aged in wood so the wine has significant structure. Sweet and persistent fruit on the finish. This is a wine that really should be enjoyed after more years in the cellar. Note: It tasted best after three days after opening. Score: 88/100
Winnica Wieliczka, Pinot Noir 2018
The Winnica Wielieczka Pinot Noir is a delicious, classic take on the grape with notes of raspberry, sour cherry, fall leaves, earth, and smoke. Round and silky palate. The acidity is high but doesn't cut through the palate or make the wine too sharp. Good length and a wine that should develop nicely. Pinot Noir is such a tough grape to tackle, which makes this even more impressive. Score: 90/100
Winnica Wieliczka, 'Cuvée Regis' Merlot Pinot Noir 2018
The Winnica Wieliczka, 'Cuvée Regis' is excellent for a red wine from the far north (latitude-wise). It acts a lot like a Loire Cabernet Franc or a Carmenere with pleasant green notes that aren't distracting. There are notes of cherry, graphite, capsicum, forest floor, and a touch of wood. Medium-bodied, low-alcohol, and elegant red, it's easy-going with a sensual texture. Score: 90+/100
Do you like our content?
If you like our articles and videos, we'd love for you to be a part of our community on Patreon. The support from Patreon helps keep the content coming and you access to behind the scenes content. It also gives us the chance to get to know you better. Check out the Exotic Wine Travel Patreon page by clicking the photo below.

---
Thanks to Winnica Wieliczka for the wines. The opinions expressed in this article are unsolicited and have not been paid for in any way by governmental bodies, enterprises, or individuals. We do not sell editorial content as that would destroy the legitimacy of our reviews and the trust between Exotic Wine Travel and its readers. On occasion, we extend the option of purchasing the wines we review or/and the products we spotlight. Some of these product links are set up through affiliate programs, which means Exotic Wine Travel gets referral credits if you choose to purchase these items via the links we provide.