Real Portuguese Wine
Reading Time: [est_time] Real Portuguese Wine is aiming to bring Portuguese natural wine to the world! In the Fall of 2019, I did my annual trip to Portugal. I spent a riveting two and a half weeks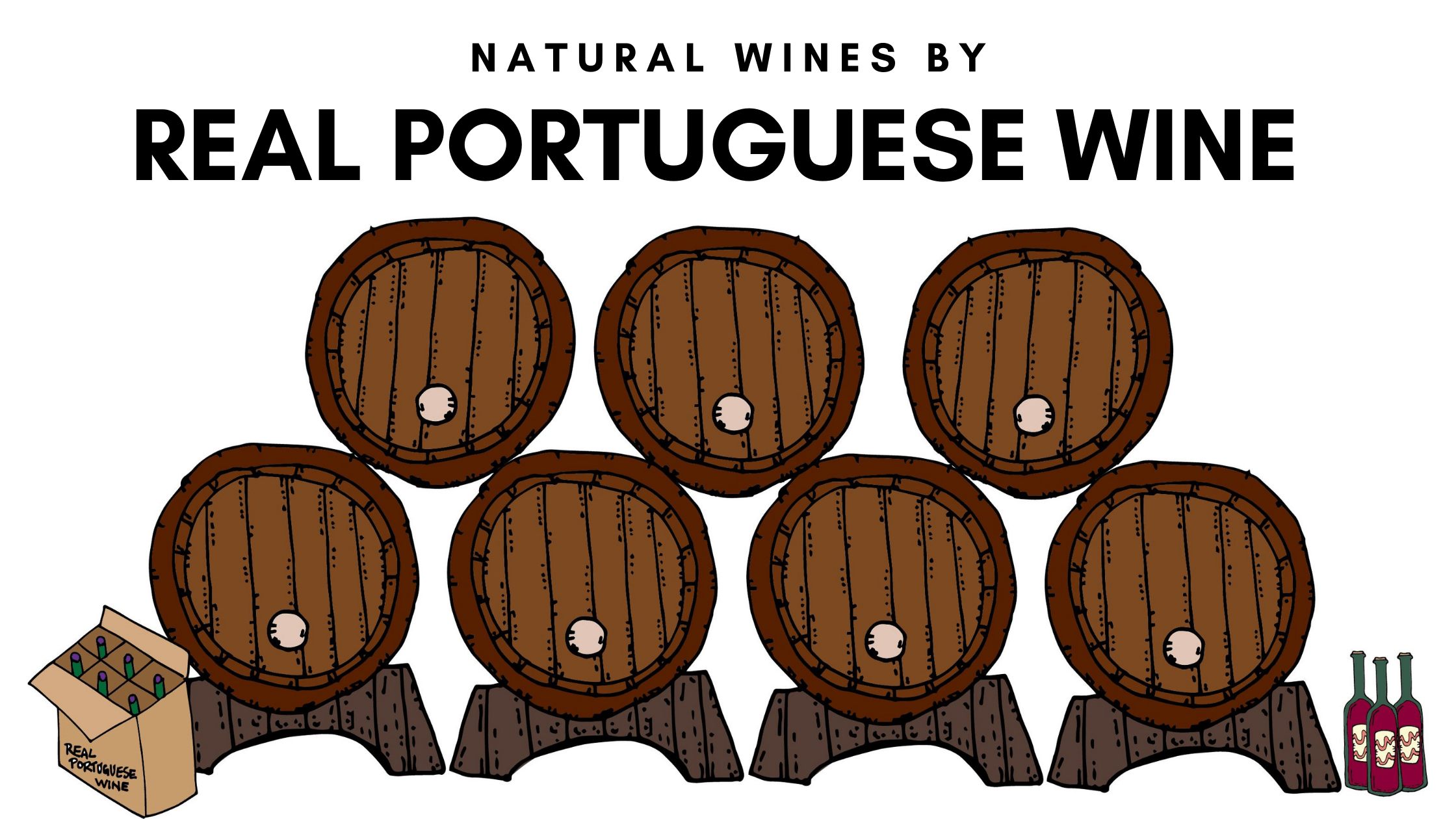 Reading Time: 4 minutes
Real Portuguese Wine is aiming to bring Portuguese natural wine to the world!
In the Fall of 2019, I did my annual trip to Portugal. I spent a riveting two and a half weeks traveling through the Douro, Dão, Bairrada, and Alentejo. The trip wrapped up in the capital of Lisbon, where I found myself at Black Sheep Lisboa.
The bar is owned by an American couple and sits in the heart of Lisbon. Over the course of an evening, proprietor Brian Patterson kept my glass full of Portuguese natural wines. Throughout the night, people from all walks of life from Britain to Holland to Canada and the USA back to Portugal. The evening felt like an episode of the old sitcom "Cheers".
Real Portuguese Wine
Fast forward a few months and Brian reached out to me on Instagram.
He was excited to share the launch of his new venture Real Portuguese Wine. His goal is to present honest, artisanal, natural Portuguese wines to the world. "I've been studying and working with Portuguese wines for ten years," Brian says. "I have a personal relationship with every winemaker in our portfolio. Every wine is curated by me and is a reflection of my time, care, and consideration."
Natural wine is on the rise around the world, trendy wine bars and restaurant lists are loaded of them. With more attention and demand comes increases in price. This is where Portuguese natural wine really shines, especially these bottles from Real Portuguese Wine.
Portugal is already known for producing wines that exceed their price points. It's in the Portuguese DNA, fantastic wine at affordable prices is like a birthright. Producers of Portuguese natural wine are cut from the same cloth. Many of these wines would go for double or triple if it was from a different country of origin. Scoop these Portuguese natural wines while you can.
Wine Recommendations:
[ap_call_to_action button_text="Shop Now" button_url="https://realportuguesewine.com/collections/shop-all" button_align="center"]Get 10% off by using the code RPWEXWINETRAVEL[/ap_call_to_action]
The Antonio Madeira, Branco is a blend of 2017 & 2018 vintages. This is a macerated field blend. It's a clean orange wine with notes of sweet peach, sliced apricot, minerals, and a kiss of oak. This is a chewy, clean orange wine. Soft tannins and a lemony, mineral finish. A wine with real soul and pure fun to drink. Score: 90/100
Torre de Tavares, Mencia 2018
Torre de Tavares aims to produce the pure expression of the Dão. The grape Mencia is also known as Jaen in Portugal. It has notes of red plum, forest berries, stems, and bubblegum. It's dark-colored, fruity, and plush. There are some chewy tannins here that beg for food. This is a wild, stemmy take on this grape and I adore it. If this does see oak aging, you can't taste it. Make sure to give it some air before drinking. Score: 89/100
The Arribas, Saroto is made from old vines, in the Trás-os-Montes region. There are so many varieties planted in the vineyards, that the Arribas owners don't know what they all are. They do know there's plenty of Douro grapes here. Notes of strawberry, raspberry, pepper, and a touch of violets. This is juicy and low in alcohol. There is plenty of acidity here. The tannic structure isn't big but they do sneak up on you. Conventional wine drinkers will find this too thin and acidic. However, in the style of easy-drinking, minimal intervention reds, I think this is very well done. Score: 90/100 
Made by Maria João Pato, daughter of Luis Pato. The Duckman, Branco is made from Bical aged in wood for six months. Notes of bright tropical fruit like pineapple and starfruit along with some lemon and white flower notes. This is an extreme white wine that is full of flavor. There is a touch of tannin here which adds to the complexity. There's a fine lemongrass finish. There's a lot of sediment here but don't be scared. Crazy and full of personality. Score: 90+/100
XXVI Talhas Mestre Daniel, Branco 2019
XXVI Talhas Mestre Daniel is named after the 26 Talhas (amphorae) in his small cellar. The Branco is a blend of Antão Vaz, Perrum, and Roupeiro fermented in Talha (amphora). Only filtered off using the stems. Attractive notes of daffodil, fresh-cut pineapple, chalk, and even some red cherry. Full-bodied and surprisingly fruity on the palate. Gentle tannins on the back end. In general, I tend to favor red Vinho de Talha over whites. These two wines from Mestre Daniel are giving me a change of heart. Score: 91/100
XXVI Talhas Mestre Daniel, Tinto 2019
The XXVI Talhas Mestre Daniel, Tinto is a blend of Trincadeira, Aragonez (Tempranillo), and Tinta Grossa fermented in talha (amphora). Gorgeous nose of black cherry, blackberry, violets, and earth. It smells a lot like a cooler climate red. It's not a big alcoholic monster, it's tart and herbal on the palate. More medium in body. The complexity here is undeniable and the interplay between fruit and earth is very attractive. Chewy tannins. Score: 91/100
XXVI Talhas Mestre Daniel, Talha X 2019
The XXVI Talhas Mestre Daniel, Talha X is a blend of Antão Vaz, Diagalves, Perrum, Roupeiro, and Manteúdo from one single Talha (amphora). Notes of sweet peach, chamomile tea, tangerine, and pineapple with a touch of chalk. This is a wine that shows concentration beyond what the alcohol level (11.5%) suggests. Generous fruit on the mouth which has many layers of texture. This has more richness, tannin, and staying power than the standard 'Branco' bottling. Long finish. Score: 92/100
XXVI Talhas Mestre Daniel, 'Talha XV' Tinta Grossa 2019
The XXVI Talhas Mestre Daniel, Talha XV is made from a single Talha (amphora) It is 100% Tinta Grossa. Very pretty nose of red raspberry, red plum, and incense with some chalky tones. This has a mouth full of pure fruit flavors along with some subtle stemmy notes. This carries its 14% abv very well and feels plenty fresh in the mouth. The tannins are round and surprisingly plush for a red that is young and didn't see oak. Long finish, as far as Vinho de Talha reds go, this is the cream of the crop. Score: 92+/100
You can find out more about our scoring system on the WINE RATING page.
[ap_call_to_action button_text="Shop Now" button_url="https://realportuguesewine.com/collections/shop-all" button_align="center"]Get 10% off by using the code RPWEXWINETRAVEL[/ap_call_to_action]
---
Real Portuguese Wine and XXVI Talhas Mestre Daniel provided tasting samples. The opinions expressed in this article are unsolicited and have not been paid for in any way by governmental bodies, enterprises, or individuals. We do not sell editorial content as that would destroy the legitimacy of our reviews and the trust between Exotic Wine Travel and its readers. On occasion, we extend the option of purchasing the wines we review or/and the products we spotlight. Some of these product links are set up through affiliate programs, which means Exotic Wine Travel gets referral credits if you choose to purchase these items via the links we provide.