Return to Tokaj
Reading Time: [est_time] Make no mistake about it, we're crazy about Tokaj. Although it's only a three-hour drive east of Budapest, Tokaj feels a world apart. The Zemplen Mountains provide a stark contrast to the great plains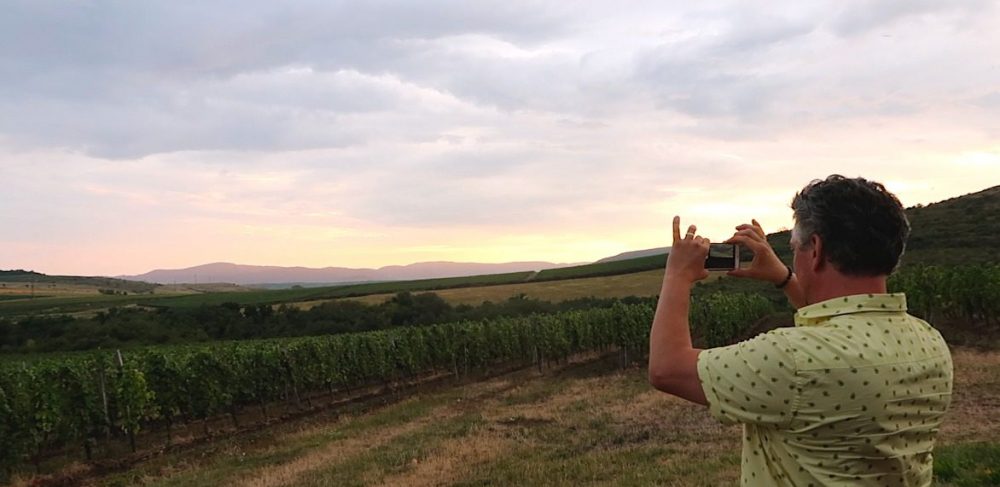 Reading Time: 5 minutes
Make no mistake about it, we're crazy about Tokaj.
Although it's only a three-hour drive east of Budapest, Tokaj feels a world apart. The Zemplen Mountains provide a stark contrast to the great plains of Hungary. The south slopes are covered in vineyards and engulf 27 small villages.
Tokaj is a UNESCO World Heritage Cultural Historical Landscape and for good reason. It is a romantic and quiet slice of Hungary. We first visited Tokaj in the Fall of 2017 and instantly fell in love. You can see some photos and videos of the landscape in that previous article.
How Tokaji Wines Are Made
Tokaji wines are unique and can be confusing to understand for those new to the region. Our friends at WineSofa has produced a series of info posters to make understanding Tokaji wines easier. Here's how Tokaji Aszú wines are made.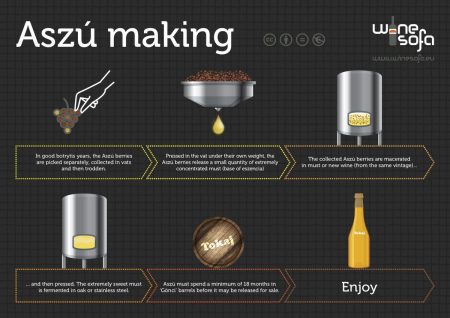 And the different types of Tokaji wines.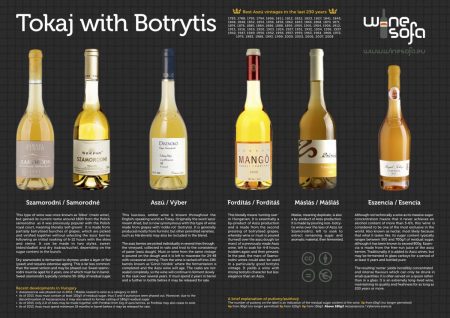 Second and Third Impressions of Tokaj
During the summer of 2018, we had the chance to visit the region on three separate occasions. Each time we visited a few cellars. We also tasted dozens of Tokaji wines in Budapest as we continue to build our knowledge of the region. All in all, over the summer we managed to taste over 100 Tokaji wines.
We continue to be impressed with dry Szamorodni wines. Sadly, they are not very popular on the market and are tough to make at that. This means more and more producers have stopped making them. Frenchman Samuel Tinon is doing his best to make them sexy again, unfortunately, we still haven't tasted his dry Szamorodni.
Since sweet wines are a tough sell, many producers have put a heavy focus on dry wines – some of which can be stunning. It will be interesting to see how all the producers come along with their dry wines. All too often, the dry wines tend to be neutral with searingly high acidity. However, when they're good, they're outstanding.
Here are our favorite wines from our summer of Tokaj!
Exotic Wine Travel's Picks
You can find out more about our scoring system on the Wine Rating page.
Dry Tokaji
Abraham Pince, 

Kölevés Tokaji Furmint 2013
Abraham Pince is a tiny producer in the village of Erdőbénye. The Kölevés is his entry-level dry wine but for my palate, maybe the best. There are flavors of white fruit, iced sugar topping, and smoke. This is full bodied with high acidity and snappy, peppery acidity. It has a snappy, peppery finish like Grüner Veltliner. Piercing acidity with a ton of minerals on the finish ironically Kölevés translates to "stone soup."  Score: 90/100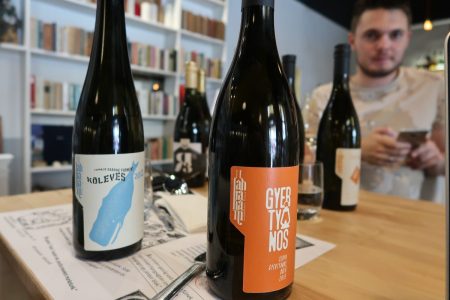 ÁTS, 

Szent Tamás Furmint 2015
Szent Tamás is one of Tokaj's legendary vineyards, located in Mád. The Szepsy Szent Tamás is the most expensive dry Tokaji and can set you back 100 USD or so. The ÁTS Szent Tamás Furmint can be had at a fraction of this price.
This hasn't aged prematurely like many dry Furmints do after a year or two, showing that the fruit is fantastic. The wine has an explosive nose with flavors of sweet peach, lemon, and flint, flint, flint! This is concentrated and full of minerals. Acidity is under control on this big bodied wine. Full of texture and good oak integration with a long finish. A pleasure to drink.   Score: 90/100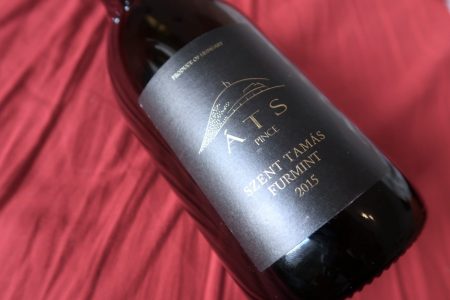 Erzsébet Pince, Király Dülö 2012
For our money, the Erzsébet Pince Király Dülö label is the finest dry Tokaji we have tasted. During our visit to the cellar, we got the chance to taste this older vintage. Although it's not available, the current releases of 2015 and 2016 are highly recommended.
This wine has aged beautifully. It's loaded with sweet peach, flint, spice, and sweet-tart notes. It's full and round. It hasn't aged as much as normal Furmints and the finish is long and mineral. Master of Wine and Master Sommelier, Ronn Weigand is part of the winemaking family and together they have all pulled an extraordinary amount of flavor out of this relatively neutral grape (Furmint).  Score: 94/100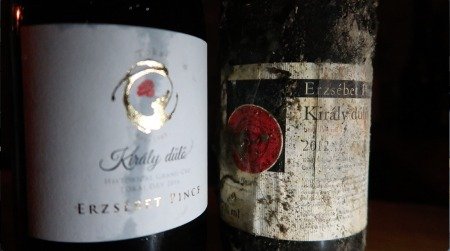 Dry Szamorodni
Hudácskö,

Tokaji Szamorodni Szaráz 2007
Hudácskö is a small family winery that sells almost all of their production from the cellar. I was very pleased to see that they produce dry Szamorodni, somewhat of a dying art in Tokaj. The Hudácskö Tokaji Szamorodni Szaráz is aged in oak for three years. It has lemon, sherry-like flavors with honey, nuts, and a touch of lime. It's old-school and delicious. Think of it as a dry Fino Sherry with more acidity and a tangy finish.  Score: 90/100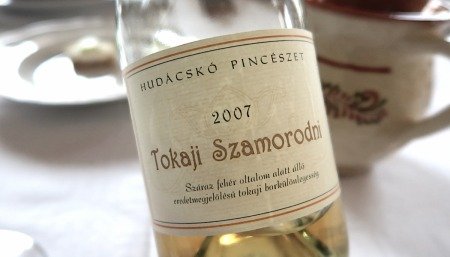 Berés, 

Szamorodni Szaraz 2006
Most of the new wineries in Tokaj are from foreign investment. However, the Berés estate is Hungarian owned. While the estate does produce sweet Tokaji, their focus is on dry wines. The Berés Szamorodni Szaraz is aged under the flor. Bright notes of lemon, pineapple, apricot, and almond make up the flavor profile. Beautiful notes of pine and oxidative notes with a nutty finish. Tart but not overlying coying.  Score: 89/100
Find or buy on Wine-Searcher.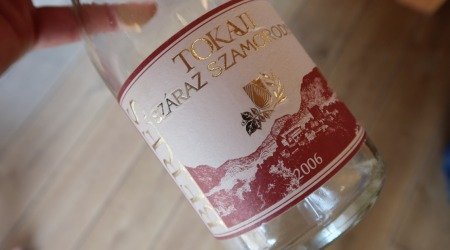 Megyer, Szamorodni Szaraz 2011
Megyer is the second label of Chateau Pajzos but don't let that fool you. The wines in the Megyer lineup are still serious. The Megyer Szamordoni Szaraz is 100% Yellow Muscat four years in the barrel under the floor. Notes of honey, tangerine, and almond notes with some dried apricots and fall leaves emerge from the glass. The wine is smoky and bone dry. This has a smooth and oxidative finish.   Score: 90/100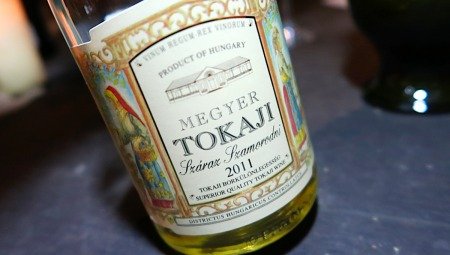 Sweet Tokaji
Erzsébet Pince, Tokaji Aszú 6 Puttonyos 2013
The Erzsébet Pince Tokaji Aszú 6 Puttonyos 2013 is aged for 24 months in Hungarian oak. It's very complex with honey, lemon, sweet peach, and fall leaves notes with a touch of dried pineapple. The wine feels so fresh despite the 224 g/L of residual sugar. It's layered and complex with a long finish. Score: 96/100
Chateau Pajzos, Tokaji Aszú 5 Puttonyos 2006
Chateau Pajzos has focused on the 5 Puttonyos as their flagship sweet wine (as opposed to the 6 Puttonyos). This vintage is a masterpiece, there are beautiful notes of white flower, caramel, lemon, natural gas, tangerine, and apricots. Extremely complex, it's floral, fruity, concentrated, and rich. Luscious mouthfeel with brilliant acidity and a long finish.   Score: 95+/100
Find or buy on Wine-Searcher.
Chateau Dereszla, Tokaji Aszú 5 Puttonyos 2009
The Chateau Derezsla Tokaji Aszú 5 Puttonyos 2009 has the typical, textbook flavors of a sweet Tokaji – which is not a bad thing! There are notes of honey, fall leaves, apricot, lemon, and baking spice. Full and luscious on the palate with fiery acidity. The finish on this is spicy and long with over 150 g/L of residual sugar.  Score: 92/100
Find or buy on Wine-Searcher.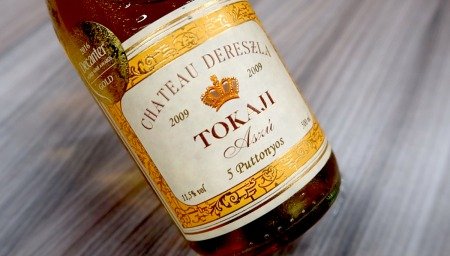 Oremus, 

Tokaji Aszú 6 Puttonyos 1999
This was the first bottled vintage that Oremus made in its new cellar. The Oremus Tokaji Aszú 6 Puttonyos 1999 has 240 g/L of residual sugar. It's very complex and ethereal on the palate. A myriad of flavors include nuts, honey, marzipan, white chocolate, lemon, and fall leaves notes. Fiery acidity with tight structure and a long finish.   Score: 97/100
Find or buy on Wine-Searcher.
Szepsy, Szamorodni Edés 2012
No article on Tokaj would be complete without a wine from Istvan Szepsy, the most legendary producer in the region. This Szamorodni has the concentration of a Tokaji Aszú wine, impressive in itself. The Szepsy Szamorodni Edés 2012 may be the most concentrated sweet Szamorodni that we've come across.
It's very floral with lemon, marmalade, honey, and cotton candy notes. It's rich for this style of wine but still has many layers of flavor and a slightly spicy finish. A touch more acidity would have pushed it to ethereal levels.  Score: 93+/100
Find or buy on Wine-Searcher.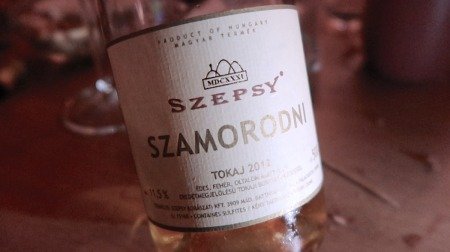 Tokaji Eszencia
Chateau Pajzos, Tokaji Eszencia 2000
The mother of all Tokaji wines. The Chateau Pajzos Eszencia 1999 scored a perfect 100 points in Robert Parker's The Wine Advocate. The 2000 isn't a slouch either with over 500 g/L of residual sugar and 4% alcohol. Notes of lemon, dandelion, toffee, and taffy notes with mushrooms and forest floor cover the palate. The wine is rich and long with a healing mouthfeel. It's like a magic potion on the palate. Good acidity with a long finish.  Score: 97/100
Find or buy on Wine-Searcher.
Oremus, Tokaji Eszencia 2008
Although I prefer the 2007 to this vintage, it's still a helluva wine. The Oremus Tokaji Eszencia 2008 has over 500 g/L of residual sugar. It's very complex with notes of lemon, fall leaves, apricot, orange peel, cotton candy, and natural gas notes. It's very sweet with a long finish and the fiery acidity. It's not as tight as the 2007 but it's fantastic none the less.   Score: 96+/100
Find or buy on Wine-Searcher.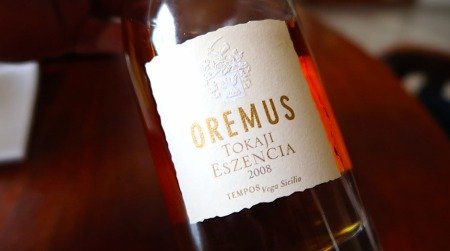 ************
Do you want to learn more about Hungarian wine?
Be part of our fourth wine book Discover Hungarian Wine. Sign up HERE to learn how you can be one of the first to get a special edition, signed copy with a discount when our Kickstarter launches when the world returns to normal.
---
Thank you to Taste Hungary for providing a day trip to Tokaj and Hungarian Wines.eu for a visit to Tokaj during their study trip. Please note that the opinions expressed are our own and have not been paid for in any way. We do not sell editorial content as that would destroy the legitimacy of our reviews and the trust between Exotic Wine Travel and its readers. On occasion, we extend the option of purchasing the wines we review or/and the products we spotlight. Some of these product links are set up through affiliate programs, which means Exotic Wine Travel gets referral credits if you choose to purchase these items via the links we provide.