Revisiting Friuli-Venezia Giulia
Reading Time: [est_time] We love the wines of Friuli-Venezia Giulia. Earlier in 2017, we did a weeklong tasting trip through the region, visiting some iconic producers. After that trip, we became hooked on these wines. After six
Reading Time: 3 minutes
We love the wines of Friuli-Venezia Giulia. Earlier in 2017, we did a weeklong tasting trip through the region, visiting some iconic producers. After that trip, we became hooked on these wines.
After six weeks touring through the wine regions of Hungary and Slovakia, our friend Vedran drove up from Zagreb to meet us in Budapest. We tasted through the Hungarian regions of Szekszárd and Somló together. After the trip, Vedran told us, "I don't want to go back to Zagreb yet, going back to Italy is more interesting for me."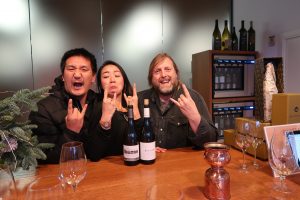 Goofing around with Wayne from Bastianich.
That being said we made the long drive to Friuli. This time we didn't have any visits scheduled and we were worn down from our crazy schedule in Hungary and Slovakia. We visited a few producers and tasted some new vintages. Check out our thoughts in the video below (~8 mins).
The wines of Friuli-Venezia Giulia don't take a backseat to many places in the world. Here are some of our favorites from the most recent trip.
Exotic Wine Travel's Picks
(You can find out more about our scoring system on the START HERE page.)
Bastianich, Vespa Rosso 2013
Find or Buy at Wine-Searcher.
This is the first vintage of a new blend of this wine. The Bastianich Vespa Rosso 2013 is a blend of Merlot, Refosco dal Peduncolo Rosso, and Schiopettino. Flavors of plum, raspberry, blackberry, and black pepper. It's full-bodied with developed tannins, a joy to drink now but it can go the distance in the bottle.    4.2/5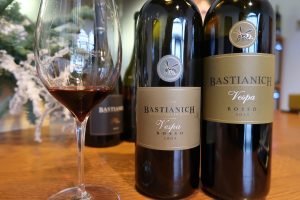 Borgo del Tiglio, Friulano 2015
Find or Buy at Wine-Searcher.
When we first visited Borgo del Tiglio in January of 2017, we tasted through older vintages of the Gran Selezione wines. On this visit, we stopped by and tasted the entry-level (white label) wines of Borgo del Tiglio.
This isn't as profound as the Borgo del Tiglio Ronco Della Chiesa but it's still a fine wine. It has wonderful ripe flavors of pineapple, yellow peach, yogurt, and minerals. It is rich in body from the lees contact. Acidity isn't high but the wine is flavorful and full with a long finish.    4.2/5
Find or Buy at Wine-Searcher.
This grape is known as the Nebbiolo of Friuli. The Eugenio Collavini Pignolo 2009 is aged two years in oak and five years in the bottle. Full of wild berries, chocolate, and tobacco. It's a big, dense, and highly structured. The tannins are developed but still firm. A great wine to go with meat. Despite the age on this, it still tastes like a baby.    4.2/5
Colle Duga (Damien Prinčič), Merlot 2015
Find or Buy at Wine-Searcher.
Plush and delicious Merlot. This effort from Colle Duga tastes like a well-executed minimal intervention red wine. It's full of plum, graphite, earth, and tobacco. It's rich and ready to drink now.   4.0/5
Magnás, Collio Bianco 2015
Find or Buy at Wine-Searcher.
The Magnás Collio Bianco 2015 is a blend of Ribolla Gialla, Malvasia, and Friulano. This is a typical Collio blend. It's big and rich, high in alcohol yet balanced. Flavors of white peach, pineapple, apricot, and chestnut. It's built up with lees contact and shows an impressive level of complexity for a wine matured only in stainless steel.   3.9/5
Meroi, Vigna Dominin Chardonnay 2015
This is a show stopper. The Meroi Vigna Dominin Chardonnay 2015 is saline and soft Chardonnay with beautiful wood integration. Full in body with notes of melon, stone fruit, and vanilla. Long finish, this is a spectacular rendition of Chardonnay. It's another great wine from Meroi.   4.6/5
Meroi, Zitelle Barchetta 2015
The Meroi Zitelle Barchetta is an outstanding single-vineyard Sauvignon Blanc. Charine puts it best in the post below.   4.7/5
The Miani Palis Chardonnay 2015 is made of fruit that didn't make the cut for the premium Miani Barraca bottling. It is full of melon, pineapple, sweet clove, and vanilla. Big yet refined on the palate, it's a powerful white wine with bright fruit and a long finish. Not at the level of the Miani Chardonnay Barraca but this is still very good stuff.    4.4/5
Miani, Zitelle Sauvignon 2016
Find or Buy at Wine-Searcher.
The Miani Zitelle Sauvignon 2016 is big and powerful with flavors of white peach, kiwi, minerals, asparagus. Great wood integration with powerful fruit and a long finish. The fruit is so powerful and bright that it's almost ethereal. Sweet oak is highlighted on the finish – in just the right amounts. For those that don't like Sauvignon Blanc, one taste of this may change your mind.    4.8/5
Find or Buy at Wine-Searcher.
We first tasted this at the Orange Wine Festival 2017 in Vienna. The winery intrigued us and this time we paid them a visit.
This is a solid orange wine with a high level of tannins. Full of apricot, dried peach, fall leaves, and a touch of fish oil that we associate with Ribolla Gialla. Don't expect juiciness from this wine, think structure, structure, structure.    4.1/5
---
Please note that the opinions expressed in this article are unsolicited and have not been paid for in any way by governmental bodies, enterprises, or individuals. We do not sell editorial content as that would destroy the legitimacy of our reviews and the trust between Exotic Wine Travel and its readers. On occasion, we extend the option of purchasing the wines we review or/and the products we spotlight. Some of these product links are set up through affiliate programs, which means Exotic Wine Travel gets referral credits if you choose to purchase these items via the links we provide.