Samsara: New Beginnings With Winemaker Matt Brady
Reading Time: [est_time] Samsara Wine Co. is one of our favorite producers in Santa Barbara County. Upon first visitng the tasting room in Los Olivos, we (especially Charine) were hooked. When Charine loves a wine, she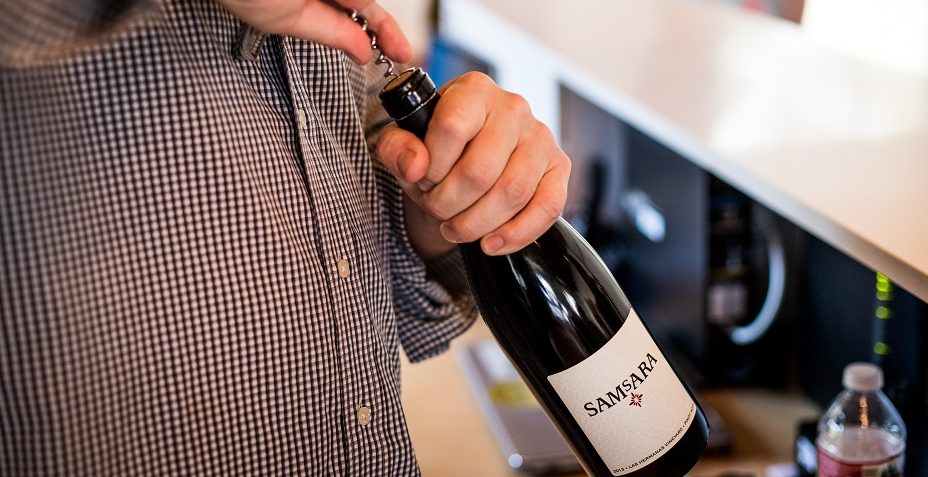 Reading Time: 4 minutes
Samsara Wine Co. is one of our favorite producers in Santa Barbara County. Upon first visitng the tasting room in Los Olivos, we (especially Charine) were hooked. When Charine loves a wine, she knows it after the first sip.
When we wrote our book Sipping Santa Barbara: Recommended Wines and Producers, including Samsara Wine Co. was a no-brainer. When it comes to Californian Pinot Noir, Samsara tops the list for Charine. You can see her enthusiasm while we taste through some of Samsara's single vineyard Pinot Noir bottlings (video below).
New Beginnings At Samsara
The winery was started by Chad Melville. He believed in making handcrafted wines with as little intervention as possible. Which means he used native yeasts to ferment and utilized long barrel aging. Chad also believed in using as little sulfur as possible.
A few years ago, Chad returned to his family's estate (Melville) and sold Samsara to longtime mailing list customers Joan and Dave Szkutak. Together with Chad, the Szkutaks decided on bringing on winemaker Matt Brady. He was formerly the head winemaker at Jaffurs, another iconic producer in Santa Barbara County.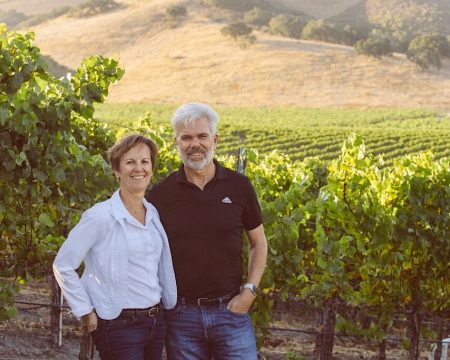 Joan & Dave Szkutak (photo courtesy of Samsara Wine Co. Website)
With the change of ownership, we were worried the direction of the winery might change. Would these remain some of our favorite cool-climate Pinots and Syrahs in Santa Barbara? Matt took some time out of busy schedule to answer our questions.
Matt, you're a young guy with an impressive resumé. Could you tell us about your professional history?
I got bit by the wine bug while attending UCSB and started at Jaffurs as a 'tasting room, cellar rat' while I was finishing up my senior year.  The 2005 harvest rolled around and I was asked to take on an increased role in wine production. I've had a variety of job titles over 12 vintages at Jaffurs, eventually landing as co-winemaker, and then head winemaker. My 2009 sabbatical to Barossa Valley with Two Hands was a valuable experience too, but I drank enough Shiraz for a lifetime.
You were crafting some beautiful wines at Jaffurs before, what made you decide to take on this new challenge at Samsara? 
Thank you! I've always admired and respected the Samsara wines and the way they are made: native ferments, high stem inclusion, savory, and texturally driven wines. Making wine at Samsara allows me to pursue the stylistic directions I'm most passionate about. The Samsara brand really represents the 'groove' I want to be in right now – vineyard driven wines, in balance with nature, and complexity over power.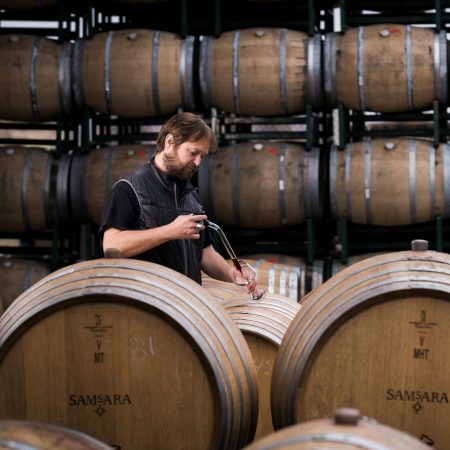 Matt Brady (photo courtesy of Samsara Wine Co. Website)
What vintage of Samsara will be your first?
It will be the 2017 vintage. We'll also have a 2016 Grenache from Larner vineyard that I made which will be bottled as a Samsara wine.
Samsara wines were known for stem inclusion and utilizing natural yeasts during fermentation, very minimal intervention so-to-speak. Will that be the direction moving forward as well? Or do you see a change in the style of Samsara wines? 
There will be no change in the winemaking approach. Chad Melville and I worked together before harvest began to ensure there would be stylistic continuity. Things will remain the same, native ferments, high stem inclusion, long macerations, minimal handling/gentle pressing, minimal SO2, and extended barrel aging – all things I believe in!
Are you looking to source grapes from any new sites? If so, where?
Yes, a couple new vineyards…
We started a Chardonnay program in 2017, working with some top Santa Rita Hills Chardonnay vineyard sites (Zotovich, John Sebastiano Vineyard, Kessler-Haak, Donnachadh). We'll most likely have a vineyard-designated bottling in addition to an appellation bottling.
I'm really excited about the Chardonnay! Currently, the barrels are tasting great and it's exciting to have some white wine in our lineup. The Chardonnay will be bottled in late 2018, it is barrel fermented with neutral oak and picked on the early side with lots of natural acidity and fresh aromatics.
I'm also really pleased to be working with both Grenache and Syrah at Joey Tensley's Colson Canyon Vineyard. Colson is a special site and it's impeccably farmed by Joey and his team.  The 2017 Syrah and Grenache are both qualitative standouts for the vintage. While Samsara's Syrah program is better known for the spicy cool climate Sta. Rita Hill wines, the Colson provides a riper and richer style, which makes for a good stylistic range within our Syrah lineup.
I'm really excited about the Chardonnay! Currently, the barrels are tasting great and it's exciting to have some white wine in our lineup.
What do you like working with more, Rhône grapes or Pinot Noir? Which is most challenging to work with?
Tough question… Pinot is less forgiving, which makes it more challenging. The Samsara Syrahs from past vintages are so good, which sets the bar high.
Do you have any favorite vineyard sites in Santa Barbara County?
After spending so many years in some sites they become really special. Larner and Stolpman vineyards in Ballard Canyon and Bien Nacido in Santa Maria. I really fell in love with Rancho La Vina on Santa Rosa Rd last year. Colson Canyon is so remote it feels like an adventure every time you're out there.
What's your vision for Samsara looking forward?
To continue putting quality above everything else. Winemaking style will remain consistent, although I foot-stomped a lot of grapes last year, I might need some help in 2018. I'm hopeful that increased time spent in our vineyards, working with our vineyard managers and crews will pay off with fruit quality. I'll keep playing around new things here and there and will build on the stuff that works.
I deeply believe in our winemaking style, the few vintages we have in the bottle are tasting great and the 2017's are showing great promise too. I'm optimistic about the future.
Find or buy Samsara Pinot Noir and other bottlings on Wine-Searcher.
You can also visit the Samsara tasting room in Los Olivos or check out or buy their current releases directly from their website.
You May Also Enjoy:
Review of Samsara Syrah Zotovich Vineyard
Review of Samsara Grenache Larner Vineyard
Planning a trip to Santa Barbara?
Want to learn more about Santa Barbara wines?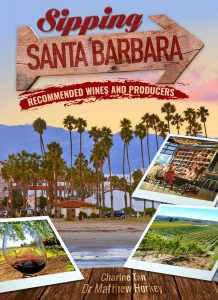 Our visitor-friendly guide to the wines and tasting rooms of Santa Barbara is available now!
Check out Sipping Santa Barbara: Recommended Wines and Producers for more information.
[sp_testimonials_slider category="1048″]
---
Cover photo courtesy of Samsara Wine Co. Website. Additional thanks to Samsara for contributing samples for the tasting video. Please note that the opinions expressed are our own and have not been paid for in any way. We do not sell editorial content as that would destroy the legitimacy of our reviews and the trust between Exotic Wine Travel and its readers. On occasion, we extend the option of purchasing the wines we review or/and the products we spotlight. Some of these product links are set up through affiliate programs, which means Exotic Wine Travel gets referral credits if you choose to purchase these items via the links we provide.