Serbian Bordeaux Blends
Reading Time: [est_time] It seems as if every country that is either, new to winemaking or reacquiring its winemaking past, try their hands at Cabernet Sauvignon and Merlot. Who's to blame them? These are grape that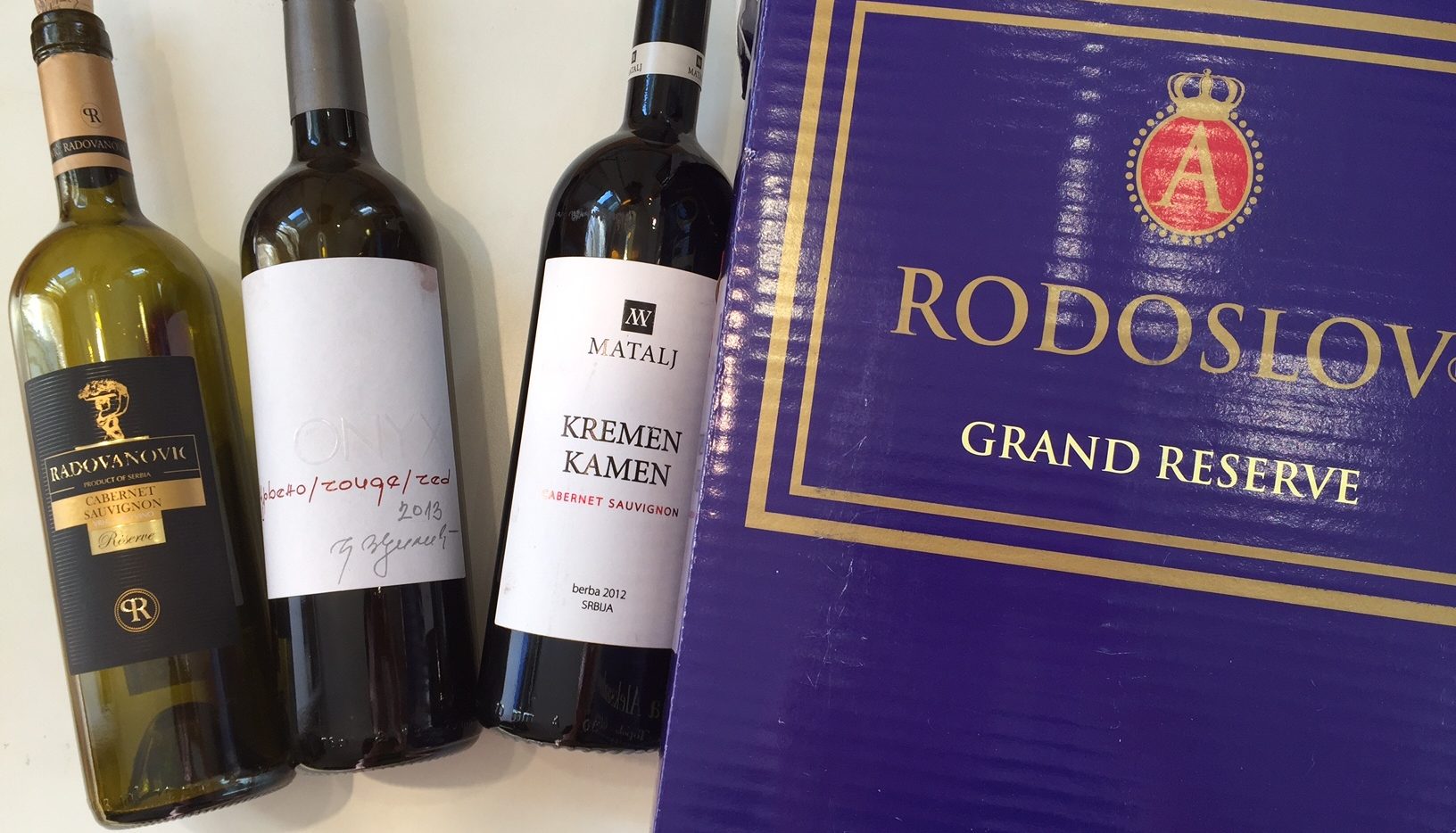 Reading Time: 7 minutes
It seems as if every country that is either, new to winemaking or reacquiring its winemaking past, try their hands at Cabernet Sauvignon and Merlot. Who's to blame them? These are grape that people are familiar with. In addition to that, they adapt fairly well to multiple types of climate and make sturdy wines.
Here's the thing, Serbs love red wines and the Serbian Bordeaux Blends can be very good.
A few years ago, when we first came to Serbia, we had no idea why the red wines as a whole seemed to be superior to the whites. At the time, our guess was that Serb cuisine tends to be meat dominated.
We asked Igor Luković, editor-in-chief of Vino & Fino Magazine in Serbia for his thoughts. He gave us insight into why reds are taken more seriously.
In Serbia old tradition is to make light white wines with Smederevka, Grašac (Welschriesling), and Tamjanika (Muscat). These wines are drunk predominantly during the summer, but light whites are popular in all periods. Of course, such wines are not suitable for ageing, so it's normal that people don't take them seriously. On the other hand, Serbian people love tannic, big reds, so thats why they percived them as more serious wines.
Because of this, every region in the country is trying their hand at Bordeaux blends. Serbia has a continental climate with a slight moderating influence of the nearby Adriatic Sea. The Danube River snakes through the country and adds moderating influences to several of the regions in Serbia. On top of that, the country is full of undulating hills and low-lying mountains that make for several microclimates.
Here are some of our favorite examples of Serbian Bordeaux blends by region.
Fruška Gora
The Fruška Gora hill is in northern Serbia. The hill sticks out like a sore thumb in its pancake flat surroundings. Marcus Aurelius Probus ordered vines to be planted here in the 3rd century A.D. The hill runs about 60 kilometers east to west and part of it reaches into Croatia. Fruška Gora is flanked on its north side by the Danube River. The official term for this wine region is name Sremski.
We are not fully convinced of red wines in this part of Serbia… yet. There are a few good examples being made in great vintages. In average years, the wines can be thin and covered with too much oak. The Fruška Gora hill has a lot of rain annually and the nearby Danube contributes to the humidity. That being said, producers like Belo Brda and Chichateau make consistently good red wines. One of Serbia's most famous producers Kovačević also makes a good, inexpensive Bordeaux blend.
Exotic Wine Travel's Picks
Chichateau, Fabula Lagum 2015 
Available here.  
Chichateau is a true garage winery using fruit only from its own vineyards. Đorđe Stojsič spent some time in the USA where he fell in love with wine and returned to produce his own in his family's village.
Fabula Lagum is the reserve wine from Chichateau made in excellent vintages, it was tasted from a barrel sample. A blend of Merlot, Cabernet Sauvignon, and Cabernet Franc. I tasted the bottled version of the 2012 which was also impressive. Matured in new French oak this is full of black fruit, graphite, and earth. This is round, silky on the palate and extremely well-made. It has nice round tannins with nice complexity and ability to cellar in the short term.
This wine should not be confused with the Chichateau Fabula Mala, which is made every year.
Kovačević Aurelius "R" Edition 2012
Kovačević is the largest private winery in Serbia, producing close to a million bottles of wine per year. They experiment with all types of wines including a range of amber wines that are soon to be released. Their restaurant is also of note, it is on the slopes of Fruška Gora is one of our favorite places to eat in all of Serbia.
Kovačević makes an accessible and readily available Bordeaux blend called Aurelius that is solid and easy to drink. They also make several reserve wines like this example. The Kovačević Aurelius R Edition is predominantly Merlot that spent 26 months in oak. Full of red plum, oak, chocolate, vanilla, and smoke. The wine has nice texture and weight on the palate with a long finish. This isn't overly complex but delicious with good length.
Maurer Cabernet Sauvignon & Merlot 2012
This is from minimal intervention superstar Oskar Maurer. The Maurer Cabernet Sauvignon & Merlot is a blend of blackberry, cranberry, and sour cherry.  Coffee, chocolate, and grass round out the flavors. Silky tannins and medium bodied with nice intensity on the mid-palate. The choreography in this wine is beautiful.
Central Serbia
This physical area extends south of Belgrade to the city of Niš. The official wine regions that make up this area are Beogradski, Šumadija, and Tri Morave. Driving through this bucolic region is a real treat with its rolling hills and small villages dotted with vineyards.
Watch our website for an upcoming article talking about this region in more depth. The area's topography is very similar to Tuscany. Surprisingly, the Bordeaux blends here contain higher acidity. This freshness makes the wines great with Serbian meat-based dishes. Many producers claim that Merlot is better suited for the area but there are plantings of Cabernet Sauvignon here.
Exotic Wine Travel's Picks
The Janko Zavet Stari is one of Serbia's most coveted red wines. See the tasting notes in the article Fine Serbian Wine On Belgrade's Doorstep
Jeremić, Kanon Superior 2012
See the tasting notes in the article Fine Serbian Wine On Belgrade's Doorstep
Radovanović, Cabernet Sauvignon 25th Anniversary 2012 
Radovanović is a big name on the Serbian wine scene and is the first private producer in the post-Yugoslavian era. He has made a name for himself with his Cabernet Sauvignon and Chardonnay based wines. This is a serious and approachable Cabernet Sauvignon made for the 25th Anniversary of the winery.
There are lots of dark fruit, vanilla, and spices on the palate with just enough earth and sweet tobacco for people to love this wine. The tannins are firm but approachable and this will reward people who choose to cellar it. If this was served blind in a Cabernet tasting, a lot of people would be shocked where it is from.
Radovanović Cabernet Sauvignon Reserve 2013 
The Radovanović Cabernet Sauvignon Reserve wine made only in good vintages. It is full of black fruit, earth, sweet cedar, and a touch of capsicum. Really nice medium to full-bodied frame and nice palate presence. The tannins are firm and taste of oak but it works well here. Very much in a left bank Bordeaux in style. The 25th Anniversary Cabernet Sauvignon has more depth but this is still a solid effort.
Miša Cilić is a fourth generation winemaker crafting some serious juice in Central Serbia. The Cilić family focus on Bordeaux blends and Sauvignon Blanc for their white wines. The Onyx Rouge is only made in good years and the blend changes depending on the vintage. The 2013 is a blend of 45% Merlot, 45% Cabernet Franc, 5% Petite Verdot, and 5% Cabernet Sauvignon. This is the reserve wine from Ćilić made in great years. This is among our favorite Serbian red wines. The Cilič Onyx Rouge has a wonderful mix of plum, blackberries, cherry, rubber, marble, and black pepper flavors. It is rich in the mouth but incredibly complex and the firm tannins suggest age ability but this is drinking spectacularly now.
Aleksandrović Rodoslov Grand Reserve 2009 
Aleksandrović is possibly the most famous name in Serbian wine. Their wine is consistently solid vintage after vintage. This winery also produced the first méthode traditionelle sparkler in Serbia.
The Aleksandrović Rodoslov Grand Reserve 2009 is made from a blend of Cabernet Sauvignon, Cabernet Franc, and Merlot. Has a markedly oaked nose, silky and full of black fruit. This is very well constructed wine with a silky mouthfeel. The oak could be a little overbearing for some but there are a lot of people that will love this wine because of its silkiness and richness.  
The Temet winery is right next door to Cilić. Their winery is a beautiful building with an equally impressive barrel room. The front windows offer a panoramic view of the Central Serbian landscape.
The Temet Ergo Crveno is a blend of Cabernet Sauvignon, Cabernet Franc, Merlot, and Petit Verdot. This is young but richer and riper than the 2013. Full of dark fruit, vanilla, and licorice. This has a nice texture and the stuffings to age in the medium term.
Negotin
The wine-growing region around the town of Negotin is officially named Negotinska Kranjina. The region borders Romania and Bulgaria. It consists of gentle slopes that drain into the Danube River. The wines made from Cabernet Sauvignon here has more red fruit than dark fruits as well as ripe, soft tannins.
This is one of the sunniest areas in Serbia and it is also one of the most underdeveloped in terms of wine. There is limitless potential here. The two biggest names on the wine scene here are Matalj and Frančuska Vinarija. Hopefully, new producers will pop up in the coming years.
We have written an extensive article of the region. It's a trek to get there from Belgrade but is well worth it.
Exotic Wine Travel's Picks
Bukovo Monastery, Filigran Cabernet Sauvignon 2013 
The Bukovo Monastery sits on a hill overlooking the town of Negotin. It was built in the late 13th century. Bukovo Monastery is one of the few producers of Black Tamjanika. However, their Cabernet Sauvignon vineyard is reportedly one of the best in Serbia.
The Bukovo Filigran Cabernet Sauvignon has medium intensity, it's not pitch black in color. Full of cassis, black cherry, capsicum, and mineral notes. Bright on the palate, very fruity and easy to like with a lot of tanginess and violet notes as the wine airs. The firm, chalky, yet inviting tannins guide a long finish.
Available here.
We have written an article on a vertical tasting of Matalj Kremen Kamen. This wine may be the finest red coming out of Serbia.
This winery is in the village of Rajac, a town full of old cellars and a long history of winemaking. The winery is located near the train station. Raj Plot is a blend of Cabernet Sauvignon and Merlot. It's a wine with a beautiful nose of chocolate, dark fruit, and capsicum flavors. The tannins here are lighter for a Bordeaux blend, giving this wine a high level of drinkability. The wine finishes with a slightly jammy finish.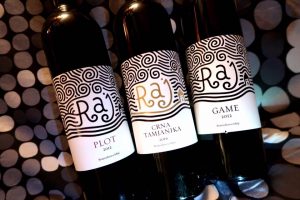 Vimmid Aglaja Cabernet Sauvignon 2014
Vimmid is a small winery from the area. This wine gets a nod from us because it was made in the rainy and tough 2014 vintage. Many producers didn't bottle their flagship reds from this vintage. The few that did, could not escape the shortcomings of a poor year. The Vimmid Aglaja Cabernet Sauvignon has a beautiful nose of dark cherry, earth, and violets. Rich in the mouth without being overly big. This was aged in Serbian oak for one year before being bottled. Shorter finish but a solid red wine. The Aglaja Cabernet Sauvignon is another example of the untapped potential in Negotin.   
 

Prior to the tasting, we heard from two friends that Vimmid makes an impressive Cabernet Sauvignon. We got the chance to try two vintages. Both vintages express similar flavor profiles with a distinct nose of rose, violet, and chalk. Very attractive, perfumey aroma. 2015 has more intensity of fruit; 2014 is less because of the wet year. But overall we enjoy 2014 more. Good balance, noticeably unfiltered texture, linear structure, mix of dark & red fruit flavors. A delicious wine though short on climax and finish. Another nice Cab from Negotin, Serbia!
The finest selection of
available at:

Shipping is available EU-wide and to the UK.
************
    Do you want to try Serbian wines?    
If you're looking to savor the exquisite flavor of Serbian wines, look no further than wineandmore.com. With an abundance of options from different winemakers, it's easy to find exactly what your palate desires. Not sure which bottle is best for you? Try out one of their curated wine cases and discover the perfect vintage for any occasion!
************
Want to learn more about wine?
Are you ready to discover the wonderful world of wines? Come join us at wineandmore.com and let's explore the incredible selection of delicious wines together! We can't wait to share our passion for wine with you!
You May Also Like:
Prokupac From South-Central Serbia
Serbian Grand Cru On The Slopes Of Danube
Matalj Kremen Kamen: A Vertical Tasting
Fine Serbian Wine On Belgrade's Doorstep
---
The ideas expressed in this article are personal opinions and are not associated with any sponsors or business promotions