An Introduction to Swiss Wine
Reading Time: [est_time] On the last week of our month-long stay in Armenia, we were invited to the home of the Swiss Ambassador to Armenia for a get-together. We thought it was a casual dinner, but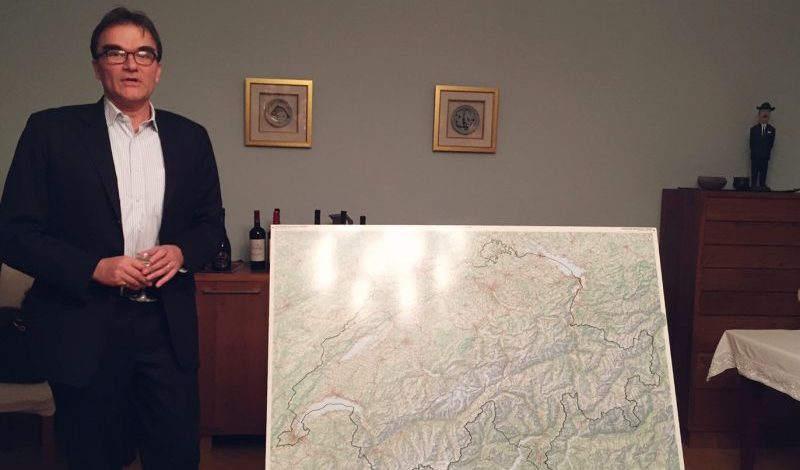 Reading Time: 6 minutes
On the last week of our month-long stay in Armenia, we were invited to the home of the Swiss Ambassador to Armenia for a get-together. We thought it was a casual dinner, but it ended up being a full-fledged tasting of Swiss wines paired with delicate finger food prepared by his wife who's a trained chef. Adding to the magic of the evening, many of our dear friends in Armenia joined us for the tasting, and we were grateful for the opportunity to say goodbye and have one last drink with them in such a graceful setting.
Thank you, Lukas and Bella, for hosting us and for such a wonderful evening!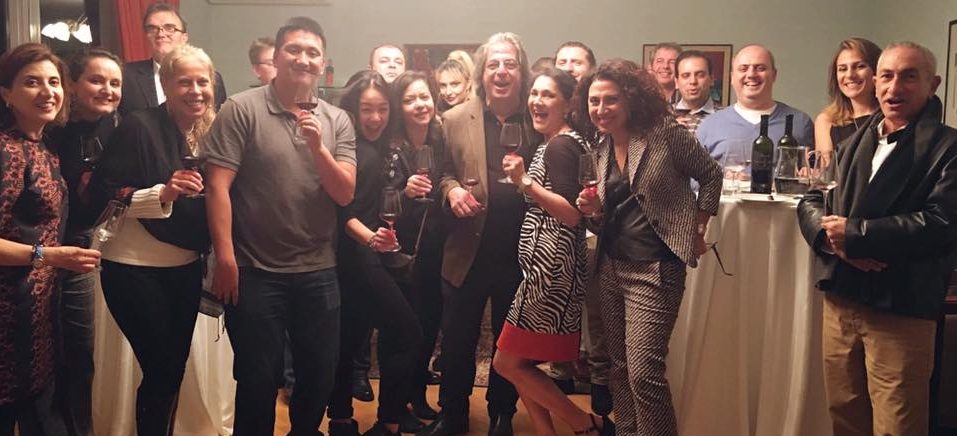 Friends, wine lovers, winemakers, and wine importers who attended the Swiss wine session.
We haven't tasted enough Swiss wines to make an assessment of them but have experienced enough to be intrigued. The only other time we had Swiss wines was during our visit to parts of Valais and Vaud in May 2015 when we had less than a week to explore the wine selections in the supermarkets and visit a few wineries. We look forward to making an investigative trip through the wine regions of Switzerland in the near future.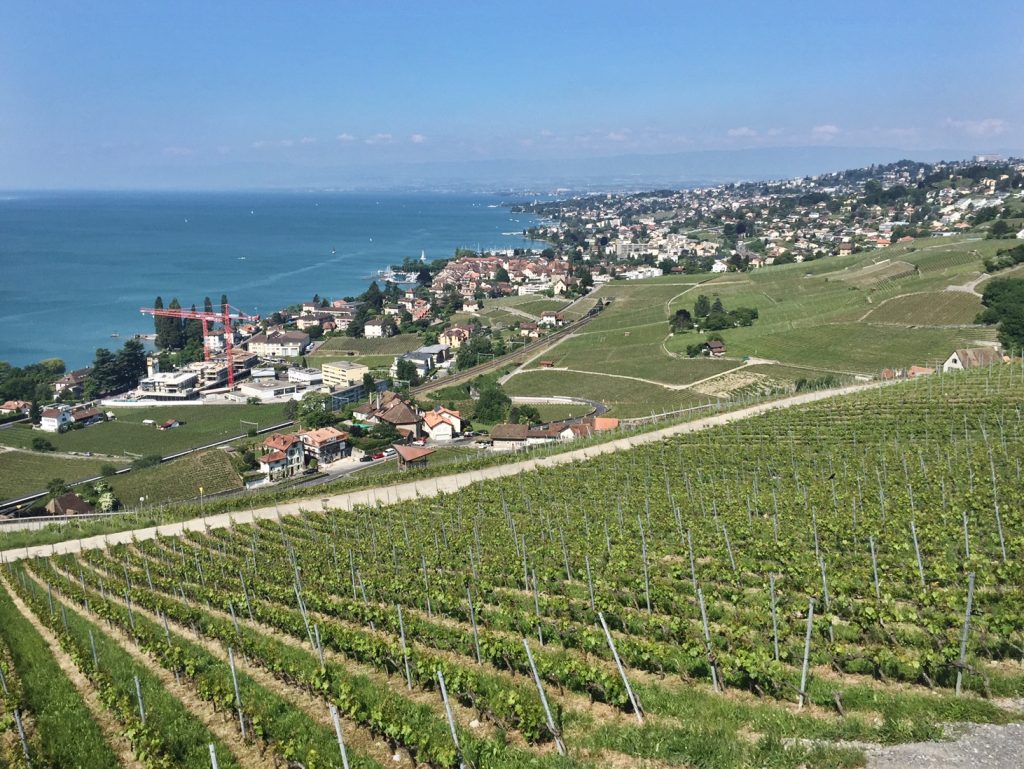 During our short stay in Switzerland, we got the chance to visit the Lavaux Vineyard Terraces, a UNESCO World Heritage site. The vines in Lavaux dates back to the 11th century when Cistercian monks were tending the vines in this area. However, other evidence suggests that the vines here could go as far back as the Roman times.
When people think of Switzerland, the things that come to mind are usually chocolate, skiing, private banking, watches, and political neutrality. Not much is known about Swiss wine outside Switzerland. Why is that? The limited awareness is not due to the lack of quality or quantity but because almost all the Swiss wines are consumed within Switzerland, and not a lot of people outside the country get to try them. To paint a more vivid picture, here are some numbers to consider:
There are around 15,000 hectares of vineyards in Switzerland producing 93, 365 tonnes of wine, which is equivalent to about 2% of the total wine production in France.
Only about 2% of the Swiss wine production is exported, which makes Swiss wine so elusive to the outside world.
In terms of annual wine consumption, Switzerland is ranked in the world's top 10 with 40.49 litres per capita. About two-third of the wine consumption is fulfilled by imported wine.
The beginning of viticulture in Switzerland can be traced back to the Roman times. Some of the indigenous grapes are Amigne, Diolinoir, Gamaret, Garanoir, Completer, Cornalin, Humagne Blanche, Petite Arvine, and Rèze. The indigenous varieties cover 36% of the vineyards in the country. The most cultivated grapes are the autochthonous Chasselas for white wine and Pinot Noir for red wine. Other international grape varieties that are grown in Switzerland include familiar names like Chardonnay, Gamay, Merlot, Müller-Thurgau, Pinot Gris, Sylvaner, and Syrah.
Most of the vineyards are located in the western and southern regions of the country, which can be divided into six cantons: Geneva, Suisse Alémanique (German-speaking part), Ticino (Italian-speaking part), Trois Lacs (Three Lakes/Neuchâtel), Valais, and Vaud.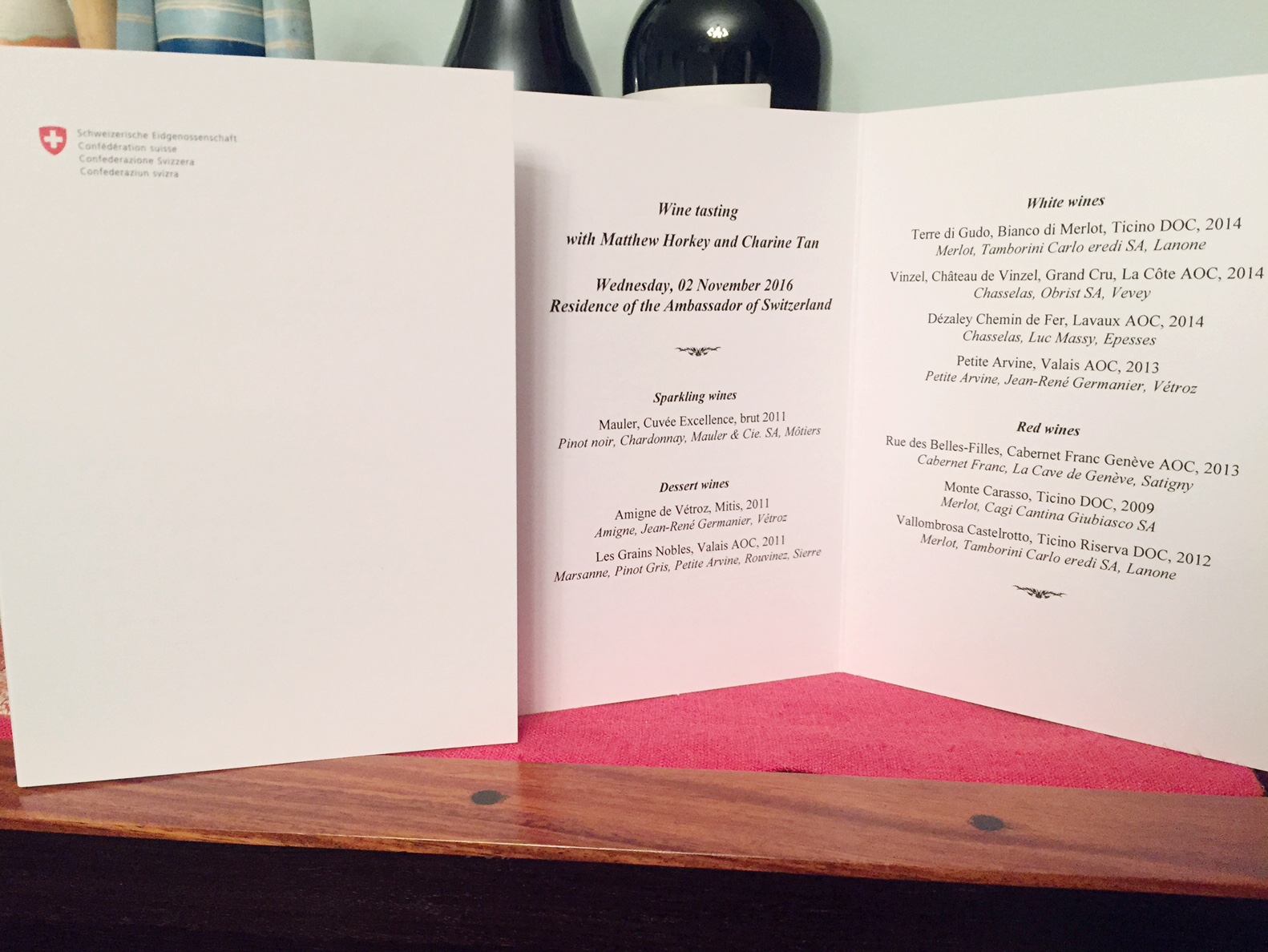 Wine tasting menu for the evening.
Here are the wines we tasted that evening and our impressions. We were told by our friends in Switzerland that most of the wines listed here are from common producers and their wines are widely available in the retail shops in Switzerland.
Swiss Sparkling Wine
Mauler, Cuvée Excellence, Brut, 2011
The Mauler company has been making sparkling wine in Môtiers (in the french-speaking part of Neuchâtel) since 1829. This is a blend of Pinot Noir and Chardonnay, made in methode traditionnelle, with at least 36-month aging before release. It has balanced flavors of fresh white bread, stone fruit, and melon, brightened by sparks of citrus notes. The flavors are chirpy but the bubbles are fading quickly, leaving behind a flat texture that undermines the welcoming flavors. A simple refresher and an appropriate sparkler to awaken the senses at the beginning of an evening.
Swiss White Wine

Château de Vinzel, Grand Cru, 2014
This wine is from the canton of Vaud, which is 45 km away from Lausanne (one of our favorite cities). A light-bodied, refreshing white made from the Chasselas grapes. The crisp acidity carries forward the flavors of citrus, sliced white peach, green apple, and pear. It's a straightforward, likable wine that tells the potential of the Chasselas variety.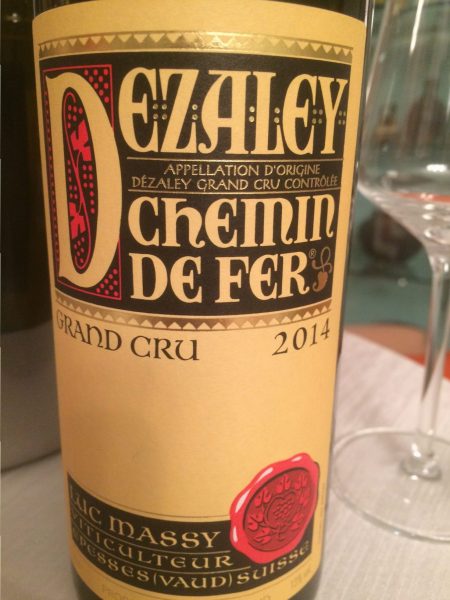 Luc Massy, Dézaley Grand Cru, Chemin de Fer, 2014
The appellation of Dézaley Grand Cru  (from the Lavaux AOC, Vaud) is touted to be the best expression of Chasselas. This is our favorite white wine of the evening. A major step-up from the previous Chasselas wine: this packs more complexity and structure and offers an opulent take on Chasselas. The nose expresses notes of rubber, game, white flower, toast, and a hint of white fruit, all held together by a prominent mineral backbone. The palate is a little oily and driven by savory notes first, and white fruit second. The mineral characteristic glides through the palate and rounds up the long finish.  Highly recommended!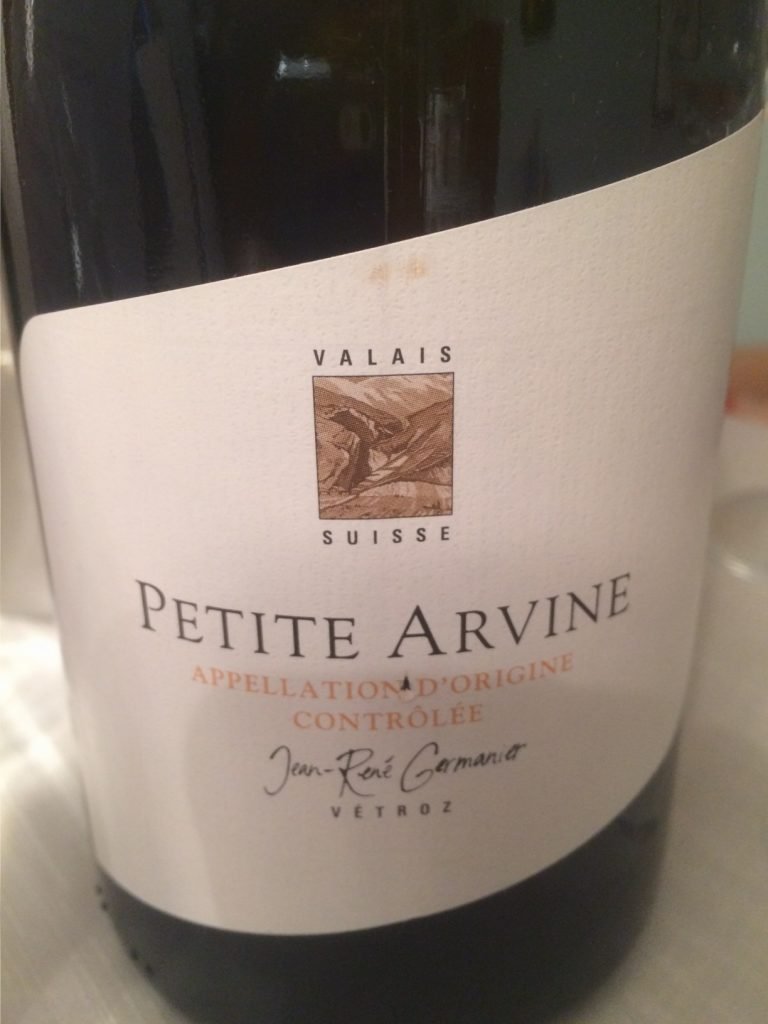 Jean-René Germanier, Petite Arvine, 2013
From the Vétroz area in canton of Valais, which is the biggest wine-growing canton in the country. A pleasant white wine with explosive flavors of starfruit, blossom, citrus, and green apple. An aromatic wine with nice acidity that will please many people, just as it is a crowd pleaser for our evening too.

Tamborini Carlo, Terre di Guido, Bianco di Merlot, 2014
A white wine made from the black Merlot grapes harvested from the Ticino area. The flavors are quite muted. Soft and savory with rich texture; lacking fruit flavors at first but signs of green pear and stone fruit show up gradually.
Swiss Red Wine



Rue des Belles-Filles, Cabernet Franc, 2013
From Switzerland's largest wine-producing municipality Satigny in the canton of Geneva. The name Rue des Belles-Filles means "street of the beautiful girls". This wine pulls us in at first with an upbeat bouquet reminiscent of red cherry, clay, and fresh green vegetable. On the palate, it appears a tad thin and exhibits more earthy and green characters than fruit. Be patient, let it open up, and pair it with some food and it'll reward you slowly.
Giubiasco, Monte Carasso, Merlot Ticino, 2009
Matt's favorite red wine of the evening. A Merlot that bears the Ticino DOC. It benefits from being the most mature wine among the reds. The nose shows tertiary notes of tomato, alpine herbs, and dried spices, accompanied by black cherry and just the right touch of smokiness from the oak. A wine that tastes great on its own, without any distraction from food. This wine is a hot favorite of the evening.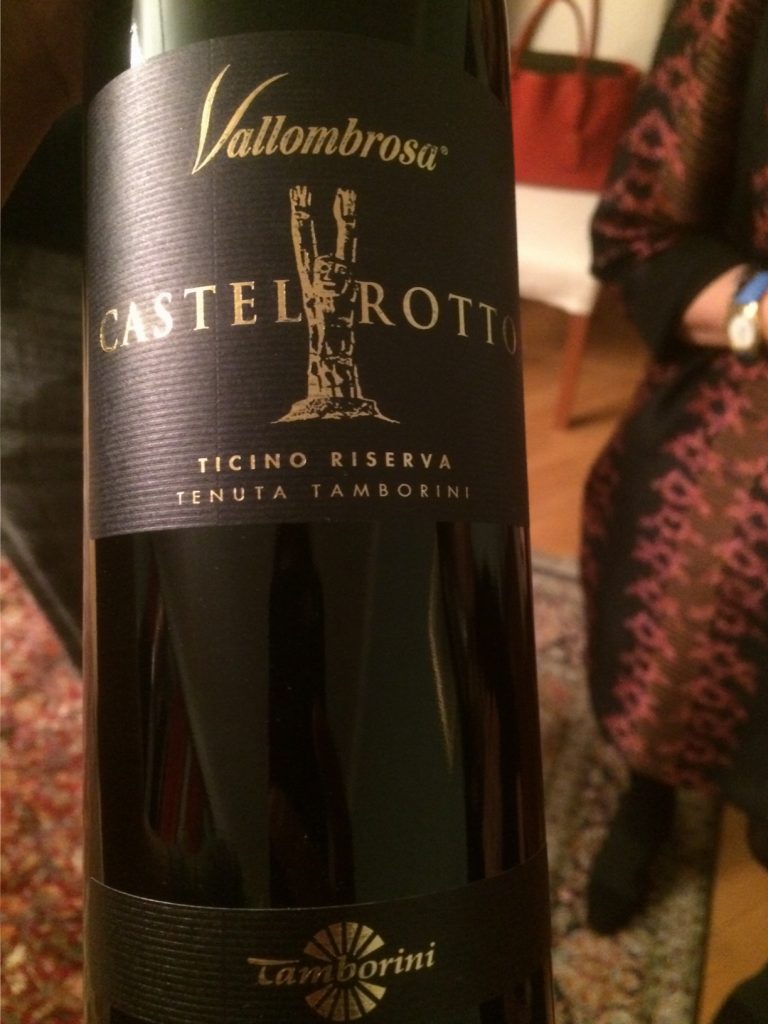 Tamborini Carlo, Vallombroso Castelrotto, Ticino Riserva, 2012
Another Merlot from Ticino; no surprise as Merlot is the most widely planted variety in this canton. This is Charine's favorite red wine of the evening. A vibrant opening of sweet spice, red cherry, black plum, forest floor, and a healthy presence of caramel. The acidity is quite high, leading the wine into a noticeably tangy and significant finish.
Swiss Dessert Wine
Rouvinez, Les Grains Nobles, 2011
A blend of Marsanne, Pinot Gris, and Petite Arvine grapes harvested from old vines in the Valais region. Late harvest enables a natural sugar content of 350 g/l. Full of apricot, forest floor, and dried peach flavors. At 12.5% abv with a decent level of acidity, this wine is great for a few sips or otherwise, it can be paired with blue cheese or baked fruit.

Jean-René Germainer, Mitis, Amigne de Vétroz Reserve, 2011
From the Vétroz municipality, which sits 485-meter above sea level in the canton of Valais. A full-bodied sweet wine made from the indigenous Amigne grapes harvested with noble rot in December. 14.5% abv and 125g/l residual sugar. In 2011, only 8,000 bottles were produced. This is much lighter on the palate than the Rouvinez Les Grains Nobles 2011, with flavors of pear, green apple, pineapple, quince, caramel, and orange peel. Very intense and sweet, yet it has a nice spike of citrus notes and tartness. It'll go great with a chocolate- or nut- based dessert.
What the Swiss Wine Ambassador Says
"Petite Arvine leaves no one indifferent, contrary to Chasselas that can seem too subtle, delicate or even neutral for new tasters."
To round up this introduction article on Swiss wine, we caught up with Swiss wine's eminent ambassador Dr José Vouillamoz. Dr Vouillamoz is a botanist, grape geneticist, and co-author of the book Wine Grapes.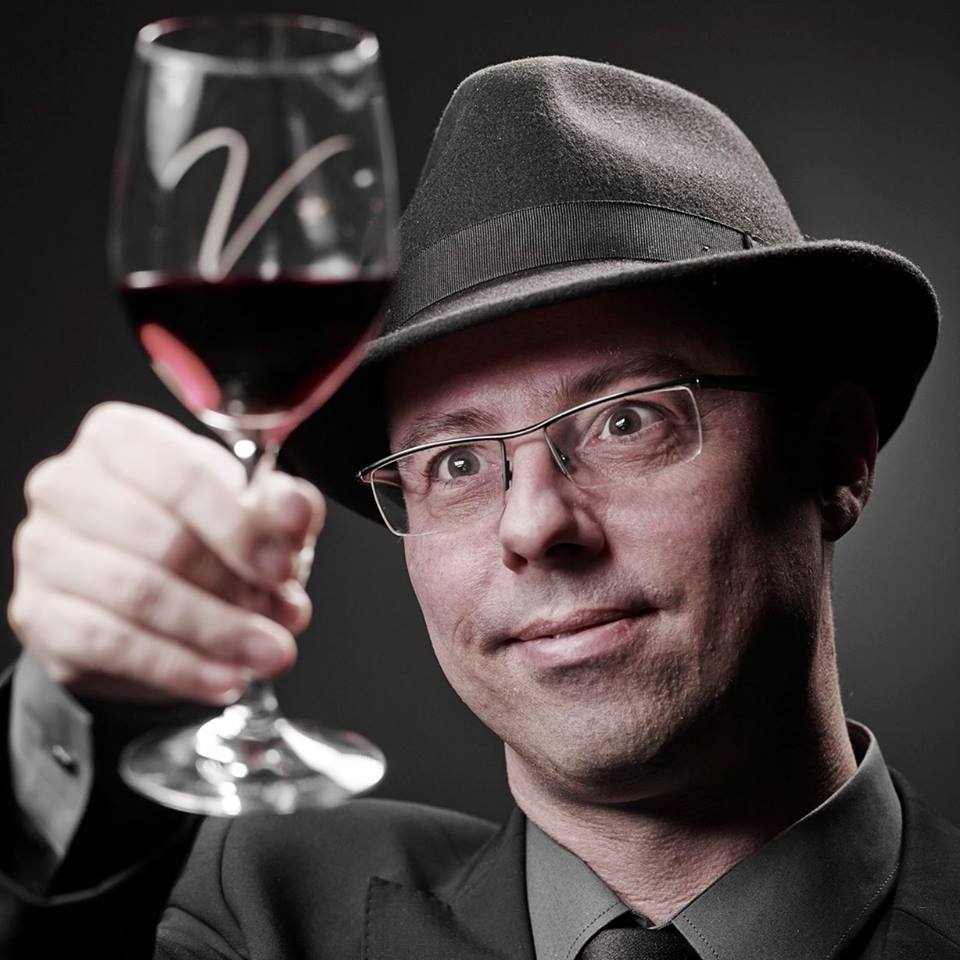 Thank you so much for taking the time to answer a couple of questions, José. First of all, please help us to learn more about you. What's the most exciting part of your role as a Grape Geneticist? What keeps you up at night and motivates you on a daily basis?
The most exciting part is when genetics meets history. For example, when I discovered the natural parents of the old Valais variety Rouge du Pays, today called Cornalin: they are Petit Rouge and Mayolet, both ancient varieties from the neighbouring Aosta Valley. It is therefore logical to suggest that Cornalin (historically called Rouge du Pays) was introduced from Aosta Valley, where it has today disappeared, to Valais several centuries ago. The variety most likely followed the Via Francigena, a Roman route crossing the Grand St. Bernard pass, where the monks at the hospice have been involved in viticulture both in Aosta Valley and in Valais since more than a millennium.
What motivates me? Understanding the family trees of all the grapes in the world, as well as tasting wine from varieties that I don't know yet. I made a rough count and I think I have tasted more than 500 so far.
I read that around 50 indigenous varieties have been identified. What Swiss grapes would you encourage first-time visitors and people who are new to Swiss wine to seek out? And why?
Definitely Petite Arvine from Valais, this is the most spectacular grape variety, with unique aromas of mango, rhubarb, passion fruit, and a tangy, refreshing and vibrating acidity. Petite Arvine leaves no one indifferent, contrary to Chasselas that can seem too subtle, delicate or even neutral for new tasters.
Thank you for the insight!
---
You May Also Enjoy
JancisRobinson.com: Switzerland
Jose, the Grape Detective
Armenian Wines: One Year Later
Please note that the opinions expressed in this article are unsolicited and have not been paid for in any way by governmental bodies, enterprises, or individuals. We do not sell editorial content as that would destroy the legitimacy of our reviews and the trust between Exotic Wine Travel and its readers. On occasion, we extend the option of purchasing the wines we review or/and the products we spotlight. Some of these product links are set up through affiliate programs, which means Exotic Wine Travel gets referral credits if you choose to purchase these items via the links we provide.