Tokaj & Co. Dvojka Samorodné Sladké 1990 & Tokajský Výber 5-putňový 2003
Reading Time: [est_time] Hello! Welcome to As Drunk by Exotic Wine Travel, a weekly column where we feature interesting wines that we encourage you to seek out. The reviews featured in this series may be written by
Reading Time: 2 minutes
Hello! Welcome to As Drunk by Exotic Wine Travel, a weekly column where we feature interesting wines that we encourage you to seek out. The reviews featured in this series may be written by either one or the both of us. The featured wines can be from obscure or well-known wine regions. We hope that these wine recommendations will keep you gastronomically curious and your palate invigorated!
Tokaj & Co. Tokajský Výber 5-putňový 2003
We came across the damp and moldy cellars of Tokaj & Co. during a trip to Slovak Tokaj in the winter of 2017. While Tokaj is synonymous with Hungarian wine, there is a small portion (around 10% of the total vineyard space) of Tokaj located in the southeastern part of Slovakia. Tokaj & Co. is the oldest producer in Slovak Tokaj and was a state-owned company during the Czechoslovakia period. During the summer of 2018, we returned to the cellar.
A quick note on these wines, as the terms for Tokaj are slightly different in Slovakia and Hungary.
Putñovy is the Slovak word for Puttonyos, used in Hungary. These sweet wines are made by soaking (macerating) shriveled grapes affected by noble rot (botrytis) into a base wine for a period of time and then pressing the juice – like steeping a tea bag and then pushing out the water with a spoon. The shriveled grapes (called cibébový in Slovakia and aszú in Hungary) are hand-picked late into the season.
Samorodné is the Slovak term for Szamorodni, used in Hungary. These wines are made by harvesting whole bunches of grapes (bunches with normal and shriveled grapes), vinifying them and then aging the wine in oak. It can be made into a dry or sweet wine depending on the vinification.
Tokaj & Co. Tokajský Výber 5-putňový 2003
The Tokaj & Co. Tokajský Výber 5-putňový 2003 is a blend of 65% Furmint, 25% Lipovina (Hárslevelü), and 10% Yellow Muscat. The wine has 130 g/L of RS and is matured seven years in the barrel. Tangerine, fall leaves, mushroom, and sweet tobacco make up the flavor profile. Candied fruit on the front palate is shocking but the finish is full of lemon, gas, and fiery acidity. It is fruity on the front and serious on the back.
4.0/5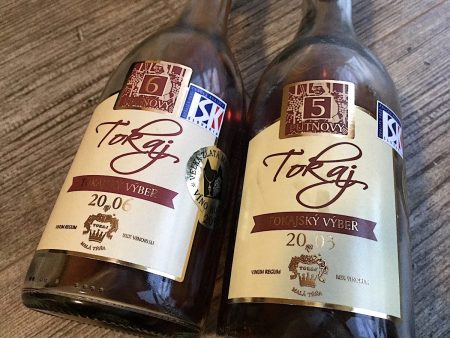 Tokaj & Co. Dvojka Samorodné Sladké 1990
We have tasted this wine twice. The first time was our visit to the Tokaj & Co. cellars and the second time was a thorough tasting of the whole bottle. I have enjoyed this wine since the first sip but Charine took some time to warm up to it. When I opened this sample for the second go-round, Charine was drinking a Pinot Noir that she loves. After sniffing my glass, she exclaimed "WAAHHH" and immediately poured out the Pinot Noir and helped herself to a glass of this wine.
The Tokaj & Co. Dvojka Samorodné Sladké 1990 is a blend of 65% Furmint, 25% Lipovina (Hárslevelü), and 10% Yellow Muscat. This is technically a 2 Putñovy wine with 50 g/L of residual sugar and was aged four years in oak. Flavors include mushroom, fall leaves, apple cider, and dried apricot. This is uber complex and smells like Sherry but tastes like a true Tokaj wine with the vibrant acidity. It's nutty and citrus on the finish. It's a wine for geeks, a drink to meditate with. 
You can see Charine's take below:
4.3/5
(You can find out more about our scoring system on the WINE RATING page.)
You May Also Enjoy:
---
Tokaj & Co. provided samples of the wines for this article. The opinions expressed are unsolicited and have not been paid for in any way by governmental bodies, enterprises, or individuals. We do not sell editorial content as that would destroy the legitimacy of our reviews and the trust between Exotic Wine Travel and its readers.