Tomac Winery: Leading the Charge in Croatia
Reading Time: [est_time] [Last updated: January 21, 2018] The Plešivica wine region is about a 30-minute drive southwest of Zagreb, the capital city of Croatia. This wine region is near the border of Slovenia and experiences a continental climate.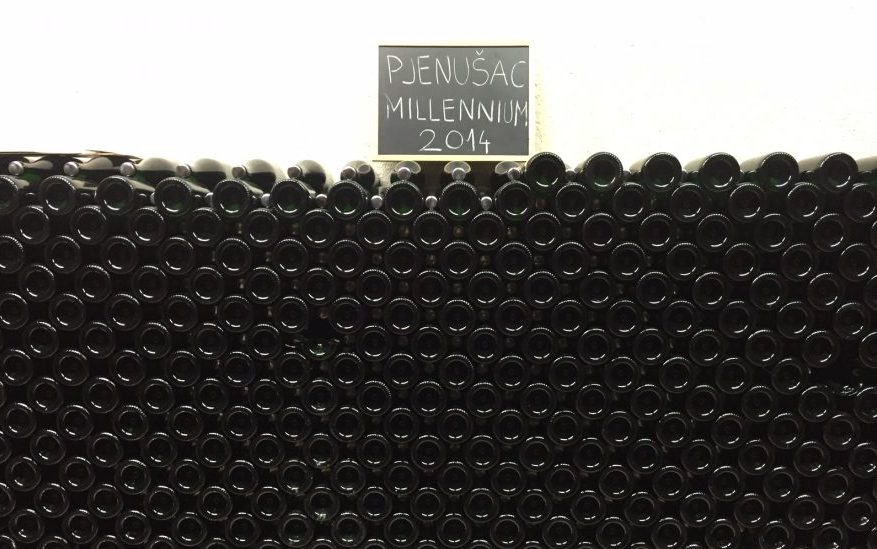 Reading Time: 7 minutes
[Last updated: January 21, 2018]
The Plešivica wine region is about a 30-minute drive southwest of Zagreb, the capital city of Croatia. This wine region is near the border of Slovenia and experiences a continental climate. With a long history of winemaking, Plešivica plays host to over 30 family-run wineries and is regarded as the best area in Croatia for making sparkling wine and Pinot Noir. The vineyards lie on hills between 200 and 400 meters in elevation. For better or worse, international travelers tend to overlook this wine region as they head down the highway from Zagreb to the azure coast, missing a major tenet of the Croatian wine scene.
Tomac Winery in Plešivica
One of the leading producers in the region is Tomac, a small-production winery operated by Tomislav Tomac, his wife, and his father. Widely regarded as the most refined sparkling wine producer in Croatia, Tomac owns seven hectares of vineyards on the slopes of Plešivica hills.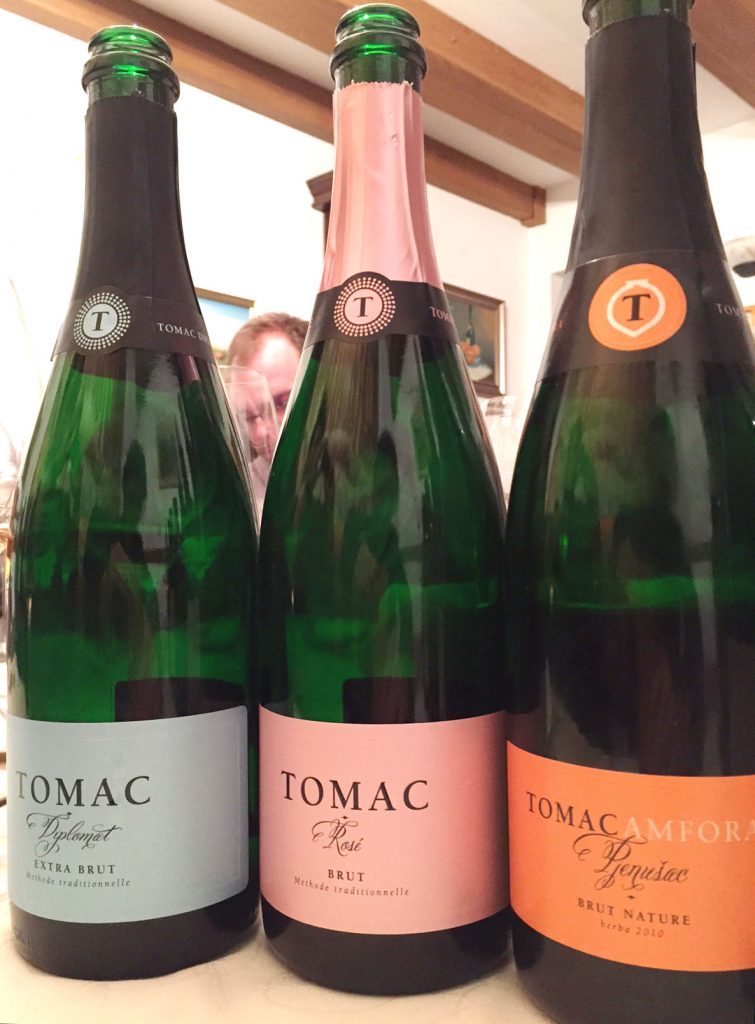 Currently, the sparkling wines account for over 70 percent of Tomac's wine production. The other 30 percent consists of still whites and one Pinot Noir bottling. All the Tomac sparkling wines are made in méthode traditionelle. For the sparklers, besides using Chardonnay and Pinot Noir, Tomislav challenges the boundary by vinifying a range of indigenous varieties that have previously never been used for making commercial wine.
Amphorae at Tomac Winery
Tomac is one of the three Croatian producers that are using amphorae to make wine. All Tomac wines are fermented and aged in either amphorae or neutral oak casks between the size of 2,000 and 3,000 liters. Fermentation is done using wild yeasts with the exception of sparkling wines, which rely on commercial yeasts to start the second fermentation in the bottle.
A stalwart of the minimal-intervention philosophy, it is perhaps no surprise that Tomac—specifically Tomislav's father—was inspired by Friulian producer Josko Gravner, and that's how the story of Tomac Amfora line began. Gravner is a pioneer of Friulian amber wine and notable for being the one who popularized qvevri (Georgian buried terracotta vessels).
There are six buried vessels outside the Tomac winery (see video above). The vessels are imported from Georgia, and their insides are lined with beeswax. Tomislav cleans the vessels by hand at the end of every season.
Visiting Tomac Winery
We drove to the Tomac Winery on a foggy December evening with our Croatian friends, Vedran Jakovac and Nenad Trifunović. Vedran is a wine enthusiast and Nenad runs a wine blog called Vinopija. Both of them are vocal advocates for Tomac. So, would the Tomac wines live up to the hype?
Tasting Tomac Wines
Indeed, Tomac is worth all the compliments. The entire portfolio is impressive, with a few outstanding examples. Beyond just the organoleptic merits, we are also drawn to Tomislav's winemaking philosophy. He understands that the qvevri is not just another tool, like a stainless steel tank or oak barrel, but a symbol of a belief system that champions a back-to-basics approach. Tomislav is dedicated to this school of thought, and his respect for nature shows in his wines.
Tomac wines are available at Wine&more | Shop Here
SPARKLING WINE
Tomac Millennium Brut NV – 70% Plavec Žuti and 30% Chardonnay
The Tomac Millennium is aged for at least six months on the lees before disgorgement, leaving behind a fresh white bread aroma in the wine while letting the primary fruit characteristics take center stage. This wine has an excellent acid-sugar balance with a generous fruit attack on the palate that goes into a lemon-accented and slightly floral finish. A perfect party starter.
Tomac Diplomat Extra Brut NV – 80% Chardonnay and 20% Plavac Žuti
The Tomac Diplomat Extra Brut NV shows bright aromas of stone fruits and only a touch of yeastiness on the nose. The lively acidity and fine bubbles guide the flavors across the palate into a lemon-accented finish. A refreshing sparkler for those who prefer minimal bready aroma and a creamy but still fruity taste. The Tomac Diplomat Extra Brut usually contains around three to four grams of residual sugar and seven to eight grams of total acidity and matured on the lees for about four years.
Tomac Rosé Brut NV – 90% Pinot Noir and 10% Chardonnay
The Tomac Rosé is matured on the lees for at least two years. The aroma of red fruit is illuminated by a touch of yeastiness. On the palate, the wine leads you in with intense raspberry and strawberry flavors. The acidity adds firmness and focus to the wine, leading the flavors to a grapefruit-accented and slightly floral end. This rosé makes us crave a scampi ceviche.
Tomac Pjenušac Amfora Brut 2010 – 50% Chardonnay and 50% Plešivica's varieties
(Tasted in December 2016) Fermented and macerated in the terracotta vessels for six months and then put into 2000-liter oak casks for about 18 months before second fermentation in the bottle. The Tomac Pjenušac Amfora Brut 2010 brings quite a transformative experience. Flavors of brioche, pumpkin, marmalade, lemon rind, orange peel, dried apricot, dried leaf, and macadamia nut. There are many layers in this wine and the many dimensions are harmonized by vivid acidity and a firm structure that throws a little tug of tannins on the end-palate. A full-bodied sparkler with intense flavors that can take you through several courses of a meal.
Allegedly, Tomac is the first in the world to make an amphora-fermented, méthode-traditionelle sparkling wine. The Tomac Pjenušac Amfora is said to have inspired several famous grower champagne makers who have also started using clay vessels in Champagne. Another commendable achievement is that the Tomac Pjenušac Amfora Brut 2010 is on the list of Decanter's "75 Stellar Buys of 2016".
(Retasted multiple times in 2017) This amber sparkler is gaining strength in the bouquet and a somewhat syrupy smell. The next vintage of this wine will be 2016. Tomislav said 2016 is one of the best years for Tomac's sparkling wines.
WHITE WINE
Tomac Chardonnay 2015 – 100% Chardonnay
A pleasant and crisp Chardonnay. Notes of stone fruit, melon, citrus, and flint with a round and soft mouthfeel. The stone fruit flavor becomes more pronounced after some aeration. The finish is relatively long. The Tomac Chardonnay 2015 would go great with creamy mushroom bruschetta.
Tomac Rajnski Rizling 2015 – 100% Riesling
The Tomac Rajnski Rizling 2015 opens with a full personality on the nose with an alluring musky, vanilla perfume character. On the palate, white peach, green apple, lime, grass, petrol, rose, and chestnut flavors are held together by tingling acidity. A lovely Rizling but perhaps lacking the mineral characteristic that great Rieslings possess.
Tomac Rajnski Rizling 2016 – 100% Riesling
Just bottled so the wine still isn't fully in its element yet. About five grams of residual sugar and eight grams of total acidity. No malolactic fermentation.  Love the tension in the mouth and an interesting hint of tea tree oil aroma.
Tomac Sauvignon 2015 – 100% Sauvignon Blanc
Notes of musky perfume, baked apple, nectarine, frangipani, and flint on a medium-bodied frame and commendable texture. The acidity is quite juicy here, and the palate finishes with a savory, chestnut note. There is a lovely sense of radiance in the Tomac Sauvignon 2015.
Tomac Sauvignon 2016 – 100% Sauvignon Blanc
Just bottled and the wine is undergoing shock. The acidity is firm in this one. It has an inviting botanical aroma and white-fleshed fruit flavor.
SKIN-CONTACT WINE
Tomac Amfora 2008 – 50% Chardonnay and 50% Plešivica's varieties
(Tasted in December 2016) Flavors of white pepper, raspberry, dried apricot, salty caramel, sweet chestnut, earth, and mint. This is relatively light-bodied and has high acidity—a rather rare profile among amber wines. Delicious with a long finish of tobacco and cedar notes, supported by green tea-like tannins. The Tomac Amfora 2008 has captured the umami sense in a bottle. It has the intensity and crispness to be paired with spicy dishes and red meat.
(Retasted multiple times in 2017) Only 23 bottles left in the cellar. This wine has grown significantly since we last tasted it, which was just a few months ago. The bouquet is nuttier. The flavors are a lot more intense on the palate. The structure is nothing short of incredible. It's interesting that the oak's toastiness can still be found on the end-palate. This is one of the finest Croatian wines.
Tomac Amfora 2006 – A blend of several Plešivica's varieties 
(Tasted in December 2016) An experimental sparkling amber wine that isn't and will not be released on the market. Zero dosage and zero added sulfur. The acidity appears weak here, and the freshness is masked by some wild and rustic flavors: dried apricot, fall leaf, rubber, petrol, bourbon, and raisin.
While the oxidative characteristics are pronounced, the good thing is that there's still a sense of fresh red fruit flavor lingering. The flavors glide across the palate harmoniously—which is not something we'd expect based on the bouquet—and finish with a twist of almond and black tea characteristics. This is a crazy and yummy wine.
(Tasted in December 2017) After 10 years on the lees, the Tomac Amfora 2006 is tasting significantly more bready than the other Tomac's sparkling wines. Combine that with the oxidative flavors, this is a really quirky wine. The aromas of toffee candy and boletus mushroom dominate the nose and belie the taste. On the palate, notes of orange, lemon, and baked apple hit the mid-palate, and the finish offers a spicy swing. Interesting but can be a bit rough on the edges for some people.
Tomac Rajnski Rizling Amfora 2011 – 100% Riesling
(Tasted in December 2016) The Tomac Rajnski Rizling Amfora 2011 was macerated in terracotta vessels and then put into large oak casks to age. This has the bouquet that can fool people into believing that it's a red wine. The flavors are of honey, dried apricot, red fruit, and mint. The flavors are executed perfectly in a cuneate expression on the palate and perked up by high acidity. The finish comes with citrusy freshness and gentle tannins. This will make a good introduction to amber wine for those who are new to skin-contact style.
(Retasted multiple times in 2017) The bouquet has gained more savory notes over time. On the palate, it's gained some saline and spicy clove perspectives. The finish remains persistent with citrusy freshness.
RED WINE
Tomac Crni Pinot 2015 – 100% Pinot Noir
(Tasted in December 2016) This is fermented and macerated in buried amphorae for three to four weeks, then pressed and stored in oak casks for maturation. A light and gentle Pinot Noir with flavors of raspberry, red cherry, and freshly cut grass, plus a hint of earth. The wine finishes with young, fine-grained tannins. It sets a good impression and will be better with more time in the bottle. Tomac is one of the three Pinot Noir producers in Croatia that we would drink from without hesitation.
(Retasted in December 2017) By now, the Tomac Crni Pinot 2015 has gained power in its flavor attack. All things are balanced and lifted by good acidity. Compared to 2013, which we tasted a few months ago, 2015 is less supple and less firmly structured. Still, this is a nice Pinot Noir without complication and will show its peak drinkability after medium-term aging.
Tomac wines are available at wineandmore.com 
What's Next
Tomac will be cultivating an additional 1.3 hectares of vineyards, making them the second largest vineyard holder in the region, after Podrum Mladina (owned by Croatia's leading retail and food & beverage company, Agrokor). The annual production will be between 50,000 and 60,000 bottles. When asked about his next goal, Tomislav Tomac said, "One day, I hope I can do the second fermentation [of sparkling wine in the bottle] with native yeasts."
The finest selection of
Croatian wines
available at:

Shipping is available EU-wide and to the UK.
************
    Do you want to try Croatian wines?    
If you're looking to savor the exquisite flavor of Croatian wines, look no further than wineandmore.com. With an abundance of options from different winemakers, it's easy to find exactly what your palate desires. Not sure which bottle is best for you? Try out one of their curated wine cases and discover the perfect vintage for any occasion!
************
Want to learn more about wine?
Are you ready to discover the wonderful world of wines? Come join us at wineandmore.com and let's explore the incredible selection of delicious wines together! We can't wait to share our passion for wine with you!
---
You May Also Enjoy:
Amber Revolution by Simon Woolf
15 Amber Wines (Orange Wines) to Try in Croatia
Can You Tell a Burgundy from a Croatian Pinot Noir?
Please note that the opinions expressed in this article are unsolicited and have not been paid for in any way by governmental bodies, enterprises, or individuals. We do not sell editorial content as that would destroy the legitimacy of our reviews and the trust between Exotic Wine Travel and its readers. On occasion, we extend the option of purchasing the wines we review or/and the products we spotlight. Some of these product links are set up through affiliate programs, which means Exotic Wine Travel gets referral credits if you choose to purchase these items via the links we provide.