Vinarija Doja: Serbia's New Vinous Star
Reading Time: [est_time] Third time's the charm; the proverb rings true in this case. I first tasted the Doja Prokupac at Vinodonia Skopje Wine Salon in November 2016 and a second time at Salon Vina Kragujevac in April 2017.
Reading Time: 5 minutes
Third time's the charm; the proverb rings true in this case. I first tasted the Doja Prokupac at Vinodonia Skopje Wine Salon in November 2016 and a second time at Salon Vina Kragujevac in April 2017. It wasn't until a month ago, when I finally had the pleasure of enjoying a whole bottle with Matt and Mileta Popovic (our friend who runs the website Serbian Wine Guide), that I finally felt an affinity for this wine.
With imploding enthusiasm, I made a post on Instagram and Facebook about this vinous seducer. The post caught the attention of Vinarija Doja, and Milica from the team invited us to a tasting of the entire portfolio. It was a treat to finally meet the brains and hands behind this relatively new winery.  2014 was the first vintage of Doja, with the release of Doja Belo and Doja Rose. The first vintage of Doja Prokupac was 2015.
It seems timely that I'm finally putting the tasting notes together in an article as Doja Prokupac 2015 has just been crowned "Best Indigenous Red Variety" at The Balkans International Wine Competition (BIWC) 2017.
Vinarija Doja (Winery Doja) in Toplica, Serbia
The Doja's winery and vineyards are near the Prokuplje town, in Serbia's Toplica wine-growing region. The total estate size is 60 hectares and 40 percent is planted with Cabernet Sauvignon, Chardonnay, Merlot, Pinot Grigio, Prokupac, Shiraz, and Tamjanika. The current annual production is 100,000 bottles. All the wines are made from estate grapes that are hand-harvested from south-facing vineyards, planted between 400-500 meters above sea level. The vineyards are surrounded by mountains on all sides.
The management and winemaking team come with experience. The proprietor Goran Todić has been in the wine-importing business for decades. His wife, Slavica Todić, is a Head of Department of Agriculture at the University of Belgrade. The oenologist is Dr. Marko Malićanin, a PhD in chemistry and biochemistry.
Vinarija Doja's Wines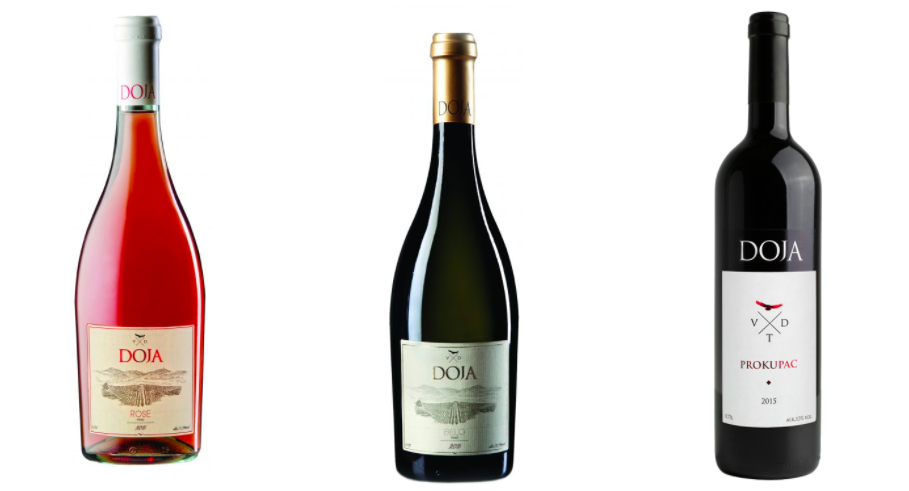 Photo Credit: Doja Winery
Vinarija Doja Belo 2015
The Vinarija Doja Belo 2015 is a blend of 50% Chardonnay and 50% Pinot Grigio. The Serbian white wine production is dominated by varietal wines of Tamjanika and Chardonnay, so a blend of this sort definitely catches my attention immediately. Fermentation was done in Inox (50% of the Chardonnay was in the barrels) and left on the lees for three months. This medium-bodied white wine is round on the palate with refreshing acidity. The flavors are of ripe peach, lemon, yogurt, and mineral.
Verdict: The combination of its mineral backbone, white-fleshed fruit flavor, and popping acidity transports me back to the white wine wonderland of Friuli-Venezia Giulia. The Doja Belo 2015 is such a crowd-pleaser that you can feel confident about bringing it to a family gathering of non-wine-drinking relatives or an afternoon barbecue with your wine geek friends.
Vinarija Doja Rose 2015
The Vinarija Doja Rose 2015 is made from 100% Prokupac grapes. If you enjoy a bigger-bodied, savory-style rosé with deep color and modest acidity, then this is for you. An oxymoron but true to its taste, this wine possesses mature freshness. It has just a bit of residual sugar that lends the body some weight and roundness. The flavors are of red berries, earth, and the quintessential peppery spice of Prokupac. A gentle tug from the tannin offers muscle to the structure and end-palate.
Verdict: A carpe diem rosé! I was up alone one night and finished the entire bottle all by myself. This rosé feels closer to sunset than sunrise and more appropriate for dinner than brunch. Just don't insult it by taking it to the pool.
Vinarija Doja Prokupac 2015
This is the wine that won the regional title of "Best Indigenous Red Variety" at BIWC 2017.
Fermented in Inox, then aged in the barrels for eight months. This wine has settled down and grown up healthily since the first and second time I tasted it. The oaky-doaky is gone. The aggressive cherryade and vanilla flavors have faded. With just the slightest boost (~10%) from Syrah and Merlot, this Prokupac wine exhibits a comparatively big frame. Floral accent on the nose, mostly of dried rose petal and violet. Stunning front loading of cherry flavor; hints of spice and grass on the mid-palate; and a tart finish supported by gently chewy tannins. A fruit-forward wine yet with enough white pepper, clove, and sweet spice notes to even out the taste. This is a more modern interpretation of Prokupac; it isn't as spicy and earthy as those from the Župa wine region but delicious when taken on its own merits.
Verdict: This reminds me of an entry-level Californian Pinot Noir (and not without a touch of Petite Sirah or Syrah) that has undergone whole-cluster fermentation. It's neither a sit-under-the-linden-tree-and-introspect kind of wine nor one that demands meticulous examination. But if given the chance to make a first impression as the representative of Serbian red wine, this would impress many drinkers and win a handful of brand ambassadors. I'll be sure to take a sip or ten of this wine every time I'm in Serbia.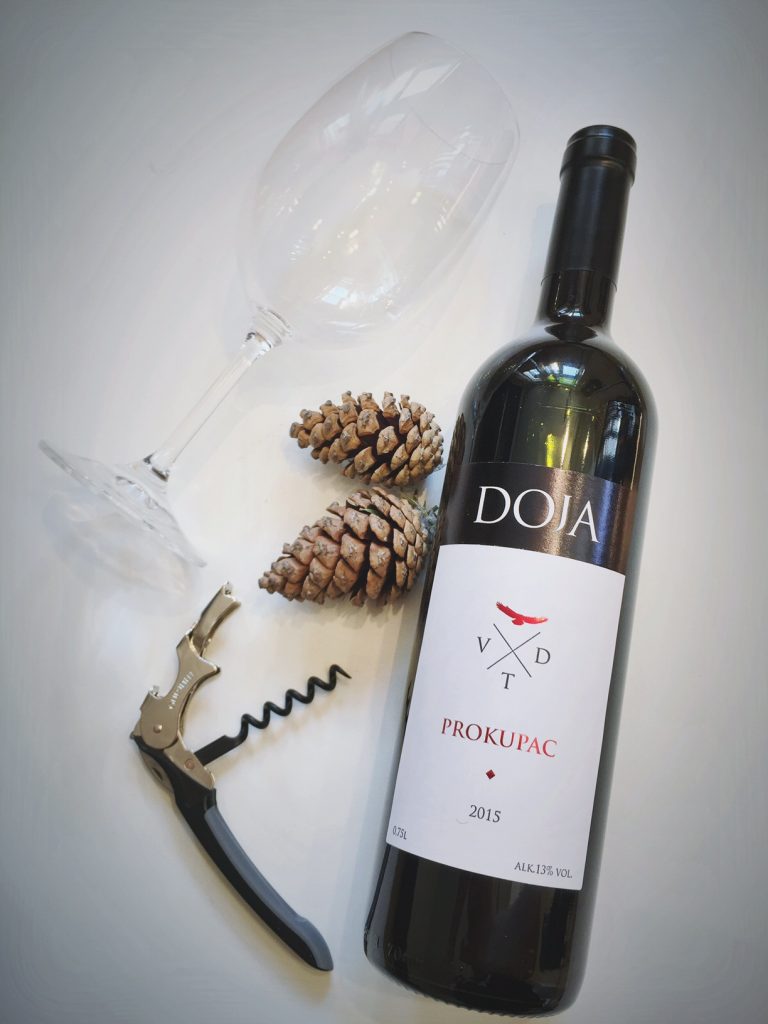 Get to Know Prokupac
Prokupac is an indigenous red wine grape of Serbia. It produces wine with medium body, high acidity, and flavors of red fruit and pepper spice. I often find the well-made Prokupac wine to be redolent of a mix of Gamay and Blaufränkisch. Regardless, Prokupac has its own unique set of sensory attributes and these comparisons are only useful as a nascent framework for those who have not had the opportunity to taste it. To learn more about Prokupac, you can take a look at these two articles that Matt wrote: Serbian Prokupac: Eight Wines to Try and Prokupac from South-Central Serbia.
 
Updates:
Exotic Wine Trave's Prokupac Harvest 2017 with Vinarija Doja
In October 2017, we were invited to join the Doja team at their Prokupac harvest. Besides the expected learning outcomes and the fun of post-harvest celebration, what was truly valuable to us was getting to know the people at Vinarija Doja on a personal level. That day, we learned about Goran's aspiration to stimulate economic growth and create jobs for the people living in his village of birth. We observed the joy in his eyes as he pointed at the places that held memories of his childhood. We saw a small plot of bush vines that he revived for no better reason than nostalgic attachment. We had a glimpse of his vision and his inclusive leadership style.
Often, it seems easier for us wine lovers to fall in love with the romantic ideas of farmers who have their hands in the soil than to connect with a trader who is profit-driven but simultaneously committed to social responsibility. I believe socialism, environmentalism, and capitalism do not have to be mutually exclusive, and there is always a middle ground or sweet spot that we can achieve. Vinarija Doja and the team that Goran has nurtured seemed rightly placed at a vantage point to progress further and in a sustainable manner.
During our visit, we also tasted some new bottlings. I've added the tasting notes below.
 
Vinarija Doja Belo 2016
Compared to Vinarija Doja Belo 2015, this shows significantly more high-toned and sweeter aromas. On the palate, the fruit notes are fleshier and more ripe than 2015's. The mineral backbone and refreshing acidity are as good as the previous year. Overall, the quality level is consistent with 2015, but it's youthfully edgy right now. I'd give this wine at least a few more months to stretch out.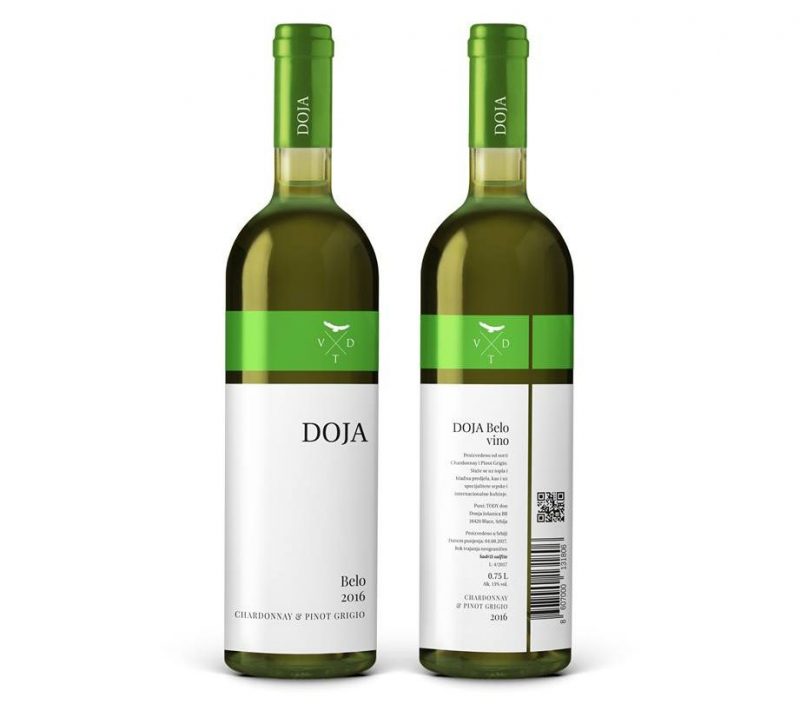 Cabernet Sauvignon-Merlot 2016
Slated for release in early 2018, we tasted this pre-blended. So Matt and I decided to do some blending experiments. He preferred a blend with more Cabernet Sauvignon than Merlot, while I preferred the opposite.
Both wines show good varietal characteristics. The Cabernet Sauvignon has a delineated and pliable structure, with soft and chalky tannins. The Merlot offers sufficient lushness on the palate with a rather pronounced acidic strength and tanginess. There are no rough edges, but I think the final blend can benefit from more cling and more dimensions. It would, in fact, be interesting to move away from the typical Bordeaux style and have a bit of Syrah added for the extra oomph. The Bordeaux-style blends in Serbia tend to be lithe, which allows for early consumption. I would love to see a blend that's more brooding and intense in character.
The finest selection of
available at:

Shipping is available EU-wide and to the UK.
************
    Do you want to try Serbian wines?    
If you're looking to savor the exquisite flavor of Serbian wines, look no further than wineandmore.com. With an abundance of options from different winemakers, it's easy to find exactly what your palate desires. Not sure which bottle is best for you? Try out one of their curated wine cases and discover the perfect vintage for any occasion!
************
Want to learn more about wine?
Are you ready to discover the wonderful world of wines? Come join us at wineandmore.com and let's explore the incredible selection of delicious wines together! We can't wait to share our passion for wine with you!
---
You May Also Enjoy:
Matalj Kremen Kamen: A Vertical Tasting
Serbian Grand Cru on the Slopes of Danube
Disclaimer: The ideas expressed in this article are personal opinions and are not associated with any sponsors or business promotions.