Vinodonia Skopje Wine Salon Impressions
Reading Time: [est_time] After a whirlwind, two-month period launching our book Uncorking the Caucasus in Georgia and Armenia, we decided it was time to leave the region. Winter was starting in Tbilisi and the cold weather came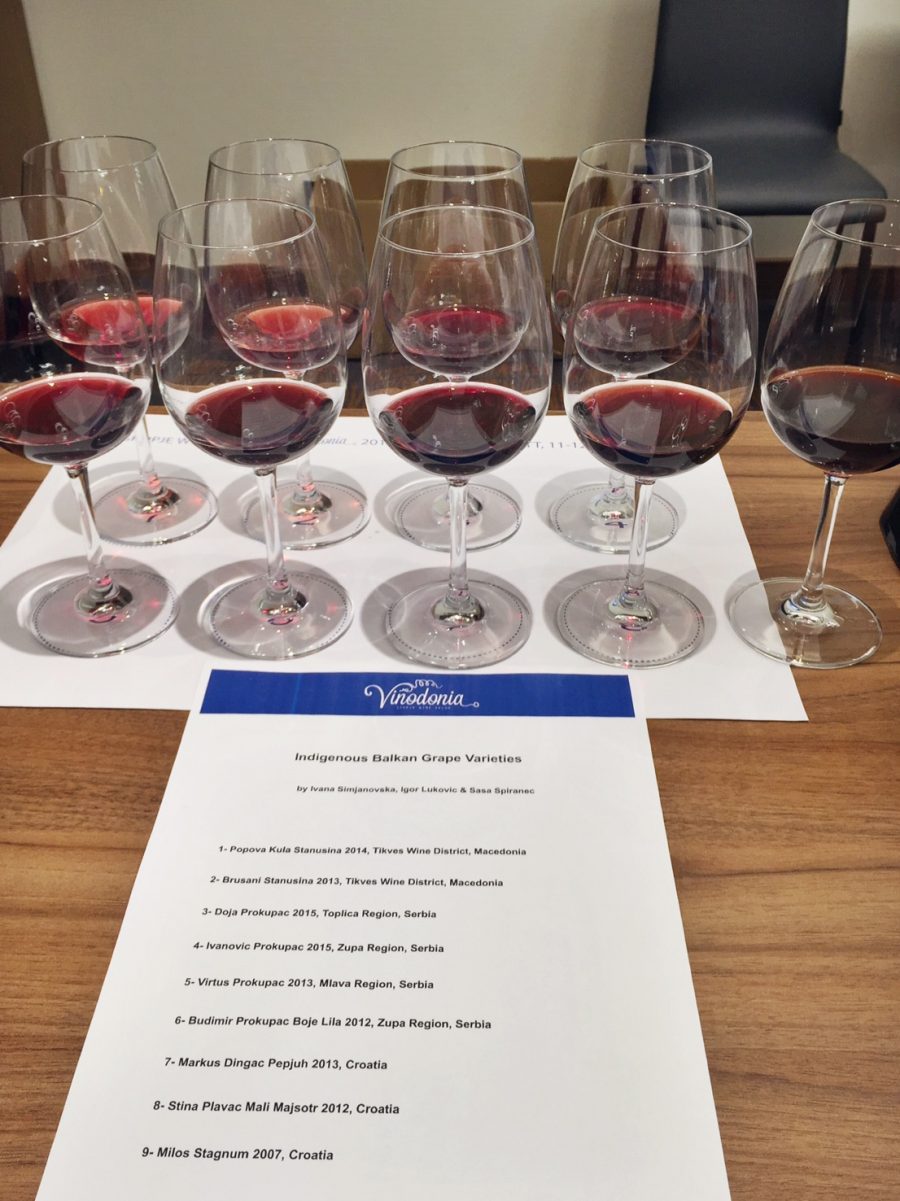 Reading Time: 7 minutes
After a whirlwind, two-month period launching our book Uncorking the Caucasus in Georgia and Armenia, we decided it was time to leave the region. Winter was starting in Tbilisi and the cold weather came quickly, so we jumped on a plane and headed to the Former Yugoslavian Republic of Macedonia (FYROM), or Macedonia for short. We had reason to go back to this tiny Balkan country; there was a special event taking place.
Our friend Ivana Simjanovska was instrumental in putting together the first Vinodonia Skopje Wine Salon. We wanted to show Ivana support for all of the hard work that she put into making this idea a reality. The Vinodonia Skopje Wine Salon was a well-organized tasting of nearly 20 Macedonian wineries, in addition to several other wineries from Serbia, Slovenia, and Italy. The Wine Salon was held on the weekend of November 11 & 12, 2016 at the Mariott Hotel in downtown Skopje.
It was a small but fantastic show. We had traveled through Macedonia earlier in 2016 so most of the wines were familiar to us. At the Vinodonia Skopje Wine Salon, we got a chance to taste some new vintages and discover a few wines that we previously missed. The main ballroom was bustling but small enough to taste at every booth without much hassle.
Master classes were conducted on the same floor during the event. They were the highlight of the Vinodonia Skopje Salon for us.
 
Indigenous Balkan Grape Varieties
This was a highly educational workshop about Stanušina from Macedonia, Prokupac from Serbia, and Plavac Mali from Croatia. Each grape was presented by a renowned wine writer of the same country of origin as the grape. Ivana Simjanovska presented two Stanušina wines, Igor Luković had four examples of Prokupac, and Saša Špiranec showed three wines made from Plavac Mali.
Stanušina is a Macedonian variety with a clouded history. It produces lightly colored and low in tannins wine with medium-level alcohol, which reminds us of a much softer version of Grenache. There are only two producers making Stanušina wine commercially at the point of writing. Hopefully, this grape gains more traction as a worthy variety that produces elegant, lighter red wines; this would be a good contrast to most of the reds coming from Macedonia, which are ripe and massive.
Prokupac hails from southern Serbia. It is an ancient grape variety with some ties to the grape Kadarka. It is Charine's favorite grape from Serbia and it's capable of making serious wine. The best examples we tasted were from the Župa valley where fruit is sourced from old bush vines. We've had many different styles of wine made from this variety. When done well, it can taste like an imaginary cross between Rhône Syrah and Pinot Noir. It is a grape that wine nerds should definitely seek out.
Plavac Mali is Croatia's flagship red grape. It is the offspring of the original Zinfandel (Tribidrag/Crljenak Kaštelanski in Croatian) and another local grape called Dobričič. We know this grape very well. At its best, the wine can have luscious notes of red fruit, perfume, and earthiness. At its worst, it can taste moldy, overripe, and rustic. The wine has the potential to make incredible wines but you have to sift through a lot of uninspiring examples in Croatia to come across the great ones.
EXOTIC WINE TRAVEL'S PICKS
Light brick red in color with a nose of ripe cherry pie, clay, and cranberry juice. Flavors of red cherry, dirt, minerals can be felt on the palate with some light tannins. It is very complex for such a light red wine with tight tannins. The production is tiny and the winemaker finds his inspiration from Chateau Musar, so expect to find some volatile acidity and dirtiness in this wine. Still, the minerality of the wine is undeniably appealing. 
Dragoslav "Gaga" Ivanović is a legend in South Serbia. When we were traveling through the country, someone referred to Gaga as a "Zen Master". This is a blend of 85% Prokupac, 7.5% Merlot, and 7.5% Cabernet Sauvignon. This is dark purple in color with dark plum, blue fruit, and brown spice notes on the nose. The palate is rich with flavors of earth and dark fruit while staying tangy and acidic, with some tannic tug. A wine that is pleasurable now but is definitely worthy of aging. 
Budimir Prokupac Boje Lila 2009 
Find at wineandmore.com
This is the third time we're tasting this wine. The first time we tasted it, our initial impressions were very good but not exceptional. However, this time it really impresses us. Budimir is the only winery in Serbia to have their wines scored by Robert Parker.
This is 100% Prokupac, aged for five years before release. The dominant flavors are of earth, perfume, flower, and herb held together by a blackberry core. Good texture and a silky smooth finish.
Find Miloš Stagnum here.
One of Croatia's cult wines, made from 100% Plavac Mali. Frano Miloš makes a range of varietal wines from Plavac Mali. He farms organically, employs natural yeasts, utilizes spontaneous fermentation, and believes in long aging. The 2007 is the current release. It has a nose of dried cherry, leather, rubber, mineral, and earth. On the palate, flavors of tangy cherry, leather, tar, and rubber emerge with nice acidity. The wine has rich flavors and is a throwback to the old-school style of winemaking.
Vertical Tasting of Chateau Kamnik Ten Barrels Cabernet Sauvignon 2004-2015
We visited Chateau Kamnik in April 2016 and tasted through their entire portfolio. A link to the article based on our initial visit is at the bottom of the page.
The Ten Barrels line from Chateau Kamnik consists of Cabernet Sauvignon and Syrah; the Syrah range is excellent as well. As the name suggests, there are only ten barrels of each wine made in a good year.
Macedonia receives nearly 300 days of sunshine each year. The country is at the confluence of Mediterranean and Continental climates which bodes well for grape growing. The thriving red grape is Vranec, but there is potential for many other red grapes to do well.
With the high amount of sunny days paired with long, dry autumns in Macedonia, it's not surprising to see many wineries with plantings of Cabernet Sauvignon. In this vertical tasting, we got a chance to taste eight vintages: 2004, 2005, 2006, 2007, 2009, 2011, 2013, and 2015.
The early vintages were balanced and had developed nicely. After 2009, the alcohol levels started rising and the wines showed riper fruit flavors and more oak. The wines of 2011 and 2013 were too ripe and big for us—that's not to say that they are bad wines, it's just a matter of preference. The 2015 vintage was a barrel sample and it showed a surprising amount of balance despite clocking in at 15.3 % ABV. The 2015 could shape out to be the best wine of the flight in the years ahead.
EXOTIC WINE TRAVEL'S PICKS
Find Chateau Kamnik wines at wineandmore.com
Chateau Kamnik Cabernet Sauvignon Ten Barrels 2006
Clocking in at 14.1 ABV, this wine is an absolute beauty. The wine has bright cherry, tomato leaf, sweet tobacco, and rubber. The notes on the nose are very focused. The palate is full of sour cherry, sweet tobacco, and mint. It is wonderfully balanced, refined, structured, and delicious. This is great wine, period.
Chateau Kamnik Cabernet Sauvignon Ten Barrels 2007
At first, Matt detested this nose but it kept revealing more secrets as it opened up. Charine loved this from the start. The nose is full of sweet tobacco, crushed flowers, black licorice, and potpourri. The palate is dark and complex with black licorice, incense, potpourri, and black fruit. It is nice in a different way than you would expect from Cabernet Sauvignon. This vintage has developed more tertiary (aging) notes than the 2006 vintage, which is interesting. 
Chateau Kamnik Cabernet Sauvignon Ten Barrels 2009
A higher alcohol wine at 14.7 ABV and has vanilla on the nose at first but opens with rubber, cherry juice, and brown sugar. The palate is full of black cherry, pencil lead, spice, and smooth tannins but the body is big and strong. This is big and fruit-forward but not overly bruising. 
At this point in the tasting, we could sense the new vintage was becoming bigger and the alcohol level rising.
Stobi Winery Private Reserve Wines
The last masterclass of the salon was by Stobi. This winery is relaunching their top wines under the label Private Reserve. Stobi produces close to 4.5 million liters of wine each year; all are bottled wine. The winery is in central Macedonia, next to the ancient Roman city of Stobi, a well-preserved site. The peacock on the Stobi label is taken from a mosaic found in the ancient city.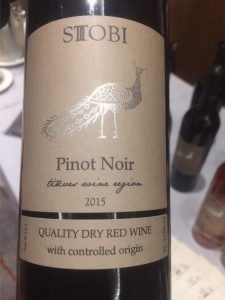 We visited the winery and superb restaurant in the Spring of 2016. Anyone who visits Macedonia should eat at the Stobi restaurant! The wines of Stobi are very impressive, especially for such a big-production winery. All of their wines, including the basic one-liter bottles, are of good quality. The top wines are well made and of screaming values. The Vranec Veritas 2011 has received 90 points from Wine Enthusiast and is listed on Wine-Searcher at 17.99 USD.
The problems that plague many Macedonian wines include flavors that are too ripe, over-extraction, and poor oak management. These are not problems at Stobi. Balance is displayed in these Stobi Private Reserve wines—a rarity in a country where wines routinely reach 15-17% ABV. There are no blockbusters in the Stobi portfolio (yet) but all of their wines are very good at fair prices.
EXOTIC WINE TRAVEL'S PICKS
Made from 100% Chardonnay. This wine is aged for eight months in Acacia and French oak. It has a nice dandelion color and the nose is very pleasant with yellow flower, pear, melon, and crushed white flowers. The palate is similar to the nose with a touch of pineapple. This is crisp and delicious for a wine aged in wood. Easy to understand and satisfying.
Made of 100% Merlot. The wine is aged 18 months in oak and is full of chocolate, pencil lead, and plum. The palate adds flavors of earth, pepper, capsicum, and slate. It tastes a lot like a lean, right bank Bordeaux. A well made and easy to drink wine.
A blend of 34% Vranec, 33% Merlot, and 33% Cabernet Sauvignon. This spends 24 months in oak and has a nose full of chalk, red fruit, chocolate, and herbs. The palate is tangy with red and black fruit, blueberry, mineral, and a nice mid-palate spike. The wine is delicious, unique, yet strangely familiar. 
Thanks to Vinodonia Skopje Wine Salon
We would like to extend a special thank you to Ivana Simjanovska and the team at Vinodonia. They provided us passes to the event and workshops. It was a fun event and we hope to make it to another one in the coming years.
We interviewed Ivana Simjanovska about Macedonian wine on our website in a previous article. You can learn more about Vinodonia on their website. We've also written an in-depth piece about the wines of Chateau Kamnik.
The finest selection of
available at:

Shipping is available EU-wide and to the UK.
************
    Do you want to try Croatian, Macedonian or Serbian wines?    
If you're looking to savor the exquisite flavor of Croatian, Macedonian or Serbian wines, look no further than wineandmore.com. With an abundance of options from different winemakers, it's easy to find exactly what your palate desires. Not sure which bottle is best for you? Try out one of their curated wine cases and discover the perfect vintage for any occasion!
************
Want to learn more about wine?
Are you ready to discover the wonderful world of wines? Come join us at wineandmore.com and let's explore the incredible selection of delicious wines together! We can't wait to share our passion for wine with you!
You May Also Enjoy: 
Barovo Tikveš: World Class Wine from Macedonia
10 Plavac Mali Wines to Try (Besides Dingač And Postup)
---
Disclosure: We were given complimentary passes to the Vinodonia Skopje Wine Salon. However, the ideas expressed in this article are personal opinions and not associated with any other sponsors or business promotions.