How to Promote Wine Tourism and Wines of Lesser Known Regions
Reading Time: [est_time] On 7 August 2017, we were invited to lead a one-hour panel discussion at Twitter's #winemktmonday. In this article, we've stitched all our responses together as coherent answers and added defined contexts and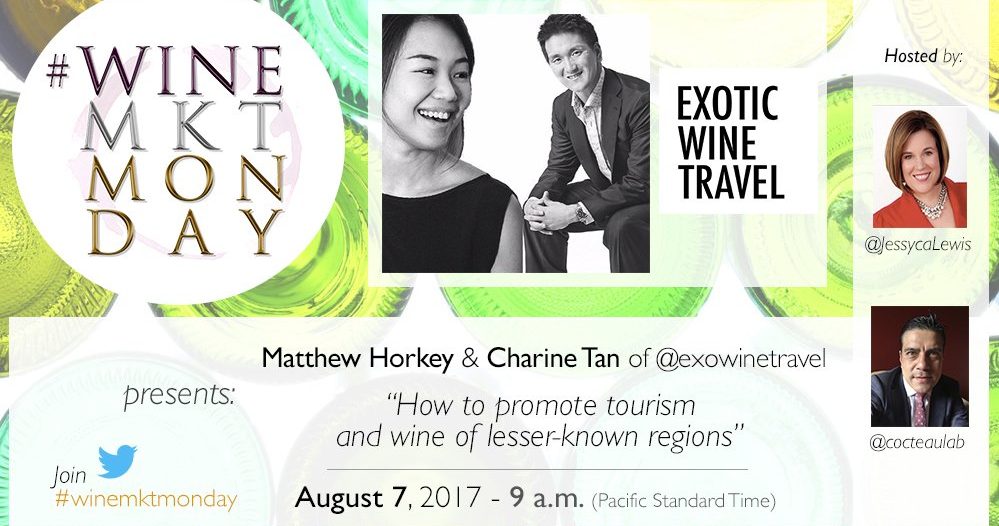 Reading Time: 6 minutes
On 7 August 2017, we were invited to lead a one-hour panel discussion at Twitter's #winemktmonday. In this article, we've stitched all our responses together as coherent answers and added defined contexts and examples to them. We choose against sharing the original transcript due to Twitter's 140-character limitation—which can lead to awkward sentence structure, annoying formatting stuffed with acronyms, bad spelling, and seemingly terse responses. So this is the "cleaned up version" of the discourse. Bear in mind that #winemktmonday is meant to be a brief and candid discussion about a chosen topic; the conversations and answers are not all-encompassing.
How does one even begin to approach and learn about lesser-known wine countries and regions?
Through the following approaches:
A. Online research
B. Reach out to country/regional specialists, e.g. writers, sommeliers, MWs, winemakers.
C. Connect with the local communities via social media.
D. Read extensively. Wine Grapes and The Oxford Companion to Wine are two must-have resources for wine lovers.
Key areas to understand:
A. Autochthonous and international grapes grown in the country.
B. Its wine regions and appellations.
C. Climatic and geographical features.
D. Heat map of the wine cultures, viticulture philosophies, and wine styles. These include people's relationship with wine (do the locals pair wine with food, do they drink homemade wine or bottled wine, how much do they spend on wine, etc.), farming practices (are growers moving towards biodynamic or organic practice, how do they train their vines, etc.), and winemaking approaches (any carbonic maceration, stem inclusion, newfangled technique, etc.)
The last point, D, has to be observed, learned, and concluded through first-hand experiences, which is why wine tourism is so important and eye-opening.
How do you promote the lesser-known wine regions?
We write multimedia reports, long-form articles, short tasting notes, and bite-sized social media updates. We also produce videos and books. We manually input information about lesser-known wines on Vivino for people to discover. The key is to create and share information that intrigues, entertains, informs, and educates wine lovers of all levels.
How did you begin to work with a book publisher?
Our first book Travel Learn Earn, which is not wine related, was published by a Canadian publisher. Since then, we've moved on and registered our own publishing company. Now we run the entire process ourselves. This set-up gives us more flexibility to respond to market needs and promote our books the way we want. It also gives us the space to make mistakes as early as possible, learn our lessons, move on quickly, and become better at what we do. The process of writing a book, publishing, and marketing it creates so many opportunities for us to learn about the industry and gain business acumen.
What kind of content is in the wine books?
Every single book follows a different style and format. Uncorking the Caucasus is a part-narrative and part-wine travel guide. Some readers say it's like Eat Pray Love for wine lovers. Sipping Santa Barbara is a practical wine tourism guide, quite Lonely Planet in style. For Cracking Croatia, we are a tad ambitious, we try to emulate the format of Wine Bible.
In all our books, we provide information about the autochthonous and key international grapes planted, an overview of the wine regions, an introduction to general wine styles, insider tips and anecdotes, and of course, wine recommendations.

Who is your target audience?
The vinous curious, including wine enthusiasts, importers, and winemakers.
Do governments help spread the word about wine regions?
Absolutely. Ideally, there should be collaborations between the government and private sectors. We do work with some of these teams from both sides. In Croatia, the academia is involved as well.
How does social media play a part in your promotion of these regions?
We post videos twice a week on our YouTube channel and publish articles at least two times a week on our Exotic Wine Travel website. We also update our Facebook, Instagram, and Twitter every day. As mentioned earlier, we use Vivino, which is a social wine app.
Social media is great for connecting with casual wine drinkers and explorers on a personal level. We love sharing our vinous experiences in the lesser-known wine regions with locals and wine lovers from all over the world. It's an efficient way to garner awareness for these regions and cross-pollinate interest within our community. For example, if someone likes Georgian qvevri wine and finds out that Croatia makes minimal-intervention, skin-contact wine too, the person will now be keen to learn more about Croatian wine.
Social media plays a huge role in the promotion of our books and brings customized, updated information to our readers. It's an environment that demands value-driven conversations. We are also active on wine forums, which gives us the opportunities to learn from people in the industry and understand the mindset of wine collectors.
Essentially, social media acts a platform for research, education, communication, customer service, and sales. On that note, the idea of social selling is still a very new concept to many industries, including wine. But simultaneously, social media is not rocket science. It's a platform for people to be decent and curious human beings, connect with each other, and learn from each other.
What is the content of your video?
Live tasting, visits to wineries and vineyards, and general wine tourism shots. We call it "edutainment".
Do you guys sleep? Perhaps in shifts? It seems like you're posting on Facebook and Twitter non-stop.
We split up our work, and relatively well it seems! Matt takes care of the updates on Vivino. Charine takes care of the posts on Instagram. We both post on our Facebook page. We also utilize automation for our updates and posts. Buffer, Klout, and Flipboard are our virtual helpers. But we both take turns to respond to every message on every platform personally! There are no bots involved in the conversations. No way.
What are the emerging wine styles and regions?
There's no singular wine style dominating the wave of the next big thing. But generally, we see more diversity and openness from both the producers and consumers.
There are now more wines being made from native cultivars. There are more varied flavor profiles because of those autochthonous grapes. There are also more options in winemaking—skin contact, stem inclusion, aging wine in the sea, fermentation in clay, vessels, etc.
For emerging regions, they are everywhere and every place gets a relatively fair chance at excelling. The differentiators are a region's ability to create a strong brand narrative and enable stakeholders to work in unison. Having a wide price range doesn't hurt either. Georgia has been great at all that.
How can an emerging wine region stand out from the crowd?
The wine and wine tourism industries don't grow in silos. Think of a wine region as a part of an eco-system that encompasses history, nature, gastronomy, and agriculture. The most sustainable approach is to develop wine tourism as a component of gastronomy tourism, agrotourism, or ecotourism. Experience for the consumers is key here. But there's also more to that. Think of it as a Consumer's or Traveler's Hierarchy of Needs: first comes the purchase or possession, second is the experience. The next level of revelation is, in fact, found in the value of learning. To get to the apex of excellence and turn consumers into evangelists, wine regions need to offer experiences that make them feel proud of what they've learned so they'll be inspired to become vocal advocates and teachers.
Native grapes and a long or fascinating wine history can contribute greatly to the brand identity and unique selling proposition too. Armenia has an edge in this regard.
What are the wine regions you are currently most passionate about?
Of course, Armenia, Georgia, Turkey, Santa Barbara, and Croatia take up a huge chunk of our passion and attention. We've written books about all these wine countries! We're aiming to execute our projects on Cyprus, Mexico, and Serbia in 2018. We've already visited those three countries and did preliminary research trips. We're definitely keen to explore Central Europe like Austria, Czech Republic, Hungary, Slovakia, and Slovenia.
Have you been to a South American wine region? Argentina, Brazil, Chile, Peru, Uruguay?
Not yet. We are very interested in what's happening in Brazil. Like Indonesia, they get two to three harvests a year. We might be able to visit Argentina and Uruguay soon. Peru is fascinating as a gastronomy destination. Of course, we would love to explore Chile and drink Don Melchor every day when we are there.
What are the key challenges that up-and-coming wine regions face?
Production side: price. Many producers have to procure land and modern equipment. Unlike established wine countries in Western Europe, like Italy, those necessities are not passed down from the previous generations. High-cost price triggers high retail price that consumers don't always agree with. Many international consumers associate lesser-known wine regions with poor wine, generally poor, and maybe a few good ones. They may think that even if the wines are good, they should be cheap, because they are "not famous", not Antinori-famous. So why should they have to "risk" $100 buying an Armenian wine when they can spend $40 buying the always-consistent wines from Santa Barbara that they are familiar with? Most consumers are afraid to pay a premium price to explore the "adventurous territory". As a result, lesser-known, high-quality wines get stuck in the wine geek zone and struggle to cross the line into the international mainstream. Or it could very well go the other way where lesser-known wine regions feel compelled to export only the cheap wine; their reputation gets hurt and they get stuck with the wrong brand perception for decades.
Communication side: lack of information online, e.g. websites are hard to navigate or lack SEO support (don't appear in search results), information is not consolidated or categorized appropriately, and the information is not in English.
Product development side: Lack of infrastructure for wine tourism, e.g. accommodation, road signs, paved roads.
Follow our wine journey! Drink adventurously!
Sign up for Exotic Wine Travel's updates delivered straight to your inbox!
---
On occasion, we extend the option of purchasing the wines we review or/and the products we spotlight. Some of these product links are set up through affiliate programs, which means Exotic Wine Travel gets referral credits if you choose to purchase these items via the links we provide.