Best Places To Stay In California's Wine Country
Wine lovers should head to California's Wine Country for a weekend of relaxation amid the rolling vineyards. With over 400 wineries in the region, it can be challenging to decide where to stay. This guide highlights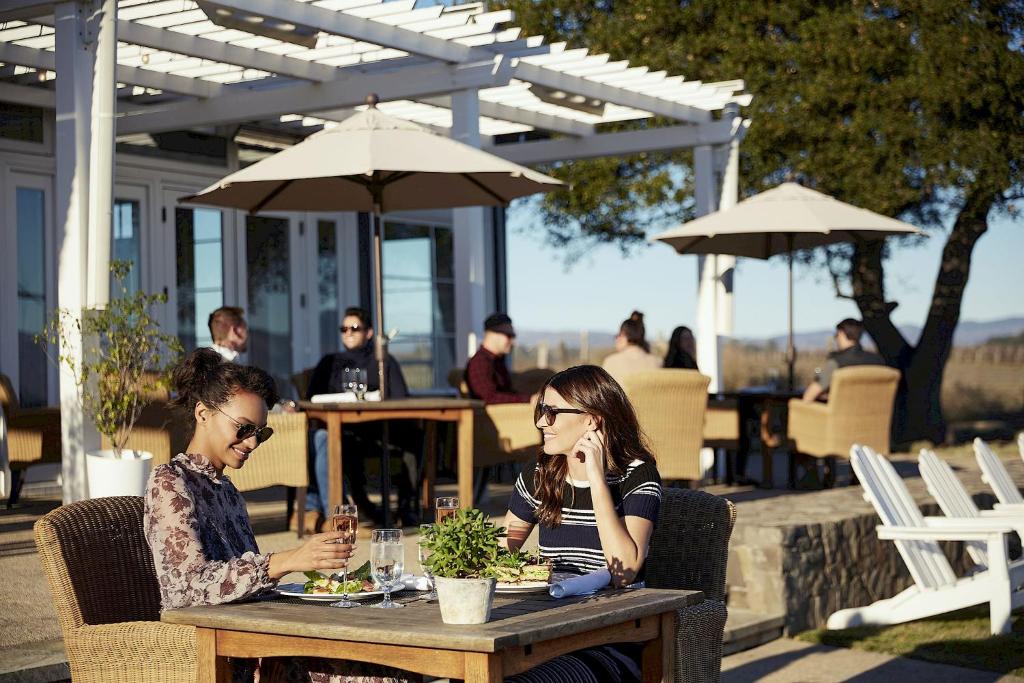 Wine lovers should head to California's Wine Country for a weekend of relaxation amid the rolling vineyards. With over 400 wineries in the region, it can be challenging to decide where to stay.
This guide highlights some of the best places to stay in Wine Country!
The Northern California region is renowned for its breathtaking natural scenery, world-famous wineries, and luxury hotels. A popular destination for wine lovers and adventurers alike, the Sonoma Valley is just an hour's drive from San Francisco. It is a convenient weekend escape from the city's hustle and bustle. The nearby Napa Valley, located north of Sonoma, is a charming weekend getaway that offers an array of wineries, gourmet cuisine, and indulgent spas.
Uncover the best California Wine Country vacations to inspire your next adventure!
Best places to stay in California's Wine Country
As we look for ways to make the most of our time and enjoy the finer things in life, planning a trip to Northern California Wine Country, where the stunning vineyards and luxurious amenities offer the perfect escape from the hustle and bustle of daily life, is a must!
Located in the heart of Napa Valley and Sonoma County, these wine regions boast some of the most beautiful landscapes in the country, with rolling hills, picturesque valleys, and rows upon rows of lush grape vines. But it's not just the scenery that makes this area so special; it's also the abundance of activities and experiences that await visitors.
For those seeking the ultimate relaxation, numerous luxury spas and wellness centers in the area offer a range of treatments and services designed to rejuvenate and refresh the body and mind. From hot stone massages to aromatherapy sessions, there's something to suit every preference and budget.
In conclusion, visiting California Wine Country is the perfect way to start your vacation, allowing you to unwind, indulge, and enjoy all the good things in life. With so much to see and do, it's no wonder that this region has become a top destination for wine lovers and luxury travelers worldwide!
1. Stanly Ranch
Located in the heart of Napa Valley, Stanly Ranch is a luxurious resort that combines the rustic charm of a working ranch with the sophistication of a world-class hotel. Although it is one of the newest luxury properties in the area, it has quickly gained a loyal following thanks to its serene location and abundance of amenities.
Spanning 712 acres, Stanly Ranch boasts everything needed for a memorable and relaxing stay in Wine Country. The resort features tranquil accommodations, a seasonally-driven culinary program, wellness-focused amenities, and plenty of natural surroundings. Whether you're looking to unwind in a peaceful setting or explore the best of Napa Valley, Stanly Ranch has it all. With 78 standalone cottages and suites, guests can enjoy soothing earth tones. Each accommodation has been thoughtfully designed to offer luxury and comfort, providing guests with a serene and rejuvenating retreat.
The resort's culinary program is centered around sustainably sourced ingredients and offers various dishes to suit all tastes. From farm-to-table cuisine to artisanal cocktails and local wines, there's something for everyone. Guests can enjoy their meals while enjoying the breathtaking views of the peaceful grounds.
In addition to its luxurious accommodations and wellness-focused amenities, Stanly Ranch offers several unique immersive experiences. Guests can go on a hawk walk or participate in a winemaker hangout, offering unique opportunities to explore the region and learn more about its history and culture.
Overall, Stanly Ranch is the perfect destination for anyone looking to experience the beauty and tranquility of Napa Valley in style. With its luxurious accommodations, world-class dining, and abundance of amenities, it's no wonder this resort has quickly become a favorite among travelers worldwide!
2. Farmhouse Inn
Farmhouse Inn offers guests an elegant and intimate escape in the heart of Sonoma's Russian River Valley wine region. You can expect to be treated to five-star treatment with warm hospitality from arrival.
The inn offers 25 luxurious guest rooms and suites, each individually decorated with rustic charm and modern amenities. Some rooms feature wood-burning fireplaces, private saunas, and double jetted tubs, making them the perfect place to relax and unwind after a day exploring the nearby vineyards and scenic countryside.
For the ultimate relaxation, schedule an appointment at the Spa at Farmhouse. The spa offers a range of treatments incorporating herbal and all-natural spa products, including a side-by-side massage for couples. After your treatment, unwind in the steam shower featuring locally-made bath products.
But the true cornerstone of the Farmhouse Inn experience is the celebrated Farmhouse Restaurant. The ever-changing menu is inspired by local and seasonal ingredients, much of which grows on the inn's own farm. Each dish is expertly crafted to showcase the region's flavors, and the wine pairing, featuring wines from Sonoma, Napa, and beyond, is thoughtfully selected to complement the ingredients on your plate.
For a more casual dining experience, check out the new on-site eatery, FARMSTAND. Open for breakfast, lunch, and dinner, FARMSTAND offers playful small plates and wood-fired offerings.
While at Farmhouse Inn, be sure to explore the surrounding area. Take a tour of a famous winery, hike along farm trails, visit the Armstrong Woods State Reserve to admire giant redwood trees, or take a scenic drive down the coast. Other activities include canoeing along the Russian River, shopping, ballooning, and biking.
Whether planning a romantic getaway or a weekend escape with friends, Farmhouse Inn offers the perfect retreat in California's wine country. Book your stay at Farmhouse Inn today for an unforgettable experience of luxury, relaxation, and culinary excellence!
3. Meadowood Napa Valley
Located on 250 acres of secluded land in St. Helena, the Meadowood Napa Valley Resort is a must-visit destination for luxury travelers seeking the ultimate Wine Country experience. The resort offers five-star service, deluxe amenities, and breathtaking natural surroundings inside and outside your room.
The resort has 85 luxurious cottages, suites, and lodges with elegant country charm, wood-burning fireplaces, and private outdoor terraces. Guests can enjoy the serenity and seclusion of Meadowood's woodland setting, surrounded by unspoiled natural beauty and hiking trails.
One of Meadowood's standout features is its exceptional culinary program. Meadowood recently opened a new dining destination, Forum, offering locally-inspired fare and cocktails in a casually refined setting. Guests can indulge in breakfast, lunch, and dinner in the airy interior or on the covered patio.
For those looking for a romantic and unforgettable dining experience, the Chef's Tasting Menu at The Restaurant at Meadowood is a must-try. The menu features seasonally changing dishes using ingredients from the resort's own garden, highlighting the best of Napa Valley's local flavors.
In addition to its exceptional dining options, Meadowood offers a wide range of activities to keep guests entertained. The resort has a nine-hole golf course, seven tennis courts, croquet lawns, two swimming pools, and whirlpools. Guests can enjoy rejuvenating facials, massages, and other wellness treatments at the 11,000-square-foot Meadowood Spa.
Whether looking for a romantic getaway, a family vacation, or a solo retreat, Meadowood Napa Valley Resort is the perfect destination. With its exceptional amenities, breathtaking natural surroundings, and commitment to celebrating the best of Napa Valley, it's a true paradise for luxury travelers.
4. Carneros Resort and Spa
Nestled in the breathtaking Carneros region of Napa Valley, Carneros Resort and Spa is an idyllic escape for anyone seeking a luxurious and serene vacation experience. The 28-acre property offers elegant cottages and spacious suites stylishly decorated with an airy, inviting vibe. The plush amenities, including private porches, fire pits, and king beds, ensure that guests enjoy the ultimate comfort and relaxation.
The resort features three pools, including an adults-only pool that offers breathtaking views of rolling hills and vineyards, reminding you of your stunning location. If you're traveling with kids, the resort offers a kid-friendly pool near the spa and fitness center.
But that's not all! The Carneros Resort and Spa is a true gastronomic destination, with three restaurants, including the Hilltop Dining Room, that serves wine-country-inspired cuisine with spectacular vineyard views. The resort also features a market that offers locally sourced products so that you can indulge in farm-to-table cuisine throughout your stay.
For a more intimate experience, the resort's guest-only spa offers a diverse menu of treatments, including massages, hot stone therapy, and aromatherapy, perfect for unwinding after a day of exploring Napa and Sonoma Valleys. The outdoor swimming pool at the spa is an excellent spot to relax and soak up the sun.
The Carneros Resort and Spa is also located between the charming towns of Napa and Sonoma, making it a perfect base to explore both regions. The resort offers various activities, including hot air balloon rides, wine tours, and vineyard walks, ensuring you maximize your time in the wine country.
In conclusion, the Carneros Resort and Spa is a top pick for anyone seeking an exquisite Wine Country vacation experience. From luxurious cottages and suites to stunning vineyard views and exceptional gastronomic offerings, this resort has everything you need for a truly unforgettable getaway!
5. Vintners Resort
Escape to the luxurious oasis of Vintners Resort in Santa Rosa, California, where 92 acres of vineyards and gardens surround you. It features 78 guest rooms and suites, each with a private balcony or patio overlooking the resort's gardens, vineyards, or fountains.
The Vintners Resort takes romance to the next level with its spa services, which include massages to help you and your partner relax and unwind. Afterward, dip in the heated pool and soak away all your worries. Finish off the evening by enjoying a romantic dinner for two at John Ash & Co., the on-site fine dining restaurant. This restaurant has one of the most extensive wine lists in Sonoma County, making it the perfect spot to toast to a special occasion or celebrate your love.
Whether you're celebrating a special occasion or just looking to escape with your partner, Vintners Resort is the perfect romantic getaway. With its serene setting, luxurious amenities, and fantastic dining options, this resort will surely create unforgettable memories for you and your loved one!
6. Napa Valley Lodge
If you are looking for a romantic escape, nestled in the heart of Wine Country, Napa Valley Lodge is the perfect luxury boutique hotel. Located in Yountville, this hotel boasts exceptional rooms and suites, many of which feature a fireplace and balcony, all exuding simple sophistication. Surrounded by vineyards and calming country views, this Tuscan-style exterior hotel is perfect for couples looking for a romantic spa getaway.
Napa Valley Lodge has 55 guest accommodations, including five suites with a two-person soaking tub, perfect for couples looking for romance. The rooms are designed to provide a peaceful and relaxing retreat, with comfortable beds and modern amenities. The hotel's location in Yountville is just a few steps from California's most popular restaurants, shops, and vineyards, allowing guests to enjoy various fun activities such as wine tours, golf, biking, and balloon excursions, and shopping.
The hotel offers a complimentary breakfast buffet featuring a daily continental champagne breakfast. There is also a complimentary afternoon wine tasting for guests. For those who prefer privacy and quiet time, the library offers over 400 titles to browse. Every Friday, Wine Tastings are held where guests can enjoy a selection of wines from local wineries.
Napa Valley Lodge offers a pool, spa, sauna, and fitness center, providing guests the perfect place to relax and rejuvenate. The poolside treatment room allows guests to enjoy a decadent spa service. The hotel can host meetings and events, making it the perfect location for business travelers.
The hotel concierge is available to assist guests with dining reservations and can recommend the best restaurants in the area. The beautiful fountain in the garden courtyard and the stunning surroundings make the hotel the perfect place for a romantic wedding. Napa Valley Lodge has received rave reviews from visitors who describe the hotel as a peaceful and relaxing retreat with excellent service, a beautiful location, and a delicious breakfast.
In conclusion, Napa Valley Lodge is the perfect luxury boutique hotel for couples seeking a romantic spa getaway. The beautiful Tuscan-style exterior, exceptional rooms and suites, and stunning surroundings make it an ideal location for a peaceful and relaxing retreat. Book your stay now and experience the beauty of Wine Country at its finest!
Wine Country Cuisine and Local Markets
When visiting Napa or Sonoma Valley, the food scene is as important as the wine scene. The region is renowned for its wine country cuisine, focusing on fresh, locally sourced ingredients that showcase the region's flavors. One popular destination for foodies is The Restaurant at Meadowood in St. Helena. This elegant restaurant boasts a contemporary country farmhouse style and has been awarded three Michelin stars. Here, guests can indulge in gourmet meals prepared by expert chefs using locally sourced ingredients. The menu changes frequently to reflect the changing seasons, ensuring that diners always enjoy the freshest ingredients.
For those looking for a more casual culinary experience, the Oxbow Public Market in Napa is a must-visit. This bustling market is home to an array of vendors selling fresh seafood, oysters, and produce from local farms. Visitors can sample artisanal cheeses, freshly baked bread, and locally roasted coffee while soaking up the vibrant atmosphere.
If you want to learn more about the food and wine region's culture, the Culinary Institute of America at Copia in Napa is the perfect place to do so. This stunning venue offers cooking classes, wine tastings, and interactive culinary experiences that showcase the best of Napa and Sonoma Valley. Visitors can learn about the history of wine production in the wine region, taste rare vintages, and explore the techniques top chefs use to create wine-country cuisine.
Whether you are a seasoned foodie or a curious traveler, exploring the local markets and wine-country cuisine in Napa and Sonoma Valley is an experience not to be missed. From gourmet restaurants to bustling markets and educational experiences, there is something for everyone in this beautiful region.
Outdoor Activities in Wine Country
When it comes to experiencing the charm and beauty of Wine Country, there's no better way to do it than by engaging in some outdoor activities. While many tourists might think of wine tasting as the only way to enjoy the area, a variety of activities offer breathtaking views of the surrounding countryside.
One such activity is biking through the vineyards. Velo Vino, located in St. Helena, offers visitors the opportunity to take a biking tour that covers 20 to 30 miles and finishes with tastings. Meanwhile, Napa Valley Bike Tours provides guided tours throughout Napa County, showcasing paths with some of the best views in the area. But biking isn't the only way to enjoy Wine Country.
For those who prefer a more elevated experience, hot air balloon rides offer a unique perspective on the region's beauty. Napa Valley Balloons takes visitors a thousand feet above ground level for stunning panoramic views.
And if you're interested in a more active outdoor adventure, kayaking through the Napa River with Napa Valley Drifters is an excellent option. Visitors can also try horse riding with Wine Country Trails by Horseback, which offers rides through wineries in Sonoma County with unforgettable views.
In conclusion, Wine Country is a beautiful region with plenty of outdoor activities to experience. Whether you prefer biking, hot air ballooning, kayaking, or horse riding, there's something for everyone to enjoy while taking in the picturesque views of this stunning location.
Conclusion
In conclusion, Napa and Sonoma Valley provide an idyllic setting for wine lovers seeking a peaceful and serene environment. Visitors can choose from various accommodations, each offering a taste of luxury and sustainability, along with picturesque pools and alluring amenities.
The region's numerous wineries offer an exceptional wine-tasting and winery experiences, with guided tours and tastings available to visitors. To complete the Wine Country experience, indulge in the local cuisine at award-winning restaurants that showcase farm-to-table authenticity. Call ahead to confirm opening times and make the most of your unforgettable visit to Wine Country!