Etna: Wine on Fire
Reading Time: [est_time] There are sixteen mountains around the world that are classified as "Decade Volcanoes". A mountain qualifies for that title when it is located close to heavily populated areas and when it has a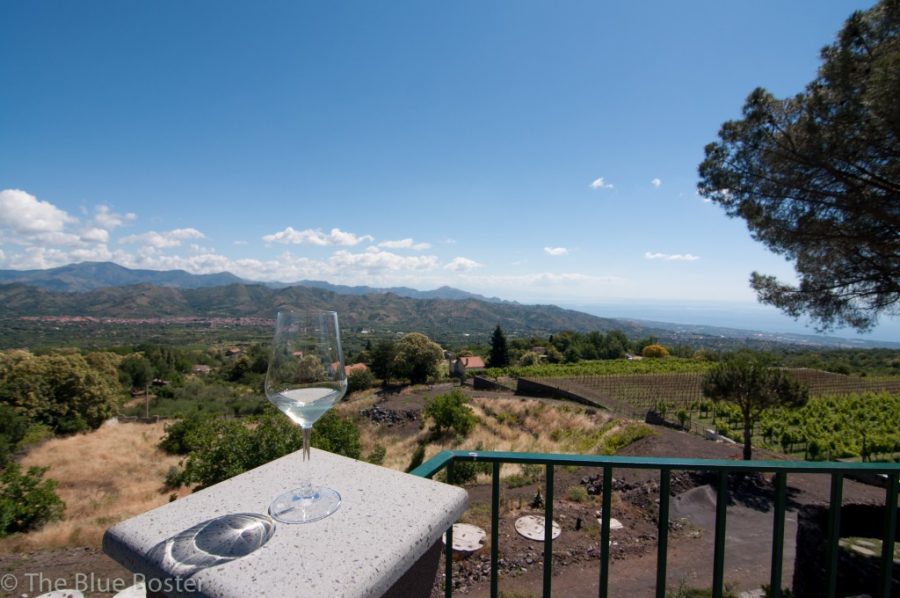 Reading Time: 4 minutes
There are sixteen mountains around the world that are classified as "Decade Volcanoes". A mountain qualifies for that title when it is located close to heavily populated areas and when it has a history of large eruptions. In the South Mediterranean, there is one example of these special forces of nature. It dominates an entire island's landscape and its destructive eruptions had once stopped invading empires. Today, this Decade Volcano is the epicenter and lifeblood of a fresh and exciting wine region.
The Volcanic Wine of Etna
Wine on an active volcano? Sipping a glass of beautiful red while looking down into a valley with a smoking cone looming behind. That all sounds like a fantasy, but this is a reality in the northeast corner of Sicily. The volcano is Mount Etna and it is home to a fascinating wine region unsurprisingly dubbed "Etna".
Charine and I were at a champagne-pairing dinner in Singapore in 2014. The concept of a champagne-pairing dinner is straightforward—there are usually anywhere from five to seven courses of food, each course is paired with a champagne. At that dinner, there were five courses, which consequentially made for five different champagnes. One of the five was different, it was not a champagne. While scanning the menu, the words "Etna Rosso" jumped out at me, a dry red wine by Tenuta di Fessina.
Everything about the Etna wine was enchanting, from the light ruby color to the slight bit of tanginess in both corners of my jaw. The color, smell, and taste made the word "fire" come to mind. But I could very well be biased after doing some due diligence on the wine and discovering that it is grown on the slopes of an active volcano in Europe.
On the Etna Wine Trail
A year and a half after that dinner, we were picking up a rental car from the Sicilian port city of Catania and heading to the towns of Etna. Mount Etna is hard to miss, she towers over the eastern end of Sicily, always in sight. We headed up the mountain as the rain started to set in and the visibility went down the pipe. It didn't help that the only car available at the rental office was a Fiat 500 with an automatic transmission. Driving a tiny car, with a feeble engine, and no control of the gears, made me feel like I was driving an electric golf cart at the end of its battery cycle.
We stopped at the first guesthouse we could find, ate, and then went to sleep. Before turning in, the visibility outside was not more than a few meters. When we rose at dawn, the story was different. Mount Etna dominated the sky and the top of her perfect cone was puffing smoke continuously, the view was finally clear and it was time to set out.
The road circumvented the mountain range with Etna's peak leading the way. At our first tasting stop at Gambino Winery, they laid out a platter of local cheeses to accompany the generous tasting pours. The setting could not be better. It was the epitome of what comes to mind when I think of drinking wine in a far-flung destination. We sat on cool metal chairs starring out into the beautiful Alcantara Valley with a towering volcano behind us.
Paul Lukacs the author of Inventing Wine: A New History of One of the World's Most Ancient Pleasures said, "What interested me about wine is that it's intellectually very, very rich. You don't need to know, but you want to know."
That is the beauty of wine and that is the kind of curiosity that took over as we drove from winery to winery for tastings. Since seriously getting into wine a few years ago, I find great excitement in learning more about this very drink that used to seem so mysterious. There is great pleasure in drinking them, but there is more pleasure in knowing about them.
The wines of Etna are fantastic, the reds and whites all dance on the palate while each has texture from the "minerality" that comes from the volcanic soil. One fellow taster described the mineral taste in the whites as if she "had just licked a rock". While that may not sound enticing to some people, I can assure you that it makes for a very distinctive wine. The Etna wine is an absolute pleasure to drink without any pretense. Most of them are made in a way that allows them to be drunk young so the drinker may enjoy the purest form of the wine's fruit flavors with a complexity that comes from Etna's unique terroir.
I am not alone in my affinity for the Etna wine region, which some have nicknamed it the "Burgundy of the Mediterranean". The great wine along with the magical setting fueled my inquisitiveness. I had to try as many of the wines from the area as humanly possible. The "want to know" is what makes wine and enotourism so exciting, and the mystery and depth of wine are exactly what Lukacs was referring to as intellectually rich.
There are few places where drinking wine is as majestic as in Etna. The fusion between man and nature is what has made wine special historically. Farmers always have a deep respect for the land where they work but in Etna, it becomes more than respect. It's reverence and perhaps a bit of fear. This is understandable, how would you feel if you had a ticking time bomb in your own backyard? That allure has drawn many winemakers from Tuscany down to Sicily to try their hands in this up-and-coming wine region.
This includes the winery that drew us here in the first place, Tenuta di Fessina. The owner of Tenuta di Fessina is from central Italy and now trying her hand on the slopes of Etna, with great results. I found the winery's location on Google maps but we drove around the area multiple times and somehow we kept missing it. After finally locating it, we stopped in day after day but nobody was to be seen and the doors were always locked. The whole experience in the region was great but the fact that we could not get into this specific winery didn't sit right with me. That simply means a repeat trip will be necessary in the near future.
Nonetheless, we had to move on, even though we didn't exactly get our way, we got more than we bargained for. Etna has magnificent wine and is largely devoid of fellow oenophiles because it is a rising region in the wine world. It has the views, the food, and of course the vino. As we drove away from our base of Castiglione di Sicilia, it occurred to me that while so people have dreamed of tasting wine under the Tuscan sun, they might be missing out on tasting equally impressive wine under a snow-covered cone.
Exotic Wine Travel's Pick
Tenuta di Fessina il Musmeci Rosso, Etna DOC Riserva, 2008
We still haven't visited Tenuta di Fessina, but we've had several vintages of this Etna wine on many different occasions. The most recent bottle of this vintage we had was taken from our own cellar. Last tasted in March 2018.
It's in a great spot right now. Full of mineral, sour cherry, and sweet cedar notes. It's elegant yet it also has the Italian rusticity. Well-developed tannins guided by juicy acidity and a long finish. A quintessential, medium-bodied Etna Rosso.
4.3/5 (You can find out more about our scoring system on the START HERE page.)
Buy Tenuta di Fessina Musmeci Riserva Etna Rosso (Sicily, Italy) on Wine Searcher.
---
You May Also Enjoy
Mount Stromboli: Lighthouse of the Mediterranean
The ideas expressed in this article are personal opinions and are not associated with any sponsors or business promotions.