A Vinous Dream: Wine Tasting in Los Olivos
Reading Time: [est_time] Check out our wine travel guide to Santa Barbara Wine Country.  Los Olivos is a town located in Santa Ynez Valley. Despite its small population of about 1,000 people, the town is constantly bustling due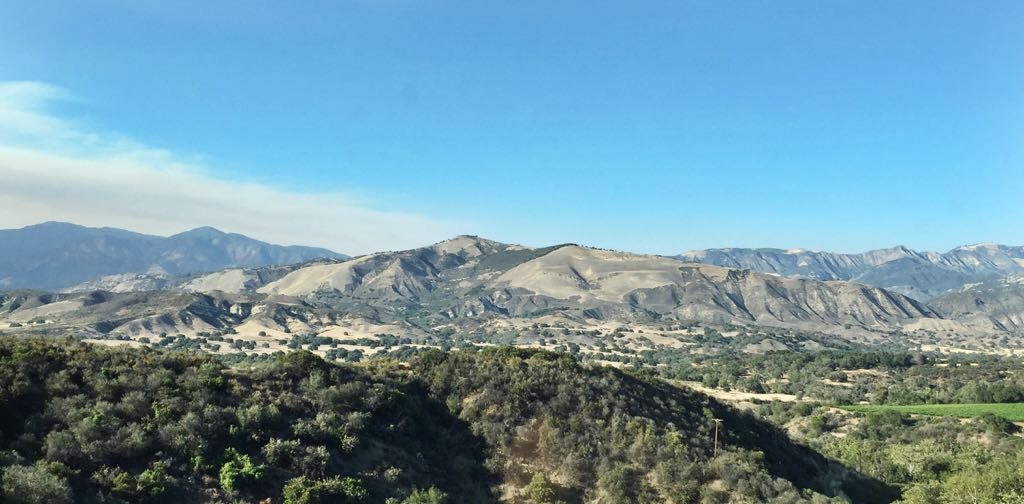 Reading Time: 2 minutes
Check out our wine travel guide to Santa Barbara Wine Country. 
Los Olivos is a town located in Santa Ynez Valley. Despite its small population of about 1,000 people, the town is constantly bustling due to its plethora of tasting rooms, restaurants, cafes, galleries, and boutiques. There are around 50 tasting rooms, representing wineries and vineyards from all over Santa Barbara County. The number of award-winning and highly scored wines that can be found here is astounding. A wine lover can easily spend a week here and sip well every single day.
For wine nerds and movie buffs: there's a famous movie line that once affected the global wine sales and the scene takes place in Los Olivos.
Outstanding Wine Tasting Rooms in Los Olivos
The theme here is similar to Lompoc Wine Ghetto – it isn't about the quality level but rather personal preference when selecting the producers to visit. We can't stress enough how important it is to explore wine with an open mind. During our research trip, a few places that we had planned to visit were closed, so we ended up reworking our schedule with ideas from the people we met along the way. We took recommendations from the acquaintances we met in town and went to visit Tercero and Kaena – two producers we hadn't heard of prior to our trip. Both producers turned out to be a pleasant surprise and a breath of fresh air. They are excellent choices for people who tend to feel intimidated by wine but simultaneously curious to explore the diversity and sensory merits of it.
If you like richly flavored wine with an exuberant lift, then Dragonette is the tasting room to check out. All the wines are excellent and tell the characteristics of the various sources. The highlight for us is the rosé made from Grenache, Mourvèdre, and Syrah.
For some of the best examples of Pinot Noir, head to Samsara. The Samara Cargasacchi Vineyard Pinot Noir is one of our favorite Pinot Noirs of Santa Barbara Wine Country. We love how it is not overtly fruity yet still captures the Californian sun with an underlying elegance.
If you're a big wine geek who wants to understand the appellations, geographical characteristics, soil types, and climatic features in Santa Barbara County, then J.Wilkes is a place you shouldn't miss. Wes Hagen has been a winemaker in Santa Barbara since 1994 and is now at the helm of J.Wilkes. Wes also did the research and wrote the petitions for Sta Rita Hills, Ballard Canyon and Happy Canyon AVAs. When we visited the J.Wilkes tasting room, he was there to walk us through the maps of Sta. Rita Hills and Santa Maria Valley in greater detail than anything we could find anywhere else.
One thing to note is that while the operating hours are relatively uniform and that's 11AM to 5PM, the days that each tasting room is open vary. It is also common for the rooms to be opened or closed at a different time from their official hours.
There is a notable store in town called The Los Olivos Tasting Room and Wine Shop, which features wines from producers that do not have tasting rooms or do not take visitors. We stopped in to taste some Sea Smoke wines.
Vinous diversity is the overarching theme in Los Olivos. As the town is close to the warmer areas of the Ballard Canyon and Happy Canyon AVAs, it is common to find wines made from Rhône grapes such as Syrah, Grenache, Marsanne, Roussanne, and Viognier. Happy Canyon is the source of Santa Barbara's best Bordeaux grapes; so lovers of Sauvignon Blanc or Bordeaux-style red blends will have no problem hunting down a good tipple here. If you crave a Pinot Noir or Chardonnay, there are plenty of wineries that source grapes from the nearby Sta. Rita Hills and Santa Maria Valley AVAs.
Wine Lovers Get Hungry Too!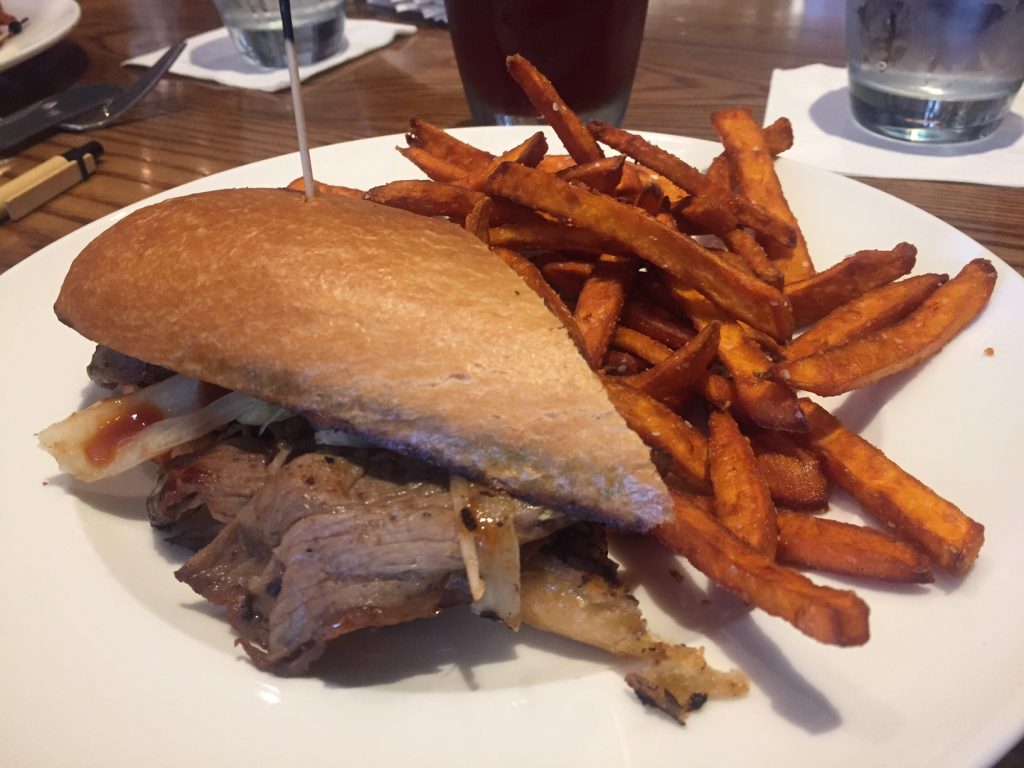 There are a number of cafes, sandwich shops, and restaurants in town but none stands out to us like Sides Hardware and Shoes – A Brothers Restaurant. The space was converted from an old hardware and shoe store; the owners decided to keep the name and turned it into a trendy-looking, unpretentious eatery with outstanding food. We love the tacos and sandwiches there, especially the tri-tip sandwich with sweet potato fries (photo above). A new restaurant called The Bear and Star has popped up recently. Owned by the Fess Parker Family, it touts an interesting concept called "refined ranch cuisine".
Planning a trip to Santa Barbara?
Want to learn more about Santa Barbara wines?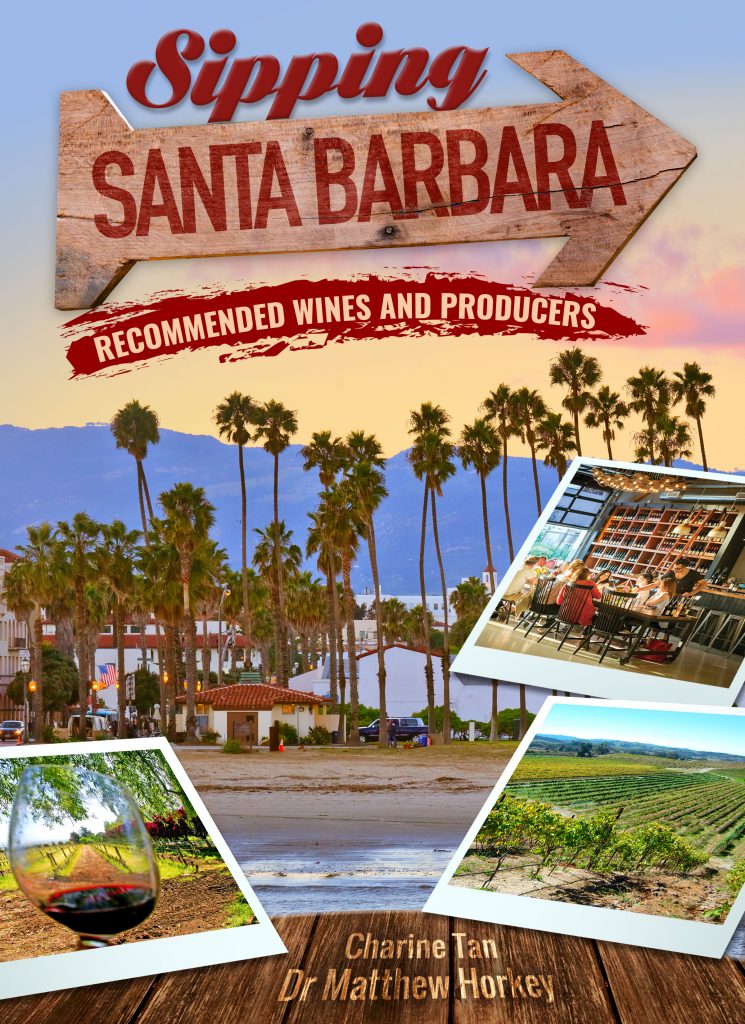 Our visitor-friendly guide to the wines and tasting rooms of Santa Barbara is available now!
Check out Sipping Santa Barbara: Recommended Wines and Producers for more information.
[sp_testimonials_slider category="1048″]
---
You May Also Enjoy
The ideas expressed in this article are personal opinions and are not associated with any sponsors or business promotions.