Wine Academy Croatia: Advancing with WSET
Reading Time: [est_time] Charine and I moved to Zagreb for a few months in late 2016/early 2017 to finish the research for our upcoming Croatian wine guide. It just so happened that there was a Wine
Reading Time: 4 minutes
Charine and I moved to Zagreb for a few months in late 2016/early 2017 to finish the research for our upcoming Croatian wine guide. It just so happened that there was a Wine & Spirit Education Trust (WSET) course happening in Zagreb at the end of 2016. We decided to kill two birds with one stone and finish the wine research while getting our WSET Level 3 certification. We chose the Wine Academy Croatia as our course provider.
WSET – Wine & Spirit Education Trust
WSET is one of the big names in international wine education for enthusiasts and professionals in the wine industry. There are four levels. The first two are targeted at wine enthusiasts, level III is known as the advanced certification, and level IV is a diploma course. For those who want to apply for the Master of Wine course, it is necessary to complete the WSET level IV diploma. Confident in our wine experience and knowledge, we opted to skip levels I & II, going straight to the level III course.
The criticism of the WSET program is that it is simply a certification mill. Some people say that passing the WSET course is meaningless, apart from the WSET Diploma. Some people say it makes people robotic in their approach to tasting. Others have said that it poorly trains people to describe wine. Regardless of these complaints, we found the course to be incredibly valuable. Here are some of our thoughts on the course.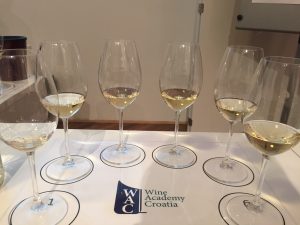 SAT Tasting Method
The WSET calls their tasting method SAT, which is an acronym for Systematic Approach to Tasting Wine. The SAT is a structured system although it still leaves some room for subjectivity. It is broken down into observing the appearance, smell, and taste of the wine to determine the quality and price level.
Prior to taking this course, we had honed our tasting skills by doing a lot of reading and massive amounts of tasting. In 2016, we tasted a little over 3,000 wines. After taking the course, we found that our tasting techniques were a little sloppy, as well as our wine descriptions.
We really enjoyed the deductive tasting process when it comes to describing the body of a wine. To consider that oak and alcohol can bring the body of a wine up while acidity can bring the perception of the body down was a game changer for us. When we tasted in the past, we measured body mostly by weightiness on the palate.
I used to wonder if a wine can have high alcohol while being medium or low in body because of the mouthfeel. Using the deductive SAT method has allowed us to answer that question by taking acidity, oak, and perception of sugar into consideration. Looking at a wine more holistically instead of relying simply on feeling alone has allowed us to state our observations with more confidence.
Winemaking Process
While I come from a farming family, we both admit our shortcomings when it comes to knowledge of the winemaking process. What we know about the winemaking process comes from constantly traveling, spending time with producers, and seeing a few harvests.  When we first started traveling for wine, many of our questions probably seemed mundane, ignorant, and dumb.
The great thing about WSET is the coursepack and powerpoints which describe the winemaking process. The flow charts created by WSET describe the winemaking process clearly. They are not intended to make you a winemaker by any stretch but they offer a broad view of the process.
There were four Croatian winemakers attending the course with us. All of them wanted to learn more about international wines. The time we spent interacting with them, asking questions, and having discussions were invaluable. We're thankful that the Wine Academy Croatia attract these types of people into the course, which offers a new dimension of learning and experience to us.
We find all of this information to be useful in understanding wine holistically. More importantly, it will allow us to have better conversations with producers.
Tasting Choices from Wine Academy Croatia
This is where Wine Academy Croatia excels as a course provider. One of the instructors works for a wine importing business in London. Because of this, Wine Academy Croatia has access to many excellent wines from around the world that are not available on Croatia's wine market. We tasted close to 80 wines over the duration of the course.
These were our favorite wines tasted in class.
WHITE WINES
Dawson & James, Chardonnay 2011 – Tasmania, Australia
This is an oaked Chardonnay done right. From the island of Tasmania, this wine was tasted double blind. It has all the fresh characteristics of Chardonnay with a touch of wood and very high acidity. Banana, pineapple, tropical fruit. Extremely delicious and wonderful. A fresh approach to New World Chardonnay.   4.3/5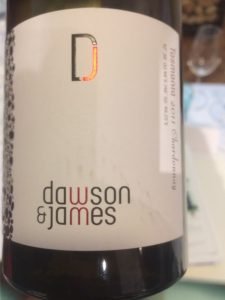 Chateau Lamothe, Bouscaut 2014 – Pessac – Léognan, France
A marvelous white Bordeaux! This is a 55-45 blend of Sauvignon Blanc and Sémillon. The wine is herbal with a touch of oxidation. Nice acidity. Flavors include grass, stone fruit, herb, cat pee, and sweet oak with deliberate oxidation notes. This wine has the stuffings to age. It is a beautiful wine.   4.6/5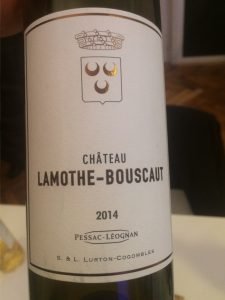 Domaine du Chêne, Condrieu 2013 – Rhone, France
This is the first Condrieu that I've tasted. Fashionable as a premium white wine made from Viognier that should always be drunk fairly young. This is full of dried stone fruit, apricot, jasmine, brioche, and almond flavors. I tend to prefer acidic white wines and Condrieu is renowned for its low acidity. My preference doesn't matter, this is a wonderful wine.   4.8/5
Domaine Koquelicot, Belaigra Grand Cru 2013 – Istria, Croatia
This was served to us during our practice blind tasting examination. Most people thought it was a Puligny-Montrachet (high-end White Burgundy). This winery is made up of a Frenchman and an Istrian woman. This is full of flint, stone fruit, vanilla, and oak. Flavorful, nice acidity, and very elegant.   4.4/5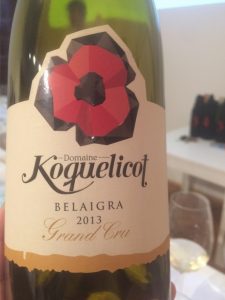 RED WINES
John Duval Wines, Entity Shiraz 2013 – Barossa, Australia
After 29 years as a winemaker at Penfold's, John Duval left to start his own winery. This is Australian Shiraz in a big way. It is dark, full of spice and blackberry jam. The tannins are ripe and mouthcoating, you need a huge steak to make this easier to drink. It is nice now, but boy has the stuffing to age gracefully.   4.2/5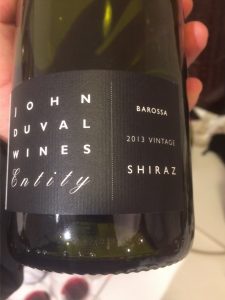 Chateau Talbot, Saint Julien 2005 – Bordeaux, France
This vintage, as well as 2009 and 2010, are considered to be the vintages of the century thus far in Bordeaux. This producer has a track record of producing very good and fairly inexpensive wines. It has a rocking nose of tobacco, tomato leaf, cedar, and chocolate. The finish is long and the tannins are fine and gritty, this can age even more. Excellent wine and can be transcendent if the palate offers the same ommmpf as the nose.   4.3/5
Cafaro, Merlot 2010 – Napa Valley, USA
I was wondering how the USA would be represented in this course. Most of the excellent wines from America don't make it abroad. If they do make it overseas, they come with insanely high price tags. This wine is from a producer who recently closed his doors, what a pity. The wine is a wonderful blend of New World fruit and Old World earthiness. Leather, meat, tobacco, cedar, tomato leaf, and blackberry. Beautiful structure with a long finish.   4.3/5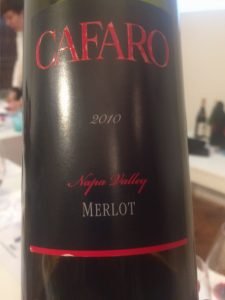 La Croix de Saint Jean, Lo Paire Minervois 2012 – Languedoc – Roussillon, France
A GSM blend (Grenache, Syrah, Mourvedre) from the south of France. I really enjoy the wines from Languedoc – Roussillon. Mostly Syrah, it is a big wine that has all the stuffing to age gracefully. This is chalked full of dark fruit, cedar, and licorice. High in alcohol, with medium tannins, and a voluptuous body, this wine is a pleasure to drink.   4.2/5
 (You can find out more about our scoring system on the START HERE page.)
Conclusion
We were happy with the entire WSET 3 experience. Wine Academy Croatia did a fine job and exceeded our expectations with the wine tasting samples. The course was fun and dynamic. We skipped the Level I and II course and jumped straight into level III. It didn't prove to be a big leap as we both passed the final examination.
---
You can find out more about the Wine & Spirit Education Trust and the course provider we used, Wine Academy Croatia, on the websites listed below. 
– https://www.wsetglobal.com
– http://www.wineacademycroatia.com
Many of the wines we tasted in class are available at Liberty Wines.
Disclaimer: This article is based on our own opinions and is NOT associated with sponsorship or business promotions of any kind.