12 Croatian Wine Icons
Reading Time: [est_time] Hello! Welcome to As Drunk by Exotic Wine Travel, a weekly column where we feature interesting wines that we encourage you to seek out. The reviews featured in this series may be written by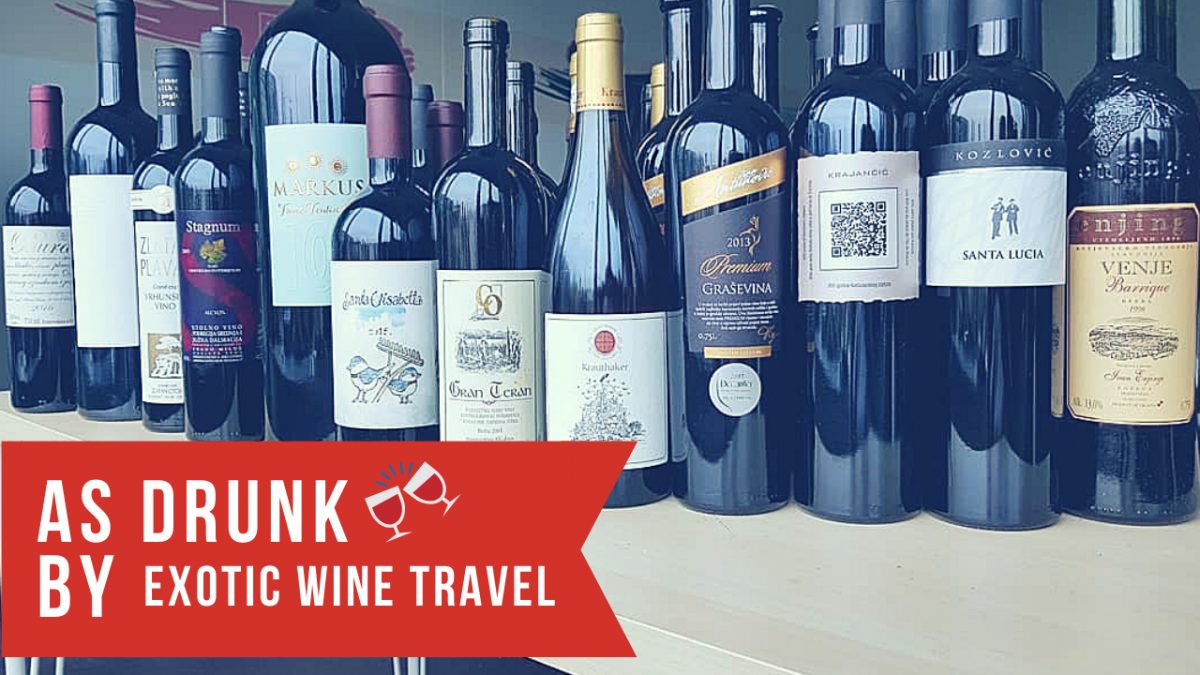 Reading Time: 4 minutes
Hello! Welcome to As Drunk by Exotic Wine Travel, a weekly column where we feature interesting wines that we encourage you to seek out. The reviews featured in this series may be written by either one or the both of us. The featured wines can be from obscure or well-known wine regions. We hope that these wine recommendations will keep you gastronomically curious and your palate invigorated!
Croatian Wine
Located across the Adriatic Sea from Italy, Croatia has no shortage of excellent wine. We fell in love with the country's wines for a few reasons, first is the staggering number of indigenous grapes (around 140). Second is that the top Croatian wines can stand toe to toe with the best bottles from around the world.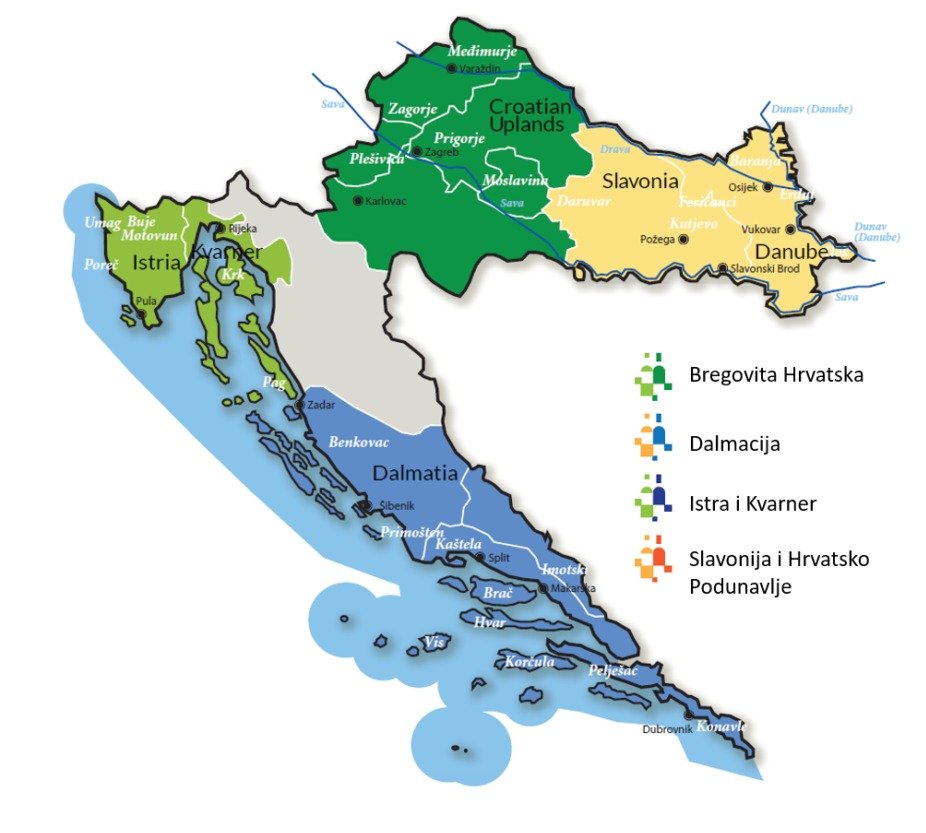 Thanks to the geography and diversity of grapes grown, Croatia can produce many different wines. The country is broken up into four PGI regions, Istria & Kvarner and Dalmatia have a Mediterranean climate. The Croatian Uplands and Slavonia & The Danube have a continental climate. This allows for a diversity of styles and ensures there are Croatian wines to suit all types of palates.
Croatian wine writer Saša Špiranec put together a masterclass titled "Croatian Wine Icons". He selected some iconic labels and sourced older vintages. All of the wines were made predominantly of indigenous or regional grapes instead of international varieties like Cabernet Sauvignon, Merlot, Chardonnay, etc.
Thanks to the robust tourism industry and a voracious local market, the best Croatian wines are sold out every vintage. This means that most of these wines will be very difficult to track down. All of these wines perform well in every vintage, so picking up the current releases is sure to put a smile on your face.
Here's how these iconic Croatian wines performed.
Croatian Wine: Flight 1
Enjingi, Venje Bijelo 1998 – Slavonia & The Danube
This vintage of Enjingi, Venje Bijelo put Croatian wine on the map when it won a Regional Trophy at the Decanter World Wine Awards 2004. It's a late harvest, barrel-aged blend of Graševina, Traminac, Riesling, Sauvignon Blanc, and Pinot Gris. There's a lot of development here with notes of fall leaves, honey, apricot, white pepper, and daffodil. Although it smells of an aged sweet wine it is bone dry with an almondy, Sherry-like finish. Remarkable after 20+ years of aging. Score: 93/100
Kozlović, Santa Lucia White 2009 – Istria & Kvarner
The Kozlović, Santa Lucia White is one of Croatia's best white wines every year it's made. This vintage is good but doesn't live up to my lofty expectations. There are notes of apricot, green guava, honey, and white flower. Full-bodied with texture and a mineral finish. The wine doesn't come together as seamless as other editions I've had, which pulls the score down a tad. Score: 90/100
Krajančič, Statut 2011 – Dalmatia
Krajančič is considered the godfather of modern Pošip and his Statut is a barrel-fermented beauty. This is spectacular stuff. The wine is normally very oaky when young but now it has integrated perfectly. There are notes of dried apricot, yellow peach, sage, and melon. It's rich and full with plenty of sweet fruit on the palate. Salty and long finish. Score: 94/100
Antunović, Graševina Premium 2013 – Slavonia & The Danube
Another wine that has made waves on the local scene. This vintage of Antunović, Graševina Premium won a Platinum Medal at the Decanter World Wine Awards. It's a late harvest, dry wine that shows the potential of the grape. Notes of honey, cotton candy, apricot, and baked apple. Full-bodied with a stony finish. Score: 92/100
Krauthaker, 'Kuvlakhe' Graševina 2015 – Slavonia & The Danube
Vlado Krauthaker traveled to Georgia and decided he wanted to make a line of macerated, sulfur-free wines with organically grown grapes. The 'Kuvlakhe' series is the result. This is a beauty with an explosive nose of sweet apricot, tangerine, fall leaves, and dried yellow flowers. There are a lot of tannins here but they are soft and accompanied by juicy acidity. Score: 92/100
Coronica, Gran Teran 2004 – Istria & Kvarner
Coronica is one of the finest producers in Istria and the Gran Teran is his flagship wine. We've had several vintages of it but not as old as this one. The nose is great and resembles a fine Chianti Classico. There are notes of sour cherry, wax, tobacco, earth, and rusty nail. It's full-bodied but the high acidity keeps the mouthfeel lively. Chewy tannins that suggest this can live much longer in the cellar. Score: 92+/100
Croatian Wine: Flight 2
Benvenuti, 'Santa Elisabetta' Teran 2015 – Istria & Kvarner
The 'Santa Elisabetta' Teran is a new wine in the Benvenuti portfolio. We tasted this several times in 2019 and it never disappointed. It's a wine that smells like a dense red from Piemonte (Italy). The bottle at this tasting was a little fruitier than we remember, but the quality was still the same. Notes of cranberry, cherry, cedar, cacao, and tobacco. Full-bodied with chewy tannins, this should last a long time in the cellar. Score: 93/100
Markus, 'Franz Ferdinand 101' Babić 2015 – Dalmatia
The Markus 'Franz Ferdinand 101' Babić is the finest example of this indigenous Croatian red grape. Read more about it in this feature article. Score: 93/100
Miloš, Stagnum 2005 – Dalmatia
Miloš wines are not for those just getting into wine. They age their Stagnum for many years in cask and bottle before release. This iconic Plavac Mali resembles an imaginary blend of Rioja Gran Reserva, Taurasi, and aged Barolo. This wine has notes of tomato leaf, tobacco, cigar, tar, and dried strawberry. It's a rich, full-bodied red with firm tannins. It's a divisive wine between Charine and me. I think it's a brilliant effort. Score: 94+/100
Zlatan Otok, Plavac Grand Cru 2011 – Dalmatia
Zlatan Otok is another one of Croatia's old guards and the Plavac Grand Cru is the top wine in the portfolio. This Plavac Mali is a big, meaty, true Mediterranean red. There are notes of violets, game, strawberry, and black pepper. Chewy tannins and a long finish that remind me of a Taurasi (Italy). Score 93/100
Stina, 'Remek djelo' Plavac Mali 2011 – Dalmatia
Stina is one of our favorite producers of Croatian wine and their 'Remek djelo' Plavac Mali has only been made in four vintages to date. This is polished, structured, and complex. It has notes of violets, Mediterranean brush, strawberry, pepper, and cedar. This is a massive wine that has finesse at the same time. It finishes long with big tannins. Score: 94/100
Bura, Dingač 2016 – Dalmatia
The Bura, Dingač is one of Croatia's cult wines made in tiny quantities. It's 100% Plavac Mali and has notes of strawberry, bubblegum, meat, rose, thyme, and pepper. It's a full-bodied wine that is elegant and shows lots of refinement. The tannins are round and grippy and guide the long finish. Score: 92+/100
You can find out more about our scoring system on the WINE RATING page.
The finest selection of
Croatian wines available at:

Shipping is available EU-wide and to the UK.
************
    Do you want to try Croatian wines?    
If you want to savor the exquisite flavor of Croatian wines, look no further than wineandmore.com. With many options from different winemakers, it's easy to find exactly what your palate desires. Not sure which bottle is best for you? Try out one of their curated wine cases and discover the perfect vintage for any occasion!
************
Want to learn more about wine?
Are you ready to discover the wonderful world of wines? Come join us at wineandmore.com, and let's explore the incredible selection of delicious wines together! We can't wait to share our passion for wine with you!
---
Vinart provided complimentary admission to the Croatian Wine Icons workshop. Please note that the opinions expressed in this article are unsolicited and have not been paid for in any way by governmental bodies, enterprises, or individuals. We do not sell editorial content as that would destroy the legitimacy of our reviews and the trust between Exotic Wine Travel and its readers. On occasion, we extend the option of purchasing the wines we review or/and the products we spotlight. Some of these product links are set up through affiliate programs, which means Exotic Wine Travel gets referral credits if you choose to purchase these items via the links we provide.