Markus Franz Ferdinand: Bringing Babić to the Forefront of Croatian Wine
Reading Time: [est_time] Once considered a cheap and insipid wine, Babić is reveling in renewed interest in its potential. What tremendous potential do winemakers see in this indigenous wine grape from Croatia? What sensory advantages does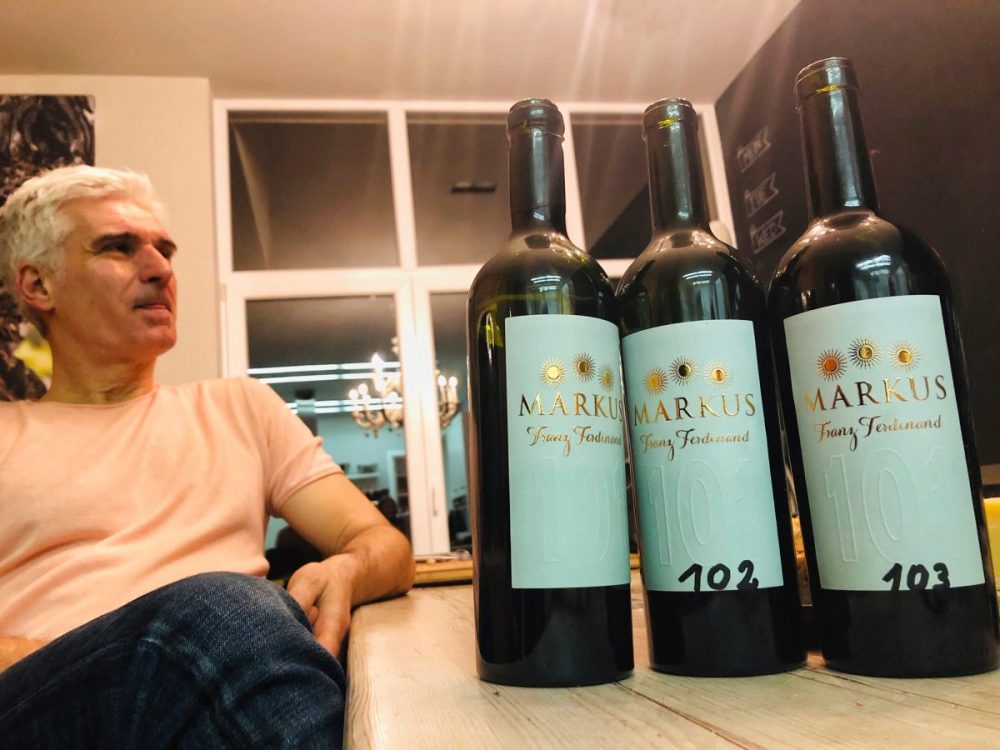 Reading Time: 5 minutes
Once considered a cheap and insipid wine, Babić is reveling in renewed interest in its potential. What tremendous potential do winemakers see in this indigenous wine grape from Croatia? What sensory advantages does it possess to merit its move from the bottom shelf at a supermarket to eye-level premium merchandizing row, with a three-digit price tag to boot? Exotic Wine Travel tastes what is allegedly the best example of Babić wine to find out.
BABIĆ REDEFINES ITS ROLE IN THE MARKETPLACE
Grown in Dalmatia, Croatia, Babić (pronunciation: Bah-bich) is most likely a relative of Croatia's flagship red wine grape Plavac Mali—as DNA analysis shows a possible parent-offspring relationship between Babić and Dobričić, while Dobricic is a parent of Plavac Mali (the other parent of Plavac Mali is Tribidrag).
Organopletically, Babić is known for its marked acidity, soft tannins, medium to full body, and a flavor profile similar to Sangiovese—with notes of red cherry, spices, and herbs. With judicious oak integration and aging, Babić can also develop a sweet balsamic quality similar to Sangiovese. The best site for Babić is believed to be the UNESCO-shortlisted Bucavac vineyard, where old goblet vines thrive in poor, rocky soils.
The quality of Babić is highly dependent on yield control and growing conditions. Quoting Croatian wine writer Saša Spiranec, "There is no middle ground with Babić. It is one of those varieties that deliver either a mediocre wine or an ultimate unchallenged experience. We have been witnessing this for decades because the popularity of and market demand for Babić have never lacked, but the quantity of really good labels could always be counted on the fingers of one hand."
MARKUS FRANZ FERDINAND SMASHES THE GLASS CEILING
Markus Franz Ferdinand is the brainchild of Daniel Szabo and Ivona Jeličić. Made from 100% old-vine Babić, the grapes are picked from Primošten in Northern Dalmatia, put in a refrigerated truck, and transported to a garage winery near Zagreb for vinification. Markus is the name of the winery, while Franz Ferdinand is in reference to Archduke Franz Ferdinand, who was assassinated in 1914, the same year that this old Babić vineyard was planted.
With a production size of merely 300 bottles in selected good years and a retail price of around €150 for a bottle, Markus Franz Ferdinand is one of Croatia's rarest and most expensive red wines. We recently had a chance to do a vertical tasting of this wine: three vintages in total that are already bottled, with only one vintage currently on the market.
MARKUS BABIĆ 2016
2016 marks the first vintage of Markus Babić. The grapes for this bottling are taken from three different vineyards with goblet vines that are over 60 years old (average age). So the grapes here are not from the same site as the Markus Franz Ferdinand bottling. This is the 'entry-level' Babić of Markus Winery, and its retail price is in the €20 range.
MKH: Make no mistake, this is a Mediterranean wine but a pretty one at that. There are notes of dark cherry, purple flower, toast, and sage. It's full-bodied with grippy tannins and a peppery finish. It's a great alternative to its more costly big brother. Score: 90/100
CT: Captivating, brine-like bouquet marked by anchovy, maraschino cherry, and dry savory herbs, with a background of warm spices. Wonderful concentration leads to a finish filled with sweet tannins, complicated by a hint of walnut and plentiful freshness. The 14.5% alcohol shows a bit of heat on the finish, but the ultimately complex and generous front-to-mid palate balances the heat. There's a good level of oxidation and development in this wine to create layers of nuances yet, simultaneously, the wine remains sufficiently youthful and fresh. Prior to tasting the Babić wines from Markus Winery, I used to consider Babić to be Chianti Classico-like. But with the profundity and strength that Markus Winery has repeatedly captured in its Babić wine, I'm starting to think it can be rather Châteauneuf-du-Pape-like. Score: 90+/100
MARKUS FRANZ FERDINAND 101 (2015)
The Markus Franz Ferdinand 101 2015 is the debut vintage of this wine, and it's the vintage currently on the market. The 101 on the label refers to the age of the vines, which were planted in 1914.
MKH: The nose is complex with hints of violet, black cherry, red plum, pepper, and sage. It's round on the mid-palate and shows luscious sweet fruit notes. The tannins are fine-grained and guide a long finish. This is in a great drinking place now. Score: 93/100
CT: I wish for a few more hours with this wine. This bottle starts off notably reduced, with matchstick and other sulfurous aromas. But look beyond that and I find this wine to show youthfulness and vividness hidden underneath a robust Mediterranean flavor profile and generous density. This is the fifth time I'm tasting Markus Franz Ferdinand 101, so I know this wine is better than it is showing today. The smokiness and salinity are ever-present in Markus Franz Ferdinand 101 2015. Score: 91+/100
MARKUS FRANZ FERDINAND 102 (2016)
The Markus Franz Ferdinand 102 2016 has been bottled, and it will receive around two more years of bottle aging before release.
MKH: Wowzzaas, I wouldn't hesitate to call the Markus Franz Ferdinand 102 2016 one of the greatest dry red Croatian wines (other solid candidates are the Kiridžija Dingač 2008, Clai Bastovica Teran 2007, and Saints Hills E.T. Dingač 2011). This wine is in the bottle and will hit the market in less than a year. The nose on this wine is surprisingly more developed than the other two vintages. It has notes of tomato leaf, dark cherry, violets, pepper, and a touch of tangerine peel. The structure is what makes this wine stand out. It's got fine tannins and an endless finish. For a big red wine, the Markus Franz Ferdinand 102 shows an impeccable balance. Score: 94/100
CT: I'm with Matt on this, that the structure is what ultimately makes this wine a heavyweight champion. There's a sense of symmetry running through the core of this wine. The flavor profile is dominated by notes of dry walnut, bay leaf, and cherry—so, quite a developed wine in terms of flavor. Since it's a Babić, there's a slicing edge of acidity that remains and it's perfectly welcome. Coupled that with firm and sweet tannins, plus an enthralling concentration, the Markus Franz Ferdinand 102 points me in the direction of Vintage Port. It's like a coiled spring with so much energy saved and ready to unravel in the future, although I wouldn't say it's a monolithic wine—it's a ready-to-drink-now wine for my fruit-loving palate. I definitely prefer the 2016 vintage to 2015. The Markus Franz Ferdinand 102 2016 has a persistence that's bound to make wine drinkers go, "Wow!" Score: 93+/100
MARKUS FRANZ FERDINAND 103 (2017)
The Markus Franz Ferdinand 103 2017 is already in the bottle. The slated release date is around 2025.
MKH: It's distinctive from the previous two vintages of this wine. The blueberry and blackberry tones along with violets, pepper, and bacon fat notes give this wine a Syrah-like feel. This is the fruitiest wine of the bunch and the tannins are big. Once the baby fat falls off and the wood settles, this could be another stunner. Score: 92+/100
CT: Plenty of new oak quality frames the wine and contrasts well with the intense fruit. Compelling bouquet and tightly wound on the palate. The density and profundity of Markus Franz Ferdinand persist in this vintage. A young wine yet it's already showing amiability that might surpass its peers. I suspect this will be my favorite vintage of Markus Franz Ferdinand in the near future. Stylistically, it reminds me of the Châteauneuf-du-Pape by Domaine de la Solitude. Score: 92+/100
The finest selection of
available at:

Shipping is available EU-wide and to the UK.
************
    Do you want to try Croatian wines?    
If you want to savor the exquisite flavor of Croatian wines, look no further than wineandmore.com. With many options from different winemakers, it's easy to find exactly what your palate desires. Not sure which bottle is best for you? Try out one of their curated wine cases and discover the perfect vintage for any occasion!
************
Want to learn more about wine?
Are you ready to discover the wonderful world of wines? Come join us at wineandmore.com, and let's explore the incredible selection of delicious wines together! We can't wait to share our passion for wine with you!
---
Recommended Reading – This is truly an exceptional wine: Markus Franz Ferdinand Babić 2015 by Saša Spiranec!
Please note that the opinions expressed are our own and have not been paid for in any way. We do not sell editorial content as that would destroy the legitimacy of our reviews and the trust between Exotic Wine Travel and its readers. On occasion, we extend the option of purchasing the wines we review or/and the products we spotlight. Some of these product links are set up through affiliate programs, which means Exotic Wine Travel gets referral credits if you choose to purchase these items via the links we provide.