Antinori, More than Tignanello
The iconoclast behind Tignanello and the Super Tuscan revolution is the family-owned Marchesi Antinori enterprise. Today, Antinori wine is no longer confined to one wine region. The Antinori family produces around 150 labels from 24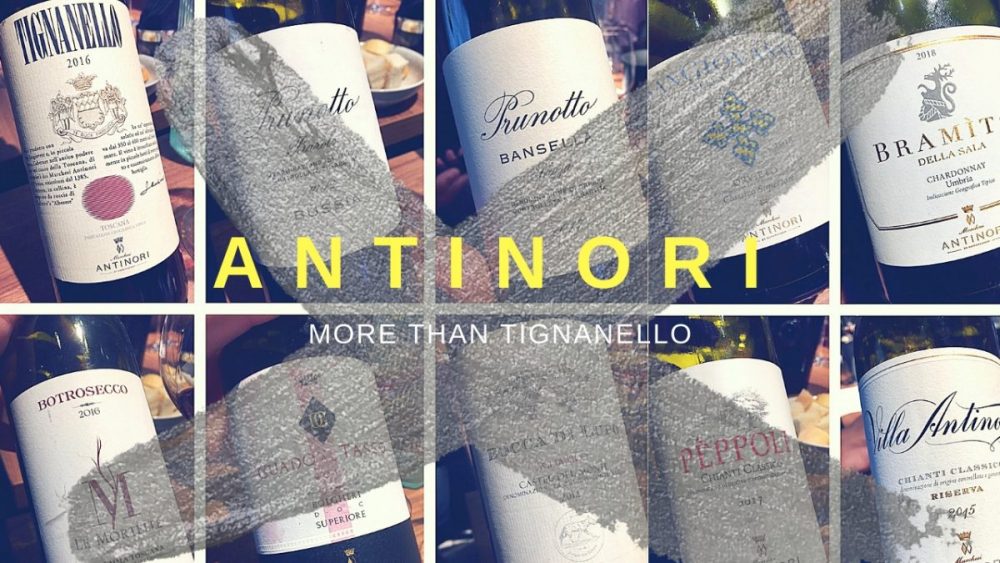 Reading Time: 4 minutes
If you consider yourself an Italian wine lover, then you'll likely have a visceral reaction when you hear the name "Tignanello". The internationally coveted Tignanello was released in 1974 with a 1971 debut vintage. It was the first wine produced in Chianti Classico that could not be classified as such, which eventually led to the Super Tuscan revolution.
Tignanello was the first Sangiovese to be aged in barriques, one of the first red wine made in Chianti Classico that didn't have white grapes in the blend, and the first Chianti Classico wine to be blended with Cabernet grapes. Consequently, Tignanello started a quality movement and became the much-needed linchpin of modern Italian fine wine.
The iconoclast behind Tignanello and the Super Tuscan revolution is the family-owned Marchesi Antinori enterprise, with a history dating back to the 14th century.
Today, this Tuscany-based wine family is no longer confined to one wine region. The Antinori family produces around 150 labels from 24 estates in Italy, from the northern reaches of Lombardy to Puglia in the south.
Thanks to Vivat Fina Vina Vinoteka Wine Bar (Zagreb, Croatia), who invited us to a portfolio tasting of Antinori, we had a chance to taste wines from Castello Della Sala (Umbria), Villa Antinori (Tuscany), Tenuta Tignanello (Tuscany), Prunotto (Piedmont), Let Mortelle (Tuscany), Guado Al Tasso (Tuscany), and Tormaresca (Puglia).
ANTINORI PORTFOLIO TASTING: RECOMMENDED WINES
Castello Della Sala, 'Cervaro Della Sala' 2017 – Umbria
MKH: The Castello Della Sala 'Cervaro Della Sala' was one of the first Italian Chardonnays aged in French barriques. The first vintage was in 1985, and this vintage has a touch of Grechetto in the blend. There's a lot of oak here. It's a big white wine with notes of banana, melon, yellow peach. This wine is big and silky on the palate. The wood is present but does not overpower the fruit. 90/100
CT: Castello Della Sala is the first white wine estate established by Antinori. The only red wine variety planted there is Pinot Noir. Unfortunately, I'm not with Matt on this. This bottling of Antinori Chardonnay is my least favorite of the white wine line-up. My favorite white is, in fact, the 'baby Cervaro': Castello Della Sala's 'Bramito Della Sala 2018. Perhaps I need a better perspective of the evolution and track record of Cervaro Della Sala; but right now, this wine is tense, one-dimensional and loaded with oak impact. The palate is interesting though—buttery and unctuous while showing good acidity. I do think, though, even at this point, the wine is amenable to food and can be a winner when the right food pairing is effected. 88+/100
For readers in the EU, this wine is available at 8Wines.
Tenuta Tignanello, Marchese Antinori Chianti Classico Riserva 2016 (Tuscany)
MKH: The Tenuta Tignanello Marchese Antinori Chianti Classico Riserva is a polished wine. It's basically a baby Tignanello. There are notes of sour cherry, red plum, mocha, and pepper. The wine is full-bodied, dense and structured. The modern winemaking makes it approachable but the tannins are chewy and give it some potential to improve in the bottle. 92/100
CT: A blend of 90% Sangiovese and 10% Cabernet Sauvignon. I agree with Matt that it's a 'baby Tignanello' because of sensory similarities between the two wines. It's a tad fresher, more approachable, more harmonious, softer, and lighter than Tignanello right now. 92/100
Find or buy on Wine-Searcher.
Tenuta Tignanello, Tignanello 2016 (Tuscany)
MKH: The Tenuta Tignanello's Tignanello is an Italian classic. This vintage is a tad more structured than the 2015. There are notes of dark raspberry, sour cherry, minerals, and mocha from the barrel. This beauty is full-bodied and rich with endless layers of flavors. Big, time chewy tannins guide the long finish. 96/100
CT: I might like 2016 Tignanello more than the coveted 2015 vintage because 2016—to me—fits more consistently into the Tignanello's signature of finesse, elegance, and understated expressions. This vintage is a blend of 80% Sangiovese, 15% Cabernet Sauvignon, and 5% Cabernet Franc. This new vintage is showing excellent balance and accessibility, which is uncommon for a young Tignanello. The finish is long enough to last me through writing a few lines of haiku. 96/100
For readers in the EU, Tignanello is available at 8Wines.
Prunotto, 'Bansella' Nizza 2017 (Piedmont)
MKH: Prunotto is an estate in Piedmont that is famous for its Barolos and Barbarescos. This Prunotto 'Bansella' Nizza is an overachieving Barbera from the Nizza Cru. It has a beautiful nose with dark cranberry, cherry, smoke, and pepper. It's a big-bodied Barbera with fine tannins. Drinkable now but like other wines from Nizza, this should age well. This wine is a steal, scoop it up by the case. 92/100
CT: I've long been a fan of Barbera, but Barbera from Nizza DOCG is something I was acquainted with only earlier this year at the Pollenzo Business to Business (B2B) Tasting in Piemonte, Italy. Nizza DOCG was established in 2014, and this Prunotto Bansella Nizza is the second vintage of Nizza from this cellar. The main notes are wild berries, black pepper, and licorice. The palate opens with a sweet-fruit entry, which leads to a finish that plays center stage to spice and acid. I like this wine for its contrast of sweet fruit, spicy aspects, and acidic freshness. 91+/100
Find or buy on Wine-Searcher.
Tormaresca, 'Bocca di Lupo' Aglianico Castel del Monte 2012 (Puglia)
MKH: Tormaresca is Antinori's project in the deep south of Italy. The Tormaresca 'Bocca di Lupo' Castel del Monte Aglianico is one of the estate's top red wines. It has an intriguing flavor profile of tar, black cherry, sage, cedar, and earth. Full-bodied with many layers of flavors, this is a Mediterranean red through and through. The smoky and long finish is guided by grainy tannins. 93+/100
CT: A classic example of a fine Mediterranean red wine. Dominant notes are licorice, blackcurrant, black cherry, and sage. It's exhilaratingly spicy with exceptional tannins that punch deep in the mouth like sonic pulses. It's really quite extracted but, simultaneously, it packs some positive greenness. I haven't found many Aglianicos that I appreciate and this is one of the few I like. 92/100
Find or buy on Wine-Searcher.
BUY ANTINORI WINES
You can purchase some of Antinori wines at 8Wines, which delivers to all EU countries, Hong Kong, Japan, and Norway. 8Wines also carries some Croatian wines that we highly recommend you to try!
[ap_call_to_action button_text="Shop Now at 8Wines" button_url="https://8wines.com/?mw_aref=27fab5e65f3884e05298174f6b673b69" button_align="center"]Use the code EWT8WO7 and get €15 off your first purchase of $100 or more.[/ap_call_to_action]
Do you like our content?
If you like our articles and videos, we'd love for you to be a part of our community on Patreon. The support from Patreon helps keep the content coming and you access to behind the scenes content. It also gives us the chance to get to know you better. Check out the Exotic Wine Travel Patreon page by clicking the photo below.

---
You can find out more about our scoring system on the WINE RATING page.
You May Also Enjoy:
Please note that the opinions expressed in this article are unsolicited and have not been paid for in any way by governmental bodies, enterprises, or individuals. We do not sell editorial content as that would destroy the legitimacy of our reviews and the trust between Exotic Wine Travel and its readers. On occasion, we extend the option of purchasing the wines we review or/and the products we spotlight. Some of these product links are set up through affiliate programs, which means Exotic Wine Travel gets referral credits if you choose to purchase these items via the links we provide.