Super Tuscan Sangiovese
Known as Italy's workhorse grape, Sangiovese is found throughout the country but it is the most important in Central Italy especially in Emilia-Romagna, Tuscany, Umbria, and Le Marche. It's responsible for some of Italy's greatest
Reading Time: 3 minutes
In graduate school, two friends and I backpacked around Europe. We sat down for lunch in Lucca, Italy and enjoyed a liter of Sangiovese-based red wine. I was a wine enthusiast back then but a broke student. Most of my wine tasting experience consisted of cheap, supermarket wines. The nose of that wine in Lucca completely engulfed my senses and pulled me into another world. There was no turning back, I was bitten by the wine bug.
Sangiovese
My palate has changed throughout the years. In the beginning, I only drank red wines. Lately, I've been crazy about dry whites and sweet wines. One thing has never changed though is my love for Sangiovese.
Known as Italy's workhorse grape, Sangiovese is found throughout the country but it is the most important in Central Italy especially in Emilia-Romagna, Tuscany, Umbria, and Le Marche. It's responsible for some of Italy's greatest red wines such as Brunello di Montalcino, Chianti Classico, Vino Nobile di Montepulciano, and various Super Tuscan blends.
Charine and I love Sangiovese because of its distinctive flavor and food-friendliness. Sangiovese wine from Tuscany has this interesting sour cherry, mineral, and earthiness combination that can't be replicated by others. It has become our go-to grape. When we want a comfort wine, a Tuscan Sangiovese-based wine always seems to be the right choice.
Super Tuscan Wines
We were going through a tough stretch in the Spring of 2017. Our work was piling up as we tried to get two books out at the same time. Thanks to some incoming cash flow and good prices, we picked up a few iconic wines to lift our spirits. The wines didn't disappoint, in fact, two of these wines made our Top 17 Wines of 2017 list.
The wines are four iconic bottlings from Tuscany, Italy. The Fontodi Chianti Classico, Vigna del Sorbo Gran Selezione, Fontodi Flaccianello Della Pieve, Antinori Solaia, and Antinori Tignanello. We enjoyed the whole bottle of each wine, observing them evolve throughout four separate evenings.
You can find out more about our scoring system on the START HERE page.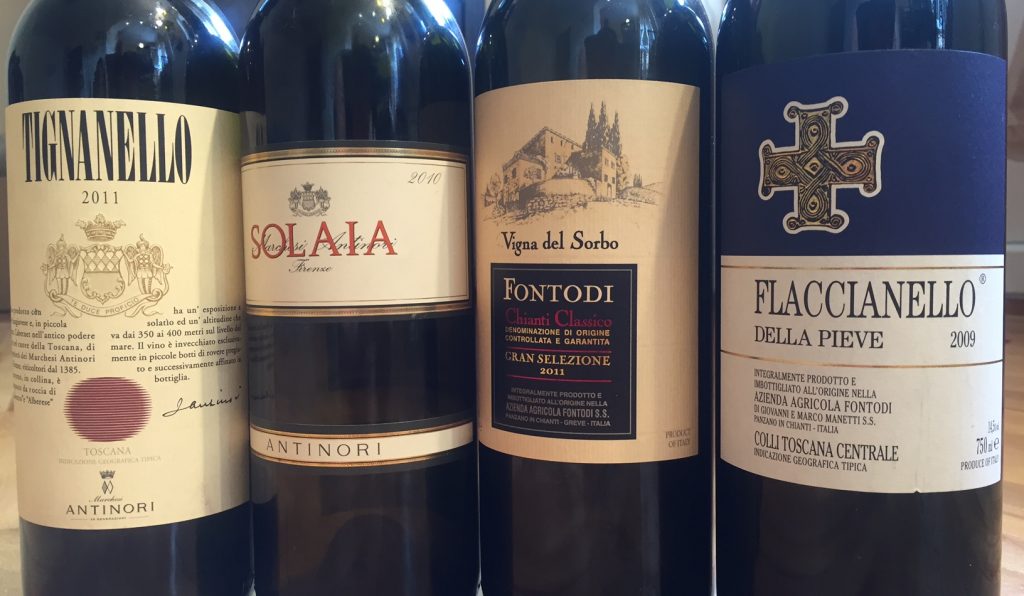 Find or buy on Wine-Searcher.
Antonio Galloni of Vinous claimed that this vintage may be the greatest Solaia ever made.
This vintage of Antinori Solaia is rich, dense, structured and extremely young. The nose is beautiful with dark fruit, tobacco leaf, earth, exotic spice and sweet cedar flavors. The wine is earthy but still fruit-forward. The wine has a tight structure, slightly chalky tannins, and a long finish. The Sangiovese gives the mid-palate a juicy lift.   4.7/5
Find or buy on Wine-Searcher.
The Antinori Tignanello is always one of our favorite wines, unfortunately, we don't drink them nearly as much as we would like. Sour cherry, licorice, earth, mint, and touch of white pepper make up the flavor profile. The palate is silky smooth and the tannins are fine-grained. This is a baby now but is already drinking spectacularly. The nose is central Italy to a tee.   4.8/5
Fontodi Flaccianello Della Pieve 2009
Find or buy on Wine-Searcher.
The Fontodi Flaccianello is a big boy wine. Full of leather, tomato, sour cherry, raspberry, cedar and a touch of plum flavors. As it airs, it gets better and better. Over the course of three hours, it kept evolving and never lost the leather notes. Firm tannins and nice fruit suggest this can go the distance but it's a beauty now. The wine has a long finish and is everything I love about great Sangiovese.   4.8/5
Fontodi, Chianti Classico Vigna del Sorbo Gran Selezione 2011
Find or buy on Wine-Searcher.
On our first date, Charine picked a bottle of Fontodi Chianti Classico. That wine is always solid year after year, but the Fontodi Chianti Classico Vigna del Sorbo Gran Selezione is a cut above its sibling. This wine is often overlooked in favor of the more famous Flacianello Della Pieve, which means it can be had at a relative bargain (< 50 USD).
This is a massive, burly Chianti Classico that still has a lot of life left in it. The wine has precise flavors of cherry, plum, leather, cedar, and cumin. It's big and rich on the palate with chewy tannins and a long finish. This really needs a lot more time in the bottle. If you can't be patient, allow for a few hours of air.   4.6/5
Do you like our content?
If you like our articles and videos, we'd love for you to be a part of our community on Patreon. The support from Patreon helps keep the content coming and you access to behind the scenes content. It also gives us the chance to get to know you better. Check out the Exotic Wine Travel Patreon page by clicking the photo below.

---
You May Also Enjoy
Disclosure: The ideas expressed in this article are personal opinions and are not associated with any sponsors or business promotions. We do not sell editorial content as that would destroy the legitimacy of our reviews and the trust between Exotic Wine Travel and its readers. On occasion, we extend the option of purchasing the wines we review or/and the products we spotlight. Some of these product links are set up through affiliate programs, which means Exotic Wine Travel gets referral credits if you choose to purchase these items via the links we provide.