Benvenuti Winery: Breaking New Ground in Istria, Croatia
Reading Time: [est_time] Kaldir, located on a hillside above the Mirna valley, has largely been known as an essential fruit-growing area in Istria, Croatia. But since the wine quality revolution in Istria started about two decades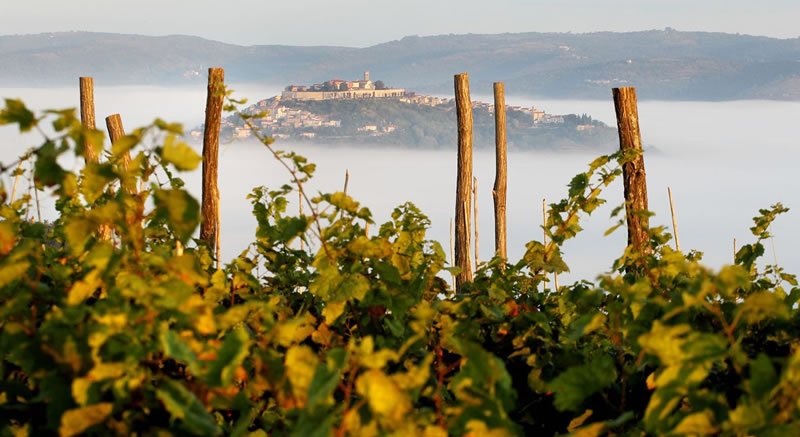 Reading Time: 6 minutes
Kaldir, located on a hillside above the Mirna valley, has largely been known as an essential fruit-growing area in Istria, Croatia. But since the wine quality revolution in Istria started about two decades ago, Kaldir is gaining a new facet to its reputation.
BENVENUTI BRINGS THE VINOUS WELCOME TO KALDIR
Leading the charge in Kaldir is the Benvenuti family. The family's modern winemaking history was established by Pier Benvenuti, who planted vines in the area in 1946. In 2003, his son Livio and grandsons Albert and Nikola decided to align the winery to a commercial, quality-driven vision. By 2006, the Benvenuti Winery had earned its first championship title at the local Vinistra competition, and again in 2007, sealing their position as a leading Croatian producer in Istria, especially for its fresh Malvazija Istarska. The winning streak continues today as Benvenuti Winery regularly receives medals at international wine competitions like Decanter World Wine Awards and International Wine Challenge.
As its name suggests, Benvenuti has always been a welcoming symbol: a classic producer that exemplifies its birthplace, a wine that is more honest than showy, and a portfolio that communicates approachability. It is one of those wines that you bring to a dinner party in Croatia and your hosts would eagerly say, "Oh! Benvenuti!"
VINEYARDS AND VARIETIES
Today, the estate vineyards, totaling 20 hectares, are home to mainly local varieties like Malvazija Istarska, Teran, and Muscat Momjanski (Muscat Blanc à Petits Grains that has been cultivated in this region, specifically Motovun, for hundreds of years). All three varieties are used for making varietal wines.
"When my brother and I decided that winemaking is something we want to do for the rest of our lives and we want to turn our family tradition from hobby winemaking to professional winemaking, we decided too that we will focus on traditional varieties that we've had here in Kaldir and Motovun for centuries," says Nikola Benvenuti.
International varieties like Nebbiolo, Merlot, and Tempranillo are cultivated as well for a red wine blend called Caldierosso.
All vines are planted in flysch soil (sedimentary rock with white clay rich in limestone) at 200 to 400 meters in elevation.
Nikola attributes the quality of Benvenuti wines primarily to the mesoclimates of the estate's terraced vineyards—influences from the Adriatic Sea, which is about 20 kilometers away, channeling through the valley of the Mirna and different levels of high elevation that put some hilly plots above and some below the fog line.
WINE RECOMMENDATIONS
Benvenuti Anno Domini Malvazija 2017 | 91+ points
This is one of the best Croatian whites, vintage after vintage. It is also my benchmark for Malvazija Istarska: whenever someone asks for recommendations for Malvazija Istarska, the Benvenuti Anno Domini Malvazija is the first wine that comes to mind. Best of all, it is a terrific value. It macerates for 15 days at a controlled temperature of 18 degrees Celsius and ages on the lees in 2,000-liter Slavonian oak cask for 24 months.
Benvenuti Anno Domini Malvazija 2017 strikes with powerful, but not heady, floral character: acacia, frangipani, and jasmine. Notes of crème brûlée, peach, and cotton candy further elevate the aromatic intensity. There is an alluring contrast between sweetness and bitterness on the full-bodied palate. Note: a few hours of aeration is recommended.
This wine has a track record of aging well. With age, the wine develops a luscious bouquet redolent of canned peach and honey yet retains wonderfully fresh aromas of yellow apple and the like. The texture gets richer and rounder, and the finish stretches with lingering nuttiness.
Benvenuti Anno Domini Teran | 91+ points
I've learned to appreciate Teran only in recent months. There is simply a damaging lack of examples capable of disproving Teran as a wine destined to be wild, rustic, and eccentrically lacking any sense of balance. Imagine the overbearing fruit of Dolcetto, the overzealous acidity of Vranac, the hefty tannins of Pignolo, and the sanguine smell of your steak dinner before it gets cooked. That is a 'traditional Teran profile' for you. The Benvenuti Anno Domini Teran is one of the few to show that Teran may be worthy of my love and patience.
"We put a lot of effort to build market recognition and respect for Teran. We have never produced any Teran in the basic range," says Nikola. He believes Teran "delivers more character and longevity" than other red wine varieties in Istria.
"The true beauty of Teran is in its aging process. It ages gracefully." Nikola believes that the firm acidic backbone of Teran preserves the wine, and with age, Teran gains elegance without losing flavor intensity. With a well-aged and well-made Teran, a drinker can expect the development of earthy notes on top of the variety's primary flavors of wild cherry and spice.
The Benvenuti Anno Domini Teran shows a refined nose of chocolate, forest berry, and licorice, complicated by baked spice and fresh herb. Juicy acidity leads the good weight on the palate to a pleasantly tannic finish. I appreciate the judicious aging in a mix of large oak cask and barrique for two years. This rendition of Teran is reminiscent of the fuller-bodied Barbera from Nizza, which received DOCG status with the 2014 harvest.
Having tasted all vintages of Benvenuti Anno Domini Teran, including the 2007 debut vintage, I suspect 2016 might be the best vintage yet of this wine. This fruit-driven, well-balanced Teran seems to signify that Benvenuti Winery is approaching a new and exciting chapter with Teran. Note too that 2011 is aging exceptionally well and has yet to reach its peak window at the time of tasting (March 2020).
Benvenuti Santa Elisabetta 2016 | 91+ points
Currently the magnum opus of Benvenuti's portfolio and bottled in limited quantities (4,000 bottles in 2016) in exceptional years, this wine came to the market with a debut vintage of 2015.
Named after the vineyard that it comes from, Santa Elisabetta is a single-vineyard Teran wine. The vineyard sits at over 250 meters above sea level. There, the mesoclimate helps the grapes to develop ripeness while retaining acidity; harvesting happens later than usual encourages more concentrated flavors in the wine. As Teran ripens, the relatively big berry loses water rapidly while retaining much of its acidity and gaining sugar moderately. Green harvest happens in late July to reduce yields by nearly half to further concentrate the grapes. After fermentation, the wine ages for two years in a mix of 500-liter French oak and 1,800-liter Slavonian oak, then one and a half years in the bottle.
Benvenuti Santa Elisabetta 2016 bursts from the glass with a myriad of sweet, warm, and savory spices, complementing a core of both red and dark fruits. Rich and layered, this is like the foie gras of Teran, yet Teran's inherent quality hangs on tight in this wine—showing bright acidity against the well-constructed round palate. Compared to 2015 (which I scored 93 points), which expressed notes of walnut and dehydrated dark fruit right on release, 2016 appears fresher but also needs more time in the bottle to improve the wine's fragrance and harmony. The wine is simply not having its last word in refinement or nuance yet, and I look forward to revisiting it soon as Wine&more has 2018 vintage.
Benvenuti San Salvatore (Muscat Momjanski) 2015 | 94 points
Benvenuti makes three types of sweet straw wines. One is Corona Grande, a blend of Malvazija Istarska, Muscat Momjanski, and Olovina. The second is San Salvatore Teran, and the third is San Salvatore Muscat Momjanski. I've consistently preferred the San Salvatore Muscat Momjanski for its richness and profundity. The grapes for these wines are usually harvested 15 to 30 days late, left to dry on straw mats for three to six months, fermented in steel tank with about a week of maceration. Then the wine gets transferred into the barrel for 12-24 months of aging.
Benvenuti San Salvatore Muscat Momjanski is a single-vineyard wine with grapes from the San Salvatore site, the highest vineyard of the estate. At 400 meters in elevation, this vineyard is above the fog line and enjoys additional sun exposure and temperature inversion. At this site, the early-budding, mid-ripening grapes of Muscat Momjanski enjoy a long season in which they can develop both physiologically and phenologically, while lessening the need to leave the berries hanging for extended periods. Additionally, being above the fog keeps fungus and mold at bay, an advantageous factor for Muscat Momjanski, which is susceptible to powdery mildew and botrytis bunch rot.
Benvenuti San Salvatore Muscat Momjanski 2015 has 220g/l of residual sugar and 6.7g/l of total acidity. A balanced and focussed wine expressing notes of daffodil, tulip, tangerine, roasted cantaloupe, honey, macadamia nut, and ginger spice. This wine comes across quite light on its feet for such a rich, concentrated wine. The palate-staining finish goes on and on. This is a world-class sweet wine and the best Croatian sweet wine I have tasted thus far.
The finest selection of
Benvenuti wines available at:

Shipping is available EU-wide and to the UK.
************
    Do you want to try Croatian wines?    
If you want to savor the exquisite flavor of Croatian wines, look no further than wineandmore.com. With many options from different winemakers, it's easy to find exactly what your palate desires. Not sure which bottle is best for you? Try out one of their curated wine cases and discover the perfect vintage for any occasion!
************
Want to learn more about wine?
Are you ready to discover the wonderful world of wines? Come join us at wineandmore.com, and let's explore the incredible selection of delicious wines together! We can't wait to share our passion for wine with you!
---

You May Also Enjoy:
Do you like our content?
If you like our articles and videos, we'd love for you to be a part of our community on Patreon. The support from Patreon helps keep the content coming and you access to behind the scenes content. It also gives us the chance to get to know you better. Check out the Exotic Wine Travel Patreon page by clicking the photo below.

Cover image: benvenutivina.com
The opinions expressed in this article are unsolicited and have not been paid for in any way by governmental bodies, enterprises, or individuals. We do not sell editorial content as that would destroy the legitimacy of our reviews and the trust between Exotic Wine Travel and its readers. On occasion, we extend the option of purchasing the wines we review or/and the products we spotlight. Some of these product links are set up through affiliate programs, which means Exotic Wine Travel gets referral credits if you choose to purchase these items via the links we provide.