Best Michelin-Star Restaurants In Provence
Located in the southeast of France, Provence is a historically significant province recognized as the country's oldest wine-producing region. Apart from its renowned wine, Provence is also famous for its delectable cuisine and fragrant lavender fields. It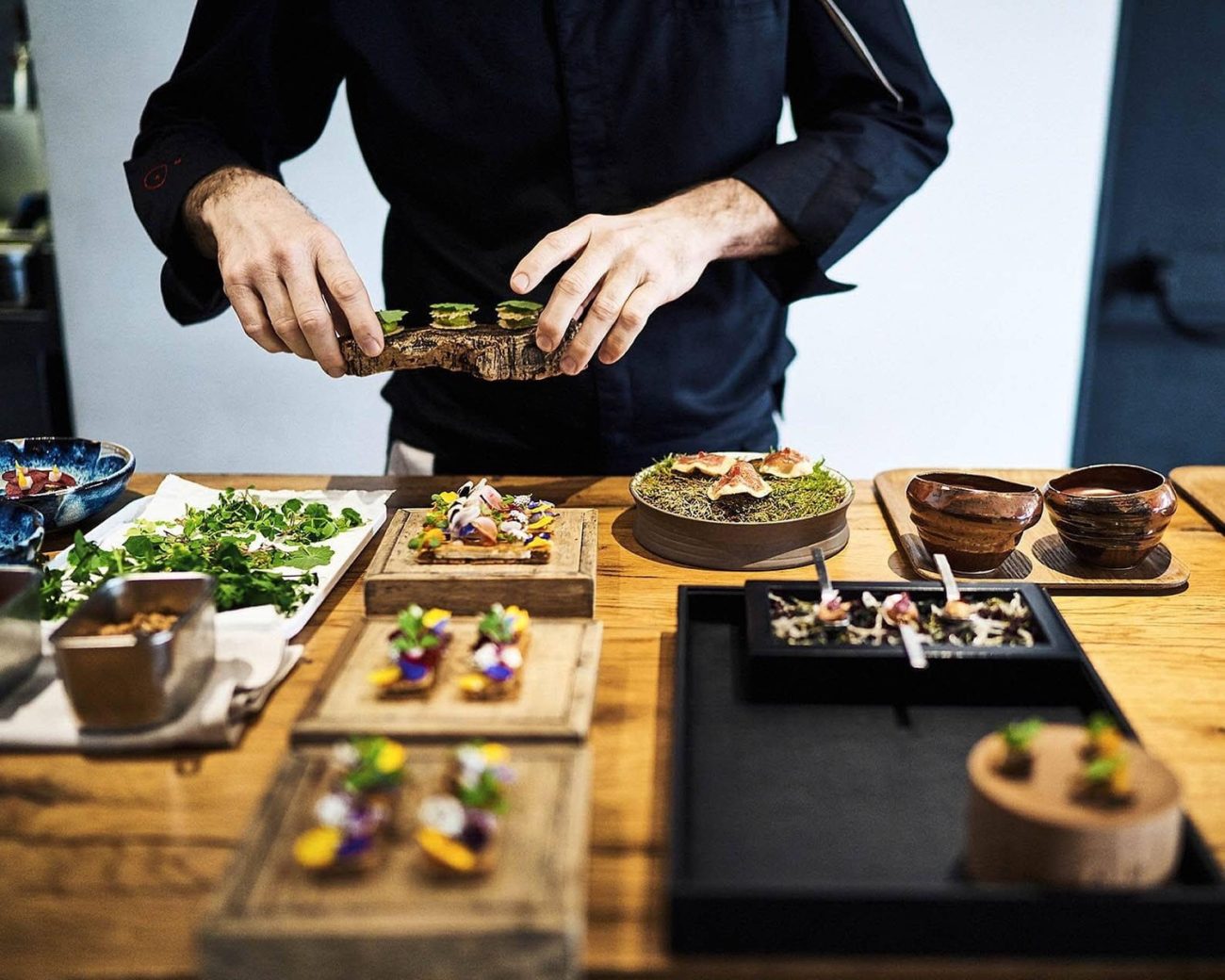 Located in the southeast of France, Provence is a historically significant province recognized as the country's oldest wine-producing region.
Apart from its renowned wine, Provence is also famous for its delectable cuisine and fragrant lavender fields.
It is, therefore, no surprise that the region is a paradise for food enthusiasts and gourmets!
Bordered by the Rhône, the Mediterranean, and the Alps, Provence is a prime location for agriculture and viticulture. With its rich cultural heritage and breathtaking landscapes, Provence continues to attract visitors from all over the world who come to explore its history, taste its wines, and savor its culinary delights.
Provence has some of the finest restaurants serving Michelin-starred cuisine. Stretching from Arles to Saint-Tropez and encompassing cities such as Marseille and Aix, it is home to a diverse array of Michelin-starred restaurants that offer inventive culinary experiences. From fresh seafood, seasonal vegetables, fragrant herbes de Provence, and global flavors, these restaurants create exceptional dishes that perfectly embody the unique identity of the Provençal region.
With such a wealth of exceptional dining options available, visitors to Provence are sure to find a culinary experience that is both delicious and unforgettable. Indulging in Michelin-starred cuisine in Provence is an experience every food lover should have at least once in their lifetime.
Best Michelin-star restaurants In Provence
The restaurants in Provence that have been awarded Michelin stars are known for their innovative menus, exceptional service, and breathtaking views. These restaurants offer a range of cuisines, including traditional Provencal dishes, fusion cuisine, and experimental dishes.
1. La Table de Sorgues, Sorgues
La Table de Sorgues is a bistronomic restaurant at the gates of Châteauneuf-du-Pape that immerses you in the generous and gourmet Provence. Located in a beautiful mansion from 1891, the restaurant perfectly combines charm, comfort, and modernity. Once through the beautiful oak door, Stéphanie Riss personally welcomes guests. At the same time, chef Stéphane Riss prepares in the kitchen delicious delights infused with the scents of Provence and Alsace, the origin of the owners.
As an ambassador of Provencal cuisine, Chef Stéphane Risshas a fondness for his native Alsace. In his bistronomic restaurant, the spices are subtle and discreet, sometimes Oriental, sometimes Asian. Stéphane Riss also creates delicious desserts to end the meal on a sweet and delicately sugared note. At La Table de Sorgues, freshness and seasonality are the rules. Guests are invited to choose from four starters, four main courses, and four desserts, while the menu evolves according to the seasons, arrivals, and the Chef's desires.
La Table de Sorgues is a must-visit for anyone looking for a gourmet, warm, and friendly experience in the heart of Provence.
2. La Chassagnette, Arles
Located in the picturesque region of Camargue lies the Michelin-starred restaurant La Chassagnette. This former sheepfold turned modern mas is the brainchild of Chef Gardener Armand Arnal, who has established a reputation for his innovative cuisine drawn from the kitchen garden. The organic vegetable garden and orchard surrounding the property are home to more than 200 varieties of fruits and vegetables that serve as the foundation for the restaurant's fresh, seasonal, and locally-sourced menu.
The restaurant's commitment to using only organic produce is evident in the exceptional quality of its dishes. In addition to sourcing ingredients from its garden, La Chassagnette also partners with local producers to obtain meat from wild bulls, lamb from neighboring shepherds, and the Grau-du-Roi fish auction. Chef Armand Arnal's crafts are creative, often surprising, and sometimes even disconcerting recipes, mingling acidic notes and homemade vinegar, resulting in a unique experience.
The restaurant's three hectares of flower and vegetable gardens, greenhouses, hives, and orchards provide diners with a peaceful and serene atmosphere. The magnificent leafy patio is perfect for enjoying a glass of wine or cocktail before dinner. La Chassagnette's bucolic farmhouse with a shady terrace offers an intimate and relaxed dining experience that has earned the restaurant numerous accolades and awards over the years.
La Chassagnette's menu changes regularly to reflect the seasonal produce available. The restaurant is open for dinner and offers a set menu that showcases the chef's creative approach to cooking. La Chassagnette is a must-visit destination for foodies and anyone looking for a unique and unforgettable dining experience!
3. La Bastide de Moustiers, Moustiers-Sainte-Marie
In the heart of Moustiers-Sainte-Marie, a charming town in the picturesque Verdon Gorges region, lies La Bastide de Moustiers – a countryside house that houses a renowned restaurant and offers 13 guest rooms. The restaurant, owned by famous chef Alain Ducasse, features a menu that showcases the fresh, seasonal produce of the surrounding area, making it a top destination for those seeking the flavors of Provence.
The rustic yet elegant ambiance of La Bastide de Moustiers is evident from the moment you step inside. The dining room boasts exposed stone walls, wooden beams, and antique furnishings that transport you to a bygone era. Adding a plethora of olive trees and a plane tree-shaded terrace creates an idyllic setting that enhances the overall dining experience.
The restaurant's menu changes frequently to reflect the availability of local ingredients, ensuring a unique dining experience each time you visit. The dishes are meticulously executed, bursting with sun-blessed flavors that showcase the Mediterranean cuisine of the region. Every dish is a testament to the chef's skill and passion for cooking, from the succulent rabbit with polenta to the mustard-flavored chips.
Suppose you plan on visiting La Bastide de Moustiers. In that case, it is highly recommended that you make a reservation in advance, especially during peak season when the restaurant tends to be busy. The restaurant is open for lunch and dinner, and there is a bar where you can enjoy a pre-dinner drink or a nightcap.
In conclusion, La Bastide de Moustiers offers a perfect resumé of Provence, focusing on fresh, seasonal produce, meticulous execution of dishes, and rustic yet elegant ambiance. Whether you're looking for an unforgettable dining experience or a cozy countryside retreat, La Bastide de Moustiers has something for everyone.
4. AM par Alexandre Mazzia
In the heart of Marseille, France, a restaurant has been causing a stir in the culinary world since its opening in 2014. AM par Alexandre Mazzia is not just a place to eat, but a journey through the art of cuisine. Owned and operated by Chef Alexandre Mazzia, AM par Alexandre Mazzia is a three-star Michelin restaurant that has earned international recognition for its unique and innovative cuisine.
Mazzia's approach to cooking is unlike anything you have ever experienced before. He combines unexpected ingredients with masterful techniques to create dishes that are not just delicious, but visually stunning. The restaurant's tasting menu changes regularly and features dishes that showcase Mazzia's creativity. From trout roe and wild salmon with smoked milk and roasted hazelnuts to breaded langoustines with sesame seeds and bonito, a lemon-geranium condiment, and seaweed popcorn, each dish is a masterpiece in its own right.
Mazzia's childhood memories flow through his cuisine, combining flavors and textures you won't find anywhere else. His use of spices, roasting, and smoking techniques are unparalleled, elevating the small-portion format to realm of art.
The restaurant's minimalist decor focuses on the food, allowing you to fully immerse yourself in the culinary journey. In addition to the tasting menu, AM par Alexandre Mazzia offers a wine pairing option and a vegetarian menu.
Reservations are highly recommended to fully experience the art of cuisine at AM par Alexandre Mazzia. Each sitting is a unique adventure of taste sensations, enhanced by perfect service. Mazzia's culinary vision is one that cannot be missed.
5. Hostellerie de l'Abbaye de la Celle, La Celle
Located in the quaint village of La Celle, in the Var department of Provence, the Hostellerie de l'Abbaye de la Celle is a culinary gem that should be on every traveler's list. Once a Benedictine Abbey dating back to the 12th century, the building has been transformed into an elegant hotel and restaurant that combines modernity with historical charm.
The Michelin-starred restaurant at the Hostellerie de l'Abbaye de la Celle is headed by Chef Nicolas Pierantoni, a local who grew up in the village. Chef Pierantoni's cuisine is known for its creativity and technical precision, using locally sourced ingredients to create traditional Provencal dishes with a modern twist. The menu changes seasonally, reflecting the freshest produce and local specialties.
You can choose from several menus at the restaurant, including an a la carte option, a seasonal menu, and a tasting menu. The restaurant has three delightful rooms, each with its own atmosphere and design, and a private Lovers' room for a more intimate dining experience.
One of the restaurant's highlights is its vegetable garden. The garden features 25 varieties of tomatoes, 15 varieties of basil, four varieties of zucchini and squash, and many other vegetables and fruits that the chef uses to create his dishes.
After finishing his studies, Chef Pierantoni's career began when he joined the Hostellerie de l'Abbaye de la Celle team. He has been the head chef since 2010, earning the restaurant its Michelin star and international acclaim.
In conclusion, the Hostellerie de l'Abbaye de la Celle is a must-visit destination for travelers seeking a unique and authentic Provencal experience. With its Michelin-starred restaurant, stunning historical setting, and luxurious accommodations, this charming hotel is the perfect place to relax and enjoy the beauty of the region.
6. L'Oustau de Baumanière, Les Baux-de-Provence
At the foot of the picturesque village of Les Baux, in the southern region of France, lies L'Oustau de Baumanière. This renowned restaurant has held three Michelin stars since 1945, becoming an emblem of Provençale cuisine. It has attracted generations of food enthusiasts, including royalty, celebrities, and those seeking exceptional gastronomy experiences.
Under the guidance of head chef Glenn Viel, the restaurant has maintained its reputation for offering the best in Provençale cuisine. Chef Viel's cuisine uses locally sourced ingredients, including organic vegetables from the Baumanière garden, chicken, pork, and olive oil from the Vallée des Baux. He blends these ingredients to create disarmingly simple dishes that exude authenticity and flavor.
In addition to his use of fresh, local ingredients, Chef Viel's cuisine is distinguished by his attention to detail. The chef's creativity shines in his reimagined versions of classic dishes, such as the fattened hen with morels and the local lamb en croûte.
Pastry chef Brandon Dehan complements Chef Viel's creations with his original desserts. These sweet treats reflect the same spirit of authenticity and flavor that infuses the chef's dishes, and the two chefs share a strong bond. In fine weather, diners can enjoy their meal on the shaded terrace overlooking the Alpilles, adding tranquillity to their dining experience.
The restaurant is part of the Domaine de Baumanière, a five-star luxury hotel, and resort that offers a spa and a second gourmet restaurant. The dining experience at L'Oustau de Baumanière is tranquil, elegant, and unique to the Provençal countryside.
In conclusion, L'Oustau de Baumanière is a must-visit destination for those seeking an exceptional gastronomic experience. It is a formidable ambassador of the Mediterranean art de vivre, and its exquisite cuisine, attention to detail, and tranquil ambiance make it an unforgettable dining experience.
The secrets of Provençal cuisine
Provencal cuisine uses fresh and seasonal ingredients, herbs, and spices. The region is blessed with warm weather, a mild climate, and fertile soil, allowing for diverse flavors and ingredients.
Some of the most popular dishes from the region include ratatouille, bouillabaisse, tapenade, and tian. These dishes are often made using local ingredients such as tomatoes, zucchini, eggplant, olives, and fish. Provence is also known for using herbs such as thyme, rosemary, and oregano, which add a distinct flavor to the dishes. Olive oil, another staple ingredient in Provencal cuisine, is used in almost all dishes and is known for its health benefits.
Chefs in Provence often draw inspiration from the region's rich culinary history and create modern interpretations of traditional dishes. The result is a diverse and exciting menu that offers something for every palate.
Visitors to Provence can also attend cooking classes and workshops to learn more about the region's cuisine and cooking techniques. Local chefs often conduct these classes and offer a hands-on experience perfect for food enthusiasts.
Experience the joie de vivre of Provence
Provence is not just about the food but also the lifestyle and culture accompanying it. The region is known for its joie de vivre, a French phrase that translates to 'joy of life.
Provençals, the region's locals, take pride in their traditions and value the simple things in life such as good food, wine, and company. Visitors to Provence can experience this lifestyle by indulging in the local cuisine, visiting local markets, and attending cultural events such as music festivals and art exhibitions.
The region is also known for its stunning beauty, with lavender fields, olive groves, and vineyards punctuating the landscape. Visitors can explore the region's natural beauty by hiking, biking, or taking a hot air balloon ride.
Provence's impact on French cuisine
Provencal cuisine has had a significant impact on French cuisine as a whole. The region's use of fresh ingredients and herbs, along with its emphasis on simple yet delicious dishes, has shaped the way French cuisine is perceived today.
Some of the most iconic dishes in French cuisine, such as ratatouille and bouillabaisse, have their roots in Provence. The region's chèvre cheese, tapenade, and pistou sauce have also become staples in French cuisine.
Michelin-starred restaurants in other parts of France often draw inspiration from Provencal cuisine and incorporate its flavors and ingredients into their menus. This has helped to popularize Provencal cuisine and has brought it to a wider audience.
Conclusion
Indulging in Michelin-starred cuisine in Provence is an experience that every food lover should have. The region's rich culinary heritage, natural beauty, and joie de vivre make it a must-visit destination for those who appreciate good food and the good life.
Whether trying out traditional Provencal dishes or indulging in modern interpretations, visitors to the region will surely be delighted by what Provence has to offer.