10 Best Outdoor Bars in London
When the weather warms up in London, nothing beats an alfresco drink! With sunnier days in full swing, it's time to round up the best outdoor bars in London. London is home to some of the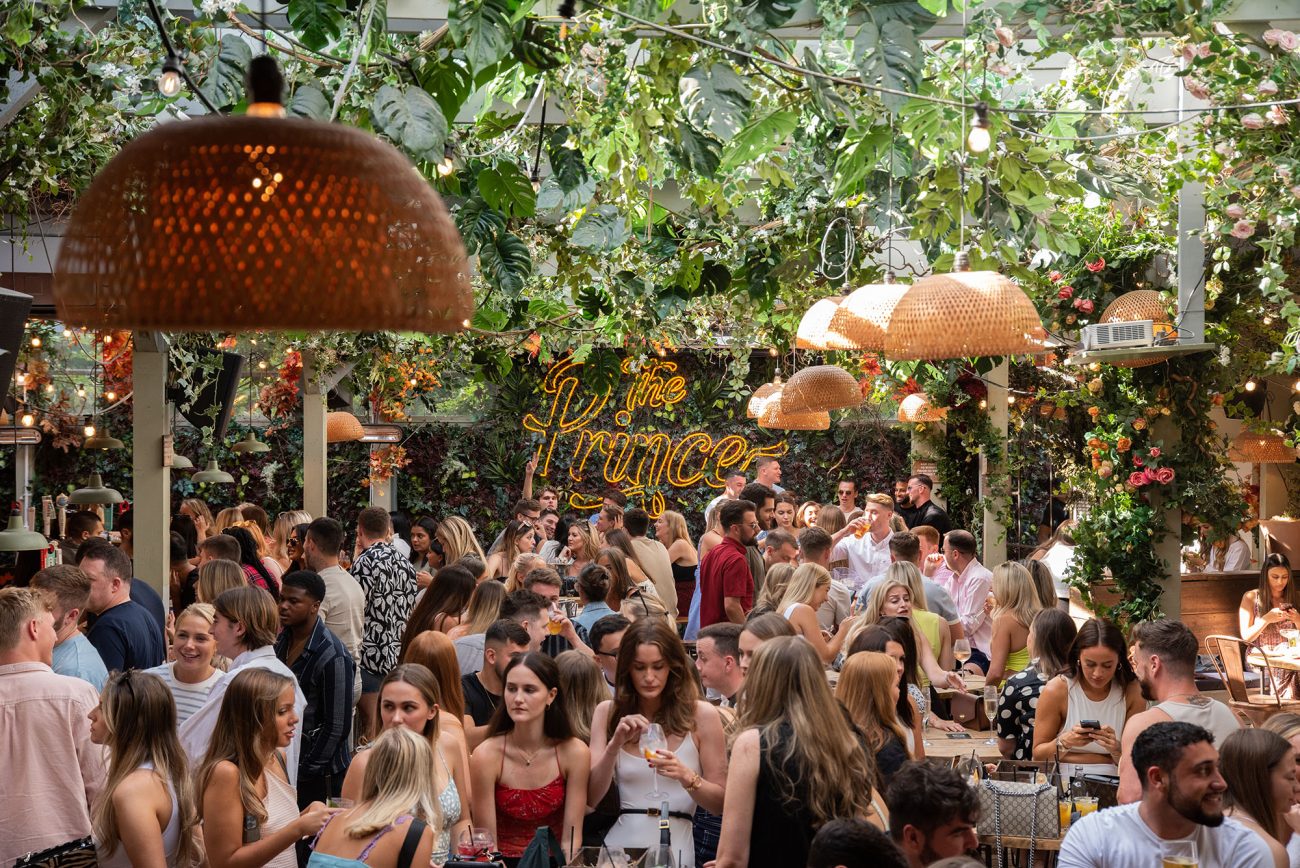 When the weather warms up in London, nothing beats an alfresco drink! With sunnier days in full swing, it's time to round up the best outdoor bars in London.
London is home to some of the best outdoor bars in the world, catering to every budget and taste. Whether you're looking for a rooftop retreat or a riverside oasis, from buzzing cocktail bars to traditional pubs, London has it all!
Best outdoor bars in London
The city's outdoor bar scene has been booming in recent years, with many new bars and restaurants opening up across the city. The trend for rooftop bars, particularly, has skyrocketed, with stunning views and bar offers.
Regarding outdoor drinking, London has some unique challenges to contend with. Despite the challenges of the British climate, Londoners are still eager to drink outdoors.
With so many outdoor bars to choose from, it can be overwhelming to know where to start. Here is our list our top picks for the best outdoor bars in London.
1. The Culpeper
This popular East London pub has an amazing rooftop garden with a greenhouse and skyline views. This Spitalfields establishment offers more than just your typical dining and drinking experience, focusing on sustainability and regenerative farming techniques. Named after 17th-century local Nicholas Culpeper, a renowned herbalist, botanist, astrologer, and physician dedicated to helping those in need, The Culpeper is committed to sourcing ingredients in a way that is both ethical and sustainable.
The rooftop garden, which features an array of growing herbs and vegetables used in the kitchen and cocktails, highlights The Culpeper. It also boasts a bar serving craft beer, natural wine, and creative cocktails made with herbal tinctures. On top of that, there's a bespoke grill from the London Log Company, where you can enjoy mouthwatering dishes while taking in the stunning view of London's towering skyline.
But that's not all – The Culpeper also features an intimate glass greenhouse, where guests can dine and drink under the sun or stars, rain or shine. And if you're lucky, you might even catch one of their astronomy nights, where you can stargaze with hot cocktails.
The establishment's first floor is home to an English bistro that uses well-sourced ingredients from around the British Isles, while the rooftop offers a regenerative set lunch menu. And if you want to stay a little longer and soak up the atmosphere, The Culpeper also offers five hotel bedrooms. So, whether you're looking for a unique rooftop experience, sustainable dining options, or just a place to relax and unwind, The Culpeper has something for everyone.
2. Frank's Cafe
Frank's Cafe is an iconic London rooftop bar at Peckham's car park. The bar has been a popular summer destination since its opening in 2008 and has become a staple of the city's drinking scene. The unique location of the bar provides visitors with panoramic views of the London skyline, making it an ideal spot for a night out or a casual afternoon drink.
Frank's Cafe was Bold Tendencies' first architecture project designed by Practice Architecture. The aim was to create a space for visitors to relax and refresh. The bar's casual atmosphere and menu of classic cocktails and small plates make it a popular choice among locals and tourists. The menu includes various options, including cheeseburgers, fries, and other tasty bites.
One of the most distinctive features of Frank's Cafe is its bright pink staircase, which leads visitors to the top floor of the car park. The rooftop bar has various seating options, from picnic tables to deck chairs and a large outdoor bar. The bar's minimalist design, with exposed concrete, metal railings, and colorful umbrellas, creates a relaxed and laid-back atmosphere.
Aside from being a great place to enjoy a drink and take in the views, Frank's Cafe hosts various events throughout the year. These include art exhibitions, film screenings, and live music performances. The bar's location in Peckham is near other popular South London attractions, making it an ideal destination for a full day out.
In conclusion, Frank's Cafe is a must-visit destination for anyone looking for a unique and memorable rooftop bar experience in London. The bar's stunning views, casual atmosphere, and range of events make it an ideal spot for any occasion!
3. Pergola Paddington
In the midst of Paddington Central in London, Pergola Paddington stands as an ideal rooftop bar and restaurant for those looking for outdoor relaxation, dining, and drinking. The venue has a forest theme and provides two bars and four self-service restaurants that serve various dishes, such as burgers, kebabs, sushi, and dumplings. Pergola Paddington is a sought-after location for events, special offers, and occasions, and it also provides an online reservation system for its patrons.
Visitors can enjoy the stunning view of London's skyline from the venue's outdoor roof terrace, spread over two floors. The music of DJs accompanies the lively and friendly atmosphere, and the venue is fully heated to ensure visitors' comfort. The new high-line bridge, plenty of seating options, and tunes make it an ideal destination for people looking to relax and unwind.
With a capacity to seat more than 850 people, Pergola Paddington is a sprawling rooftop bar and restaurant that caters to various food and drink preferences. Italian street food, craft beer, and cocktails are just a few options. Visitors can use the online reservation system to secure their spot at this popular venue.
4. The Rooftop
Located on the seventh floor of the Trafalgar St James Hotel, The Rooftop is a must-visit spot in London. Situated in the heart of the city, this stylish cocktail bar is perched high in the sky, offering spectacular views of Trafalgar Square and London's iconic skyline.
The Rooftop is known for its outstanding drinks and cocktails selection and also offers a range of sharing plates inspired by Asian cuisine. The menu is seasonally changing and features a carefully curated selection of European-inspired dishes. The Rooftop will suit all tastes, whether after a light lunch or a more substantial dinner.
The bar is a popular spot for private hire, whether you are planning a special occasion or a corporate event. With its unique location and stunning views, The Rooftop is the perfect place to impress your guests. You can choose from various seating options, including comfortable chairs and sofas or outdoor terrace seating to soak up the stunning views. However, please be advised that the outdoor spaces are limited, and it's best to book your reservation in advance.
In conclusion, The Rooftop is an oasis in the heart of London, offering a unique and stylish experience to all who visit. Whether you want to unwind after a busy day or celebrate a special occasion, this bar is the perfect destination!
5. The Prince
The Prince is a multi-level bar and restaurant located in West Brompton. The venue boasts three separate outdoor spaces: a courtyard, terrace, and rooftop. The bar serves creative cocktails alongside a street food menu from some of London's best vendors. With its impressive four restaurants, three large bars, and a beautiful floral beer garden, The Prince has become one of the most sought-after venues in West London.
The establishment has a large garden with three separate outdoor spaces, a courtyard, terrace and rooftop, perfect for enjoying drinks and meals in the great outdoors. The pub is surrounded by greenery, and its heated secret garden is adorned with flowers and a retractable roof that allows customers to enjoy the sunshine or stay dry in case of rain.
The establishment's three restaurants serve Italian dishes, comfort food, pizza, and burgers, making it a go-to spot for foodies and casual diners alike. The bar is well-known for its creative cocktails, which are complemented by a street food menu from some of London's best vendors. All customers are required to book a table in advance due to the bar's high demand and seating capacity. Saturday night at The Prince is a one-of-a-kind evening, with its own dress code and entry policy, making it an exclusive and exciting experience.
In summary, The Prince is a well-loved institution that has become the crown jewel in West London's pub scene. It has been restored from a faded Victorian pub into a bright and beautiful destination that offers exciting food, drinks and social experiences. With London's largest pub garden, complete with a retractable roof, The Prince is a green paradise and a great place to enjoy food and drink!
6. Netil 360 Rooftop
Perched on the roof of Netil House in Hackney, Netil360 is a stunning rooftop bar, sushi restaurant, garden, cafe, and workspace venue that offers a one-of-a-kind experience in East London. With panoramic views of the city skyline, creative cocktails, craft beer, and a menu of sharing plates inspired by the Japanese izakaya dining culture, this unique establishment is a must-visit for locals and tourists alike.
As you step onto the astro-turfed rooftop, you'll be greeted by a charmingly home-crafted interior that's consistently in wood. From the benches and chairs to the pergolas and tables, the decor is both inviting and relaxing. However, it's the view that's the true standout feature of this rooftop gem. With stunning vistas across London, it's the perfect spot to enjoy a drink and soak up the magical skyline.
The restaurant's relaxed atmosphere is the perfect setting to indulge in small plates of Japanese salads, tataki, and sushi rolls, or large platters to share among friends. In addition to its status as a popular rooftop bar and restaurant, Netil360 is also a community hub. The space is used for community events and pop-up markets, making it a vibrant and dynamic destination for locals and visitors alike.
Netil360 is also an eco-friendly establishment, with all packaging made from biodegradable, plant-based material, and a returnable cup system, meaning no single-use plastic. This commitment to sustainability is just one of the many reasons why this establishment is a local favorite.
It's worth noting that the establishment operates a strict non-exclusive policy, meaning no reservations are taken. As a result, tables and spaces are available on a first-come-first-serve basis only, and you may have to queue to get in, especially on a sunny day. However, this just adds to the unpretentious and fun-loving atmosphere of this establishment.
In conclusion, Netil360 is a gem that's well worth a visit. Whether you're looking for stunning views, delicious drinks and food, or a vibrant community atmosphere, this establishment has it all. So why not head on over to Hackney and experience it for yourself?
7. Number 90
In the heart of the flourishing cultural landscape of Hackney Wick in London, Number 90 Bar & Kitchen is a stunning canal-side bar, restaurant and art gallery. This multi-level establishment is located beside the canal and offers a unique spot for dining, drinking, and socializing with friends and family.
The interior of Number 90 is designed with a quirky and trendy vibe that is sure to appeal to everyone. The walls are adorned with surreal paintings, and the space is filled with low-hanging lighting, animal heads and other mismatched items. The first floor is where all the action takes place, with a bustling pub/restaurant atmosphere, while the upstairs is reserved for exhibitions showcasing an eclectic range of artists.
The food at Number 90 is made from locally sourced produce, ensuring freshness and quality with every dish. The expansive drinks menu includes an innovative cocktail list and a strong range of craft beer. The venue is suitable for both dine-in and takeaway options, offering flexibility for patrons on the go.
One of the standout features of Number 90 is its spacious waterside terrace, which offers stunning views of the canal. The terrace is the perfect spot for socializing, enjoying a drink or bite to eat with friends, and taking in the breathtaking scenery. Inside, the venue is kitted out with a hand-crafted bespoke wooden decor and its famous giant disco ball, which adds to the lively atmosphere.
Number 90 is also a popular venue for hosting events, such as DJ nights, live music events, exhibitions, and private parties. The venue has a lively atmosphere, making it an ideal spot for a night out with friends or a special event.
Located just a stone's throw away from Hackney Wick Station, Number 90 is situated in one of London's most artistic locations. The venue stays true to its roots and has one of London's most iconic murals at the front of the building. Inside, 90 Gallery showcases monthly exhibitions from local, up-and-coming, and established artists, adding to the creative vibe of the venue.
In conclusion, Number 90 Bar & Kitchen is a must-visit destination in Hackney Wick. With its stunning canal-side terrace, locally sourced food, and innovative drinks menu, it's a unique and vibrant spot that offers something for everyone. Whether you're looking for a night out with friends, a special event venue or simply a place to relax and unwind, Number 90 has got you covered.
8. Dalston Roof Park
Looking for a spot to unwind with your friends over some drinks with a stunning view? Look no further than Dalston Roof Park, located in the heart of Hackney in London. This rooftop bar offers a range of cocktails, beers, and wines, along with pop-up food stalls from some of London's best vendors.
Operated by the Bootstrap Company, a social enterprise that supports local businesses and startups, Dalston Roof Park offers a variety of events such as film screenings, live music, food and drink pop-ups, and private hires. The venue is open during the summer season from May to September, making it the perfect spot to soak up some sun and enjoy the warm weather.
The venue is known for its panoramic views of the London skyline and its relaxed atmosphere. The rooftop also features an open-air cinema, which showcases a range of classic and contemporary films throughout the season. The garden terrace provides a lush oasis in the heart of the city, complete with a variety of seating options and greenery. The rooftop terrace is colorful and creative, with AstroTurf covering the floor and graffiti walls, bright beanbags, deck chairs, and community tables throughout. This playful setting provides the perfect backdrop for a summer evening with friends, where you can enjoy a drink, relax, and take in the views.
One of the unique aspects of Dalston Roof Park is its commitment to using sustainable and locally sourced ingredients. The bar offers a range of cocktails, craft beers, and wine, while food pop-ups offer a variety of cuisines.
Inspired by the New York High Line, Dalston Roof Park started out as a pop-up cocktail bar but has since grown into one of London's most versatile and leading music and event spaces. The venue offers everything from club nights to sunrise yoga sessions, providing a diverse range of experiences for visitors. Dalston Roof Park is open nightly during the warmer months and operates on a first-come, first-served basis. So, whether you're looking to catch a film, dance to live music, or simply enjoy a drink with a view, make sure to add Dalston Roof Park to your summer bucket list.
9. Seabird at The Hoxton Hotel
Located on the 14th floor of The Hoxton Hotel in Southwark, Seabird is a rooftop seafood restaurant that offers panoramic views of London's stunning skyline. With its coastal-inspired decor, this restaurant is the perfect destination for seafood lovers, interior design enthusiasts, and anyone looking for a memorable dining experience.
Seabird's menu is a celebration of sea-to-table dishes, featuring Portuguese and Spanish influences that add depth and complexity to each bite. One of the restaurant's standout features is its impressive marble raw bar, which showcases the freshest seafood available. Seabird also boasts London's longest oyster list, making it a must-visit destination for oyster enthusiasts.
To complement its seafood offerings, Seabird serves an array of creative cocktails and wines, all carefully selected to pair perfectly with the restaurant's dishes. Whether you're in the mood for a classic cocktail or a unique creation named after one of Seabird's feathered friends, you're sure to find a drink that satisfies.
Located just a two-minute walk from the Southwark tube station, Seabird is easily accessible and surrounded by a variety of attractions. Visitors can take a short walk to explore the nearby Tate Modern and Globe Theatre before or after their meal.
In summary, Seabird at The Hoxton Hotel is a rooftop seafood restaurant that combines stunning views with delicious sea-to-table dishes and creative cocktails. With its coastal-inspired decor and unbeatable location, this restaurant is the perfect destination for anyone looking for an unforgettable dining experience in London.
10. Aviary Rooftop
Aviary is renowned for its elevated seasonal dishes, which are made with the finest ingredients and expertly prepared by the restaurant's talented chefs. Whether you're in the mood for a light lunch or a sumptuous dinner, you're sure to find something to satisfy your taste buds at Aviary. And if you're just looking for a place to enjoy a cocktail or two, the restaurant's south-facing terrace is the perfect spot to unwind and take in the view.
But Aviary isn't just a great restaurant – it's also a versatile event space that can accommodate everything from intimate private dinners to large-scale corporate events. The restaurant offers a choice of stylish and beautifully designed spaces, including a private dining room that can seat up to 16 guests, the terrace bar for cocktail receptions, and the entire venue, which can host up to 600 guests.
Whether you're a local or a visitor to London, Aviary is a must-visit destination. The restaurant is open seven days a week for breakfast, lunch, and dinner. Reservations are recommended, especially for dinner and weekend brunch.
If you're visiting during the winter months, be sure to check out Aviary's Summer igloos, which offer a unique and cosy dining experience. These luxury igloos are decked out with plush green velvet sofas and armchairs, as well as rose gold-coloured tables and your own heater that you can adjust to suit your needs. It's the perfect way to enjoy a night out under the stars, while still staying warm and comfortable.
So why wait? On your next London bar tour, book your table at Aviary today and experience one of the best rooftop bars and restaurants that London has to offer.
Conclusion
London's outdoor bar scene is constantly expanding, providing a plethora of fresh venues and experiences. Whether you prefer a rooftop terrace bathed in sunshine or a secluded beer garden, there's a spot for everyone that caters to every budget and taste. Sit back, sip your drink, and bask in the warmth while relishing everything London's outdoor bar scene offers!