Best Wine Bars Near Times Square
Wine lovers searching for the perfect spot to sip a glass of wine near Times Square in New York City will be pleased to know numerous options are available! To help narrow the choices, check out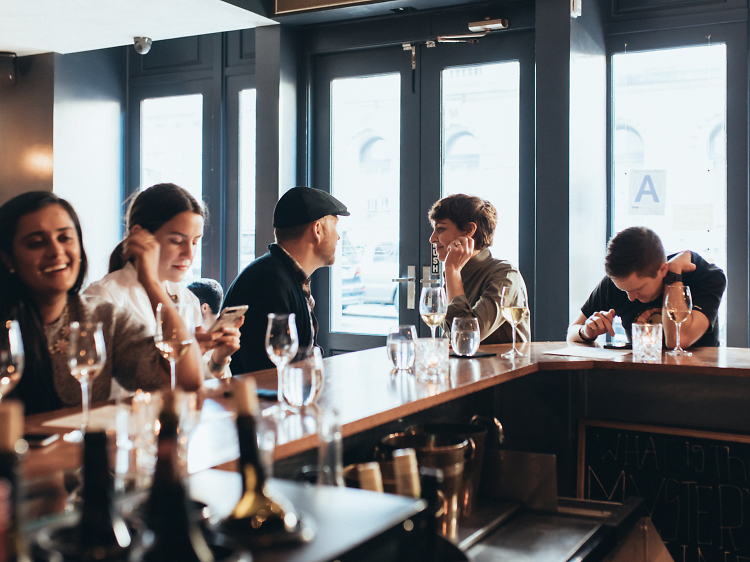 Wine lovers searching for the perfect spot to sip a glass of wine near Times Square in New York City will be pleased to know numerous options are available!
To help narrow the choices, check out our insights on the best spots to visit.
Step into the world of wine bars, where sipping delicious wine has become a beloved pastime for visitors and New Yorkers alike! From romantic first dates to catching up with friends, wine bars have taken the city and are gaining popularity by the day.
Venturing beyond the bustling streets of Times Square, you'll discover hidden gems worth the journey! Some of the finest wine bars in NYC are tucked away in neighborhoods just a short half-hour ride from the iconic Times Square, while one even beckons from Brooklyn.
But trust us when we say these wine bars are not to be missed! Whether you're a wine connoisseur or simply appreciate the art of fine drinking, these establishments offer an unforgettable experience.
So, venture beyond the tourist traps and explore these hidden gems, where you can sip, savor, and immerse yourself in the rich culture of New York City's wine scene.
9 best wine bars near Times Square
From expertly curated wine lists boasting rare vintages to cozy, intimate atmospheres that transport you to a world of refined indulgence, these wine bars are a haven for discerning palates and those seeking an elevated wine-drinking experience.
1. Aldo Sohm Wine Bar
Located just across from Chef Eric Ripert's acclaimed three-Michelin-starred seafood restaurant, Le Bernardin in Midtown Manhattan, where Aldo Sohm is the renowned wine director, this wine bar lives up to its pedigree!
The wine selection at Aldo Sohm Wine Bar is nothing short of impeccable, with special emphasis given to Aldo Sohm's homeland of Austria. Wine enthusiasts will be delighted by the thoughtfully curated and diverse offerings, showcasing the best of the old and new world.
But it's not just about the drinks – the food offerings at Aldo Sohm Wine Bar are equally impressive. Indulge in a charcuterie featuring a tantalizing array of cured meats and cheeses, or savor the delectable small plates that perfectly complement the wine selections.
Inspired by the vibrant energy of New York City and designed with Aldo Sohm's signature relaxed approach to good food and wine in mind, Aldo Sohm Wine Bar is like stepping into the warm and welcoming living room of a dear friend.
It's a place to gather, share stories, and create unforgettable memories over exceptional food and wine. Whether you're a wine connoisseur or simply seeking a sophisticated and laid-back atmosphere to enjoy a leisurely meal, Aldo Sohm Wine Bar promises a truly elevated experience that will satisfy your senses and leave you longing for more.
2. Sofia Wine Bar
3. Amelie Wine Bar & Bistro
Located in the heart of the vibrant West Village neighborhood, Amelie stands out as a sophisticated joint with an elegant ambiance, beckoning to food and wine aficionados alike.
Co-founded by two French natives, Samie Didda and Germain Michel, who have already made their mark with a popular wine bar in San Francisco, Amelie brings their passion for wine and culinary heritage to the bustling streets of New York City.
One of the highlights of the wine bar is its impressive wine list, boasting a curated selection of selected wines. With a special emphasis on French wines, guests can indulge in various exquisite vintages carefully chosen by the co-founders to complement the culinary offerings perfectly.
The attention to detail in the design and decor of Amelie truly sets the stage for an unforgettable dining experience. Savor the serenity of this wine bar and embark on a gastronomic journey that will leave you craving for more.
4. Ardesia Wine Bar
Ardesia the wine bar founded by renowned sommelier Mandy Oser is a place where a world-class wine selection awaits you.  From Slovenia to Hungary, the carefully curated wine list features selections from around the globe, offering a truly unique tasting experience.
The menu is a culinary delight, with small plates designed for sharing. Indulge in delectable Chorizo Croquettes, rich and creamy Chicken Liver Mousse, and must-try Salt Cod Fritters for seafood lovers. The dishes are crafted to perfectly complement the wines, creating a harmonious symphony of flavors for a truly memorable dining experience.
Inspired by Hell's Kitchen's rich history and vibrant present, Ardesia offers a unique setting to enjoy exquisite wines and delicious food. And for those seeking alternatives, Ardesia also offers house-crafted cocktails and a diverse selection of local and international beers.
The relaxed atmosphere, knowledgeable staff, and delicious offerings make a memorable dining experience perfect for a casual night out or a special occasion. So, come raise a glass at Ardesia and embark on a journey to discover the world of wines in a new way.
5. Terroir Tribeca
Imagine stepping into Terroir over a decade ago, a bar unlike any other. Wine lists were presented in quirky binders adorned with stickers and cartoons, and the sommelier, Paul Grieco, stole the show.
With a fiery passion, he regales you with wine tales, Grieco's enthusiasm is contagious, and you find yourself captivated by the world of wine in a whole new way. Terroir is not just a bar but an experience that ignites a newfound appreciation for the nuances of wine, all thanks to Grieco's unwavering passion and unique presentation style.
Fast forward to today, and Terroir has become a haven for wine enthusiasts who can't get enough of Grieco's expertly curated pours, served through the whole week.
The relaxed, brick-lined wine bar is adorned with community tables, offering a warm and inviting atmosphere to sip on the extensive by-the-glass menu while savoring Italian tapas.
Terroir has become a beloved destination where wine, community, and hospitality unite in a truly unique and memorable experience.
6. La Compagnie des Vins Surnaturels
Nestled in the heart of downtown Manhattan, La Compagnie stands as the epitome of a wine lover's haven. After a long day's work, there's no better place to unwind than this exquisite wine bar.
As you take a seat at the bar, you'll find yourself surrounded by fellow wine enthusiasts, ready to strike up a conversation and maybe even share a bottle or two.
Despite its extensive wine menu, La Compagnie exudes an inviting and relaxed atmosphere, striking the perfect balance between sophistication and approachability. The knowledgeable staff, mostly former fine dining employees, will guide you through their impressive selection of worldly wine gems.
So order another round and immerse yourself in the vibrant buzz of La Compagnie, where the drinks are always flowing, and the company is always top-notch.
7. The Ten Bells
Ten Bells is a Lower East Side, cozy natural wine bar that will satisfy your wine needs. With a unique selection of wines from small producers worldwide, this vino depot was one of the pioneers in the trend of organic and natural wines.
As you navigate the dimly lit space with its chalk-drawn wine list, don't worry – the knowledgeable bartenders are there to assist you in finding the perfect pour. Inspired by Jack the Ripper's hunting grounds, the bar's name adds an intriguing touch to the ambiance.
In addition to their exceptional wine offerings, Ten Bells serve a delicious international tapas menu featuring cold plates like oysters, tartare, and charcuterie for a delectable pairing.
Snacks may be basic, but they are definitely tasty, making for a satisfying and enjoyable dining experience.
The delightful atmosphere of sipping on global organic wines and savoring scrumptious bites at Ten Bells, where romance, comfort, and deliciousness converge in a uniquely inviting atmosphere. awaits you.
9. the four horsemen
Indulge in the ultimate wine lover's experience at The Four Horsemen, where sipping a glass of wine becomes a captivating extracurricular activity.
Nestled in Brooklyn, this restaurant is more than just a place to drink wine – it's a destination to become a wine connoisseur. Co-owned by James Murphy of LCD Soundsystem, The Four Horsemen is a haven for wine enthusiasts seeking unique offerings and a chance to expand their palate beyond the ordinary.
With a focus on natural wine, The Four Horsemen's wine list boasts bottles with personality and funk. The knowledgeable staff is always ready to guide you through the selections, offering suggestions that will keep you returning for more.
The diverse crowd that frequents this spot adds to the vibrant atmosphere, making it a destination for those seeking an immersive wine experience.
While wine takes center stage, the food at The Four Horsemen is equally enticing. Alongside classic cheese, charcuterie, and olives, the regularly changing menu features mouthwatering dishes.
The ambiance at The Four Horsemen is laid-back and welcoming, with a space that seamlessly blends a bar and dining room. Whether on a romantic date, enjoying drinks with friends, or indulging in a solo dining experience, you'll feel right at home in the cozy atmosphere. It's the perfect place to unwind and embark on a journey of wine exploration.
The importance of an inclusive wine list
A well-curated wine list is the heart and soul of any wine bar! It's like carefully selecting the perfect outfit that reflects your style and personality, allowing you to express yourself and leave a lasting impression on your guests.
Like how your wardrobe speaks volumes about where you come from and where you're headed, a thoughtfully designed wine list tells a story of the wine bar's beliefs, aspirations, and global influences.
Including unique and lesser-known varieties from Old and New wine regions is at the heart of a standout wine list. This adds an element of excitement and intrigue for wine enthusiasts who are eager to explore beyond the familiar.
It offers an experience beyond the ordinary, enticing local wine connoisseurs to step out of their comfort zone and expand their palate with new and exciting flavors worldwide.
Setting your wine bar apart, including rare and unconventional wines not typically found in local stores, is a game-changer. It's a surefire way to captivate the curiosity of wine aficionados constantly seeking new and distinct tasting experiences.
In conclusion, a well-curated wine list is not just a list of beverages but reflects the wine bar's personality, values, and aspirations. It's an opportunity to showcase the owner's wine passion and create a memorable experience for their guests.
Wine bar culture
Wine bars have unique cultures compared to traditional bars. They are typically quieter and slower-paced, allowing guests to appreciate their wine selection's ambiance and subtle flavors.
Properly pairing food and wine is another critical aspect of wine bars. Wine professionals recommend ensuring a dish's flavor profile complements the wine instead of the other way around.
Other factors to consider when pairing wine with food include the acidity of the wine, the dish's texture, sweetness, and flavor intensity. Combining food and wine can enhance both elements and create a memorable dining experience if done correctly.
Another aspect of the wine bar culture is education. Many bars offer events like tastings, wine classes, and food pairing experiences to teach patrons about different wines, vineyard regions, and flavors.
Wine professionals agree that education is a crucial part of the experience and enables guests to appreciate wine on a deeper level.
Conclusion
With an array of unique wine bars, wine lovers are in for a treat, and they can't get enough of it!
Picture yourself in a cozy wine bar, surrounded by the warm glow of soft lighting and the rich list of different, unfamiliar wines. You take a sip of a rare varietal you've never tried before, and your taste buds are instantly transported to a world of flavors you never knew existed.
The excitement of exploring new and unfamiliar wines is simply irresistible, and it's a trend that's sweeping across the city. Gone are the days of generic wine lists with the same old varietals!
Wine lovers are now indulging in the thrill of discovering obscure gems and natural wines that are waiting to be savored.
Wine bars have become a local obsession among New Yorkers, providing the perfect setting for romantic rendezvous or lively gatherings with friends.
Whether you're a wine aficionado or just looking for a trendy spot to unwind with friends, wine bars are a place to be. Embrace the excitement of exploring new varietals and indulge in the charm of these local hotspots.
Cheers to the joy of wine discovery and the delightful obsession sweeping through the city!