Reading Time: 2 minutes
In the Spring of 2018, we set out on a re-tour of Croatia to bring our book Cracking Croatian Wine: A Visitor Friendly-Guide to life. After Plešivica, our second stop was the Istria wine region. There was so much to share about Istria that we ended up shooting four episodes there. In Part 1 of Cracking Croatian Wine in Istria, we introduce you to some interesting characters in the Istrian food and wine scene.
Istria Wine Region
Located on the north corner of the Adriatic Sea, Istria is extremely diverse in topography because of its towering mountains, rolling hills, pastureland, and coastline. The peninsula of Istria is surrounded on three sides by the Adriatic Sea and bounded by the Alps on the north, enabling a wide array of microclimates for viticulture. Most of the peninsula belongs to Croatia, with a small portion lying within Slovenia and Italy.
Istria touts the moniker "New Tuscany", and it's easy to observe where the similarities lie. The region is covered in vines, with green rolling hills topped by medieval towns. In addition to the topographical similarities, the Italian language is widely spoken here. Due to Istria's proximity to Italy, many Istrians have Italian roots and relatives in Italy. The Istrian cuisine also takes on an Italian tint. Expect lots of hand-rolled pasta, fresh seafood, air-cured Pršut, tantalizing truffles, and award-winning olive oil when traveling in Istria. There are many small kitchens (called "konobas" in Croatia), similar to the traditional Italian trattorias and osterias, where you can scarf down honest, local fare paired with Istrian wines.
The wines of Istria are as exciting as its gastronomy. The leading wines of the region are made from indigenous varieties such as Malvazija Istarska and Teran.
Watch "Cracking Croatian Wine in Istria, Part 1 of 4" on Exotic Wine Travel YouTube:
Timestamps: Cracking Croatian Wine in Istria, Part 1 of 4
(0:57) Introduction to Istria.
(1:40) Meet Jacqueline Marovac and Olivier Ertzbischoff of Domaine Koquelicot. Olivier is a Frenchman who dreamed of making high-quality Chardonnay in Croatia, where Jacqueline was born. The Domaine Koquelicot's cellar is located in the town of Gračišće.
(3:24) We eat at Konoba Morgan, a local favorite in the Brtonigla town (near Buje) in Northwest Istria, The restaurant boasts beautiful views of the surrounding area and is listed in the Michelin Guide.
(4:43) Meet Marko Fakin of Fakin Winery. Marko is a new face on the Croatian wine scene, and he's already won several local and international awards for his Malvazija and Teran wines.
(6:59) We visit Konoba Fakin in the hilltop town of Motovun and enjoy excellent seasonal dishes including wild asparagus and summer truffle (Tuber aestivum).
(8:10) Meet the man known as the "Godfather of Istria": Giorgio Clai of Clai Winery. This producer is well-known throughout Croatia and around the world because of Giorgio Clai's uncompromising take on making minimal-intervention wine and—of course—the superior quality of the wines.
(12:18) Preview of the next episode, Cracking Croatian Wine in Istria (Part 2 of 4).
View, like, share the full episode on our Facebook Page:
************
Want to learn more about Croatian wine?
Our visitor-friendly wine travel guidebook to Croatia is available on Amazon now!
Check out Cracking Croatian Wine: A Visitor-Friendly Guide for more information.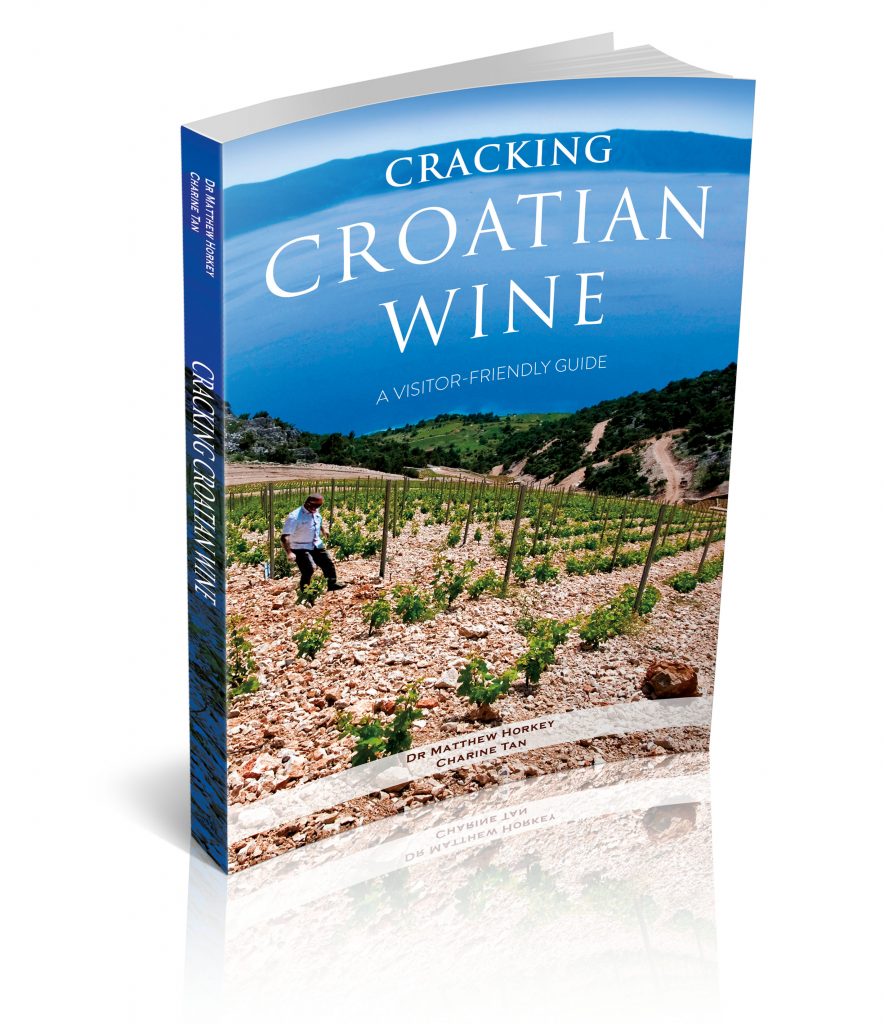 ---
You May Also Enjoy
Making Cracking Croatian Wine
Iconic Croatian Wines: Clai Brombonero and Clai Sv Jakov
Please note that the opinions expressed in this article are unsolicited and have not been paid for in any way by governmental bodies, enterprises, or individuals. We do not sell editorial content as that would destroy the legitimacy of our reviews and the trust between Exotic Wine Travel and its readers. On occasion, we extend the option of purchasing the wines we review or/and the products we spotlight. Some of these product links are set up through affiliate programs, which means Exotic Wine Travel gets referral credits if you choose to purchase these items via the links we provide.