Cracking Croatian Wine in Plešivica
Reading Time: [est_time] In the Spring of 2018, we set out on a re-tour of Croatia to bring our book Cracking Croatian Wine: A Visitor Friendly-Guide to life. Our first stop on this journey was Plešivica. It's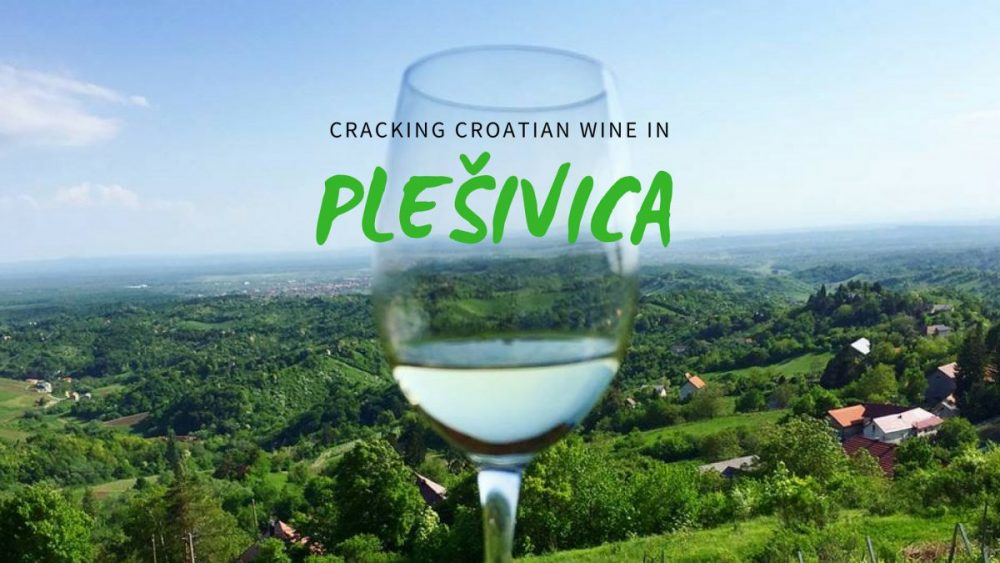 Reading Time: 3 minutes
In the Spring of 2018, we set out on a re-tour of Croatia to bring our book Cracking Croatian Wine: A Visitor Friendly-Guide to life. Our first stop on this journey was Plešivica. It's a wine region that delivers some of the best Croatian wines but somehow still receives little attention.
The Plešivica Wine Region of Croatia
Plešivica is located in the western part of Central Croatia, less than 30 kilometers southwest of Zagreb.
This wine region experiences a continental climate. The mean annual temperature is around 11°C, with a mean temperature of 18°C during the growing season. The annual precipitation is slightly over 1,000 millimeters, half of which falls during the growing season.
This wine region receives around 1,870 hours of sunshine annually. Most of the vineyards face south; the aspect enables the grapes to receive sufficient sunshine for proper ripening. The vineyards lie on rolling hills, starting from 200 meters in elevation up to over 400 meters. The elevation and early morning fog help to retain the grapes' acidity. The soil substrate, composed of mainly limestone and marl, further promotes the production of acidity in grapes.

Croatian Wines from Plešivica
Plešivica is touted as "Croatia's Champagne". Chardonnay and Pinot Noir ("Pinot Crni" in Croatian) thrive here; both varieties are used for making sparkling wine and still wine. Other notable wine grapes include Muškat Žuti (Yellow Muscat), Plavec Žuti, Portugizer (Blauer Portugieser), Rizling (Riesling), Rizvanac (Müller-Thurgau), Sauvignon Blanc, and Syrah.
There are around 30 producers in this area. Most of them own small plots of vineyards amounting to less than 10 hectares per producer. We would say about 10 of those producers are worth seeking out and a handful are outstanding. The outstanding ones, in our opinion, are in the league of the top 10 percent of the best producers in the country. This means that you'll need merely two to three days to explore Plešivica in order to have a fundamental understanding of this wine region.
While Plešivica may seem small in geographical and production size, it is arguably the most exciting and 'experimental' wine region in the country. When in Plešivica, you can enjoy wine made in amphora, orange wine made in oxidative style, sparkling wine made in the traditional method and aged for four years on the lees, Pinot Noir redolent of Santa Maria Valley AVA's quality, and cool-climate Syrah.

YOUR CHEAT SHEET TO PLEŠIVICA
[ap_list list_type="ap-list2″]
[ap_li]EAT: Restoran Ivančić, Restoran Karlo[/ap_li]
[ap_li]DRINK: Ivančič Winery, Korak Winery, Šember Winery, Tomac Winery[/ap_li]
[ap_li]STAY: Guesthouse Režekov Podrum in Plešivica (budget option), Hotel Princess in Jastrebarsko (mid-range option), Esplanade Hotel in Zagreb (luxury option)[/ap_li]
[/ap_list]
Watch "Cracking Croatian Wine in Plešivica" on Exotic Wine Travel YouTube:
Timestamps: Cracking Croatian Wine in Plešivica
(1:06) Introduction to the Plešivica wine region.
(1:47) Meet Krešimir Ivančič of Ivančič Winery. Learn why he uses the wine grapes Portugieser and Müller-Thurgau for his sparkling wines.
(4:22) Tourism infrastructure is limited in Plešivica. However, its proximity to Croatia's capital city Zagreb makes it accessible. Visitors can choose to stay in Zagreb and make day trips to this wine region. Alternatively, this quality guesthouse, Režekov Podrum, can also provide a good night sleep plus tranquil views of the countryside.
(5:00) Meet the Šember family. Šember Winery is crafting delicious sparkling wines and juicy Pinot Noir. In this episode, Nikola Šember, son of the winery's headman Zdenko Šember, introduces the new premium sparkling wine Šember Pavel Pjenušac Brut.
(6:05) Meet Tomislav Tomac of Tomac Winery. This winery is best known for their sparkling wines and still wines made in amphora (Georgian Qvevri).
(8:47) We dine at Restoran Ivančič. one of the high-quality restaurants in the region. It boasts panoramic views of the Plešivica wine region and offers seasonal meals.
(9:35) We visit Korak Winery, a producer that many Croatian winemakers adore. Korak produces excellent white wines and sparkling wines but Josip Korak explains that, together with his father Velimir Korak, their true passion is Pinot Noir.
(13:00) A preview of the next episode, Cracking Croatian Wine in Istria (Part 1/4).
View, like, share the full episode on our Facebook Page:
The finest selection of
Croatian wines available at:

Shipping is available EU-wide and to the UK.
************
Do you want to try Croatian wines?
If you're looking to savor the exquisite flavor of Croatian wines, look no further than wineandmore.com. With an abundance of options from different winemakers, it's easy to find exactly what your palate desires. Not sure which bottle is best for you? Try out one of their curated wine cases and discover the perfect vintage for any occasion!
************
Want to learn more about wine?
Are you ready to discover the wonderful world of wines? Come join us at wineandmore.com and let's explore the incredible selection of delicious wines together! We can't wait to share our passion for wine with you!
---
You May Also Enjoy
Making Cracking Croatian Wine
Tomac Winery: Leading the Charge in Croatia
Please note that the opinions expressed in this article are unsolicited and have not been paid for in any way by governmental bodies, enterprises, or individuals. We do not sell editorial content as that would destroy the legitimacy of our reviews and the trust between Exotic Wine Travel and its readers. On occasion, we extend the option of purchasing the wines we review or/and the products we spotlight. Some of these product links are set up through affiliate programs, which means Exotic Wine Travel gets referral credits if you choose to purchase these items via the links we provide.