Cracking Croatian Wine: Zagreb & Slavonia
Reading Time: [est_time] In the Spring of 2018, we set out on a re-tour of Croatia to bring our book Cracking Croatian Wine: A Visitor Friendly-Guide to life. There was so much to share about Dalmatia that we ended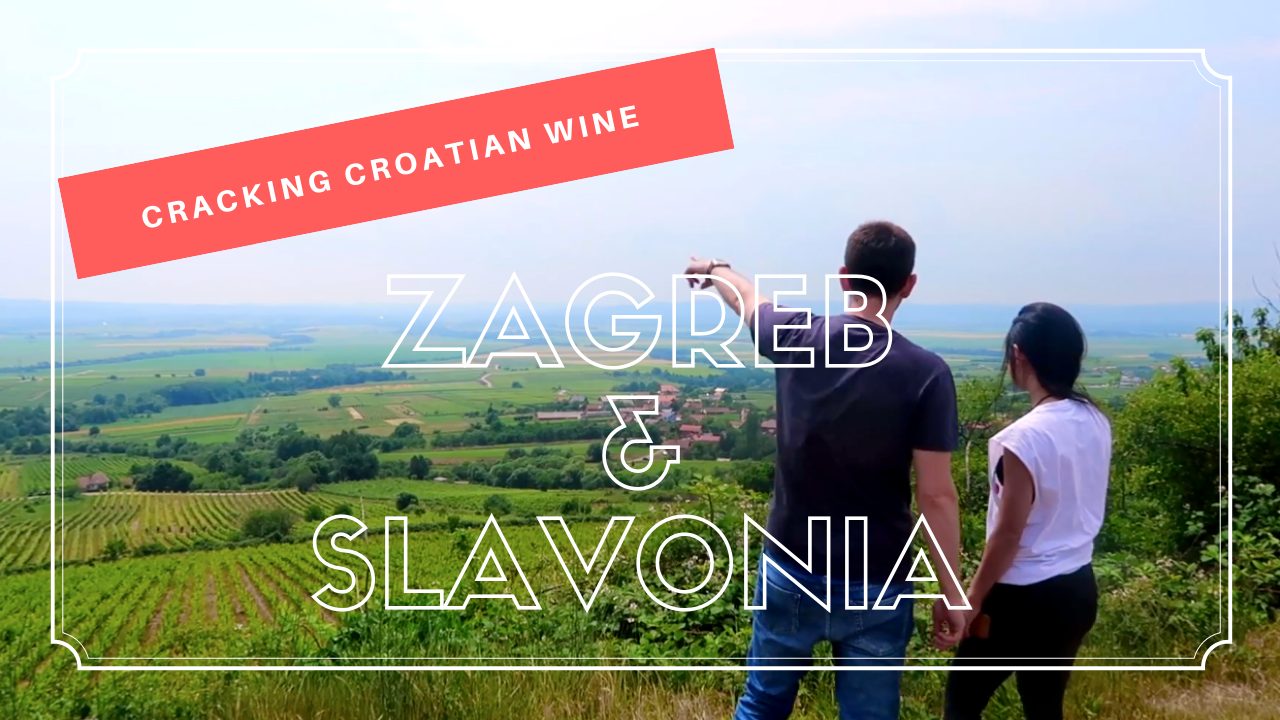 Reading Time: 2 minutes
In the Spring of 2018, we set out on a re-tour of Croatia to bring our book Cracking Croatian Wine: A Visitor Friendly-Guide to life. There was so much to share about Dalmatia that we ended up shooting five episodes on the region. This is the fifth and final episode about Dalmatia, 'Cracking Croatian Wine In Brač & Hvar'.
The Croatian Wine Region of Slavonia
Most wine geeks have heard of Slavonia, but usually, they associate it with high-quality oak for barrels. Very few people are aware that Slavonia is a Croatian wine region. This continental region is located in the eastern reaches of Croatia.
In addition to wine, this region is home to the Croatian specialty Kulen. It is a pork sausage spiced with paprika. This dense meat is served sliced and makes a perfect pairing with the local wines.
Slavonia is a versatile region capable of producer red & white Croatian wines. One of the principle grape varieties is Graševina (commonly known as Welschriesling, Olaszrizling, Laški Riesling, Italian Riesling, etc) but red grapes like Merlot, Zweigelt, Frankovka (Blaufränkisch), Cabernet Sauvignon, Pinot Noir, and Syrah also flourish here.
The best thing is that these wines represent some of the finest values in Croatian wine. Come explore the region with us in 'Cracking Croatian Wine: Zagreb & Slavonia'.
Watch "Cracking Croatian Wine: Zagreb & Slavonia" on Exotic Wine Travel YouTube:
Timestamps: Cracking Croatian Wine Zagreb & Slavonia
(1:04) Come be a local with us in Zagreb. We will take you to the Trešnjevka Market for our favorite local snack from Burek Mira. After grabbing a snack, we'll take you to our favorite coffee place in Zagreb Teneo Coffee.
(2:08) Joins us for dinner at Dubravkin Put. This is our favorite restaurant in Zagreb and the head sommelier Tihomir Purišić has assembled one of the finest wine lists in Croatia.
(5:28) Take a road trip with us to the Croatian wine region of Slavonia. This region was founded by the Cistercian Monks in the 13th century. They set up a wine cellar in Kutjevo that is still producing commercial wine.
(5:58) Meet Krunoslav Sontacchi, owner and winemaker at Sontacchi Winery. Together with his brother Antun, Krunoslav runs a winery and guesthouse in the center of Kutjevo. Sontacchi produces one of the most sought after Pinot Noirs in Croatia in addition to an excellent Cabernet Franc.
(7:04) Have dinner and breakfast with us at Sontacchi Guesthouse. They cook excellent, honest food from sourced local ingredients.
(8:44) Meet Ivan Enjingi of Enjingi Winery, the first to privately bottle wine in Croatia. Mr. Enjingi put Croatia on the map by winning the Regional Trophy for Best White Wine at the Decanter World Wine Awards. Ivan won the award with his white wine named 'Venje'. It continues to be an iconic Croatian white wine.
(10:25) Slavonia is a potentially great wine region but definitely has its obstacles. Learn more about Slavonia's struggles here.
(10:44) Join us for a private tasting at Krauthaker Winery. Vlado Krauthaker is a Croatian wine pioneer. He is always experimenting and produces a wide range of white, orange, and red wines that always deliver high quality. A tasting at the cellar always turns out to be a huge event.
(12:24) Discover a few other high-quality producers in Slavonia including Kutjevo Cellars, Adžić, Feravino, Perak, and Orahovica.
(12:43) Come taste with us at Galić Winery. Local businessman Josip Galić just opened a modern, state-of-the-art cellar in the heart of Kutjevo. They produce quality wines that are widely available throughout Croatia. His latest sparkling wines made with the Champagne method are worth seeking out.
View, like, share the full episode on our Facebook Page:
The finest selection of Croatian wines
available at:

Shipping is available EU-wide and to the UK.
************
    Do you want to try Croatian wines?    
If you want to savor the exquisite flavor of Croatian wines, look no further than wineandmore.com. With many options from different winemakers, it's easy to find exactly what your palate desires. Not sure which bottle is best for you? Try out one of their curated wine cases and discover the perfect vintage for any occasion!
************
Want to learn more about wine?
Are you ready to discover the wonderful world of wines? Come join us at wineandmore.com, and let's explore the incredible selection of delicious wines together! We can't wait to share our passion for wine with you!
---
You May Also Enjoy: Making Cracking Croatian Wine
Please note that the opinions expressed in this article are unsolicited and have not been paid for in any way by governmental bodies, enterprises, or individuals. We do not sell editorial content as that would destroy the legitimacy of our reviews and the trust between Exotic Wine Travel and its readers. On occasion, we extend the option of purchasing the wines we review or/and the products we spotlight. Some of these product links are set up through affiliate programs, which means Exotic Wine Travel gets referral credits if you choose to purchase these items via the links we provide.