Zagreb VINOcom: Gems from Croatia's Largest Wine Show
Reading Time: [est_time] Six months after our first trip through Croatia, we were back in the country. This time, we attended the Zagreb VINOcom---the largest Croatian wine show held annually at the end of November, at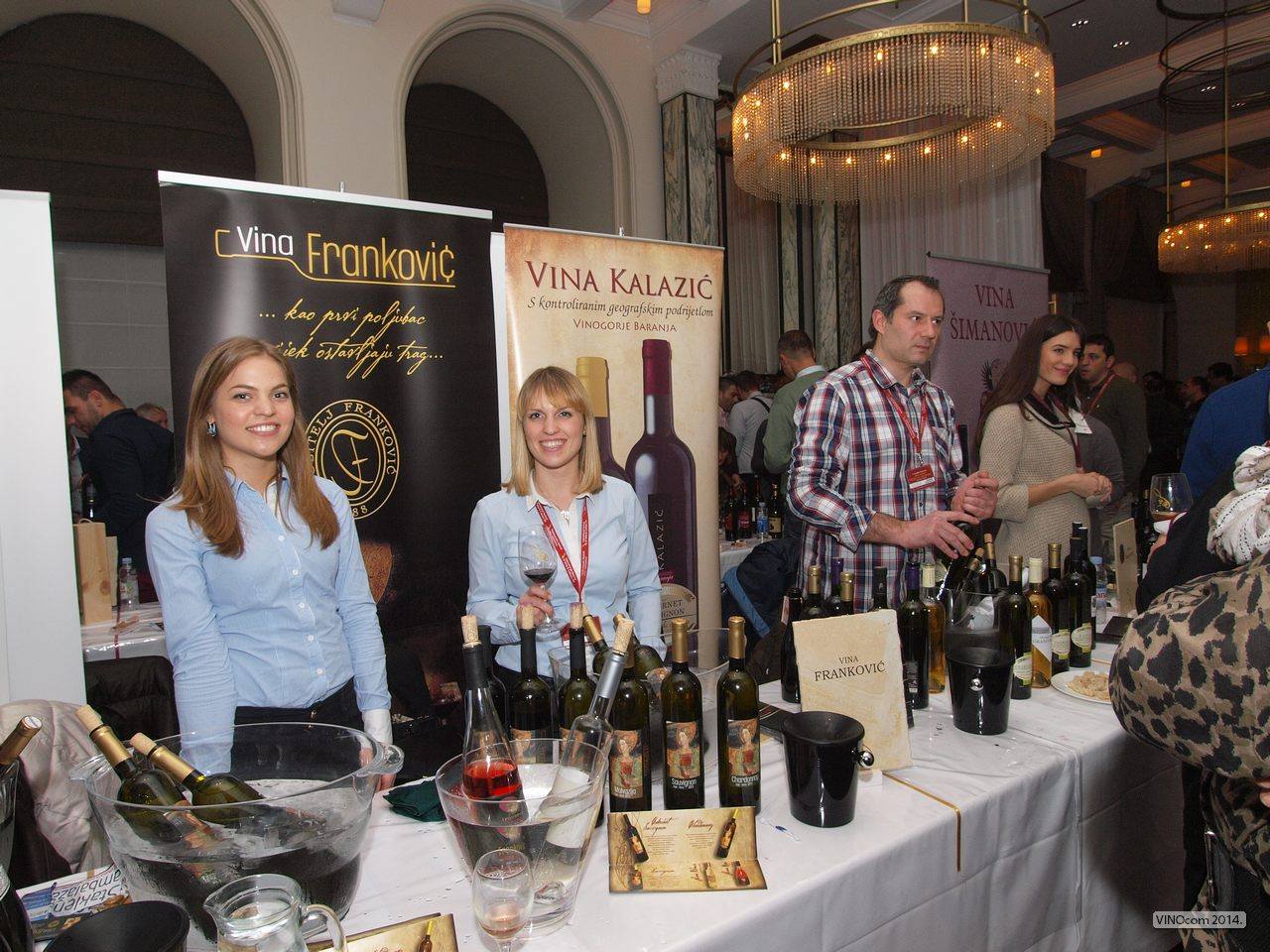 Reading Time: 7 minutes
Six months after our first trip through Croatia, we were back in the country. This time, we attended the Zagreb VINOcom—the largest Croatian wine show held annually at the end of November, at the Esplanade Hotel in downtown Zagreb. Over 200 Croatian wine producers were present, along with many culinary stalls featuring cured meats, smoked fish, and other local food specialties. The conference was a great opportunity to taste the Croatian wines that we missed on our first foray into the country.
There are around 1,600 registered commercial producers in Croatia—mostly made up of small family wineries spread throughout the country. As such, it can be difficult to procure certain wines. Outside the capital city Zagreb, the few wine shops scattered throughout the country offer predominantly regional wines. If you are at a wine shop in southern Dalmatia, don't expect to find Istrian wine. Domestic consumption is high; Croatians drink over 44 liters of wine per person per year. At this rate, it can be difficult for the local producers to keep up with the locals as well as the 10 million annual tourists they receive. Great Croatian wines get scooped up quickly.
Thankfully, the wines that we really wanted to try were all present at the event. Here are some highlights of Zagreb VINOcom.
Quest for Babić Solved
Plavac Mali is the star among the red varieties of the Dalmatian coast, but Babić has the potential to make excellent wine. There is not a large amount of Babić available, and only a handful of producers are making wine from it. Good examples of Babić are produced by Vinoplod, Piližota, Birin, Zlatan Otok, and Gracin.
The most esteemed producer of Babić is Dr Leo Gracin. Our previous attempt at tasting Dr Leo's wines was futile. In May, while driving down the Dalmatian coast, we made a special trip to the premier Babić vineyard known as Bucavac (Booh-sah-vahts). You can take a look at the Bucavac vineyard in the short video below; be warned that Matt completely butchers the name of the vineyard…
We stopped by Gracin Winery in Šibenik after seeing the Bucavac vineyard. After a two-hour wait at the door of the winery, no one answered. Counting it as a loss, we moved on and accepted defeat. It really bothered us that we didn't get a chance to taste the wine.
At the Zagreb VINOcom, we were thrilled to see the Gracin Babić available for tasting. After sampling the wine, we walked away thoroughly impressed.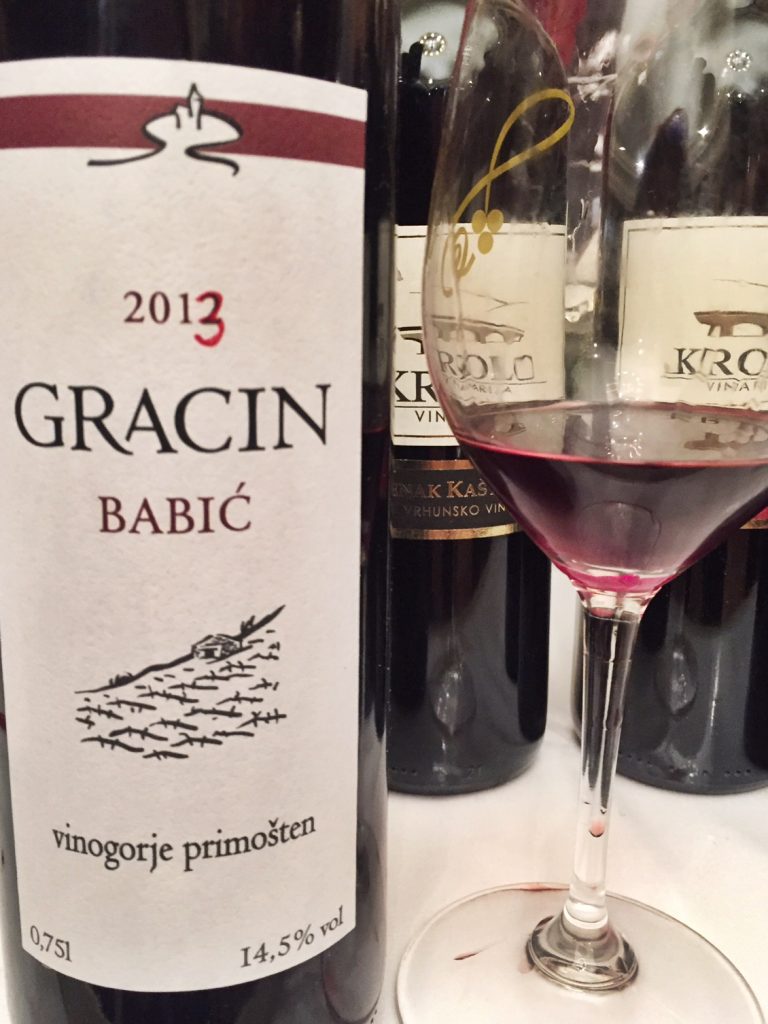 Find Gracin wines at wineandmore.com 
This wine has good integration of oak and fruit. The flavors are dominated by notes of rubber, sweet cherry, forest berry, and dried plum. The palate has a nice texture and earthy undertone. Fans of rustic Central Italian wines will love this. We think that the Gracin Babić can fool people into believing that it's a Chianti Classico Riserva. The wine shares similar wild flavors that Plavac Mali gives, but it has much softer tannins than Plavac Mali. This is an excellent wine and worth the hype.
Grk, Grk, Grk!
Grk is a mysterious, rare grape originating from a small village on the island of Korčula. There are only a handful of producers making wine from Grk. The wines sell out quickly; producers can run out of stock by the beginning of August each year.
As a varietal wine, Grk tastes like Loire's Muscadet but with a fuller body and tropical fruit flavors that Chardonnay can give. All of this is wrapped in a mineral-rich mouthfeel. It is a completely unique white wine.
The variety recently received some international hype last summer: Bono, the lead singer of the band U2, posted an Instagram photo of himself enjoying Croatian white wine; allegedly, he was enjoying a glass of Grk.
We are fans of the rich, fuller bodied, and mineral-driven Grk from Bire Winery. Frano Bire is the owner and his name is synonymous with Grk. Bire was at the show so we were able to re-taste his Grk, which—as always—didn't disappoint. We also got a chance to try Grk from a different producer that impressed us.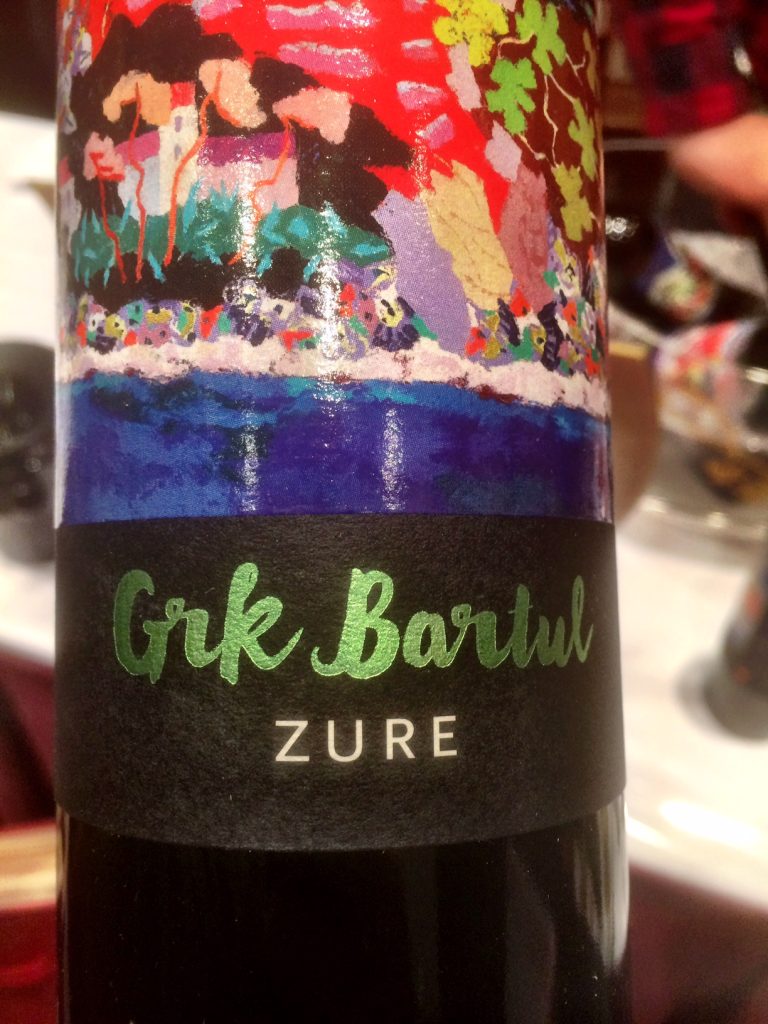 An elegant and complex wine with notes of white flower, sand, and rock at first. There are layers of pineapple, peach and fruity freshness underneath the earthiness, but you really have to search for it. This is more of a thinking white wine. There is a lot going on here. 
Zure Grk Bartul | €25.99 |  Shop Here
Croatian Cult Wine
If there is a grape that defines Croatian reds, it is Plavac Mali. The definitive location for Plavac Mali is the area of Dingač. If there is a legendary wine from Dingač, it is Bura.
Croatians are very proud of Plavac Mali, which is the offspring of two local grapes, Crljenak Kaštalenski (also called Tribidrag and commonly known as Zinfandel) and Dobričić. This variety makes wines that are dense, tannic, and high in alcohol. We have tasted some great wines made from Plavac Mali, as well as some appalling ones. The most known Plavac Mali appellation is Dingač, which boasts some of the most impressive vineyard sites that we've seen.
In the spring of 2016, we made our way through South Dalmatia and met with many different Plavac Mali producers. We got a chance to taste the wines of many iconic Plavac Mali producers, but Bura eluded us. Bura produces just over 2,000 bottles of Dingač per year, and the wines are extremely difficult to get. The wines are made with minimal intervention and according to what the soil and climate offer in the year. In some years, Bura can be an off-dry wine and in others completely dry—as we were informed by renowned Croatian wine critic, Saša Špiranec.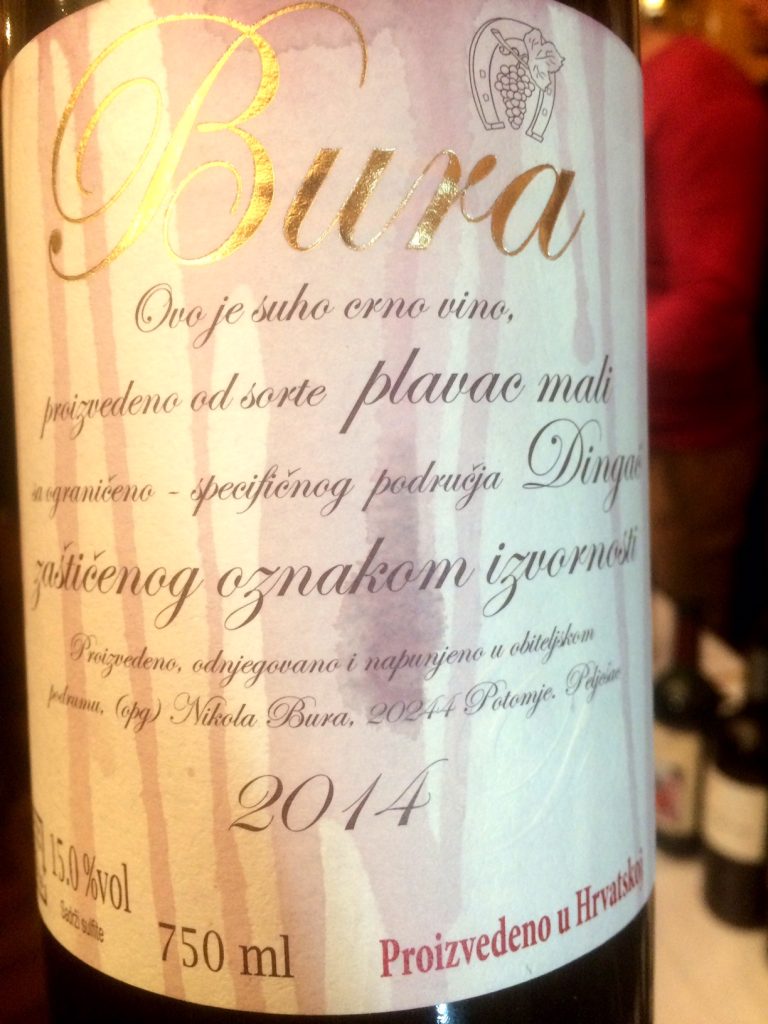 Find Bura-Mrgudić wines at wineandmore.com
Would this wine live up to the hype? It did and more so. This may be the finest Croatian wine we've tasted. The Bura Dingač is a fantastic interpretation of Plavac Mali with an inviting nose of floral perfume, bubblegum, and cherry. The palate is evolved and rich with predominantly cherry flavor. There is a spike of flavor intensity and acidity before the end-palate. The wine is tannic but countered by intense flavor and nice acidity. This is a masterpiece. Now if only it was easier to get your hands on it.
Jo Ahearne
We heard so many stories about a Master of Wine producing her own wine on the island of Hvar in Dalmatia. The island of Hvar is beautiful and has a long history of winemaking. Hvar is an easy place for someone to fall in love with, especially a Master of Wine. There are already a number of solid producers on Hvar including Zlatan Otok, Duboković and Tomić.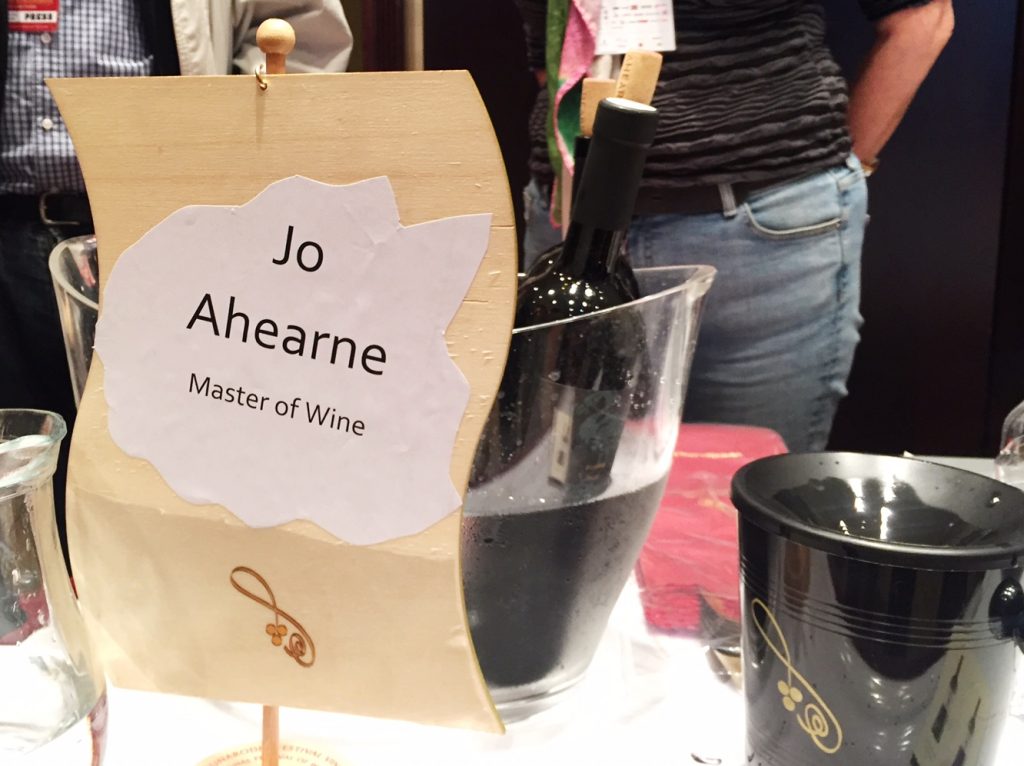 We did not get a chance to try Jo Ahearne's wines during our previous stop in Hvar and were glad that both Jo and her wines were present at the show. We got a first-hand account of how she fell in love with Hvar and her winemaking journey. We also tasted her rosé made from the grape Darnekuša, which is indigenous to Hvar. She also makes a beautiful Plavac Mali that has not been released yet. Both of these wines show a lot of promise.
Find Ahearne wines at wineandmore.com
This is an interesting rosé made from the local variety Darnekuša. It has an intense cherry flavor as opposed to strawberry or strawberry cream that you normally find in most fresh rosé wines. A bolder and more serious rosé; this is meant to be more than just a summer quaffer.  It is textured in the mouth and balanced without any residual sugar.
Find Ahearne wines at Wine&more.
An impressive Plavac Mali with smooth flavors. The wine manages to keep the wild characteristics of Plavac Mali while appealing to international palates. It is a very perfumed wine, with cherry and earth flavors and a touch of barnyard. This is an elegant Plavac Mali. The tannins are smooth, which makes it drinkable even if it is still young. 
The Grand Cro Room
The Grand Cro is an association of premium wine estates in Croatia. The current members are Bibich, Meneghetti, Dubokovic, Saints Hills, Boškinac, and Baković. All of these wine estates are in the coastal region, either Dalmatia or Istria. During our last trip in May, we got a chance to visit and/or taste wines from all of these producers except Baković.
At Zagreb VINOcom, there was a special room dedicated to just these estates. On the second day of the show, all six wineries opened large format bottles of their archive wines. The room was crowded and the thirsty lines were long but we managed to get a taste from each estate. All of the wines were excellent but two wines stood out.
Find Boškinac wines at wineandmore.com
The first time we heard about Boškinac winery was on an episode of Anthony Bourdain's No Reservations. In the episode, a top Croatian chef claimed that the Boškinac Red Cuvée is considered to be Croatia's top red wine. On our previous journey, we purchased and tasted a 2012 vintage. While that vintage made for a very good drinking experience, the 2007 is something special.
This is a blend of 55% Merlot and 45% Cabernet Sauvignon, aged two years in French and American oak. Amazing flavors of pencil lead, dried plum, dried cherry, and earth. The wine is rich and medium bodied with a long end palate and tangy acidity.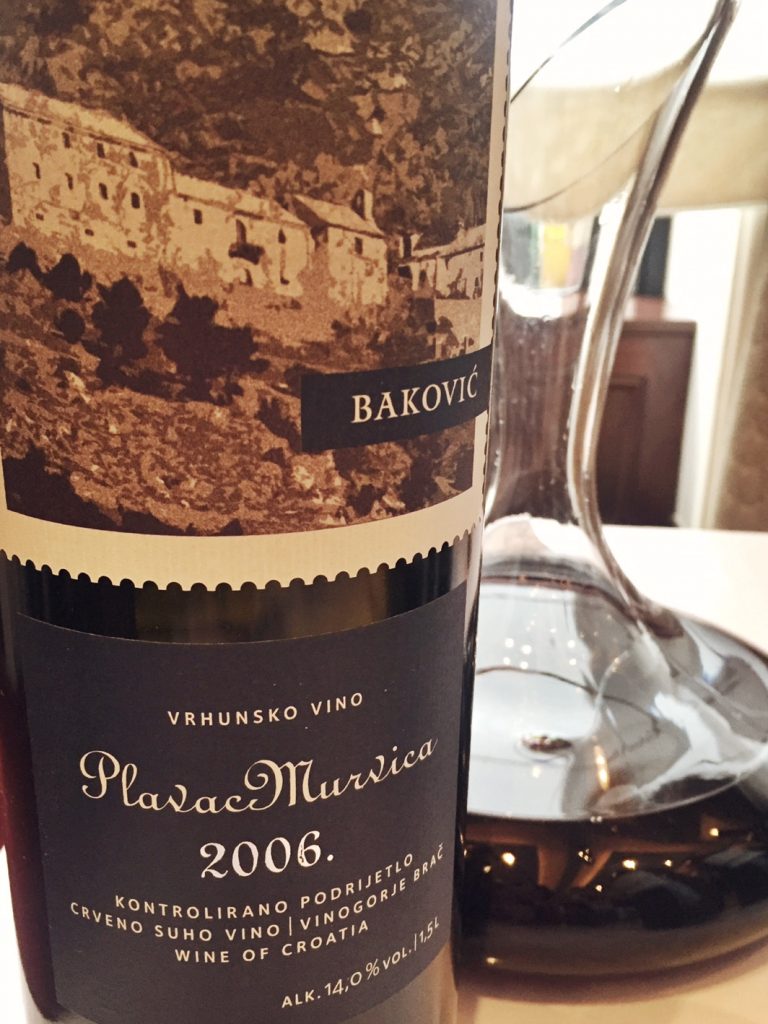 Baković Plavac Murvica 2006 
We were very happy with the Baković 2015 Pošip but it was his top red that impressed us the most.
Baković is the newest member to the Grand Cro. This wine is made of Plavac Mali with a little Syrah, and a touch of Cabernet Sauvignon added to it. A great wine with flavors of sour cherry, flower, herb, earth, and spice. The wine still has a lot of life ahead of it as the fruit, acidity, and fine-grained tannins are all still there and accounted for. This is drinking very well but will get even better with age.
Slovenian Winery: Verus
In the corner of one room was a humble display of wines from Slovenia, all sporting screw-cap enclosures. We were drawn in by the kind-looking man pouring the wines. All of the wines showed great purity of fruit and real tension on the palate.
Verus winery is fairly new but has already drawn high praise from famous wine writers like Oz Clarke, Jancis Robinson and Steven Spurrier, and also Decanter Magazine. We tasted their Riesling, Sauvignon Blanc, Chardonnay, and Pinot Noir. All the wines were well made and excellent, but one stood out above the rest.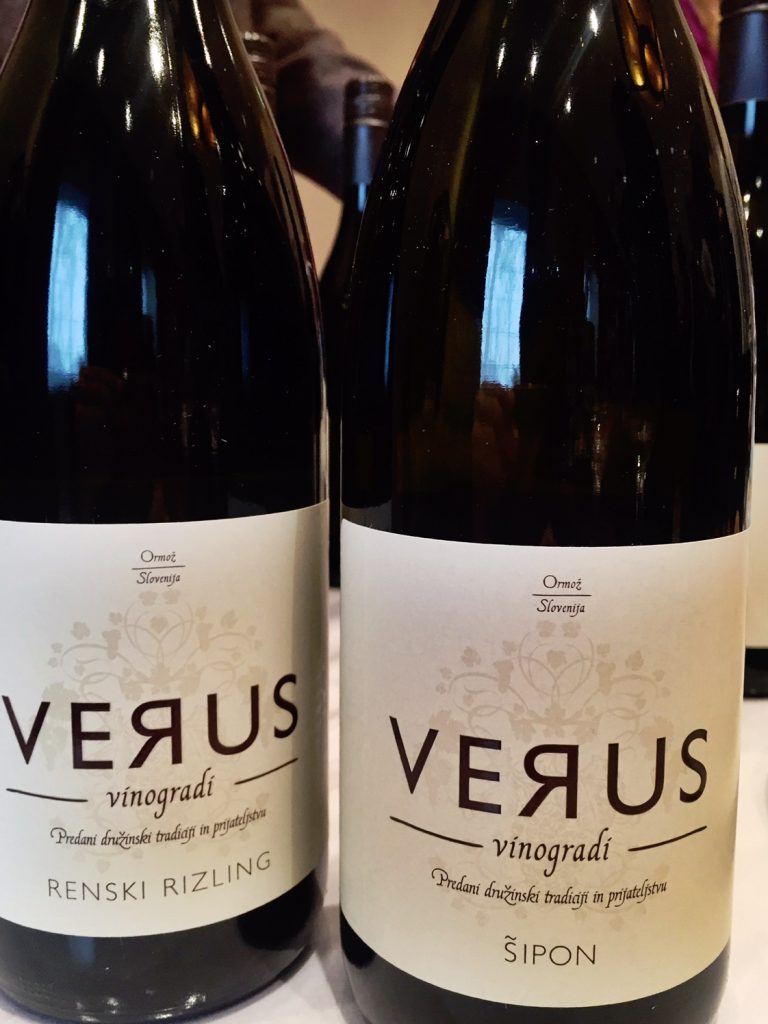 Made from 100% Furmint which is known as Šipon in Slovenia. This wine is full of oil, gas, smoke, with tart Asian pear flavors. It is extremely rich in the mouth. We love this full-bodied white wine.
The finest selection of
wines available at:

Shipping is available EU-wide and to the UK.
************
    Do you want to try Croatian wines?    
If you're looking to savor the exquisite flavor of Croatian wines, look no further than wineandmore.com. With an abundance of options from different winemakers, it's easy to find exactly what your palate desires. Not sure which bottle is best for you? Try out one of their curated wine cases and discover the perfect vintage for any occasion!
************
Want to learn more about wine?
Are you ready to discover the wonderful world of wines? Come join us at wineandmore.com and let's explore the incredible selection of delicious wines together! We can't wait to share our passion for wine with you!
---
Credit: Featured image at the top of the article is taken from the Zagreb VINOcom Facebook page.
Please note that the opinions expressed in this article are unsolicited and have not been paid for in any way by governmental bodies, enterprises, or individuals. We do not sell editorial content as that would destroy the legitimacy of our reviews and the trust between Exotic Wine Travel and its readers. On occasion, we extend the option of purchasing the wines we review or/and the products we spotlight. Some of these product links are set up through affiliate programs, which means Exotic Wine Travel gets referral credits if you choose to purchase these items via the links we provide.