The Three Faces of Grk Wine
Reading Time: [est_time] There's a saying going around on social media: "The Japanese say you have three faces. The first face, you show to the world. The second face, you show to your close friends and your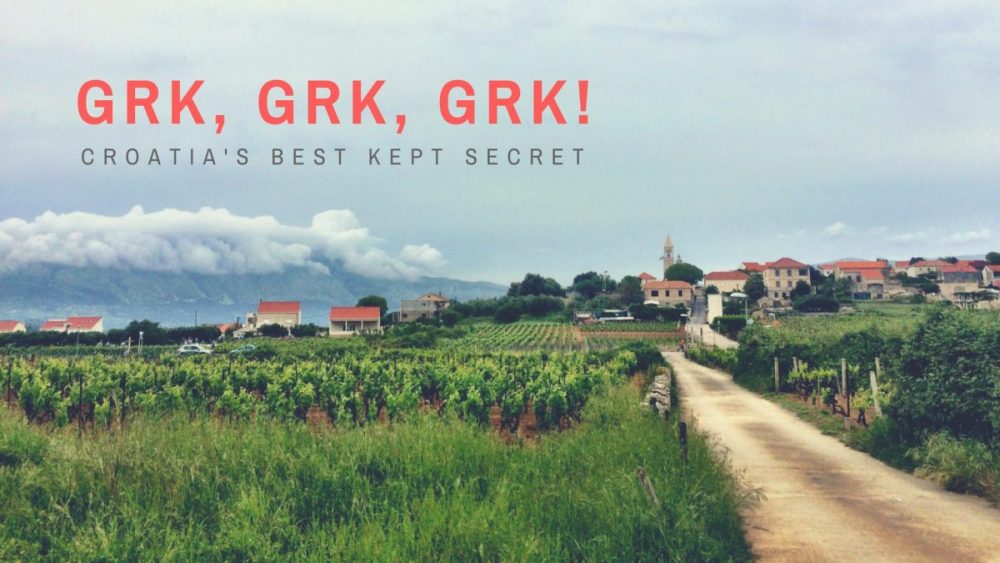 Reading Time: 5 minutes
There's a saying going around on social media:
"The Japanese say you have three faces. The first face, you show to the world. The second face, you show to your close friends and your family. The third face, you never show anyone. It is the truest reflection of who you are."
The authenticity of this being a Japanese proverb has not been established, but its meaning is well-founded.
As we interact with different people, we 'show different faces' and each face divulges an aspect of our character. It's easy to focus on just one face at a time and claim that one is better or more genuine than the other, but exploring all three simultaneously will help us to understand our character better.
Wine, like people, is equally complex and multi-dimensional. By observing the various sensory merits of a wine and styles that a wine grape can offer helps us to understand a variety and its potential more precisely.
Here's a story about an ancient Croatian wine grape with three faces that eventually reveal its one true essence.
Grk: A Grape Without Vowels (and Male Bits)
In the Lumbarda town on the eastern tip of Korčula island, a few hectares of vines are producing one of the most valued wines in Croatia. These vines, of the indigenous Grk (pronunciation: Gerk) variety, are categorized as "almost endangered" by the State Institute for Nature Protection.
According to official data from 2013, Grk accounts for 15 hectares of cultivated area in Croatia (and the world, as Grk is planted only in Croatia). Even though more Grk vines have been planted in the past years, the growth remains insignificant. This is because while Grk is commercially grown, it thrives only in specific micro-locations—curtailing its propagation; coupled with low yields, this grape is perceived as a rather unattractive commercial investment and a challenging agricultural product.
So why write about such an obscure grape? Because its specific gourmet quality deserves the attention and—if you're in Croatia—the extra trip or detour.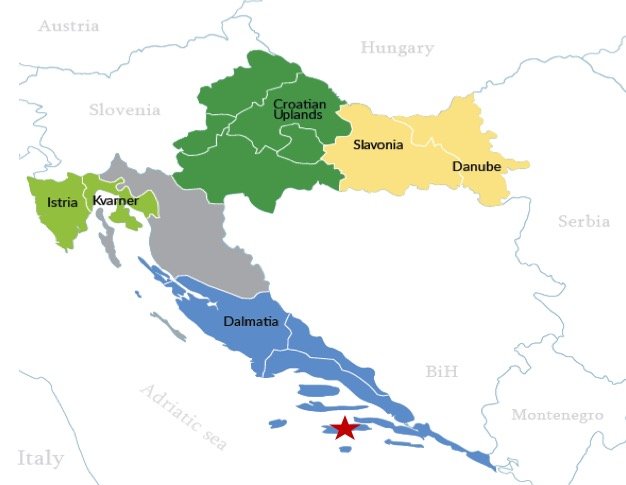 Modified material adapted from map provided by vinacroatia.hr.
The location of Korčula is marked with a red star. It is 3.5 kilometers off the coast and the nearest major cities are Dubrovnik and Split.
Like most autochthonous wine grapes in Croatia, the origin of Grk remains a mystery. However, it is considered an ancient grape type speculated to have had arrived on the island of Korčula around the 5th century B.C., during the Greek colonization of the Adriatic. Perhaps this is the reason why it's called Grk, which can be translated to "Greek" or "bitter"—the latter being a key characteristic of Grk wine.
Today, Grk remains almost exclusively planted in the phylloxera-resistant sandy soil of Lumbarda. In fact, this finicky grape was found nowhere else up until the recent years when a handful of Dalmatian producers started planting Grk outside Lumbarda and in non-sandy plots (more about this later).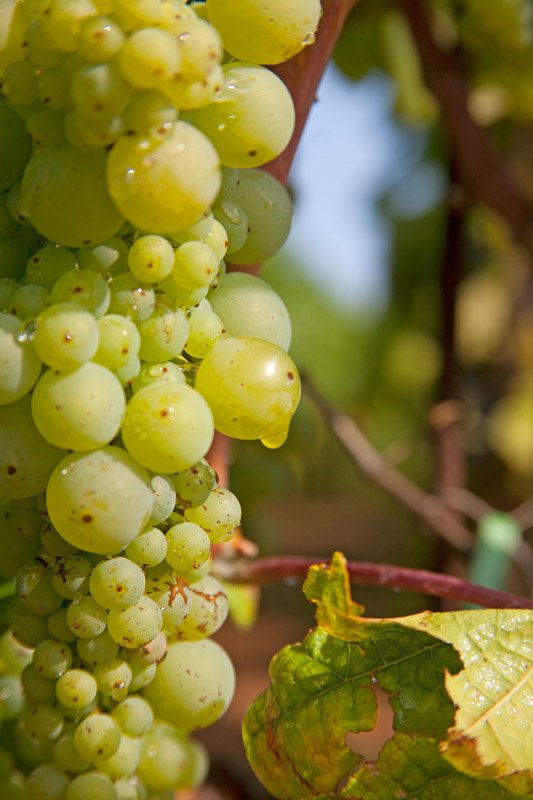 Photo credit: bire.hr
THE GOOD, THE BAD AND THE UGLY
The flower of Grk is morphologically hermaphroditic but functionally female, which means the flower has both male and female organs but the male part is undeveloped so the flower is unable to self-pollinate. As such, Plavac Mali is co-planted with Grk in the vineyard to serve as a pollinator. Interestingly, this botanical arrangement is considered incestuous in the human context as Grk is a descendant of Crljenak Kaštela (also known as Tribidrag and Zinfandel), which is a parent of Plavac Mali.
The Grk grape tends to accumulate high sugar content while maintaining excellent acidity, making it a good candidate for full-bodied white wine and dessert wine. Wine made from Grk is usually moderately aromatic with distinct salinity and tartness that beg to marry a shellfish. A well-made Grk wine expresses sweet fruit notes along with a citrus lift, a mineral streak, an herbal hint, and a mildly bitter finish. The body is medium to full, complemented by a round mouthfeel when given some months to age on the lees. Imagine a Muscadet on steroid or a Chardonnay meets Sancerre, and that's Grk.
Limited in production, it's rare to see Grk wine outside Korčula. So the best chance to drink it is to visit Grk's sunny home ground hedged with azure vastness, or seek out this elusive beverage in Split or Zagreb—the two largest cities in Croatia. During summer when Korčula welcomes a massive influx of tourists, almost the whole production of Grk wine can be consumed within a season.
EXOTIC WINE TRAVEL'S PICKS
The Gregarious Grk: Zure Quinta Essentia Pjenušac Grk NV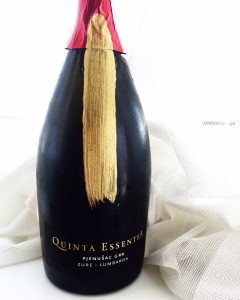 The Zure winery is operated by father, Bartul Batistić Zure, and his sons, Marko and Ivan. Zure has the biggest vineyard area on Korčula and makes four styles of Grk: a fresh and dry Grk "Bartul", a barrel- fermented and aged version called "Reventon", a sweet Prošek Grk "Elysion" (Prošek is a type of straw wine made in Dalmatia), and this Pjenušac Grk ("Pjenušac" means "sparkling wine" in Croatian).
The Zure Quinta Essentia Pjeušac Grk is the first-ever sparkling wine made from Grk. The wine is on the lees for a year before disgorgement. It shows an excellent balance of acidity, dosage, and autolytic charm. The varietal advantages of Grk shine right through: good phenolic structure, expressive palate with ripe fruit flavors, citrusy freshness, an acidic spine, and a saline undertone. It's a whopper yet with a sense of litheness commonly found in Blanc de Blancs.
So far, two releases have been made for this wine and the total number of bottles produced stands at 800.
Available at wineandmore.com
[Watch Video] Croatian Sparkling Wine
The Reflective Grk: Vinarija Križ Grk 2016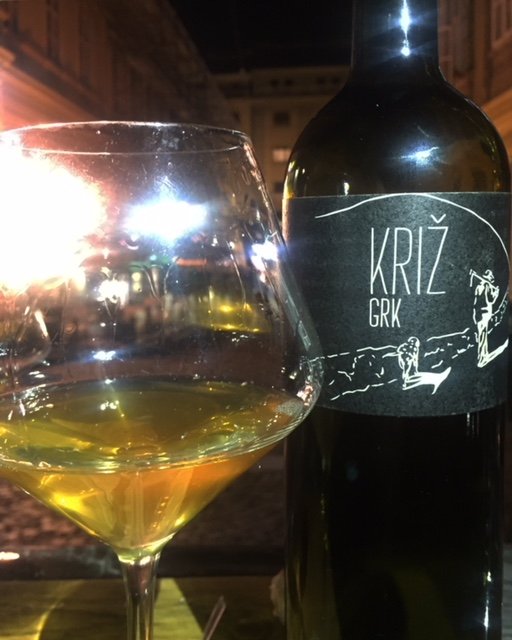 Located in Pelješac, a peninsula in southern Dalmatia, Križ is an eco-certified producer of Plavac Mali and Grk wines. Its two-hectare vineyard is farmed with biodynamic principles.
Proprietor and winemaker Denis Bogoević Marušić brought the Grk vines to Pelješac and debuted his skin-contact Grk with his 2015 harvest. Natural fermentation occurs in the barrels and maceration lasts for less than a week. No sulfur is added and the wine is bottled without filtration.
Vinarija Križ's Grk has a bittersweet bouquet that evokes citrus rind, dried Mediterranean herbs, woodsmoke, and nuts. It's buoyant on the palate with white tea-like astringency. A macerated Grk that retains freshness while simultaneously exhibits the compelling oxidative and phenolic aspects of a well-made amber wine (orange wine).
[Watch Video] Plavac Mali and Grk from Križ Winery
The Kaleidoscopic Grk: Bire Grk Defora 2016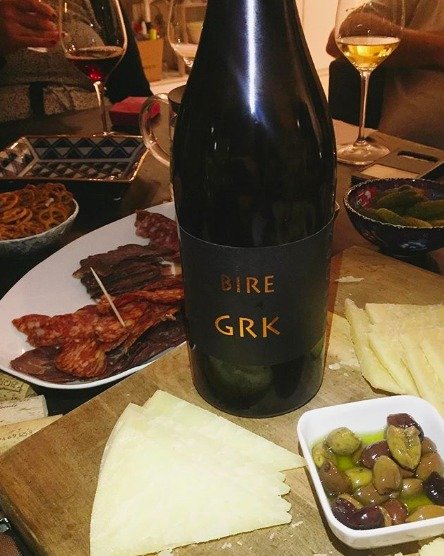 Widely considered to be the finest steward of Grk, Frano Bire enjoys a cult-like following in Croatia. Procuring a bottle of Bire's wine can take a lot of effort. If you make it to his cellar, you are limited to purchasing only a few bottles.
The grapes for Bire Grk Defore Sur Lie come from a rocky—not the usual sandy—vineyard (karst landform) located on the south side of Korčula. The wine undergoes about eight months of sur-lie aging in a 1,000-liter barrel.
Bire Grk Defora Sur Lie is a special wine that will leave no one indifferent. It has astounding depth and complexity. Abounded with citrus and tropical flavors, the rich and creamy body is supported by sure-footed acidity, which extends into a saline, mineral flavored finish. If you're lacking an appetite, drink this wine as it might spawn cravings for seafood. Because of its well-integrated oak influence, softened acidity, and good structure, it also goes well with pungent cheese.
Bire Grk Defora Sur Lie is certainly one of the best Croatian white wines. Case in point: we tasted this wine next to a Domaine de la Janasse's Châteauneuf-du-Pape 2016, and many people in the group agreed that Bire Grk Defora may be a better wine for immediate consumption and even after short-term aging.
[Watch Video] Rare Croatian White Grape Grk
AS GRK AS IT GETS
We are merely a locus within a social context. I'll like to think that all three faces of a human being are equally authentic and act as a set of survival tools that helps us navigate different circumstances. Wine too is subjected to the occasion and setting in which it is consumed. What I appreciate dearly about Grk is that a fresh white Grk embodies the simple pleasures of everyday life, a bubbly or oak-aged Grk can be the star of a party, and a macerated Grk can pique curiosity and feed wanderlust.
The pollination issue of Grk, which at first seems like a problem, can be turned into a double-edged sword. Producers can combine the ripe berries and unripe berries to create a wine with length, body, ripe fruit flavors, and greenness in a balanced way.
The future of Grk is bright with more plantings underway. Clonal selection and pollination studies are also in the pipeline to improve the cultivation of Grk. Regardless of the direction forward, it is largely believed that Lumbarda on the Korčula island would remain as the 'Grand Cru' site for Grk.
The finest selection of
Croatian wines available at:

Shipping is available EU-wide and to the UK.
************
    Do you want to try Croatian wines?    
If you're looking to savor the exquisite flavor of Croatian wines, look no further than wineandmore.com. With an abundance of options from different winemakers, it's easy to find exactly what your palate desires. Not sure which bottle is best for you? Try out one of their curated wine cases and discover the perfect vintage for any occasion!
************
Want to learn more about wine?
Are you ready to discover the wonderful world of wines? Come join us at wineandmore.com and let's explore the incredible selection of delicious wines together! We can't wait to share our passion for wine with you!
You May Also Enjoy
---
Please note that the opinions expressed in this article are unsolicited and have not been paid for in any way by governmental bodies, enterprises, or individuals. We do not sell editorial content as that would destroy the legitimacy of our reviews and the trust between Exotic Wine Travel and its readers. On occasion, we extend the option of purchasing the wines we review or/and the products we spotlight. Some of these product links are set up through affiliate programs, which means Exotic Wine Travel gets referral credits if you choose to purchase these items via the links we provide.