Gut Oggau Brutal Rosé 2016
Reading Time: [est_time] Hello! Welcome to As Drunk By Exotic Wine Travel, a weekly column where we feature wines that are worth noting. The reviews featured in this series may be written by either one or the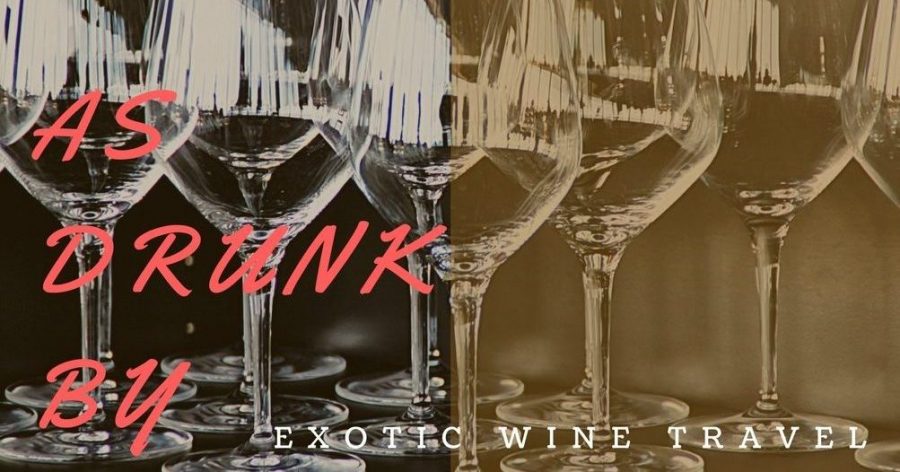 Reading Time: 2 minutes
Hello! Welcome to As Drunk By Exotic Wine Travel, a weekly column where we feature wines that are worth noting. The reviews featured in this series may be written by either one or the both of us. The featured wines can be from obscure or well-known wine regions. We hope that these wine recommendations will keep you gastronomically curious and your palate invigorated!
Gut Oggau Winery (Neusiedlersee, Burgenland, Austria)
Established in 2007, Gut Oggau is a 13-hectares estate located in Austria's Burgenland wine region. Husband and wife Eduard Tscheppe and Stephanie Tscheppe-Eselböck are farming according to biodynamic principles in the Demeter-certified estate vineyards.  The annual production is around 18,000 bottles.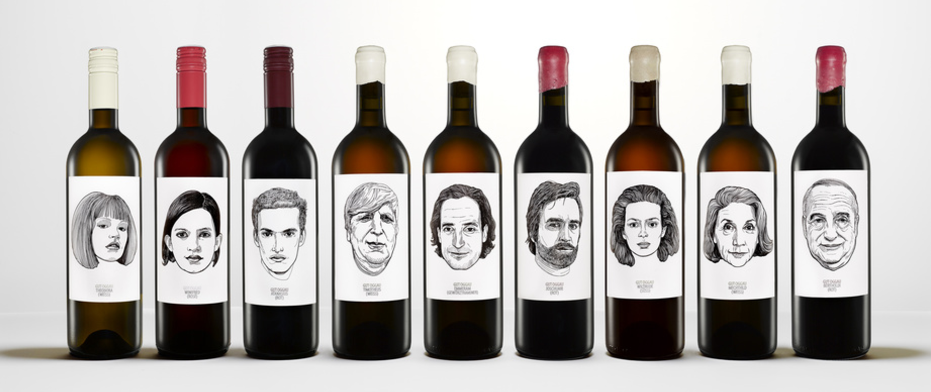 Photo from Gut Oggau's website.
Together with German artist Jung von Matt, they've created a family of fictional characters for the bottle labels. By using anthropomorphism, each character represents a different expression of the wine's style and vineyard age. The children represent younger wines that are easy to drink. The parents represent wines with bolder flavors, and the grandparents represent wines from the oldest vineyards. The artist redraws the labels for every new vintage, adding 'a year of age' to the characters that the wines are named after.
Each wine is made from grapes harvested from a single plot. Most of the plots contain field blends, and the primary grapes are Blaufränkisch, Gewürztraminer, Grüner Veltliner, Weissburgunder (Pinot Blanc), Welchriesling, and Zweigelt. The fruit is vinified with a minimal-intervention approach in the winery.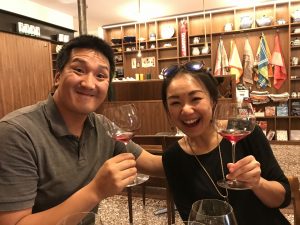 Photo credit: Thomas Leitner
The Gut Oggau Brutal Rosé is made from a grape called Roesler. When it was first poured into the glass, we noticed the light ruby color, which looked more like a light red wine than a rosé. 
Roesler, the Austrian Hybrid Grape
Named after Leonhard Roesler, the former director of Austria's oldest viticultural college, Roesler is an Austrian hybrid with around 140 hectares (relatively little amount) planted in the country. Registered as a quality grape in the year 2000,  it was developed in 1970 by crossing Zweigelt and another hybrid called Klosterneuburg 1189-9-77 (with Blaufränkisch parentage). Roesler is categorized as a PIWI (Pilzwiderstandsfähigen Reben), which means it is resistant to fungal disease. It is also resistant to winter frost, making it an ideal grape that thrives in Austria's harsh continental winter.
Commonly used as a blending grape for red wine, Roesler imparts deep color, rich extract, good structure, and moderate tannins to a wine.
Gut Oggau Brutal Rosé 2016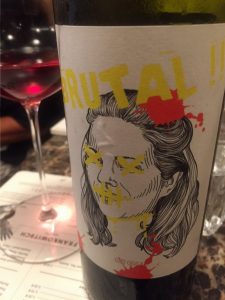 Ah! Now it makes sense: the Gut Oggau Brutal Rosé has an unusually intense color due to the grape.
With a sniff and a sip, on the first impression, this wine is redolent of the Georgian ancient grape Chitistvala.
Notes of wild strawberry, raspberry, and cranberry are accompanied by characteristics of hay, flint, and white pepper. The flavor attack in the mouth is bright and intense with a mid-palate spike. Juicy acidity leads the wine into a notably long finish with persistent spiciness and a gentle tug from the tannins. What's particularly memorable about this rosé is how silky smooth and light it is on the palate and how it harmoniously transforms into a powerful finish.
To simplify its merits: it's like an imaginary blend of Pinot Noir, Grenache, and Etna Rosso.
This is arguably the most exciting rosé we've tasted in 2017.
4.4/5  (You can find out more about our scoring system on the START HERE page.)
Technical notes: Vines are planted in limestone soil. A few hours of maceration. Spontaneous fermentation in 500-liter barrels. Eight-month aging in 500-liter barrels. Bottled without additional sulfur.
Find or buy Gut Oggau wine on Wine Searcher.
PS: Thanks a lot to our friend Thomas Leitner for introducing us to this wine.
---
The opinions expressed in this article are unsolicited and have not been paid for in any way. We do not sell editorial content as that would destroy the legitimacy of our reviews and the trust between Exotic Wine Travel and its readers.