Highlights from Orange Wine Festival 2017
In November 2017, we took the train from Budapest, Hungary to Vienna, Austria to attend the Orange Wine Festival 2017. We are huge fans of orange wines (macerated white/skin-contact amber wines). It was our first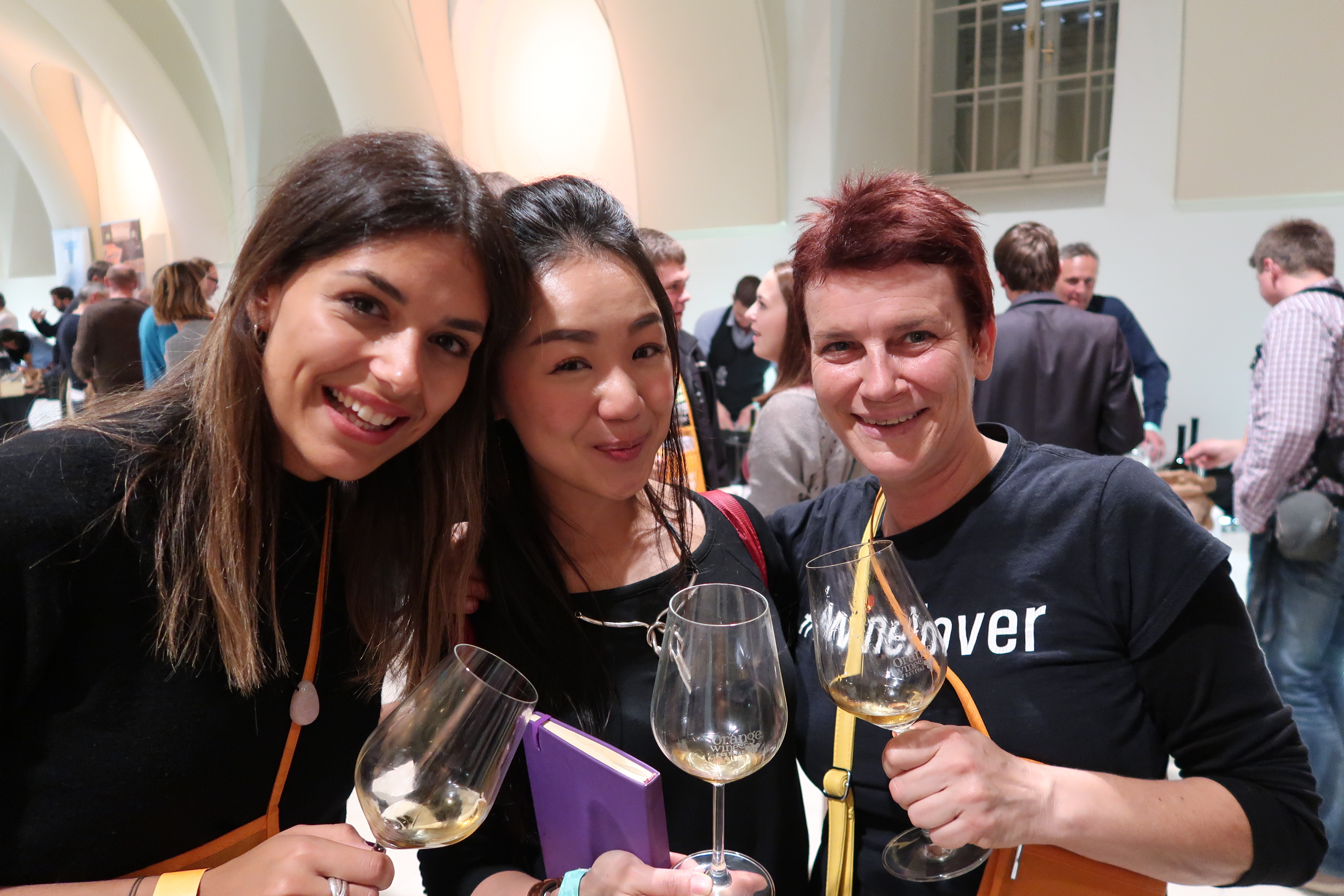 In November 2017, we took the train from Budapest, Hungary to Vienna, Austria to attend the Orange Wine Festival 2017. We are huge fans of orange wines (macerated white/skin-contact amber wines). It was our first time at this annual event, and it was everything we had hoped it would be.
Orange Wine Festival 2017
The Orange Wine Festival 2017 included over 60 wineries from Austria, Croatia, Georgia, Moldova, Italy, Romania, Slovakia, and Slovenia. There were many exciting wines at the show (along with some disappointing ones). The Austrian, Croatian, Italian, and Slovenian wines had especially strong showings.
If you are more of a visual person, check out the show's highlights in the video below:
Amber Revolution
One of our personal highlights of Orange Wine Festival 2017 was meeting Simon Woolf in person. Simon is authoring Amber Revolution, the first book dedicated to orange wine. We spent some time with him after the show and indulged in a bottle of  Radikon Ribolla Gialla 2001 as a nightcap.  
Amber Revolution has reached its targeted funding goal on Kickstarter and the book will be released next year. We can't wait to take a look at it. Congrats to Simon on such an exciting project.
 

Hey, look who's here! It's Mister Orange Wine, @themorningclaret! Check out his new Instagram feed @amber_revolution.
Our Favorite Producers from Orange Wine Festival 2017
Claus Preisinger – Burgenland, Austria
Claus Preisinger creates macerated white wines with crystalline fruit flavors and distinctive flinty notes. These are clean and well-executed orange wines. These wines were perhaps our favorite discovery at the show. We got the chance to sample his excellent Pinot Blanc in addition to his Grüner Veltliner fermented in amphora.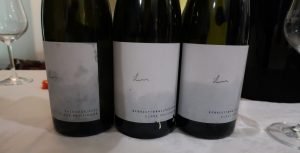 Gsellmann – Burgenland, Austria
Gsellmann had four orange wines available for tasting: Neuburger, Chardonnay, Traminer, and Pinot Blanc. I found the Neuburger to be the most pleasant surprise out of the bunch. However, all four wines showed well and we were returning to the Gsellmann table often.
Gut Oberstockstall – Lower Austria, Austria
This producer had three vintages of his orange wine available for tasting: 2013, 2014, and 2015. The Gut Oberstockstall Oran is a blend of 50% Gruner Veltliner, 45% Riesling, and 5% Traminer. Even though it's a small proportion of the blend, the Traminer adds a wonderful floral component to this highly textured wine.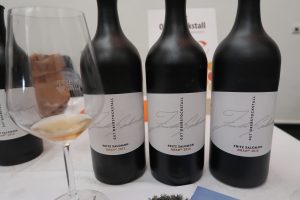 Kaiser & Sacher – Styria, Austria
Kaiser & Sacher wines are fermented in Georgian qvevri (amphora) with low intervention. These wines have pure fruit flavors and remind us of our beloved Georgian wines. They produce two orange wines, one from Pinot Blanc (my choice) and one from Pinot Gris (Charine's choice).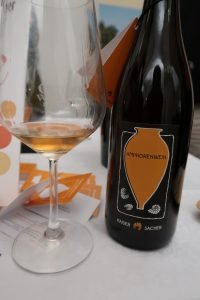 Kristian Keber – Brda, Slovenia
Kristian Keber is the son of Edi Keber who has a well-known winery in Collio, Italy. Kristian Keber makes only one wine, a blend of Rebula, Jakot (Tocai Friulano), and Malvazija. The wine is macerated for 12 days. It's a tame and delicious orange wine fermented with native yeasts. This wine has pure flavors and is great for newbies of the orange wine world.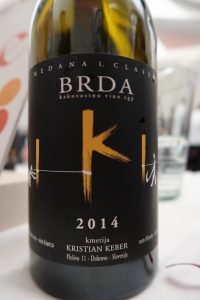 Paraschos – Collio, Italy
A tiny winery located near Radikon in Collio, Italy. These wines are pure and soft orange wines. We were especially fond of the Ribolla Gialla and the 'Orange One', which is a blend of Ribolla Gialla, Tocai Friulano, and Malvasia. Paraschos is a winery we will keep our eyes on.
Our Familiar Favorites:
Clai Winery is one of our favorite producers, not only in Croatia but in the world. The Clai Sv Jakov 2015 (Malvazija Istarska) was open for tasting. It was young but showed bright fruit flavors. This wine is consistently one of the best wines in Croatia and there's no reason to believe that this vintage will be any different.
Dario Prinčič – Collio, Italy
Depending on the vintage, Dario Prinčič Trebež blend can be one wine we always look forward to opening. It was on display and showed well. The Pinot Grigio also tasted great. We still haven't visited Dario Prinčič but hope to change that in the near future.
We visited Movia Winery about two months prior to attending the show. Winemaker and proprietor Aleš Kristančić stole the show when he showed up and started pouring different vintages of his Lunar wine. This wine continues to impress us every time we drink it.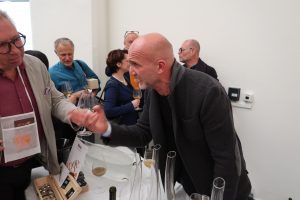 Piquentum – Istria, Croatia
Winemaker and owner Dimitri Brečević pumps out beautiful, minimal-intervention wines from Istria. His Malvazija is a lightly macerated and pure expression of the grape. His wines are also available at consumer-friendly prices, if you can track them down. It is one of the purest expressions of Malvazija Istarska on the market.
Roxanich – Istria, Croatia
Another one of Istria's big names, Roxanich makes several orange wines ranging from the compelling Antica (Malvazija Istarska) to the hedonistic Ines i Bijelom (field blend). The Roxanich Antica was one of our favorite wines in 2016. 
Bruno Trapan farms organically on the southwestern tip of Istria. He showed a new wine called Istraditional made from Malvazija Istarska. It's a big step up from his entry-level macerated wine, Uroboros. There are layers of complexity on the palate wrapped up by a ginger spice finish.
The finest selection of

Shipping is available EU-wide and to the UK.
************
    Do you want to try Croatian wines?    
If you're looking to savor the exquisite flavor of Croatian wines, look no further than wineandmore.com. With an abundance of options from different winemakers, it's easy to find exactly what your palate desires. Not sure which bottle is best for you? Try out one of their curated wine cases and discover the perfect vintage for any occasion!
************
Want to learn more about wine?
Are you ready to discover the wonderful world of wines? Come join us at wineandmore.com and let's explore the incredible selection of delicious wines together! We can't wait to share our passion for wine with you!
You May Also Enjoy
Cracking Croatian Wine: A Visitor-Friendly Guide
15 Amber Wines (Orange Wines) to Try in Croatia
A Crash Course 0n Austria's Biodynamic Wine
---
Thanks to the Orange Wine Festival and Sašo Dravineć for the invitation. Check out the Festival's website here. The ideas expressed in this article are personal opinions and are not associated with any sponsors or business promotions.