Slumming It at the Lompoc Wine Ghetto
Reading Time: [est_time] Check out our wine travel guide to Santa Barbara Wine Country.  Lompoc, California was the first stop of our weeklong tasting trip in Santa Barbara County. Driving down CA-246 on the way to Lompoc, the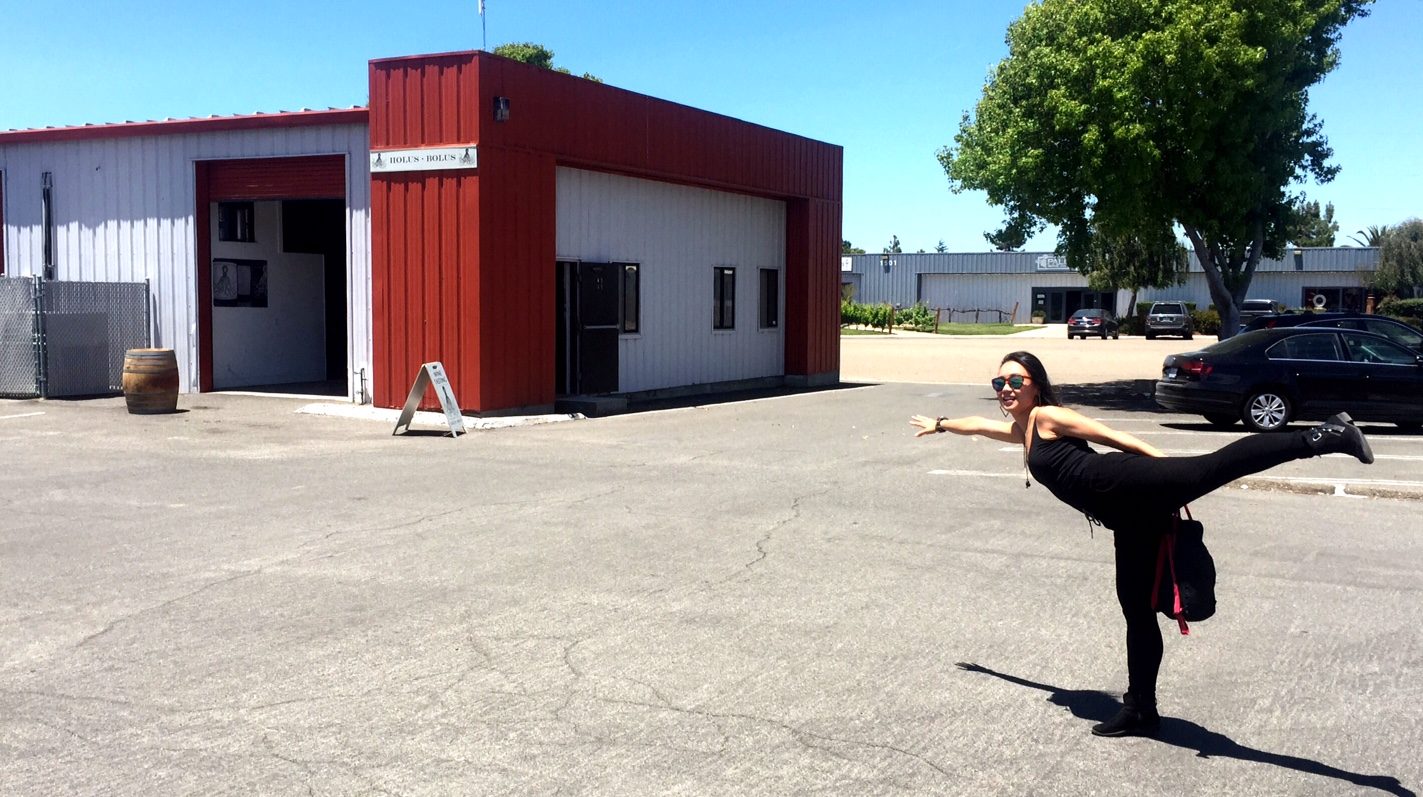 Reading Time: 7 minutes
Check out our wine travel guide to Santa Barbara Wine Country. 
Lompoc, California was the first stop of our weeklong tasting trip in Santa Barbara County. Driving down CA-246 on the way to Lompoc, the views of Sta. Rita Hills were stunning. We arrived at sunset, greeted by the incredible sight of golden hills wrapped around old creek beds, horse ranches, and green vineyards. Driving there was a real treat; the motorways were winding two-lane roads that weaved through open brush land, abandoned oil wells, and endless rows of vines.
The Lompoc Wine Ghetto
Walking through blocks and blocks of warehouses to taste world-class wine? Visiting up to five or six wineries in a day without putting the key in the ignition? Welcome to Lompoc, the ghetto for wine nerds.
Lompoc is a small town in the western part of Santa Barbara County. The town is laid out in a grid pattern and the architecture is quaintly dated. It feels as if the inhabitants are completely unaware of the wine scene that is thriving on their doorstep. Finding local wines at the neighborhood supermarkets is difficult and the best place to purchase wine is at the Lompoc Wine Ghetto.
Lompoc Wine Ghetto is several blocks behind Home Depot where CA-1 and CA-246 meet. There are over 20 tasting rooms in the Wine Ghetto, which was founded by Rick Longoria. In 1998, due to financial reasons, Longoria decided to build his winery into a warehouse located at the present-day Wine Ghetto. Other young winemakers followed suit. And from there, the rows of wineries were developed into today's four-block industrial park on the southeast side of town.
The drab facade belies the interior and the actual tasting experience. Inside the warehouses, the tasting rooms are packed with energy. Decorations are often kept to a minimum; the environment is fun and inviting with a touch of individualistic personality. As a case in point, the tasting room of Palmina looks and feels like a friendly neighborhood bar. A couple of the wineries, including the big names like Brewer-Clifton and Longoria are no longer in the main warehouse part of the Wine Ghetto but a few blocks west of town.
Take your time to walk from tasting room to tasting room and do ask the locals for recommendations. Don't be afraid to be spontaneous; we chanced upon a number of excellent wines because of sheer coincidence and recommendation. Most facilities here are lean and production volumes are comparatively low. A lot of the wines are limited and with high critic scores to boot. There's a good chance you will meet a few winemakers here. This is the best place for visitors to have a firsthand look at winemaking and understand the tapestry of experience and innovation happening in Santa Barbara.
In the Lompoc Wine Ghetto, the relatively low cost of wine production by California standards lowers the barriers to entry for young, bootstrapping winemakers. The Sta. Rita Hills AVA is right next to Lompoc so it's no surprise that most producers here source fruit from that area. However, you can still find wines bearing other AVAs in the Lompoc Wine Ghetto. There's a huge range of wines being made here. Whatever your preference may be, Lompoc can deliver on it. Do you like bubbles? Try Flying Goat Cellars. Looking for elegant Chardonnay? Check out Brewer-Clifton. What about great Pinot Noir? You're in luck; it's hard to find an insipid Pinot Noir here.
Please note that most of the tasting rooms are open only on weekends and opening hours are usually from 11AM or 12PM to 4PM or 5PM. Some tasting rooms may be closed without prior notice. If you schedule lunch in the middle of the day, that means you will have to move quickly should you decide to visit more than two or three wineries. The Taste of Sta. Rita Hills is an interesting wine bar in the Wine Ghetto. It offers a wide selection of wines by the glass and these wines are mostly from elusive wineries that either don't have a tasting room or are hard to make an appointment with.
There are a few budget hotels in town but most people would opt for somewhere else. For food, there are many hole-in-the-wall Mexican eateries throughout the town, including our favorite Floriano's Mexican Food, which is a few blocks away from the Wine Ghetto. La Botte Italian Restaurant and Scratch Kitchen are two options of a more upscale yet still casual place. Lastly, if you are craving an old-fashioned, greasy spoon café that is widely popular among the locals, be sure to check out American Host. We enjoyed having breakfast there. Overall, the Lompoc Wine Trail was our favorite tasting experience in all of Santa Barbara.
Spending a weekend in the Lompoc Wine Ghetto is an experience that every wine lover should have on their to-do list!
We stayed in a hotel right next to the Lompoc Wine Ghetto and it was the only time in Santa Barbara County that Matt didn't have to spit religiously. Almost every tasting room was filled with day-trippers from Los Angeles. At one of the tasting rooms, we even bumped into a friend from… Singapore!
5 Wine Producers to Look Out for in Lompoc
Bonaccorsi (Available at Taste of Sta. Rita Hills)
After setting up the winery in 1999, former sommelier Michael Bonaccorsi soon passed away in 2004. Bonaccorsi is now run by his wife, Jenne Lee Bonaccorsi, who produces excellent Chardonnay, Pinot Noir, and Syrah. This winery delivers some of the best value-for-money single-vineyard wines in the county. Don't miss the chance to taste the characteristics of different sites—from the vineyard of Melville to Cargasacchi, and Fiddlestix. The Bonaccorsi Pinot Noirs truly impressed us with their harmonious synchronization of being big, fruity, earthy, and elegant all at the same time.
These wines are for you if: You are particular about the structure and length of your wine or if you like your wine to express complexity, focus, and delicacy.
Flying Goat Cellars
Norm Yost and Kate Griffith, the proprietors and husband-and-wife team, produce excellent Pinot Noirs but have made a name for themselves with their sparkling wine line called Goat Bubbles. Goat Bubbles are made in traditional méthode champenoise and the lineup includes a Rosé made from Pinot Noir, a Brut made from a blend of Pinot Noir and Chardonnay, a Blanc de Blanc (white wine from white grapes) made from Chardonnay, a Blanc de Noir (white wine made from red grapes) made from Pinot Noir, and a Crémant from Pinot Blanc. The tasting room has a casual and an unhurried feel. Perhaps that's the effect of sparklers on a tasting room.
These wines are for you if: You love sparkling wine.
Search or buy Flying Goat Cellars wine on Wine Searcher.
Longoria
In 1998, Rick Longoria became the first producer to have his winery built in an industrial building, which is now affectionately called the Lompoc Wine Ghetto. In 2014, he moved the winery out of the Wine Ghetto and onto the site of Lompoc's historic JM Club, with the Longoria Winery Tasting Room located in the former clubhouse. Longoria has an extensive portfolio of wines ranging from those made of Chardonnay, to Pinot Noir, Rhône varieties, Spanish varieties, and Bordeaux varieties. Do not miss the chance of tasting the incredibly structured Pinot Noir made with grapes from the estate's Fe Ciega vineyard. Longoria also produces an Albariño but was sold out when we visited, much to our dismay. There is a chance that you'll meet Rick Longoria or his wife, Diana Longoria, at the tasting room.
These wines are for you if: You enjoy elegance and subtlety in your wine.
Search or buy Longoria wine on Wine Searcher.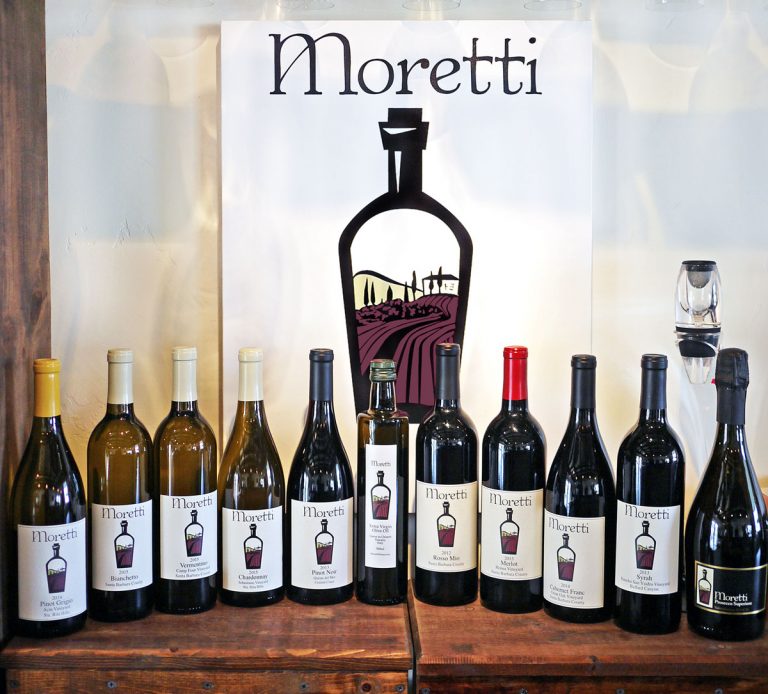 Moretti (Available at Taste of Sta. Rita Hills)
Antonio and Jeni Moretti are the proprietors of Moretti winery and a wine shop called Taste of Sta. Rita Hills, which doubles up as a tasting room for the winery. They produce a handful of wines including varietal whites made from Pinot Grigio, Vermentino, and Chardonnay, and varietal reds made from Merlot, Pinot Noir, and Syrah. They also make a Prosecco and a white blend of Arneis, Cortese, and Tocai Friulano. The production is minuscule and sometimes can be as little as 400 cases per year. The biggest highlight for us is their peppery Syrah, which delivers excellent value for money. A visit to their wine shop is a real treat as Antonio and Jeni are passionate about sharing their wine knowledge with the visitors. Also, the shop is essentially a tasting room for the elusive wines of Sta. Rita Hills. The wines of Demetria, Sea Smoke, and Storm are all available by the glass. We recommend that you make this place one of your first stops in order to receive a personal orientation to the wines of Santa Barbara County.
These wines are for you if: You prefer Old World-style, food-friendly wine with earthy nuances.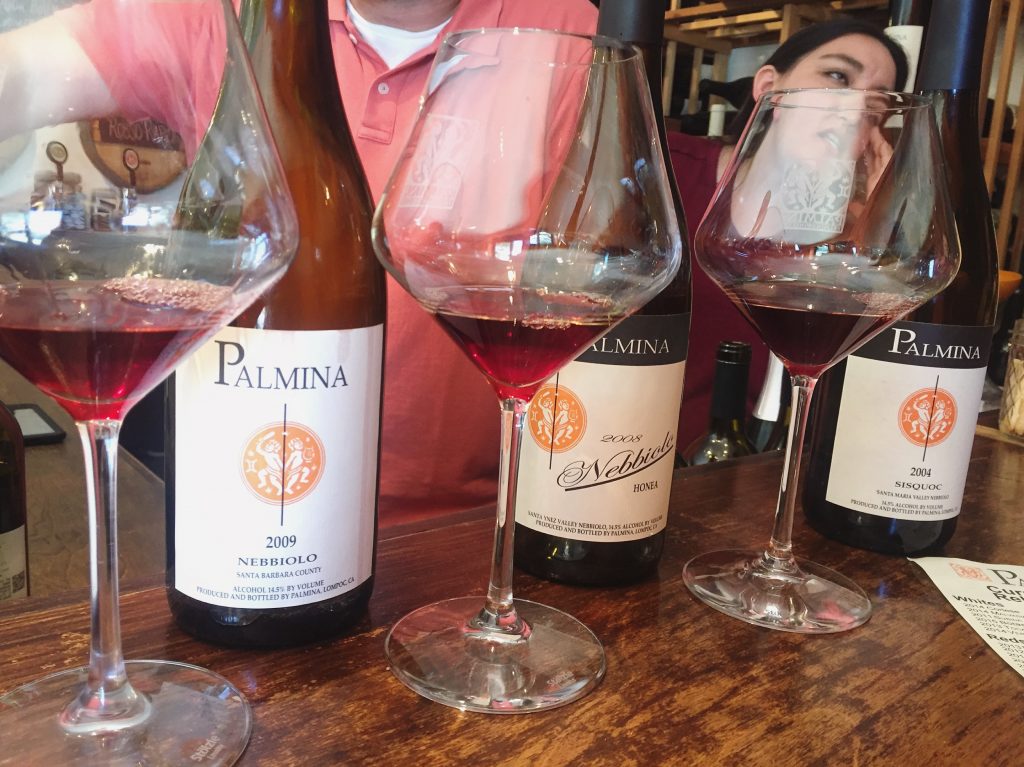 Palmina and La Voix
Owned by Steve Clifton, one of the original founders of Brewer-Clifton, Palmina focuses on Italian varieties while La Voix includes wines made from French varieties like Chardonnay, Cabernet Sauvignon, Pinot Noir, and Syrah. This is one of the larger tasting rooms in the Wine Ghetto. It has an upbeat, fun atmosphere that makes you want to spend a couple of hours here and hang out with the staff or your friends. If you want a taste of Italy, Palmina has it all for you—from Cortese, to Barbera, Malvasia, Sangiovese, Super Tuscan-style wines, and a show-stopping Nebbiolo. For the La Voix line, the bigger-bodied Pinot Noirs stand out the most to us, with a good balance of fruitiness, acidity, and tannin. Both labels use predominantly native yeast and neutral oak barrels. This winery is well-regarded in the wine community and we highly recommend a visit.
These wines are for you if: You enjoy food-friendly wine with bright acidity or bigger-bodied Pinot Noir that expresses the purity of fruit and a touch of earthiness.
Search or buy Palmina wine on Wine Searcher.
Search or buy La Voix wine on Wine Searcher.
************
Planning a trip to Santa Barbara?
Want to learn more about Santa Barbara wines?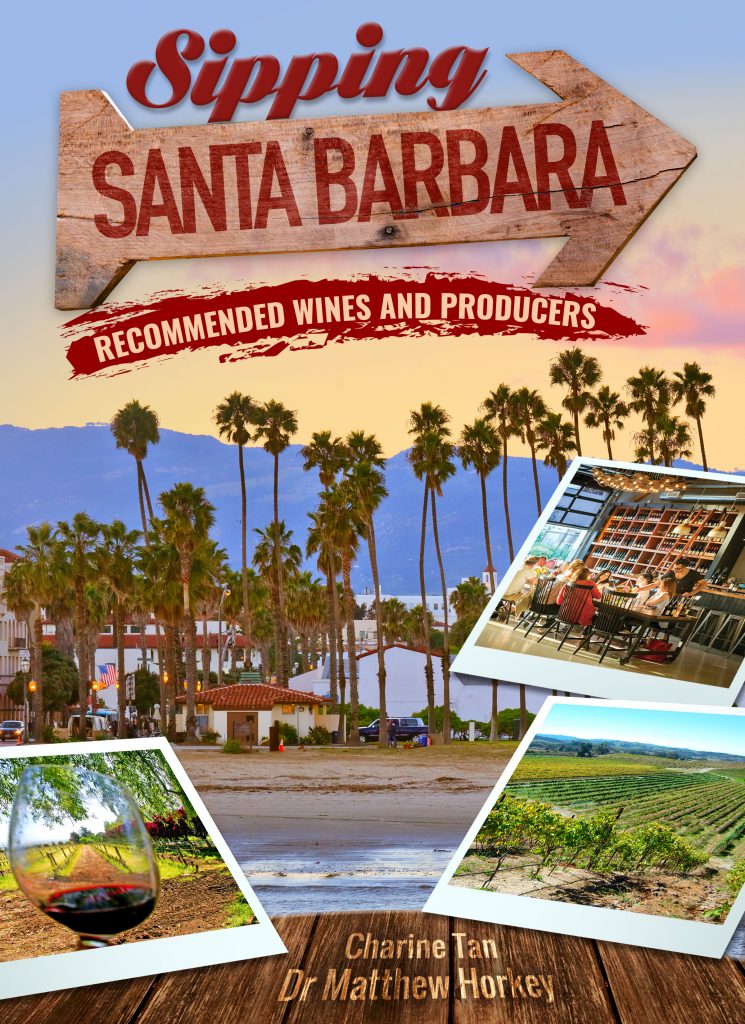 Our visitor-friendly guide to the wines and tasting rooms of Santa Barbara is available now!
Check out Sipping Santa Barbara: Recommended Wines and Producers for more information.
[sp_testimonials_slider category="1048″]
You May Also Enjoy
---
Please note that the opinions expressed in this article are unsolicited and have not been paid for in any way by governmental bodies, enterprises, or individuals. We do not sell editorial content as that would destroy the legitimacy of our reviews and the trust between Exotic Wine Travel and its readers. On occasion, we extend the option of purchasing the wines we review or/and the products we spotlight. Some of these product links are set up through affiliate programs, which means Exotic Wine Travel gets referral credits if you choose to purchase these items via the links we provide.